While many prefer the ease of using consoles, PC gaming is undoubtedly the place to be for the best graphics and blistering frame rates.
If you're into racing games, those things are quite important. Realistic graphics means you can more easily get immersed in the action, and high frame rates means more responsive controls. You'll also find that racing games on PC have unrivalled steering wheel support.
There are absolutely loads of racing games available on PC. Many of them are good, but which ones are the best to play right now? Hopefully we can help. We've put together a list of the best racing games on PC. The following racing games all offer something different, and they also all look absolutely stunning if you've got a fairly beefy PC. So take a browse, and maybe you'll find one or two racing games to add to your collection.
Want to support GameSpew? If you decide to buy any of the games on this list, please consider using our Amazon affiliate links, included below each entry. It won't cost you anything extra, but we'll get a small slice of the purchase. Thank you.
1. Forza Horizon 5
With every release, the Forza Horizon series just keeps getting better and better. We do have to say though, that for the first time, Forza Horizon 5 simply feels like an expansion for Forza Horizon 4 rather than a true sequel. What does it matter, though, when what's on offer is this good? Forza Horizon 5 lets you loose on the biggest map in the series yet, one that tries to recreate the varied locales of Mexico. You've got sandy dunes, dense forests, and even a snowy volcano to race across. Throw in fantastic weather effects and more events and activities than ever before, and you have what is undoubtedly the best racing game available on PC right now. If you have any love for cars or racing, this need to be in your library. It's as simple as that.
Read our review of Forza Horizon 5
Check the price of Forza Horizon 5
2. DiRT Rally 2.0
Just like its predecessor, DiRT Rally 2.0 can be extremely maddening. Yet, it's also rather brilliant. You can't rewind time if you make a mistake, and you can't keep restarting indefinitely – DiRT Rally 2.0 is a game that relies on skill. You have to pay attention to your co-driver at all times, drive at the limits of your ability, and concentrate. Get distracted by anything, and you're likely to wrap your car around a tree. For some, it'll prove to simply be too strenuous of an experience. Put in the time to master its cars and learn its tracks, however, and DiRT Rally 2.0 is rewarding in ways that other racing games can't ever dream of being.
Read our review of DiRT Rally 2.0
Check the price of DiRT Rally 2.0
3. Forza Motorsport 7
If you like your racing serious but not too much so, then Forza Motorsport 7 is probably the racing game for you. It's taken a leaf or two out of Forza Horizon's book by being a little more playful than past iterations, but it's still the game to go for if you want the perfect balance between realistic driving physics and pure fun. Featuring a massive selection of both real-world and fictional tracks and over 700 cars for you to collect, upgrade and race, its campaign will keep you occupied for tens if not hundreds of hours. And let's not forget its wealth of online multiplayer options. Needless to say, pick up Forza Motorsport 7, and you're not likely to be disappointed.
Read our review of Forza Motorsport 7
Check the price of Forza Motorsport 7
4. F1 2022
All of Codemasters' F1 games of recent years have been brilliant. If you're a fan of the sport, however, then you're going to want to get F1 22. While it doesn't have a brilliant story mode like F1 21, it makes up for it by incorporating the latest changes to the aero rules and more. There's also the fact that it allows players to get behind the wheels of a range of exotic cars, competing in challenge events as they move between one race weekend and another. It's just a shame that the new F1 Life mode is such a let-down. Still, if you're after the best racing games on PC and love Formula One, this is a must-have.
5. Assetto Corsa Competizione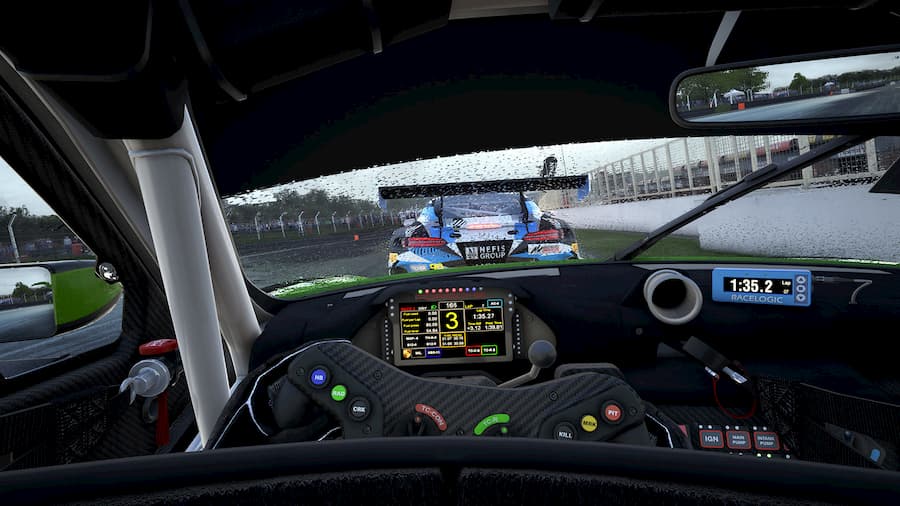 If you're after a racing game with a deep career and lots of car customisation options, Assetto Corsa Competizione isn't for you. If you want realistic physics, beautiful cars, and accurate tracks, however, it will be the game of your dreams. Simply put, Assetto Corsa Competizione is a serious racing game for serious people. You need to be aware of and follow the rules of the Blancpain GT series, and master its beautifully recreated cars and tracks if you wish to succeed. Also, if you want to get the best out of it, you're really going to need a steering wheel. Still, one of the best racing games on PC, if you take your racing seriously, Assetto Corsa Competizione is an absolute must.
Read our review of Assetto Corsa Competizione
Check the price of Assetto Corsa Competizione
6. Need for Speed Heat
Need for Speed is great again. Feeling like a greatest hits of the games that came before it, Need for Speed Heat takes the best bits from from a plethora of Need for Speed titles and puts them together rather well. You've got the illegal night time races of Underground along with plenty of car customisation; the legal daytime street races of ProStreet; and even the risk versus reward system of Rivals makes a return. Of course, there are police chases too. It wouldn't be a Need for Speed game without police chases, would it? If you're after high-octane thrills and spills, Need for Speed Heat is perhaps the best arcade racer available on PC right now.
Read our review of Need for Speed Heat
Check the price of Need for Speed Heat
7. GRID Legends
Building on 2019's GRID, GRID Legends is a game absolutely packed with content. Along with a career mode that boasts an overwhelming number of events, there's a story mode complete with FMV sequences, a Race Director mode, and multiplayer. But even better, the racing on offer here is extremely exhilarating. Cars make mistakes and crash, forcing you to pay close attention to what's going on around you. And your actions have to be considered: be too aggressive, and you'll soon find yourself with enemies who'll do their best at stopping you from getting on the podium. That's why GRID Legends makes it onto our list of the best racing games on PC.
Read our review of GRID Legends
Check the price of GRID Legends
8. Burnout Paradise Remastered
While Burnout Revenge is, and always will be, the best Burnout game in our eyes, we think Burnout Paradise is brilliant too. And a remastered version of Burnout Paradise is available on PC, bundled up with all of the DLC released for the game. Burnout Paradise Remastered has its issues – it still lacks fast travel, for instance, and you can't even place helpful markers on its map – but it's also a hell of a lot of fun to play. Taking the series open world, it has over 100 events for you to find and complete as well as as a host of other activities to engage in, though the lack of a true crash mode is a little disappointing. Still, if you want to drive a range of vehicles at high speeds while performing ridiculous stunts and causing crashes, Burnout Paradise Remastered has you covered.
Read our review of Burnout Paradise Remastered
Check the price of Burnout Paradise Remastered
9. RIDE 4
Prefer racing bikes to cars? Well, you better add RIDE 4 to your library. This is the ultimate bike racing game, offering stunning visuals, a meaty career mode, and convincing handling and physics. After creating your rider, it's up to you how you progress in your career. In any case, you're going to want to add some of the meticulously recreated bikes to your garage, and perhaps even customise them before showing off your skills. If racing against the AI doesn't cut it for you, you can even race against others online. This really is a treat for fans of machines with two wheels.
10. Wreckfest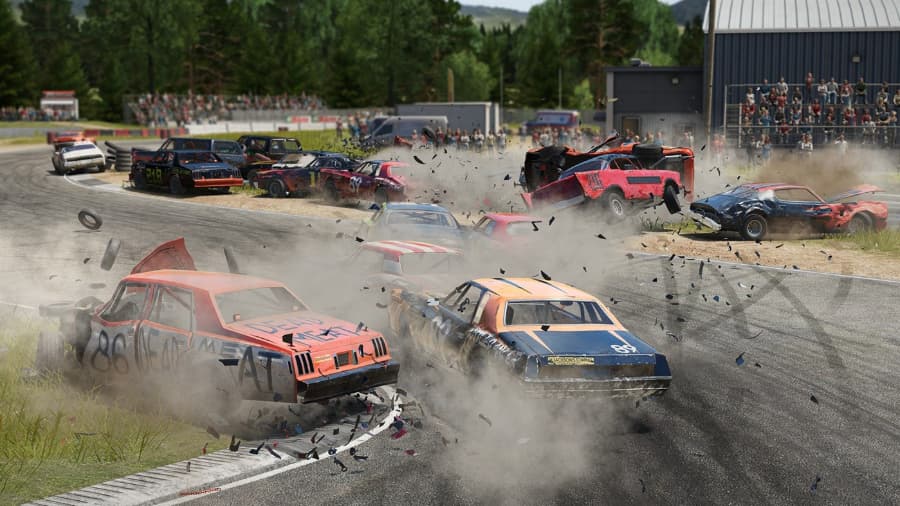 We love Wreckfest, we really do. To us, it's not just one of the best racing games on PC, it's one of the best games on PC full stop. The spiritual successor to games like Destruction Derby and FlatOut, Wreckfest lets you compete in no-holds-barred racing events where just making it across the finish line can be considered a success. A bit of bumping and grinding is encouraged, and sometimes it can lead to disastrous results. Needless to say, if you like racing games where you can take a bit of aggression out on your competitors, consider this a must-have.
11. DIRT 5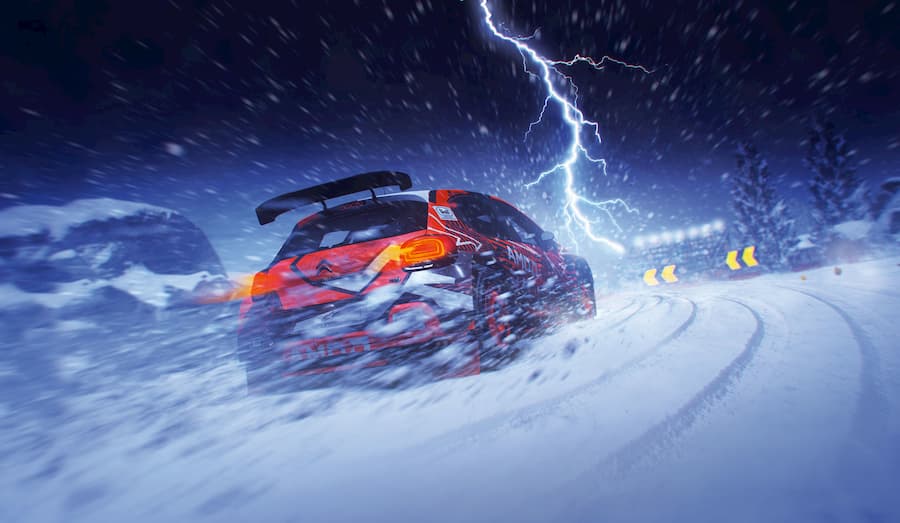 Like rally games but don't want to feel punished every time you screw up? We don't blame you. Thankfully DIRT 5 has all the fun of rally without the harsh time penalties and other hassles that suck the fun out of it for those who aren't hardcore. There are a wide variety of events here, each letting you loose in a particular type of vehicle. So, you might be racing in snow using a traditional rally car, or you might be trudging over a muddy hillside in what can only be describe as a four-wheeled beast. What's really unusual about DIRT 5 is that it has a story. Whether you care to follow it is up to you; you might be more interested in making your own events in the Playground, instead.
12. Redout 2
Are anti-gravity racing games your thing? Or perhaps you just like racing titles that are futuristic? In any case, Redout 2 might just be the game for you. Well, providing you have the skills for it. This superfast racing game will push you to your limits thanks to its insane pace and challenging courses. Jumping into either its lengthy campaign or online modes where you can race against other like-minded pilots, you'll need the reflexes of a ninja to succeed. Fail and you'll crash and burn. Master Redout 2, however, and you'll feel like a gaming god. In any case, your eyes will at least be pleased thanks to the glorious visuals.
13. Hot Wheels Unleashed
If you used to play with Hot Wheels cars when you were younger – and let's face it, who didn't? – you might be interested in Hot Wheels Unleashed. This arcade-style racing game is an absolute hoot, allowing you to collect a wide range of fully-licensed Hot Wheels vehicles and speed around insane race tracks set up in fairly normal environments. Like any good arcade racer, each car comes equipped with boost, and it pays to drift around corners at speed rather than brake for them. Throw in fun pieces of track and other hazards that can either help or hinder you, and you have one of the most entertaining racing games on PC, that's for sure.
Read our review of Hot Wheels Unleashed
Check the price of Hot Wheels Unleashed
14. WRC Generations
Okay, so there's already a serious rally game on this list, so why another one? Because WRC Generations has a brilliant career mode and a wonderful range of environments to drive around, that's why. But there's more to it as well. It looks great, for example, it has a range of legendary cars, and is the first to feature the hybrid rally cars introduced in 2022. So, while DiRT Rally 2.0 might play a little better in our opinion, WRC Generations is definitely worth checking out if you're after the best racing games on PC. Especially if you're keen on the rally variety.
Read our review of WRC Generations
Check the price of WRC Generations
15. The Crew 2
It's getting pretty old now, The Crew 2. But thanks to continuous support from Ubisoft, there's never been a better time to start playing it. Letting you loose in a large open world, there's a wealth of events to complete and activities to engage in. And you're not stuck with just driving cars, either: boats, bikes and even planes are yours to take control of if you wish. But the best thing about The Crew 2 is its focus on community. You can play it solo, but it's much more fun when you join up with friends. So, if you're after the best racing games on PC, you'd be wise to give this a try.