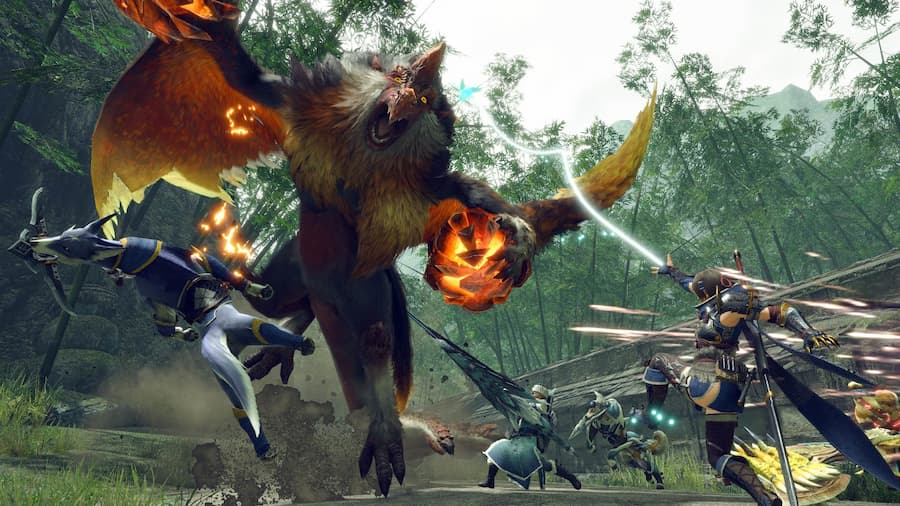 Monster Hunter Rise and Monster Hunter Rise: Sunbreak are getting a new update and Capcom has released the patch notes.
The patch will arrive this November 24th, hitting both the PC and Switch versions of Monster Hunter Rise. As confirmed by the patch notes, several of the major, non bug-fixing changes require that you have the expansion, Sunbreak.
That might sound a little cheeky, but Sunrise is absolutely worth having – check out our review here. Also, developer/publisher Capcom has previously added free content to the main game, including some higher level monsters designed to test stronger players.
So what's changing this time around? You can find the full Monster Hunter Rise patch notes here, but these are some of the most notable changes:
Gathering Hub quests have a new monster (Sunrise required).
Level caps have been raised for several items (Sunrise required).
You can customise followers' Wyvern Riding and item use behaviour (Sunrise required).
Fixed voice lines that wouldn't play correctly.
Fixed an issue with players poking through their own capes.
Fixed an issue with a character randomly speaking Japanese (we kind of wish they'd kept this one).
Agosy Trade Goods line-up features new herbs.
Followers can accompany you on more quest types.
We doubt this'll be the last patch Monster Hunter Rise and Monster Hunter Rise: Sunbreak receive though other patches may be more focused on bug fixes. A significant portion of this patch, 1.3.0.0  is aimed at polishing gameplay and rightly so.
The patch will be available this November 24th, arriving on Nintendo Switch and PC. And if you haven't got your hands on Monster Hunter Rise yet, it's currently 50% off on Steam.