You know what one of the worst things about owning a PS4 is? You can't play Zelda games on it.
This article was first published in February 2020 and has been periodically updated since.
Don't panic, though! While you'll never be able to play a Legend of Zelda game on PS4, there are plenty of other games in a similar vein. And some of them are very good. They may not star Link, Ganon or indeed Princess Zelda, but they have their own lovable protagonists, engaging worlds to explore, and combat to sink your teeth into.
We've put together a list of the best Zelda replacements on PS4. These games will all let you explore worlds, combat dangerous creatures, bravely explore dungeons, and of course, solve puzzles as you go. They may not all look like a Zelda game, and some may have elements that you wouldn't normally associate with the series, but chances are you'll love them if you give them a go.
So, without further ado, here's a list of the best games like Zelda on PS4.
Want to support GameSpew? If you decide to buy any of the games on this list, please consider using our Amazon affiliate links, included below each entry. It won't cost you anything extra, but we'll get a small slice of the purchase.
1. Immortals Fenyx Rising
Whether you're a fan of old-fashioned 2D Zelda games, or the more recent Breath of the Wild, it's highly recommended that you check out Ubisoft's Immortals Fenyx Rising.
Casting you as the titular Fenyx, Immortals Fenyx Rising has you returning from a war to find your home in ruins and your brother turned to stone. The troublesome Typhon is the culprit, and it's soon clear that it's up to you to take him down. To do that, you'll have to explore an expansive open world and aid the Olympian gods, gaining new abilities and growing more powerful as you go.
The visuals are bright and colourful, and the world around you has plenty of verticality, challenging you to climb effectively and make use of your wings to glide from one place to the next. Mix in thrilling melee combat and plenty of puzzles to be solved, and you have a game that's very reminiscent of Zelda. There are even dungeons to enter and overcome.
Needless to say, if you're after games like Zelda on PS4, Immortals Fenyx Rising is one of the best.
Read our full review of Immortals Fenyx Rising
Check latest prices of Immortales Fenyx
2. Darksiders: Warmastered Edition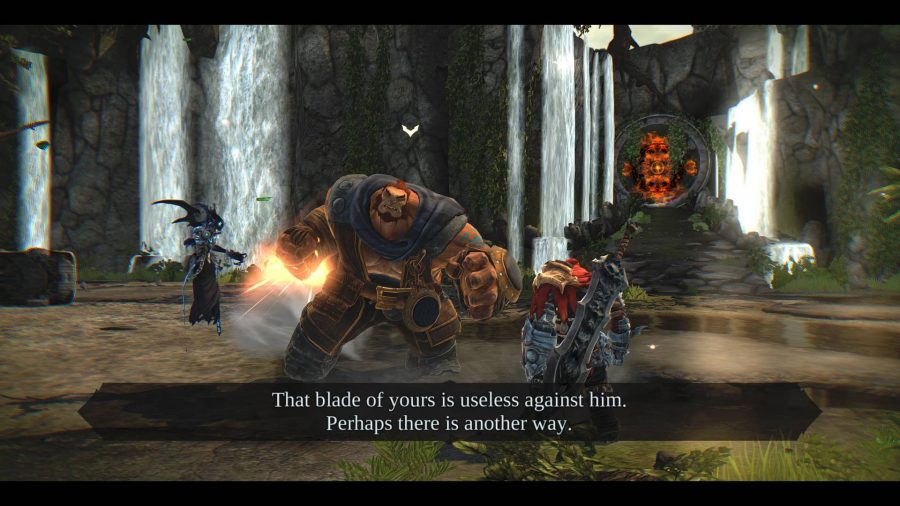 Casting you as War, the one and only member of the Four Horsemen of the Apocalypse who's been thrown to Earth during what seems to be the end of days, Darksiders: Warmastered Edition's action-RPG gameplay fuses Zelda-like dungeons with God of War style combat.
As you can imagine, it's an enjoyable combination, with both aspects balanced well to effectively control the pace of the game. Combat is intuitive, with secondary weapons introduced sporadically throughout the game that not only increase your attack options, but also enable you to further interact with the environment – metroidvania style. It might not be as 'cutesy' as a Zelda game, but don't let that put you off; in terms of gameplay, this is one of the best games like Zelda you can play on PS4.
Read our full review of Darksiders: Warmastered Edition
Check latest prices of Darksiders 
3. Ittle Dew 2
Ittle Dew 2 is very much like a Zelda game, so much so that it may, at times, border beyond being a homage into copycat territory. Thankfully, Ittle Dew 2's tongue-in-cheek story allays any concerns; this is the entertaining journey of a girl who wants nothing more than to be a video game protagonist. No, really. That's the story. And so she ventures to a dangerous island made specifically for people just like her, who dream to star in their own video game.
Like an old-school Zelda game, Ittle Dew 2 is presented in a top-down format. Your protagonist can swing a weapon and can also make use of various tools like a magic wand and a bomb. And, just like Link, she'll be tasked with making her way through dangerous dungeons, solving puzzles, and taking down hulking bosses. This is a charming, enjoyable experience in its own right, but will be most loved by players looking for a game like Zelda on PS4. You really can't go wrong with this.
Read our full review of Ittle Dew 2
4. Okami HD
Okami may be rather old now, but that doesn't stop it being one of the most charming adventure-RPGs out there. Seeing you play as a wolf, this is often classified as one of the best Zelda games that isn't a Zelda game. And we couldn't agree more. This is an epic journey that has you adventuring through luscious green fields and into dungeons filled with puzzles and troublesome enemies. Just like a Zelda game, you need to be quick with your sword and quick-thinking to succeed, and that's just one of the reasons why we love it.
Okami HD has brought the 2006 classic up to date a little, with crisper visuals. This is still the same game it always has been, though. If you're looking for one of the best games like Zelda on PS4, you'll love Okami. Some of its systems are a little deeper than Zelda – such as an RPG-style upgrade system – and its combat may be a little more in-depth, but we're confident any fan of Zelda will find themselves at home here.
Read our full review of Okami HD
Check latest prices of Okami HD
5. Oceanhorn – Monster of Uncharted Seas
At a glance, you'd be forgiven for thinking that Oceanhorn – Monster of Uncharted Seas simply is a Zelda game. Not so, but this indie adventure effort from Cornfox & Brothers Ltd. does a very good job at recreating the look and feel of Nintendo's best series. In Oceanhorn, you take on the role of a young adventurer who sets out to look for his missing father. It can't be a coincidence he looks very much like a certain Link, either…
Over the course of your time with Oceanhorn – Monster of Uncharted Seas, you'll visit various locations, fight your way through deadly enemies, solve puzzles and collect new equipment. You've got a boat which enables you to sail to new islands, many of which contain new adventures for you to engage with. This is unabashedly one of the best games like Zelda on PS4, and so if you're looking for a Link-like adventure, you'll find something to scratch that itch here.
Read our full review of Oceanhorn – Monster of Uncharted Seas
Check latest prices of Oceanhorn
6. Moonlighter
Moonlighter is a fantastic game in its own right, but it's also one we always recommend for players looking for something like Zelda on PS4. Though while it has a lot in common with the Zelda series, this game of two halves very much stands strong on its own two feet.
You see, in Moonlighter, you have two very important roles to fill. By night, you're an adventurer, heading out into dangerous dungeons in search of useful items. By day, you're a shopkeeper, selling those useful items to other wannabe adventurers. Both halves remind us of Zelda in one way or another. Finally, you get a glimpse at the poor merchants of Hyrule, struggling to make ends meet just so Link can have somewhere to buy his potions!
But it's the adventuring part of Moonlighter which makes it stand out as one of the best games like Zelda on PS4. Despite its roguelite nature, it's hard not to compare it to the adventures of Link; the combat feels familiar, and the art style reminds us of a stylised version of an old-fashioned Zelda game. Really, give it a go. We think you'll love it.
Read our full review of Moonlighter
7. Kamiko
Although it's brief, Kamiko is hands-down one of the best games like Zelda on PS4. The best thing about it is it costs just £6.49 to buy, too.
Kamiko casts you as the titular hero out on an adventure to battle an evil demon force. It's a top-down pixelated adventure, and it's immediately clear where its inspirations lie: anyone who ever played Legend of Zelda on the NES as a kid will feel right at home. Its gameplay is very much inspired by the early Zelda games too, but that's no bad thing. You'll enjoy swinging your sword to slash through demons and making use of magic attacks to make your way from one area to another.
You'll likely finish Kamiko in a matter of hours, but it packs enough charm to last much longer. It's a clear homage to the game series we love, and it does a great job of capturing its magic.
Read our full review of Kamiko
8. Evoland: Legendary Edition
Evoland: Legendary Edition packs in two games – Evoland and Evoland 2, both of which were created with a very specific purpose in mind: ape the games of the past. And while it may sport little nods to other games, like a Diablo-style level, and Final Fantasy-style turn-based battles, there's one game series in particular that Evoland has drawn its inspiration from. That series is, of course, Zelda. Couldn't you tell from the screenshot above?
The protagonist, dressed in a familiar green tabard and pointed hat, is even called "Clink". But rather than be a cheap rip-off, Evoland cleverly uses well-known tropes from The Legend of Zelda and other games of its type to tell the story of video games through time. And for fans of Zelda, that's sure to raise a chuckle or two.
Read our full review of Evoland: Legendary Edition
9. Baldo: The Guardian Owls
With a beautiful art style reminiscent of Studio Ghibli animation, it's easy to fall in love with Baldo: The Guardian Owls at first glance. This action-adventure RPG had mixed reviews at launch, but a big update in 2022 has addressed a lot of players' concerns. And now, hopefully, this beautiful, fantastical adventure is the best it can be.
Of course, it's hard not to draw comparison between Baldo and more modern Zelda games. You're in control of a young boy, exploring a mystical land. There are characters to meet, dungeons to beat and enemies to overcome. Heck, you can even chase around after chickens if you want; a favourite past-time of Link's.
More PS4 games to check out: