2018's God of War was pretty much a perfect game.
Reuniting players with Greek god killer, Kratos, it found him remorseful of his past, wishing to leave it behind him as he creates a new life in a new land. But anyone that has played it will know: trouble has a way of finding him. Everything about the adventure was stellar, from the visuals to the thrilling combat. But what was most remarkable about God of War was how it humanised Kratos, a character that had previously been unlikable and one-dimensional.
Needless to say, expectations have been high for its sequel, God of War Ragnarok. Following the events of God of War, which you can catch up with via a handy recap accessed from the game's main menu, it picks up with Kratos and his son Atreus trying to live their lives in peace while dealing with the repercussions of their previous actions. But you can see that Atreus is restless, and after a brush with yet more Norse gods, it's getting harder for Kratos to justify inaction.
Against all odds, the story this time is even grander, drawing in a wealth of new characters. You'll meet the likes of Tyr, Thor, Sif and even Odin, while surviving characters such as Freya and Mimir also make a return. Some you'll encounter as friends, others foes, and God of War Ragnarok does a great job of fleshing them out, making  them believable as characters that aren't necessary good or evil. They're all just people with their own motivations.
Fate lies at the heart of the story of God of War Ragnarok. The revelations – and secrets – unveiled at the end of God of War weigh heavy on Atreus' mind, and he feels they are a call to action. Though while he seems hell-bent on heading into war, Kratos would rather avoid it if possible. The question is: is it inevitable? Ultimately, the story is driven by matters of the heart from most angles. And by the time the credits roll, you've been on quite the rollercoaster.
The story of God of War Ragnarok comes across so well partly thanks to the game's astonishing visuals and direction. God of War looked good, and it still does now. But God of War Ragnarok raises the bar. Character models are out of this world, with Kratos and other main cast members being eerily lifelike at times. Add into that environments that are more natural and densely populated with flora and fauna, and it's oh-so easy to get sucked into the game's world and forget about everything else.
Other things help with that, too, of course; the fact that there are no loading screens, for example. And also that there are next to no technical issues or bugs that draw you out of the action. The only misstep we've encountered is a visual bug that sometimes appeared when perusing the many skill trees on offer. And then there's the DualSense implementation, which is just fantastic. From the right trigger being resistant when using your axe to cut down an obstacle, to the rewarding thump you feel when you summon it back from a target, a valiant effort has been made to get you closer to the action.
When it comes to the gameplay of God of War Ragnarok, those who have played its predecessor will slip right into it like a pair of well-worn slippers. Sony Santa Monica didn't need to reinvent the wheel and it hasn't tried. Instead, everything from combat to traversal has been levelled up, making this the most exciting God of War game yet.
In combat, you'll find that moves flow better into one another, allowing you to naturally create impressive combos and quickly react to your opponents. You can seamlessly switch between weapons, each of which has a unique element and its own features, and using them effectively will truly make you feel like a god as you decimate what sometimes feel like small armies.
One neat new trick available to Kratos is being able to customise skills he has mastered. When a skill has been used enough, you'll be able to spend skill points to tweak its properties. You might choose to boost its damage, increase its ability to stun or something else entirely. Even better, you're not stuck with your choice either; you can go back at a later date and change it. Along with upgradable runic attacks and more support options via your companion, the combat of God of War Ragnarok is unmatched.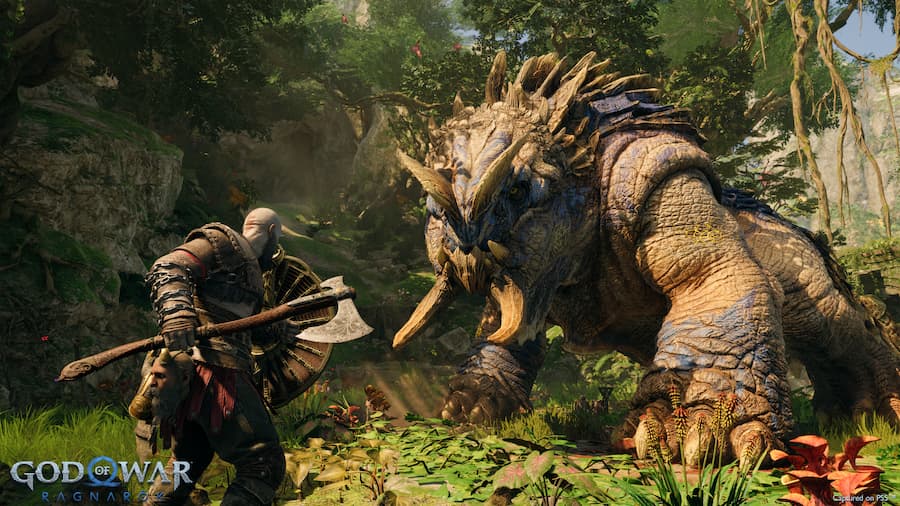 While the combat being improved is undoubtedly fantastic, what's even better is that enemy variety has been boosted dramatically. As you explore the nine realms of Norse mythology you'll encounter a wide range of foes, each with their own unique quirks. But more importantly, mini-boss fights are no longer almost exclusively trolls. Here, you'll be fighting more exciting foes such as giant lizards and other fantastical beasts that defy description.
Just making your way through the main story of God of War Ragnarok is likely to take you 25 hours, and in that time you'll never get tired of encountering a specific enemy. Chances are you'll want to engage in some side content along the way though, and not only to give you a fighting chance of surviving the game's later battles – which can be pretty hairy unless you've substantially upgraded your gear. The world truly is your oyster this time around, with nearly every realm having multiple optional favours for you to complete. Add in endgame content, and you have a game that feels like it's bursting at the seams with things to do.
The truth is, there's so much more we could say about God of War Ragnarok, but to do so would spoil the experience for you. Ultimately, all you need to know is that this is bigger and better than 2018's God of War in every single way. Its boss battles are the definition of epic, its world is more rewarding to explore, and its combat has been refined to perfection. Throw in a story that grips you from the outset and has you wondering where it will go from one moment to the next, and you have a game that sticks you to your seat like glue. Sit down to play and minutes turn into hours – it's so hard to pull yourself away from it. All we have is love for this God of War.
---
God of War Ragnarok Review – GameSpew's Score
This review of God of War Ragnarok is based on the PS5 version, with a code provided by the game's publisher. It's available on PS4 and PS5.