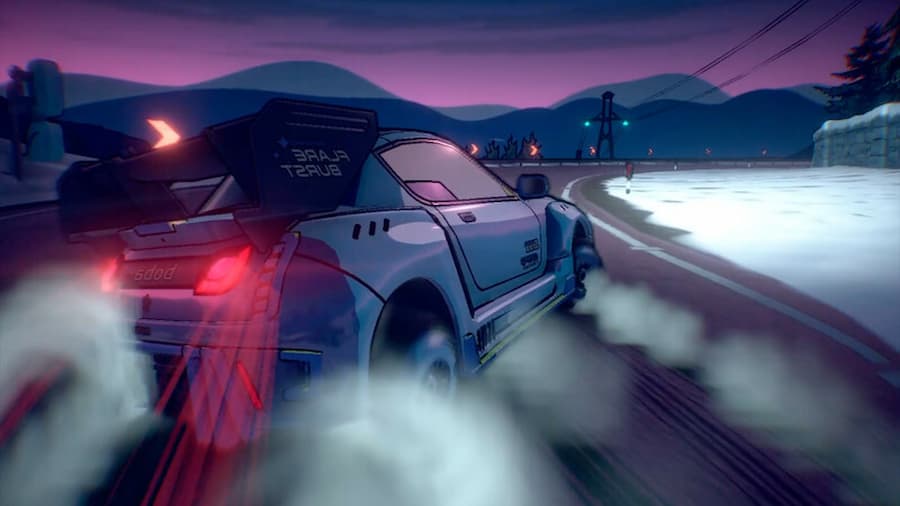 Two years ago, a racing game was released that is like no other.
Its name is Inertial Drift, and its gift to the world is the drift stick. Being hyper-stylised – and ultra-cool – Inertial Drift doesn't have you drift like you do in most other racing games. So, forget about painstakingly setting up your car to get the back end out, then carefully having to feather the throttle. Here, it's all about making effective use of the drift stick – the right analogue stick, to be precise.
As we mentioned in our initial review of Inertial Drift back in 2020, it leads to "the very definition of a game that's easy to pick up yet hard to master." While in some cars you can get sideways without any effort at all, in others there's much more coercion required. You might need to ease off the gas to better initiate a drift, for example, or perhaps even tap on the brake.
It's one of the hurdles you have to overcome to truly enjoy Inertial Drift, and even more so now this Twilight Rivals Edition is available. You see, each car can be considered its own character thanks to its unique driving personality. You need to get to know each one, working out its quirks to truly appreciate and master it. And so, when you quickly move from one car to another, you can find yourself thrown off a little.
Inertial Drift: Twilight Rivals Edition brings the unique drifting experience to PS5, and while there are the usual improvements you'd expect, the biggest highlight is the inclusion of the Twilight Rivals DLC that's also now available on other formats. It adds a whole new single player campaign to the game, one which provides the greatest yet.
Having heard of your skills, Team Equinox has made the journey to put you in your place. Or so they thought: you're going to out-perform them in every event, and make them reconsider their approach to the whole racing thing. You might even make them more amicable along the way, too. To do that, however, you're going to jump from car to car as you move from one event to another. And these events take place on some of the toughest courses Inertial Drift has to offer.
Ultimately, the Twilight Rivals story will have you competing in 20 or so new events, and like in the base game these range from one-on-one duels to time attacks. There are four rivals to take on, and by defeating each you'll unlock the use of their car in the rest of the game. So, that's four new cars if you can hack it. And along with those new cars there are four new tracks as well.
The cars, which consist of the Terra R.A.I., Eurus Hyperia, King Bison and XX82-133, are as outlandish as ever, making them worthy additions to your garage. And the tracks are some of the most scenic; we've been particularly enjoying getting sideways on the aptly named Serpentine Descent. Needless to say, if you're a fan of Inertial Drift and already own it, you'll probably want to pick up the Twilight Rivals DLC to expand the experience.
For those new to Inertial Drift, however, this new PS5 edition is perhaps the way to go. The visuals are comparable to the game being played on a high-end PC, and for those with fancy modern TVs there's high frame rate support. Loading times have also been reduced, but disappointingly there's little to mention in terms of DualSense support.
Inertial Drift: Twilight Rivals Edition has all the same issues we had with the original release, such as poor options for those who want to race online, but thanks to the addition of another campaign and a selection of cars and tracks, those who loved it before are likely to love it even more. It's those who have not yet played Inertial Drift that will perhaps get the most out of this new PS5 edition, however. A host of improvements mean it has never looked or played better on console.
---
Inertial Drift: Twilight Rivals Edition Review – GameSpew's Score

This review of Inertial Drift: Twilight Rivals Edition is based on the PS5 version, with a code provided by the game's publisher. It's available on PS5 and Xbox Series X/S.