With striking artwork and a sci-fi story worthy of Hollywood, it's safe to say that Somerville grabbed us from the very start.
Somerville has perhaps one of our favourite opening sections of any game we've played in recent years. Mum, dad, toddler and dog have all fallen asleep in front of the TV, static noise blaring out from the speakers. Taking control of the sleepy toddler, you slip away, cuddle the dog, then see what mischief you can get yourself into. That means clambering over the baby gate into the kitchen, finding your way up onto the worktop and making a bee-line for the window.
Thankfully, your plans are foiled, and your mum wakes up to find you having fallen into the kitchen bin. Ho-oh, this will no doubt be a hilarious tale to recount when you're older. With both parents now awake, normal suburban life goes on: mum tends to baby, dad tends to dog. Except… their idyllic life is soon shattered by a blinding light outside and an almighty crash. Little do they know that the world is about to change forever.
Somerville is about an alien invasion, but it's not really about that. It's about an ordinary man trying to survive an alien invasion as he comes to terms with the chaos and destruction around him. An encounter with what we presume is an alien leaves him with a new, unknown power in his arm: by using nearby light sources, he can somehow manipulate strange alien matter that now litters the land. But he doesn't have time to dwell on that or ask any questions. With his wife and child missing when he wakes up after the crash, he's only concerned with finding them.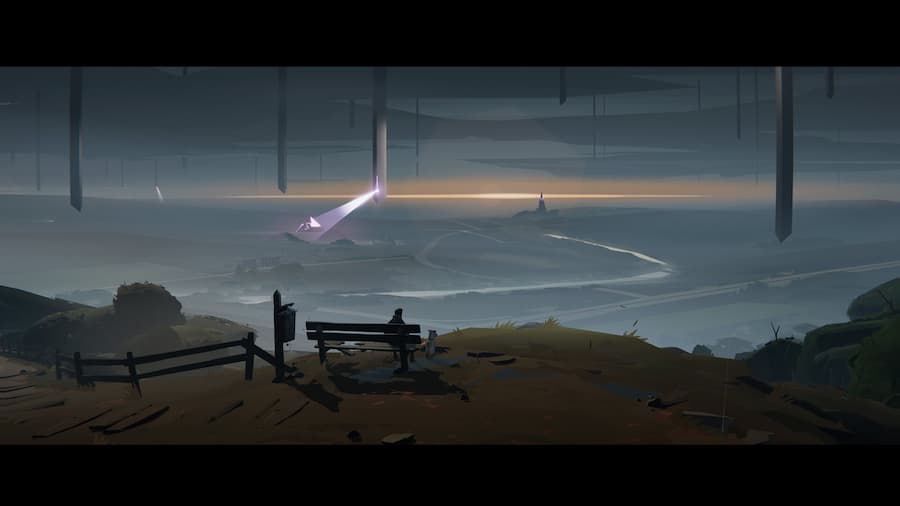 And so, we control him on a journey across once-familiar landscapes, now broken, ruined and tainted with unspeakable alien objects. From the rural countryside you'll make your way into a forest, where you'll need to avoid beams of light, darting in and out of cover to remain safe. Thankfully, you're not alone: the faithful family dog remains by your side, not offering much in the way of practical help, but the feeling of emotional support is palpable.
Related: The Best Indie Games on Xbox Game Pass
We won't tell you exactly what happens through the course of playing Somerville, but there are some real highs and lows. For a character that never speaks – in fact, there's not a single word of dialogue in the entirety of Somerville – it's very easy to empathise with our character and feel what he feels, both in the uplifting moments and the devastating ones. The ending left us with some questions, however, with the last couple of chapters in general perhaps not adding anything to the experience other than muddying the water somewhat. But we suppose their events might be down to player interpretation.
The art style of Somerville is striking, and it's one that's best enjoyed on a big screen. It's beautiful even in its bleakness, and developer Jumpship has done a great job of introducing new environments at a steady pace. This isn't a long game – four or five hours, maximum – but a great deal is packed into that timeframe. There are some truly stunning setpieces, too: making your way through an abandoned Glastonbury-style festival site is awe-inspiring. And later, being chased up a church's twisting spire is heart-pounding.
As great as Somerville's best moments are, though, it's let down by one thing: awkward controls. At times, your view of the action is rather zoomed out, and it can be hard to see exactly how, or where, you can interact with an item. That's compounded by the fact that you often need to stand in a very specific location before something will let you interact with it. Your movement is clunky and often slow, too, making solving the simplest of puzzles occasionally frustrating.
Those puzzles are a mixed bag. There's nothing truly remarkable here, and much of Somerville's gameplay feels rather old hat. Pull this lever, move this box, push this minecart. Even your strange, alien powers feel often wasted as the main mechanic revolves around light – something that many, many games have done before. It's at least changed up somewhat, half-way through the game, when a second ability is added to your repertoire. But it doesn't absolve the disappointing controls.
Somerville isn't always the most enjoyable game to play, then. Its puzzles aren't anything special, and they're hampered by clunky controls. But what is special is Somerville's narrative and art design. The score, too, is excellent: we just wish there was more of it – too many scenes are simply too quiet. Even if we weren't enamoured with the ending, Somerville's story is worth experiencing. It's just a shame the gameplay is a little disappointing in comparison.
---
Somerville Review – GameSpew's Score
This review of Somerville is based on the PC version of the game, via a code provided by the publisher. It's available on Xbox One, Xbox Series X/S and PC.