If you've got friends around, there's often nothing better than putting on a fun video game that everyone can enjoy
No matter the occasion – a birthday, Christmas, a new job – getting some friends and family around and having a laugh is always good. And if you have a PS4, there are plenty of party games available that will allow you to do just that. But what are the best party games on PS4?
Don't worry: we're here to help. We've assembled a list of the best PlayStation 4 games to play with friends and family at parties, covering a variety of game types and genres. Many of them require multiple controllers, so you might need to invest in some if you wish to play them (or ask friends or family to bring some around). Others let you play via mobile phone or tablet, which is very handy indeed. Either way, sit down with these and you're guaranteed to have a great time.
Related: The Best Couch Co-op Games on PS4 (2022)
Want to support GameSpew? If you decide to buy any of the games on this list, please consider using our affiliate links included below each entry. It won't cost you anything extra, but we'll get a small slice of the purchase. Thank you.
1. The Jackbox Party Pack series
There are currently nine Jackbox Party Pack games in the franchise to choose from, and each one has their merits. Each bundling up five easy to play party games, they haven't all been created equal. The latest entry, Jackbox Party Pack 9, is one of our favourites. It mixes up old classics with some new, innovative games, making for one of the best collections in years.
The great thing about the Jackbox games is that you don't need multiple controllers to play. Each player just needs their own phone or tablet. Logging onto Jackbox's website allows you to connect to the game. It also means eight players – sometimes way more – can play at once, which is something most other games can't offer. With titles like Quiplash, that challenges you to come up with funny phrases, or Trivia Murder Party, that gives a fun twist to the usual trivia games formula, there's a lot of fun to be had with Jackbox Party Pack games. They make for some of the best party games on PS4, hands down.
Read our review of Jackbox Party Pack 9
Check latest prices of Jackbox Party Pack
2. Cake Bash
Cake Bash is not only one of the best party games on PS4, it's also one of the most adorable. Battling it out? With cake? Count us in.
It's made up of several minigames, with the overall challenge of being the tastiest, most desirable cake in the cake stand. Some games will have you literally battling it out against other cakes, trying to push them out of the arena so you can reign victorious. Other minigames will see you trying to roast the perfect marshmallow (harder than it sounds), or avoiding getting hit by a fork or other obstacles while standing on a cake.
It's incredibly random, but that's what makes Cake Bash so much fun. Up to four players can join it at once, and with simple, easy-to-learn gameplay, almost anyone can join in the fun. It's almost as enjoyable as actually eating cake. And we love eating cake, so that's high praise.
3. It's Quiz Time
It's Quiz Time is a good old-fashioned quiz game presented with a modern twist. And if you enjoy testing out your general knowledge (alongside movie, games and pop culture trivia), then this is one of the best party games out there.
There's over 25,000 questions in the game, so chances are you'll rarely get duplicates even if you play multiple games. Better yet, developer Snap Finger Click has continued to support the game since its launch in 2017, with new updates dropping every year.
There's a range of modes to play through, keeping each game feeling fresh. If you played Buzz! in the days of PS2/PS3, you'll certainly get a kick out of It's Quiz Time.
4. Rifftrax: The Game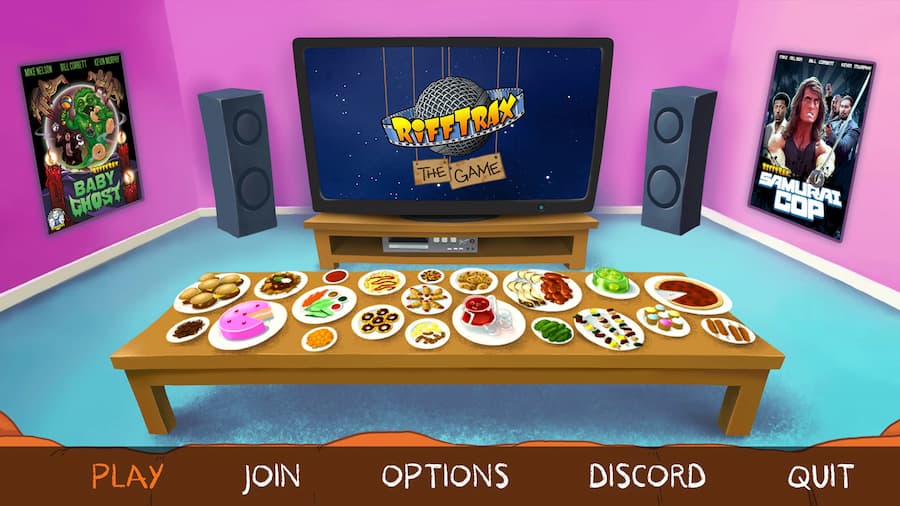 Rifftrax: The Game is one of the best party games on PS4 for movie fans. Like Jackbox, all each player needs is their own smartphone; log in to Rifftrax's website and you're good to play. You'll be shown a random movie clip, and your goal is to come up with a funny riff to play over the top of it.
It's simple, so simple in fact that anyone can join in. But what makes Rifftrax: The Game so great is that it offers up the freedom to get as creative, funny or rude as players want. If you don't want to come up with your own riffs from scratch, another mode allows you to choose them from a list. Whichever way you decide to play, though, you're going to end up laughing your butt off.
Read our review of Rifftrax: The Game
5. Nidhogg 2
Nidhogg 2 might be designed for just two players, but we still think it's one of the best party games on the PS4 console. Why? Because it's chaotic, hilarious, and a whole lot of fun.
Playing it as a party game might require a bit of ingenuity – set yourself up a tournament, with your group playing against each other until a final champion remains. Trust us, you'll have a blast. In Nidhogg 2, both players must battle it out to reach the end of the screen first. The problem? They're both trying to reach opposite directions. And only one player can win, so along the way expect lots of tug-of-war type combat, some dodgy weapon attacks and a whole load of dirty manoeuvres.
Few games have us screaming with laughter at the TV set like Nidhogg 2 does. Give it a go; you won't be disappointed. Just don't blame us if some friendships end up ruined as a result. Worth it, though.
6. Worms W.M.D
Remember the classic Worms games from the 1990s? Worms W.M.D. attempts to bring back the glory of 2D worm combat – and for the most part, it does it with gusto.
Forget the 3D Worms games that were just never as good; Worms W.M.D. takes the series back to its roots, putting the focus on fun combat, crazy weaponry and the goal to blow your opposing team to smithereens. It looks great too, and nothing is as fun at a party than blowing up your opponent's worm with a homing missile. Or a sheep. Or whatever other weird and wonderful weapon you have in your arsenal.
If you love the classics, Worms W.M.D. is without a doubt one of the best local multiplayer party games on PS4. It's a great deal of fun for up to four players.
Read our review of Worms W.M.D.
Check latest prices of Worms W.M.D.
7. Scribblenauts Showdown
Scribblenauts Showdown isn't quite like the other Scribblenauts games available, but it does draw on the same unique concept. Essentially a virtual board game, up to four players move around a board, playing minigames as they stop at spaces.
The minigames are a lot of fun, but a very mixed bag. Here's where you'll have to use Scribblenauts' unique concept of conjuring up items from your imagination. A minigame that requires you to toss objects at your opponents, for example, lets you type in words to generate those objects. Something big and heavy – like a rock – will be most suitable here! Or another game, that requires you to balance falling objects on a platform, would benefit from small and square items. A book is going to balance better than a football, after all.
Scribblenauts Showdown's art style is fabulous, and the fact you can choose the length of your game – a short one will take around 20 minutes, with a long game taking upwards of an hour – means it's one of the best party games on PS4. Its minigames require a level of ingenuity rarely seen in games like this, and it'll be sure to liven up any party.
Read our review of Scribblenauts Showdown
Check latest prices of Scribblenauts Showdown
8. Speedrunners
Speedrunners' name tells you pretty much everything you need to know about the game. It's a game about running, at speed. You're up against up to three other players in your party, and the goal is to outrun every one of them. Find yourself at the back of the pack, and you'll be knocked out of the game.
It's a very easy game to pick up and play, but it's pretty tricky to master. You see, you've got a number of traps you need to avoid as you run around the course. Spikes might be your downfall, or not jumping at the precise moment could be. You and your opponents will pick up power-ups along the way too, allowing you to give yourself an advantage (or an opponent a disadvantage).
The worst thing we can say about Speedrunners is it's the type of game that can bring out the worst in people; especially people who are competitive to start with. But if you're up for a heated challenge, Speedrunners is one of the best party games on PS4.
Read our review of Speedrunners
9. Overcooked 2
Cooking? At a party? We know what you're thinking. That doesn't sound like a great deal of fun. But cooking in Overcooked 2 isn't your typical type of cooking. Unless you regularly cook up dishes on the back of a moving train. Or on a volcano that's about to explode. In which case, you might feel right at home.
Overcooked 2 challenges up to four players to work together to serve hungry customers. It sounds easy in principle, right? But the kitchen you're working in is no ordinary kitchen. Perhaps you'll be in the middle of a natural disaster, or have to cross a busy road to get from your frying pan to your chopping board. Teamwork is key here, and whichever role you're taking on, one thing is for sure: carnage and chaos will certainly ensue. It's high octane, high energy fun, and that's what makes Overcooked 2 one of the best party multiplayer games on PS4.
Read our review of Overcooked 2
Check latest prices of Overcooked 2
10. Super Bomberman R
Chances are, you're familiar with Bomberman. The little bombing chap has been around for years in various forms. But Super Bomberman R is perhaps the most fun the series has ever been. Playable with up to four friends, it challenges you to destroy your opponents by dropping bombs strategically.
The goal is to either blow them up, or get them trapped so they end up destroying themselves. It's easier said than done, though, and thwarting your fellow players takes a bit of brainwork and practice.
Still, if you're not afraid of a challenge, Super Bomberman R offers one of the best party games on PS4. It looks fantastic too, and its pumping soundtrack is infectiously catchy; it'll keep you playing long into the evening.
Read our review of Super Bomberman R
Check latest prices of Super Bomberman R
11. Tricky Towers
Playable with up to four players all competing with each other, Tricky Towers is best described as Tetris without walls. You see, blocks of random shapes fall from the sky, and it's you job to place them strategically to make a tidy and sturdy tower. It's much harder than it sounds, but it's a heck of a lot of fun.
There are three game modes in Tricky Towers. One is a race, which challenges you to build a tower that reaches the finish line before your opponents do. Another has you placing a set number of blocks – but if you drop more than three, you're out. The hardest most is perhaps the game's puzzle mode: you need to carefully balance your blocks on a small structure without them reaching a set height (or falling off).
Whichever multiplayer mode you play, though, Tricky Towers is both challenging and entertaining. If you're looking for something a little different, this is one of the best split-screen party games on PS4.
Read our review of Tricky Towers
12. Jump Stars
Jump Stars essentially presents itself as some sort of demented gameshow where, instead of walking away with a huge cash prize, the only thing up for grabs is your life.
Taking control of one of several blocky characters, the game sees you make your way through various levels, all challenging you to do something different. Maybe you'll need to survive the longest, or maybe you'll need to reach the top of a tower before your opponents. Whatever the task at hand, though, there's only one winner.
You can choose the rounds you play in Jump Stars, or you can hop into a game that randomly selects the modes you play. Either way, you're sure to have a lot of fun; this is classic party gaming at its finest. It looks great, and it's easy to pick up and play, so just about anyone, from young kids to your great-grandma, can get involved. Just don't get too sour-faced when you ultimately lose though.
13. Oh My Godheads
Oh my Godheads takes the typical multiplayer brawler twist and sticks a big, giant head in it. A Godhead to be exact. Set in a variety of colourful locations, your goal is to simply capture the head. You need to keep your opponent's team from getting the head – and how you do that is up to you. Do you fight dirty, beating your opponents should they dare take control of the head? Or do you steal it back from them when they think they've succeeded?
More than likely, this fighting game will have you doing a mixture of both. This team-based game is mayhem, and although it's fairly simple in its premise, it's one of the best party games on PS4. Especially if you're looking for something straightforward and easy to pick up.