So, you've got a PS5 and the need for speed. You might be wondering what the best racing games are on the format.
Now over two years old, there are many racing games to choose from on PS5. And we're talking native releases now, too, not just PS4 games that are playable thanks to backwards compatibility. And so, just what are the best racing games on PS5, that make use of the console's hardware to provide eye-watering visuals and silky smooth gameplay? Well, we've put together a list.
Whether you likes bikes or cars, sims or arcade racers, you'll find something on our list that meets your needs. It has everything from hardcore rally games to fun-filled open-world epics full of car customisation and cop chases. So, if you want to find out the best racing games on PS5, you've come to the right place.
And if you want yet more racing games to play on PS5, you can also check out our list of the best racing games on PS4. Thanks to backwards compatibility, they're all playable on Sony's latest console and are better than ever.
Want to support GameSpew? If you decide to buy any of the games on this list, please consider doing so via our affiliate links. It won't cost you anything extra, but we'll get a small slice of the purchase.
1. Gran Turismo 7
It's been a long time coming, but Gran Turismo 7 is finally here. It aims to provide the drive of your life, offering over 400 cars and a staggering number of tracks to race them around. And as ever, there's nothing else quite like it.
With unparalleled handling and physics, Gran Turismo 7 is a joy to play. Layer on top advanced systems such as dynamic weather that really affect your performance on the track, and you have a game that seriously impresses. It's just a shame that in catering to newcomers with its menu book-based progression system, the early hours are a little slow for those who are familiar with the series. Oh, and its menus are a little clunky.
Still, once you've got used to how Gran Turismo 7 operates, it is undoubtedly one of the  best racing games on PS5. Perhaps the best, even. It's got everything: an in-depth single-player campaign, competitive online racing, a bespoke photo mode, tuning, and a whole lot more. So, if you're into racing games and have a PS5, consider this a must-have.
Read our review of Gran Turismo 7
2. F1 22
All of Codemasters' F1 games over the last few years have been brilliant, and F1 22 is truly a must-have if you're a fan of the sport.
While it's missing the continuation to the excellent Braking Point story mode found in F1 2021, fans will want to pick this up as it's the most authentic representation of the sport yet. As well as having the latest cars, it has the new Miami International Autodrome circuit, sprint races, and a whole lot more. It's just a shame that the new F1 Life mode, which allows players to customise their own space, isn't particularly impressive.
One of the biggest new additions in F1 22 is the option to purchase and drive a range of supercars. During your career you'll be able to get behind the wheel of some of them via special events, and elsewhere you can try to lay down your best lap times. Needless to say, F1 22 isn't perfect, but it does have a hell of a lot to offer. And that's why it's one of the best racing games on PS5.
3. Need for Speed Unbound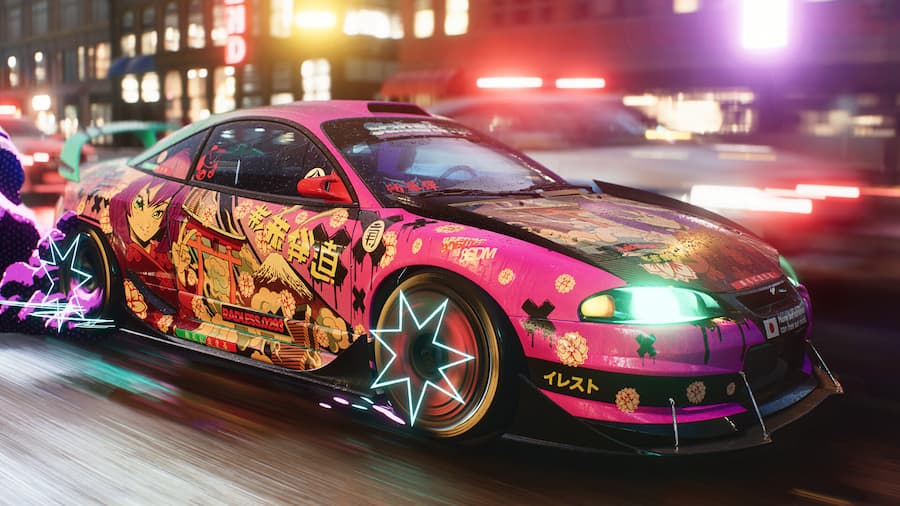 Need for Speed is back, and with Criterion at the helm you know you're in for a good time.
Saying that, however, the foundations laid by Ghost Games are present here: Need for Speed Unbound very much uses 2019's Need for Speed Heat as a base. As such, you'll still be engaging in safer races by day, then going out at night where the rewards are greater but also the chances of being chased by cops. New difficulty options means the experience doesn't have to be too arduous if you don't want it to be though.
As ever, the fun in Need for Speed Unbound is taking a car and turning it into a working of art. And a fast work of art at that. Betrayed by your friend, you'll need to develop a garage of cars in order to complete in a number of key events. From one week to the next you'll have to work hard day and night, though ultimately success is down to your driving skills. While its soundtrack and characters are an acquired taste, there's no denying that this is the best Need for Speed game in perhaps a decade.
Buy Need for Speed Unbound on Amazon
4. GRID Legends
Building on 2019's GRID, GRID Legends has a lot to offer racing games fans on PS5.
Along with the usual career mode, chock-full of events to complete across a wide range of vehicle classes, there's a Race Creator, online multiplayer, and for the first time, a story mode. That's right, assuming the role of Driver 22, you'll join a team as a newcomer, and then rise to glory. It's a bit cheesy, as you'd expect, but it's damn good fun.
What really sets GRID Legends apart from its competitors, however, is its on-track action. The A.I. here is second to none, with your competitors jostling for position, and even sometimes making mistakes. It makes every single race electrifying, especially when you've got one or nemeses out for your blood. And so, blurring the lines between simulation and arcade, GRID Legends deserves a place on our list of the best racing on PS5, and also a spot in your games library.
Read our review of GRID Legends
5. Wreckfest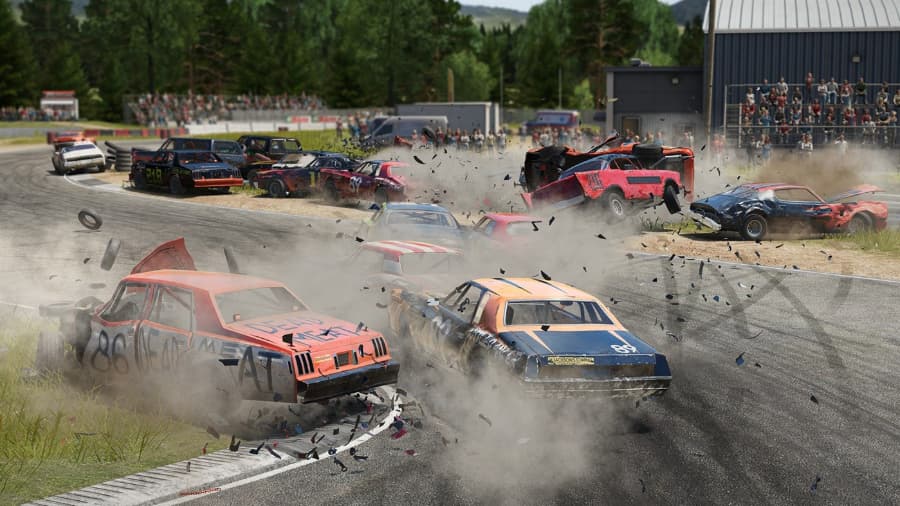 Wreckfest is an absolute gem.
If you're of a certain age, you might remember the Destruction Derby games released on the original PlayStation console. Wreckfest is essentially the modern day equivalent, developed by the studio that gave us the excellent FlatOut and its brilliant sequel.
Most of the events you encounter as you make your way through Wreckfest's leagues are races, but whereas slamming into your opponents is usually frowned upon, here it is welcomed. In fact, the best way to play Wreckfest is to turn the damage modelling up to realistic straight away; it makes each and every event more tense and fraught with danger.
In between all the racing action you'll of course find the odd destruction derby event, too, where your aim is to be the last man standing or destroy as many competitors as you can with respawns enabled. Wreckfest's sheer variety and high-impact action makes it one of the best racing games on PS5. It's just a shame that those who already own it on PS4 don't get a free upgrade.
6. Hot Wheels Unleashed
For those of you who like your racing games to be fun and frenetic, look no further than Hot Wheels Unleashed. It's been developed by Milestone, the same team behind the MXGP and Ride series, so this is a team very familiar with serious racing games. That knowledge of vehicle handling and racing precision has carried over valiantly into a more colourful, fun-focused game that puts you in control of toy cars. And the result is something rather special.
Hot Wheels Unleashed packs in a lot of content. The main City Rumble career mode has over 80 events that see you racing around a range of exciting courses, all put together with official Hot Wheels track pieces. There's also quick race and time attack modes, and the opportunity to build your own tracks. Add to that the huge range of brilliantly-crafted vehicles – all based on real-life Hot Wheels diecast models – and you've got one of the best racing games on PS5. Did we mention it looks absolutely spectacular too?
Read our review of Hot Wheels Unleashed
Buy Hot Wheels Unleashed on Amazon 
7. WRC Generations
The last official WRC game to be developed by KT Racing, WRC Generations feels a bit like a greatest hits of sorts.
While it may be missing the brilliant Anniversary mode found in WRC 10, it's absolutely packed full of content. There are a vast number of rallies to complete, and many of them have been given an upgrade. On top of that, there are all the latest teams along with the latest hybrid vehicles, ensuring this is the most authentic rally experience currently available.
And we really mean that: WRC Generations can be gruelling. There are few crutches here for inexperienced players beyond being able to turn on a small selection of assists and tweak the AI of your competitors. You could be in the last seconds of a tricky stage, make one mistake and see the healthy lead you've earned quickly disappear, and that can be very frustrating. If you've got the skills – and patience – for it, however, WRC Generations is undoubtedly one of the best racing games on PS5.
Read our review of WRC Generations
8. RIDE 4
Prefer racing bikes rather than cars? You're going to want to add RIDE 4 to your games collection.
While RIDE 4 looked and played great on PS4, the PS5 version blows it out of the water. Enhanced visuals could convince you that you're watching real-life footage at times, and unlike on PS4 it runs at a silky smooth 60fps. Add in PS5-centric features such as DualSense support and reduced loading times, and you have a game that definitely deserves your attention.
Essentially Gran Turismo with bikes, get stuck into RIDE 4's career mode and you're guaranteed tens of hours of enjoyable racing action, earning money and adding more bikes to your collection so you can enter yet more competitions. Online races are also available, allowing you to compete against other like-minded racers across the world. Needless to say, it's definitely one of the best racing games on PS5 right now, especially if you love bikes.
9. Riders Republic
Want to engage in some adrenaline-pumping races that don't involve vehicles with powerful engines? Give Riders Republic a try.
Presenting players with a massive open-world, Riders Republic is more than just a racing game. It's somewhere you can chill with other like-minded individuals, or play like a maniac, performing insane stunts just for pleasure if you'd like. Racing is at the heart of it, however, and you can do so across multiple disciplines, including biking, skiing, and wingsuiting.
Being on PS5, Riders Republic look gorgeous and plays very well indeed. It's also great to be able to bring up the map, select an event on it, and be transported there pretty much instantly. So, if you're after a racing game that doesn't involve engines and has plenty to offer, Riders Republic is your best choice on PS5.
Read our review of Riders Republic
10. DIRT 5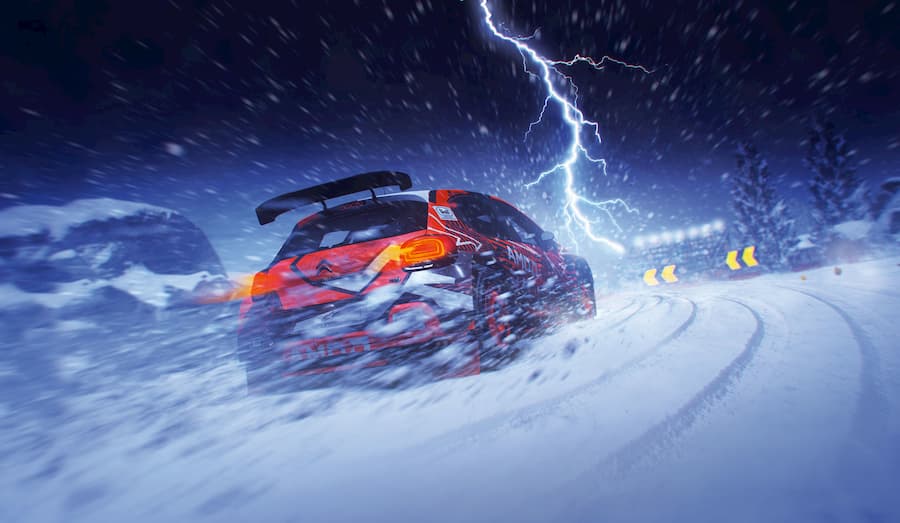 Rally games are great, but sometimes they can be a little too tense and challenging. For that reason, we're really glad that DIRT 5 exists.
DIRT 5 is arcade-styled rally racing at its best. In career mode you'll find yourself working through a huge number of events, covering a wide range of disciplines. As you go, you'll earn money with which you can buy new cars, as well as unlock stickers that can be used to customise them. Career mode isn't all that the game has to offer though – a brilliant Playground mode lets players create their own events and share them with the rest of the world.
One of many games that offers a free upgrade for those who own the PS4 version, the PS5 version of DIRT 5 has stunning visuals and multiple performance modes. You can even play it at 120fps if you have a TV that supports it. Just be aware that it currently has some issues introduced via its latest patch – hopefully they will be addressed soon. When it's firing on all cylinders, DIRT 5 is assuredly one of the best racing games available on PS5.
11. MXGP 2021
Worry not motocross fans: the PS5 has a cracking game to cater to your needs.
Milestone's MXGP 2021 unfortunately doesn't have any new modes or features to boast about over MXGP 2020. And that didn't have much to boast about over MXGP 2019. What it does have on PS5, however, is improved visuals, DualSense support, and a much smoother framerate.
On PS5, MXGP 2021 runs at 60fps at up to 4K resolution, meaning the series has never looked or played better. In career mode you'll start at MX2 level, either riding for a team or going it alone with the help of sponsors. Perform well enough, and eventually you'll make your way up to MXGP level. It's here where the action truly steps up a gear.
Outside of career mode, a new scenic Playground is included for you to ride around at your leisure, and you can also create waypoint races in it too. And of course, there's also online multiplayer so you can engage in heated online events with friends and strangers.