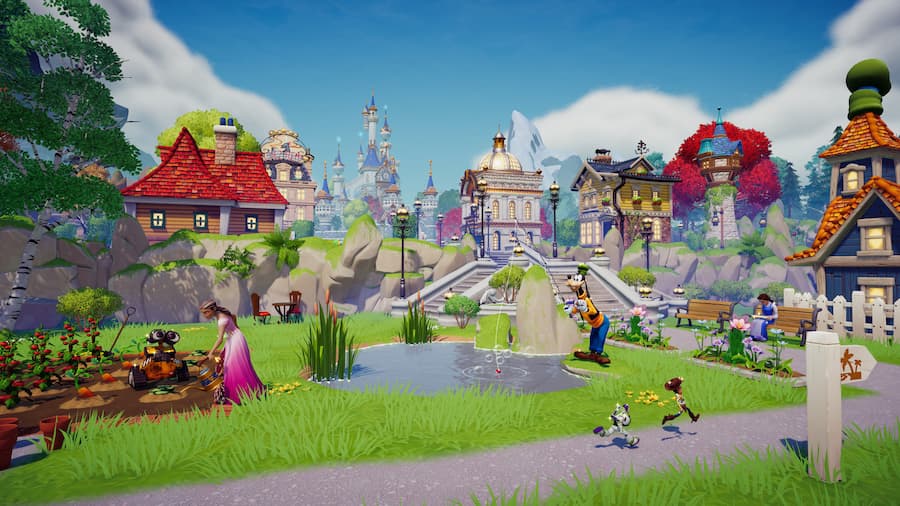 Wondering how to complete Minnie's quest called 'The Club Renewal' in Disney Dreamlight Valley? We've got everything you need to know right here.
With Disney Dreamlight Valley's latest update, Minnie Mouse has a new mission: The Club Renewal. She wants to get an old club of friends back together, and of course she needs your help to do it. Before you can initiate the mission, you need to be level 10 friendship with Minnie. You'll also need to have the full Dreamlight Valley map unlocked. Providing you have both of those things, go talk to Minnie.
The first part of The Club Renewal tasks you to go to the Glade of Trust to find a long-lost banner. We found it on the ground just next to the bridge leading to Mother Gothel's treehouse: it looks like a roll of fabric. Once you've found it, go talk to Minnie again.
Minnie will task you with gathering/crafting three lots of items:
20x Fabric
Red Dye
10x Gold Nuggets
Gold Nuggets are the easiest. You'll find these by mining rocks in Sunlit Plateau, Forgotten Lands or Frosted Heights.
Fabric needs to be crafted from cotton. You'll need to grow this yourself or, if you're lucky, purchase it from Goofy's shack. You can buy Cotton or Cotton Seeds from the Sunlit Plateau. You'll need five Cotton for each Fabric, so get ready to do plenty of farming.
Finally, Red Dye needs 2 Squids, 2 Garnet and one Empty Vial to craft. Garnets can be mined from the Plaza or Peaceful Meadow, and Squids can be fished from Glade of Trust or Forgotten Lands – look for blue circles in the water. As for an Empty Vial? You can craft this yourself using three pieces of Glass. If you don't have glass, you can craft this from 5x Sand and 1x Coal Ore. Phew.
Once you have everything, craft the 'Cheerful Chums Club Banner'. You'll find it in the Furniture section of the crafting menu. And because Minnie has kindly nominated you to host the gathering in your house, you'll need to place the banner somewhere inside it. Choose somewhere nice, then the group will gather together for a photo. Take the photo, then go talk to Minnie.
That's it: you'll be rewarded with a Minnie Mouse dress for completing The Club Renewal.