2022 hasn't just been a good year for new games, it's been a great year for updates to existing games, too.
The best DLCs and expansions of 2022 come in various shapes and sizes. Maybe an expansion has added a whole new campaign to a game. Or maybe it's simply tweaked what was already there, offering a compelling reason to go back and enjoy it again. A good DLC pack can enhance the experience in meaningful ways, perhaps adding new game modes or new options. Alternatively, sometimes just more of the same is enough to get us to go back, particularly if the original experience was so good in the first place.
And so, read on to see our picks of the best DLCs and expansions of 2022. These are all absolutely worth your time – as are the base games, too.
Monster Hunter Rise: Sunbreak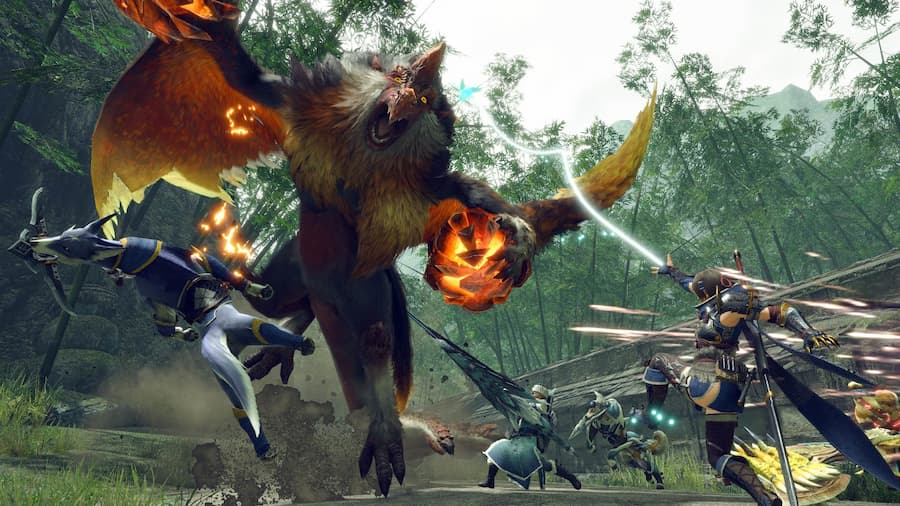 Monster Hunter knows how to do expansions. Sunbreak adds in so much new content to Monster Hunter Rise that it could have been a whole new game. But that's not how Capcom rolls. Sunbreak is designed for players who have seen and done pretty much everything Monster Hunter Rise had to offer and wants another reason to jump back in.
There's a new story to sink your teeth into, but of course the real draw of Sunbreak is the new monsters to face off against, the new locations to visit and the new challenges the game throws at you. That's just the big stuff: there are dozens upon dozens of smaller, meaningful changes and improvements that make the whole experience simply more enjoyable, too.
Read our review of Monster Hunter Rise: Sunbreak
Resident Evil Village: Winters Expansion
In our review of Winters Expansion, we described this Resident Evil Village DLC as a 'triple whammy'. It adds in an over-the-shoulder third person camera to the main game; it adds new Mercenaries content; and it adds Shadows of Rose, a whole new campaign with a new story to follow.
It ticks multiple boxes of what a good expansion should be, then: improving what's already there and adding something new. And while the third-person camera gave us a compelling reason to return to the main game, it was Shadows of Rose that really drew us in. In it, you play as 16-year-old Rose, Ethan's daughter as she grapples with her special abilities. It reuses many of the same environments we've visited from the main game, but gives them a new twist – and plenty of new scares to enjoy.
Read our review of Resident Evil Village: Winters Expansion
Check the price of Resident Evil Village: Gold Edition
Escape Academy: Escape From Anti-Escape Island
Escape From Anti-Escape Island doesn't do anything particularly new in comparison to the base game of Escape Academy. But it didn't need to: simply adding in a wealth of new escape rooms was enough to get us excited to jump in again. One of the biggest surprises of 2022, Escape Academy gave us some of the most delightful video game puzzles that we've feasted on in a long time.
Adding in several new escape rooms to the game, Escape From Anti-Escape Island was a substantial expansion, building on existing concepts but challenging us in new ways. It also added in a new story and got us excited for what else developer Coin Crew Games will bring our way in the future.
Read our review of Escape From Anti-Escape Island
OlliOlli World: VOID Riders
OlliOlli World was seriously fun as it is, but its first DLC, VOID Riders, made the arcade skateboarding game even more enjoyable by adding aliens into the mix. Adding in brand new levels and some new mechanics, VOID Riders relies on players already having a good grip of OlliOlli World – but challenges them even further.
This isn't an easy game to begin with: getting good at OlliOlli World and achieving the best scores requires a lot of practice. And VOID Riders, adding in new mechanics like alien tractor beams that lift you up in the air, requires you to have already mastered the game's basics before you get to grips with new stuff. But that new stuff? It's oh-so fun. Riding alien tractor beams is way more enjoyable than 80s sci-fi movies would have you believe.
Read more about OlliOlli World: VOID Riders
Forza Horizon 5: Hot Wheels
We've got to admit that we were a little disappointed when Hot Wheels was announced as a major expansion to Forza Horizon 5. After all, we'd already had a Hot Wheels expansion to Forza Horizon 3. And after Forza Horizon 4's LEGO Speed Champions expansion, we weren't sure anything else would match it. Thankfully, once we got let loose on the twisty-turny orange tracks, all our worries were allayed. This is great fun, and that's all that matters.
It's a huge expansion – perhaps the biggest to any Forza Horizon game yet. And juxtaposing the colourful signature Hot Wheels tracks to the varied Mexican landscape is such a treat. As you'd expect from Hot Wheels content, you'll find yourself performing gravity-defying tricks, surfing down water flumes, loop-de-loops and more.
Read our review of Forza Horizon 5: Hot Wheels
Ghostrunner: Project Hel
Despite releasing in 2020, we didn't see a story expansion to Ghostrunner until this year. Project Hel has been well worth the wait, though, giving us a compelling reason to return to the challenging cyberpunk free-running game as well as giving us a new narrative to enjoy.
Project Hel adds seven new levels to Ghostrunner and has us playing as a brand new protagonist: the titular Hel. Thanks to her improved manoeuvrability, Hel's an exciting addition to Ghostrunner. You see, she's an android, and so she can jump incredible distances, making getting round feel more thrilling than ever.
Outriders: Worldslayer

Outriders was one of our most-played games of 2021. And so, when the Worldslayer expansion came along this summer we were overjoyed for a reason to jump back in. Worldslayer adds in an additional meaty campaign to play through but, most importantly, it adds some compelling new endgame content and an overhaul to the game's difficulty system.
The addition of The Trial of Tarya Gratar gives players a reason to keep jumping back in, even when the story content is long finished with. And a higher max gear level, a new skill tree and an Ascension level system comparable to Diablo III's Paragon level system means your character has plenty more growing to do, too.