Have you got a large empty wall in your house? It might be perfect for the XGIMI Aura.
There's no wonder cinema viewership has declined over the years. We remember a time when having a 32″ in your living room was impressive, now it's fairly standard to have a 65″ TV or above. And if you have something like an OLED, the picture quality is sublime – better than some cinema screens, in fact. If you want a true home cinema experience, however, then a projector is the way to go. And the XGIMI Aura proves that it doesn't have to cost the earth.
An ultra short throw projector, the XGIMI Aura has an RRP of £2,399.00 but can be had for around £2,000.00. That's around the price you'd pay for a decent 65″ OLED TV. If your wall's big enough though, the XGIMI Aura can give you an image of up to 120″, giving you a truly cinematic experience. And that's with the projector being just over 11 inches away from the wall in question.
Of course, you can achieve a smaller screen size if you wish – just place the projector closer to the wall in question. Though that's perhaps where our biggest issue with the XGIMI Aura rears its head: with its range of ports located on the front of the device, you are limited as to how close you can get it. Even at its minimum, then, the screen size provided is big. Like, 75″ or so big.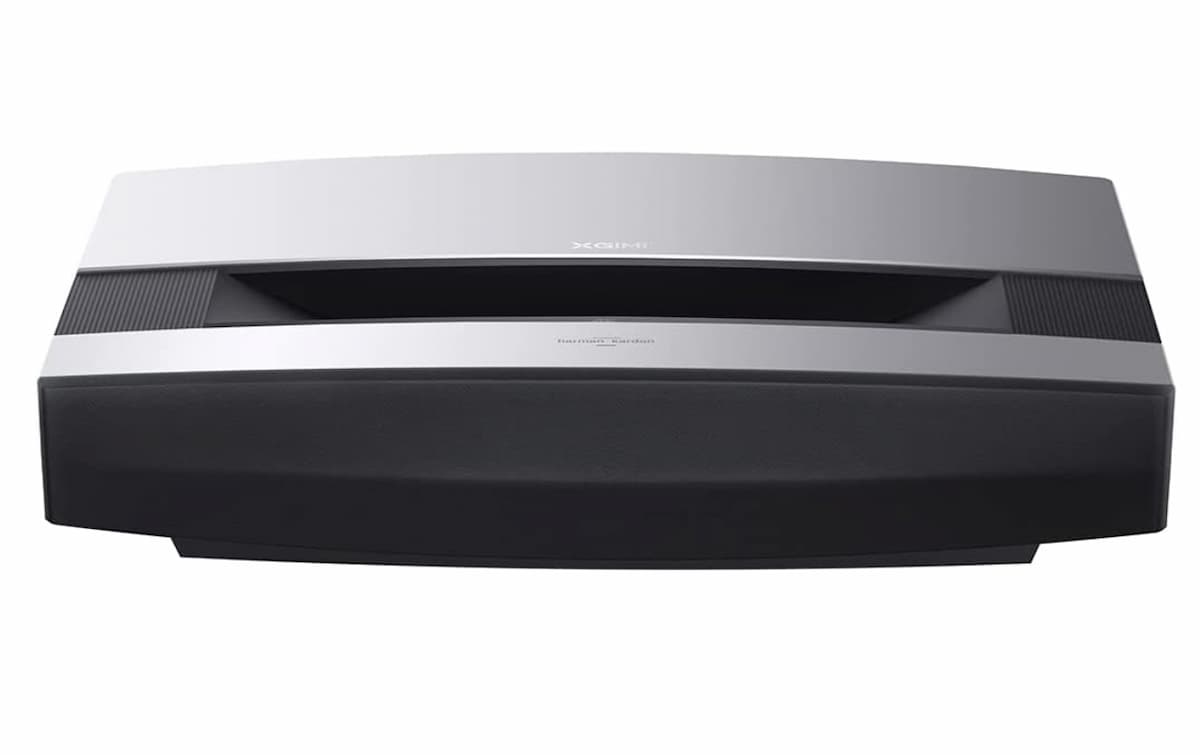 Still if you have the space for it and pretty much want a cinema experience in your home, the XGIMI Aura will very much impress. While it doesn't provide a true native 4K image, it does a great job of recreating one thanks to clever pixel-shifting technology. And while some technophiles might be able to tell the difference, your average joe will just be blown away by the sharpness and colour created by such a device. It truly is impressive.
Of course, being a projector, black levels suffer. In perfect conditions, i.e. sitting in a darkened room and using a projector screen, the XGIMI Aura produces commendable blacks, but it's never going to compete with a good OLED or even QLED TV. And while you can use the XGIMI Aura in a well-lit room, your experience will suffer even though it has an impressive brightness level of 2,400 ANSI Lumens. It's just how it is.
In the perfect conditions, though, the XGIMI Aura can bring magic to any viewing experience. Watching films on a 100″ or higher screen in your home is a spectacle. You'll feel like the don of your street. And adding to the delight is a real surprise: the XGIMI Aura's built in speakers. If you've got a high-end surround sound system already you might want to consider using it, but if not, the speakers built into the XGIMI Aura will serve you well. The audio produced is clear and powerful. It goes far beyond our expectations.
One thing that might put some potential buyers off is that while the XGIMI Aura does have Android 10, allowing the use of things like YouTube, it unfortunately doesn't have support for Netflix. Thankfully you can work around it, connecting something like a firestick or using a game's console to access what some consider to be the essential streaming service, but it's a real shame it isn't supported as standard.
On the flip side, we have good news for those who do enjoy a bit of gaming. We've tried the XGIMI Aura with the likes of the PS5 and the Xbox Series X and found it works perfectly. As you'd expect, playing something like Gran Turismo 7 or Call of Duty is more more immersive when playing on such a massive screen, and we didn't notice any more input lag than when playing on a typical Samsung or LG LED TV. That's a win for us.
If you bite the bullet on an XGIMI Aura, you'll find that it comes very well packaged. It weighs quite a bit though, so you might want some help getting it out of the box and setting it up. Thankfully the latter is easy once you have it in place. The unit itself is very appealing on the eye – it's large but very sleek and expensive looking. It comes with a snazzy remote, too.
One thing to note is that it can be hard to get a perfectly rectangular image if you make use of the unit's retractable feet to adjust the position of the image on your wall. As long as you avoid extremes you should be fine though. And it's nice that the options are there so that you can fine-tune the  image to your preferences.
Overall, it's hard not to be taken by the XGIMI Aura 4K Ultra Short Throw Projector. While it's still expensive, in the world of 4K Ultra Short Throw Projectors it sits at the budget end in terms of price. Yet the unit itself and the experience it provides speak quality. Put one in your home and you'll think twice about ever going to the cinema again thanks to its stunning image quality and strong built-in speakers. It's just a shame you need additional hardware in order to use Netflix, but it's a issue worth working around.
The XGIMI Aura is available directly from XGIMI, as well as third-party retailers such as Amazon.