Now over two years old, the PS5 already has an impressive catalogue of games.
Even those keen on the fairly new Soulslike genre are well catered for, especially thanks to backwards compatibility that allows most PS4 titles to be played, often with improved visuals or performance. But what about those who like 2D Soulslikes? Well, they're in luck too, as there are quite a few of them available on PS5.
We've put together a short list of the best 2D Soulslikes on PS5 to help those craving such experiences find them with ease. So, if you want a game with challenging combat and rewarding exploration played from a 2D perspective, you're bound to find something here to enjoy.
Related: The Best Metroidvania Games on PS5
1. Salt & Sacrifice
Sequel to Salt & Sanctuary, Salt & Sacrifice builds on its solid predecessor with online multiplayer, making it perhaps the best 2D Soulslike on PS5. Saying that, the core of the game remains largely unchanged; after creating your character, you're dumped into a dark, uncompromising world and left to explore. Your ultimate goal, as an inquisitor, is to hunt down and kill mages, and that will require you to overcome countless enemies along the way.
2. Grime: Colors of Rot
If you're the type of player that loves to show off by parrying incoming attacks, then Grime: Colors of Rot is the Soulslike for you. Parrying is pretty much essential for success, as it's the only reliable way to heal and gain helpful perks. And so, while this rocky action RPG may have a charmless character and a world that some will consider visually bland, fans of challenging Soulslikes are likely to gleam a lot of enjoyment out of it.
Read our review of Grime: Colors of Rot
3. Moonscars
Dark and moody, Moonscars is a 2D Soulslike with an abundance of atmosphere. Playing as Grey Irma, a character made of clay and Ichor, your journey to find and confront the Sculptor will be arduous and full of turmoil. But if you have persistence and master your combat abilities, it's an adventure that will no doubt prove to be rewarding. That's why Moonscars deserves a spot on our list of the best 2D Soulslikes on PS5.
4. Tails of Iron
It should have been a joyous day for little Redgi: he was set to prove himself as a worthy successor to the throne. But then there was horror as an army of roads invaded and killed his family, including the king. As Redgi, a young, spunky rat, it's up to you to take back your kingdom. Traverse the surrounding lands, route any enemies that mean you harm, and create your people somewhere they can can home once again. That's your goal in Tails of Iron, undoubtedly one of the best, and most charming 2D Soulslikes available on PS5.
Read our review of Tails of Iron
5. Souldiers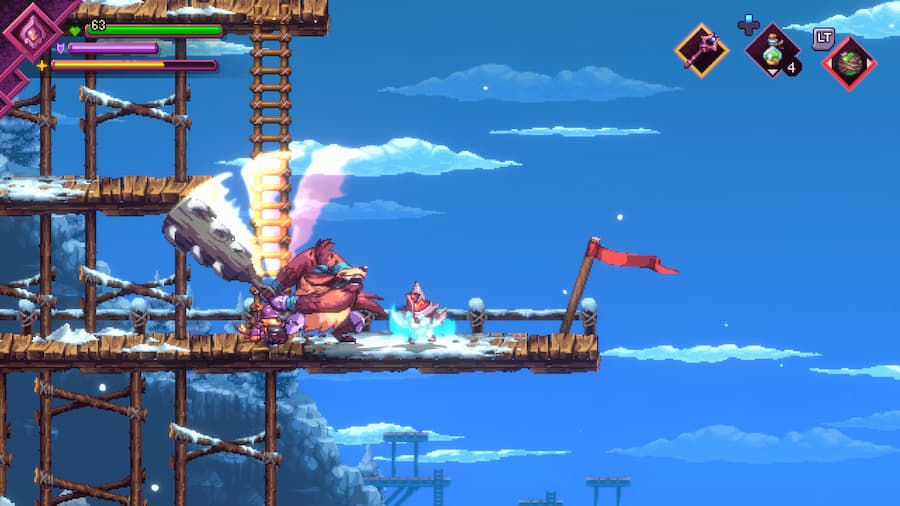 We'd perhaps identify Souldiers as more of a Metroidvania than a Soulslike, but it is indeed influenced by FromSoftware's much-loved titles. Aside from sharing some themes, the biggest similarity is the tense, challenging combat. It requires players to study their enemies and exploit openings. Add in stamina management, and you have a 2D action RPG that should definitely please those looking for a Soulslike to sink their teeth into.