Looking for the best golf games on Xbox consoles? We've got you covered.
The sport of golf might be considered a hobby for stuffy old businessmen in real life. But when it comes to golf video games, there's something enjoyable about aiming for that hole in one and avoiding scoring a bogey. Golf games on Xbox come in all different shapes and sizes, and we've selected some of the best right here.
Some of the titles we've chosen are simulation games, designed to replicate the art of playing golf as closely as possible. Others offer more fun takes on the sport. One or two even use the concept of 'golf' quite loosely to create something completely new. And so whether you're looking for a serious golfing sim or something riotous that you can play with friends, you'll find the perfect game on this list.
Keep on reading to see our picks of the best golf games on Xbox. These are all playable on Xbox One and Xbox Series X/S consoles.
Want to support GameSpew? If you decide to buy any of the games on this list, please consider using our affiliate links, included below each entry. It won't cost you anything extra, but we'll get a small slice of the purchase. Thank you.
1. PGA Tour 2K23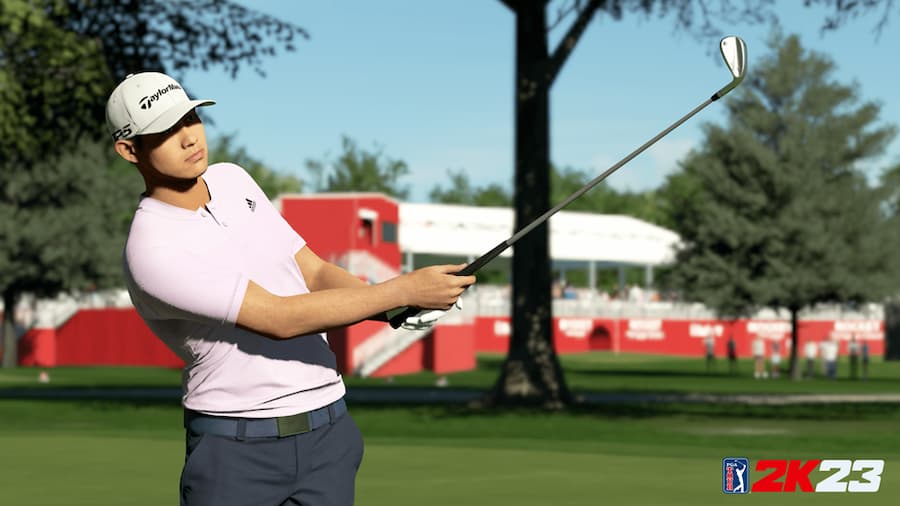 The newest golf game on this list is also one of the best. Since 2020, 2K Games has had control of the official PGA license and so has been creating yearly golfing sim games. Bringing real-life golfers and golf courses to Xbox consoles, PGA Tour 2K23 is the most realistic golfing experience you're going to find. And so, if a simulation is what you're looking for, this is the best golfing game on Xbox for you.
There are lots of different modes to play, from championships to variations on the sport. You can create your own character and take them from zero to hero as you climb the ranks by playing tournaments and claiming victory. With in-depth mechanics and lofty tutorials to show you the ropes, there's no reason not to jump in even if you're a total beginner.
Check latest prices of PGA Tour 2K23
2. Golf With Your Friends
If you love crazy golf, Golf With Your Friends will be an absolute delight. Just don't expect a serious golfing session. Golf With Your Friends allows you to enjoy a round of crazy golf on a varied range of courses. There's a haunted house, a world made of candy, and even a Worms-themed course. Playing offline you'll pass a controller around, with each player taking their turn. Play online, however, and everyone will play at once, creating absolute chaos.
Perhaps the best thing about Golf With Your Friends though, is the ability to totally change how the game plays. You can play with hockey pucks instead of balls, for example, with holes being replaced with nets and cardboard goalies. Or you can activate party mode which allows the use of power ups.
Read our review of Golf With Your Friends
Check latest prices of Golf With Your Friends
3. Cursed to Golf
You won't have played a golf game like Cursed to Golf before. And if you're a fan of the sport and also happen to enjoy roguelike games, this is one you're going to love. Your goal in Cursed to Golf is to manoeuvre your golf ball around a 2D course, filled with obstacles and challenges to overcome. Just like real golf, you'll need to consider the power and trajectory of your swing. And you'll also need to monitor how many hits of your ball you're taking. Like the real thing, being under par means a better score.
Cursed to Golf isn't easy: like most roguelike games, it's designed to be challenging. Fail, and you'll go back to the beginning to try again, hopefully doing a little better. It's a great blend of golf, challenge and adventure, and while it isn't exactly the most traditional game on this list of best golf games on Xbox, it's absolutely worth your time.
Read more about Cursed to Golf
4. Dangerous Golf
Three Fields Entertainment's Dangerous Golf might not be the most "golfy" of all the golf games on Xbox – but it's one of our favourites. Remember Burnout? Well, Three Fields Entertainment is made up of veterans from Criterion, the team that brought us Burnout. And Dangerous Golf is essentially Burnout. But instead of crashing a car into more cars, you're smashing a golf ball into all kinds of expensive things. If that sounds like ridiculous amounts of fun, that's because it is.
There's a healthy selection of levels to play through across a variety of environments. Every level has its own target, with your success being measured based on the cost of the damage you've created. Playable in single player or in multiplayer, Dangerous Golf is a heck of a lot of fun. You might not get to perfect your real-world putting skills, but you'll get to cause utter chaos.
Read our review of Dangerous Golf
5. ACA NeoGeo Neo Turf Masters
Prefer your videogames a little more classic? Neo Turf Masters originally released in 1996, but as part of Hamster Corporation's resurgence of Neo Geo games, it's now available on Xbox. Despite its age, its 2D visuals are pretty charming and it's packed with colour and personality. There are six golfers to choose between, and whoever you choose will accompany you on a golfing tour around the world.
There are difficulty settings so you can adjust the game to suit you (we won't judge if you prefer an easy win), and, like any golf game on Xbox should have, Neo Turf Masters has multiplayer options. You can either battle it out with players around the world for a high score, or get a friend to join you locally for a two-played battle.
It might not look quite as realistic as some of its more modern counterparts, but Neo Turf Masters has a whole lot of charm all the same.
6. Infinite Minigolf
For those who prefer their golfing games much less serious, Infinite Minigolf is for you. A series of minigolf (or crazy golf, depending where you live) courses, it's all about making precise putts and having a lot of fun in the process.
Infinite Minigolf contains a number of themed courses. There's a spooky Halloween set, and my personal favourite, a giant-sized bedroom. What makes it stand out, though, is that like the title suggests, it pretty much is infinite. The game lets you create your own courses using the assets provided, and you can download other people's creations too. There are thousands of them, and it means you never need to play the same hole twice.
It can be played alone, but Infinite Minigolf is at its best when you're competing against friends. With full local co-op support, you'll score points for putting your ball in the fewest shots as well as hitting various collectibles that are darted around every course. It's not the most serious golf game on Xbox, but it sure is a lot of fun.
Read our review of Infinite Minigolf
7. Powerstar Golf
Powerstar Golf has one major advantage over every other golf game on this list: it's free. Yup, developed by Microsoft Studios, Powerstar Golf released at the launch of Xbox One with a free-to-play version. Of course, the free version is a little watered down: it contains a selection of events, with at least one hole from every course rather than the whole thing.
But hey, for free, we can't complain. Powerstar Golf isn't a particularly serious golf game on Xbox either; its cartoon aesthetic makes it stand out as a fun, arcade title. That's not to say it's an easy hole-in-one though – you've still got to hone in your skill to get good.
There are leaderboards so you can compete against your friends as well as local multiplayer options. After all, golfing is meant to be a social activity, right?
8. Turbo Golf Racing
Despite having 'golf' in its title, Turbo Golf Racing is the least golf-like game on our list. But it's so much fun that we just had to include it. Taking more cues from Rocket League than the PGA, Turbo Golf Racing puts you in control of a turbo-powered vehicle. Racing against others, you'll need to 'putt' a ball into a hole. But when we say put, we mean drive into it and direct it with your car. Be the first to score, and you'll walk away victorious.
Turbo Golf Racing is currently in the Xbox Game Preview Program, and so it's still in development. But there's plenty of content to jump into, including various modes and courses to enjoy. You can play solo if you want, but the real fun here is going up against friends online. It's action-packed and zany – quite unlike actual golf – but putting a ball into a hole has never been so much fun.