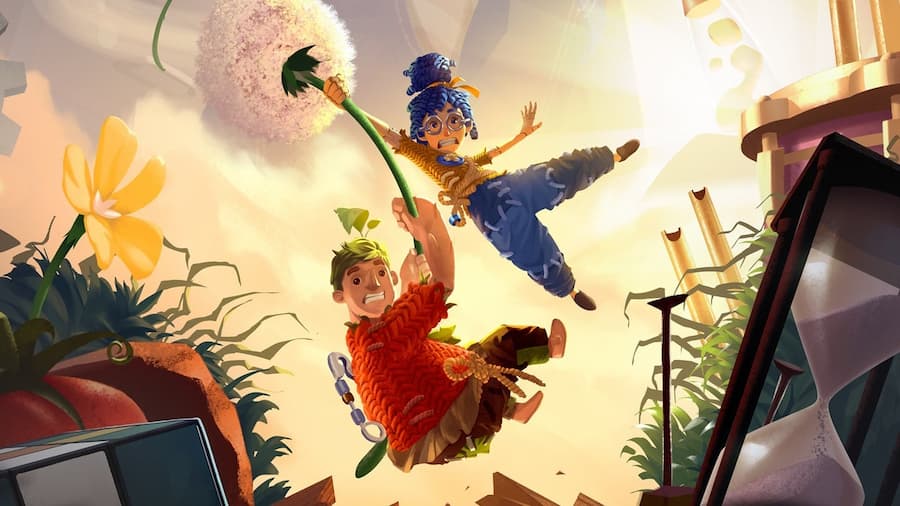 Playing games with friends is always great, but sometimes you don't want things to be a competition. For that there are co-op games.
While the PS5 is a little over 2 years old, there are already hundreds of co-op games that are playable on it. Many of them are couch co-op only, others online co-op only, and some offer the option of both. Of course, games that offer online co-op are perhaps the most convenient, as players don't need to be in the same room to get in on the action. They also don't have to share the same screen, which can sometimes cause issues. But what are the best online co-op games on PS5?
That's a question we can hopefully help you with. We're big fans of co-op games here at GameSpew, and so we've played a lot of them. With that knowledge and experience, we can hopefully point you in the right direction of the best online co-op games games you can play on your snazzy next-gen console.
Every game on this list is optimised for play on PS5, meaning that they have eye-popping visuals, swift loading times and DualSense support. So, click on through to find a new online co-op game to play with your friends and/or family. And if you want more, check out our list of the best online co-op games on PS4, which are also playable on PS5 thanks to backwards compatibility.
Want to support GameSpew? If you decide to buy any of the games on this list, please consider doing so via our affiliate links, included below each entry. It won't cost you anything extra, but we'll get a small slice of the purchase.
1. Monster Hunter Rise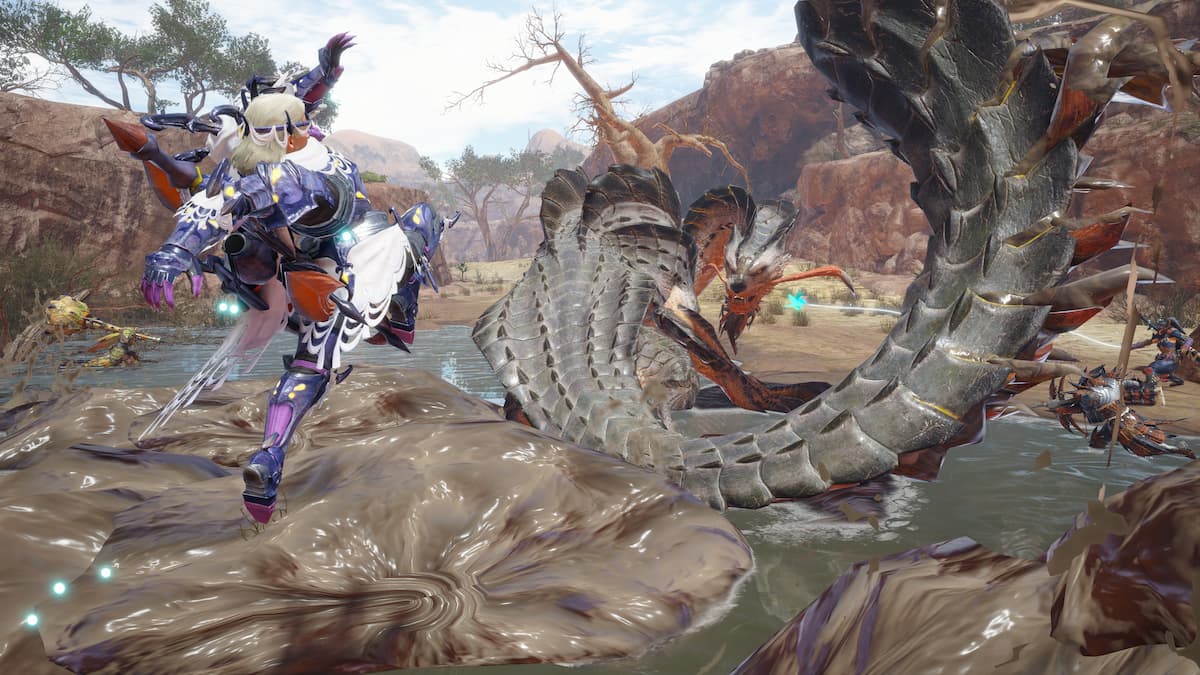 Originally released on Switch, Monster Hunter Rise is now available on PS5 after being ported to PC. That's great for those who like to engage in some action-packed online co-op fun with others.
After creating your very own character, Monster Hunter Rise throws you into a world where rampaging monsters are a cause for concern. And so of course it's up to you to try and find the source of the issue and put and end to it. Starting with small but still powerful low rank monsters, you'll need to successfully carry out hunts, using the materials you gain in the process to upgrade your gear. Then you're capable of taking on even more powerful high rank monsters, and this is where the game comes into its own.
Monster Hunter Rise is heaps of fun when played alone, but get a party together and you're bound to have a better time. Up to four players can team up, and if they work together the monsters have no chance. That's why this is undoubtedly one of the best online co-op games on PS5.
Read our review of Monster Hunter Rise
2. The Devil In Me
Being a cinematic horror game, you might find it a bit strange that The Devil In Me is on our list of the best online co-op games on PS5.
Like some previous entries in Supermassive Games' The Dark Pictures Anthology, and even The Quarry, The Devil In Me has a varied range of modes including online co-op. Even better, it's great. In Shared Story mode two players try to survive the horrors thrown at them in The Devil In Me simultaneously. What's really neat, however, is the actions and choices made by one player affect the other, making the story more unpredictable and dynamic than ever before.
Trapping players in a hotel built with murder in mind, The Devil In Me has a story based on real life serial killer H. H. Holmes. It's perhaps Supermassive Games' most ambitious game yet, being meatier than previous entries in The Dark Pictures Anthology and having more gameplay elements. So, be sure to give it a try with a friend or family member.
Read our review of The Devil In Me
3. Gotham Knights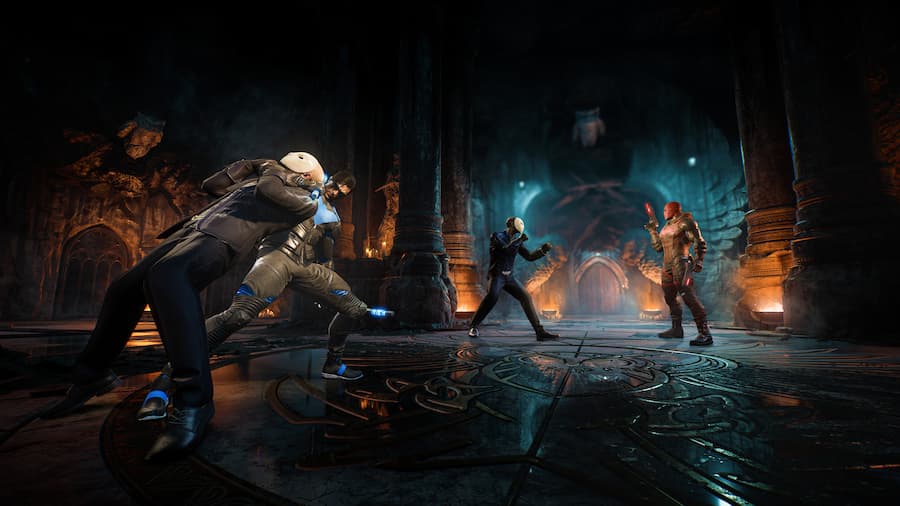 Want to be The Batman? Well, you can't in Gotham Knights. Sorry. You can be one of his protégés, however. So: Nightwing, Batgirl, Robin or Red Hood? It's up to you.
The reason why you can't be Batman in Gotham Knights is because he's dead, and it's up to you to find out why. Each night you'll need to prowl the streets of Gotham City, cracking down on crime while looking for leads. Once you've got a crumb of information you can then embark on more meatier missions, some of which involve you going up against Gotham City's most well-known and troublesome criminals.
You can go it alone in Gotham Knights if you wish, but it's better when working as a team. Two players can join up to take on the game's campaign, fighting crime on the streets and engaging in missions. A four-player mode called Heroic Assault has been added since launch, too. If you're after the best online co-op games on PS5, be sure to give Gotham Knights a try.
Read our review of Gotham Knights
4. Rainbow Six Extraction
The Rainbow Six games usually have you taking on terrorists, right? Not Extraction. In this game you're up against grotesque creatures that threaten human existence. No pressure then.
While you can play Rainbow Six Extraction alone, it's very much designed to be played in co-op. Working as a team, you'll find yourself tasked with visiting various locations in order to complete a string of tasks. What's neat is that there's a risk versus reward element. The more tasks you complete the greater the rewards, but also the greater the risk of being captured or injured and losing it all. Even worse, with a finite number of operators at your disposal, having one out of action for a period of time can be stifling.
Rainbow Six Extraction is very much a game for fans of stealth, as sneaking around and taking out threats silently is a sure-fire way to achieve success. Sometimes all hell does break out though, and it's in those times you'll be particularly happy you have others to back you up. In any case, this is a must-have for PS5 owners looking for some online co-op action.
Read our review of Rainbow Six Extraction
Buy Rainbow Six Extraction on Amazon
5. Borderlands 3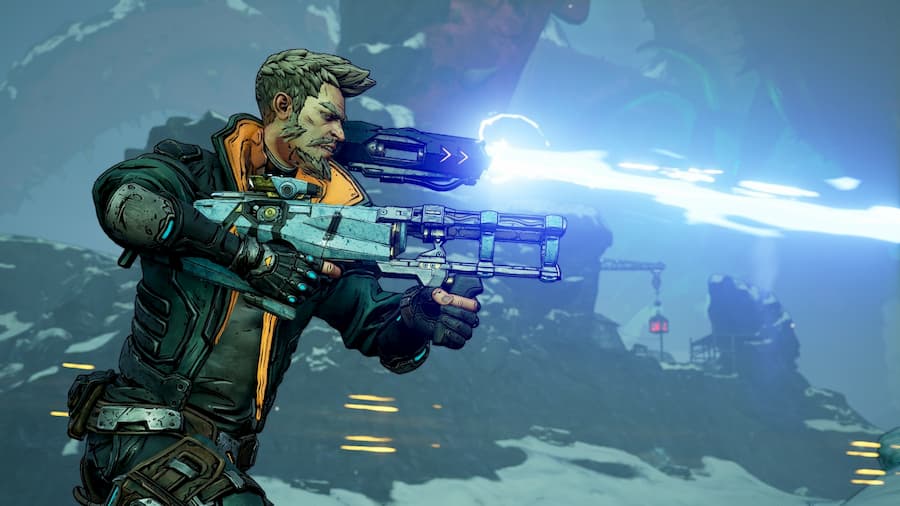 Ever since the original game launched in 2009, the Borderlands series has been an absolute treat for co-op gaming fans. Borderlands 3 is the latest entry in the series, released on PS4, Xbox One and PC in 2019. But now available on PS5, there's never been a better time to play it.
Purchasing Borderlands 3 digitally on PS4 or PS5 gives you access to both versions of the game. And those who pick up a physical copy on PS4 can upgrade to the PS5 version for free. It really is worth doing so, because Borderlands 3's PS5 upgrade is transformative. The visuals are very noticeably improved, really showing off the game's art, while the framerate closely sticks to a silky-smooth 60fps.
It makes playing Borderlands 3 more fun than ever. Assuming the role of a Vault Hunter, you'll enjoy the crazy story that the game throws you into, necessitating you to visit planet after planet, killing hordes of bandits and hostile creatures as you go. RPG elements also give the game a great deal of depth, and you'll need to collect loot and effectively gear yourself up in order to survive. Whether you've previously played a Borderlands game or not, you should definitely consider picking Borderlands 3 if you're seeking out the best online co-op games on PS5. With support for up to four players, it's an absolute blast.
Read our review of Borderlands 3
6. Sackboy: A Big Adventure
You might know Sackboy from the Little Big Planet series, but if not, it doesn't matter. All you need to know is that he's a loveable little fabric creation who loves to dress up.
Sackboy: A Big Adventure finds the PlayStation mascot in his greatest game yet. Not being a Little Big Planet game, the creation aspects are thrown out of the window, leaving Sackboy: A Big Adventure to be a pure platforming experience. You'll make your way from one world to another, completing numerous stages in each. And of course there's an absurd number of collectibles and secrets to discover along the way. What makes Sackboy: A Big Adventure so special, however, is the sheer variety found throughout the game.
In each world you'll find yourself blessed with a special piece of equipment, introducing new mechanics that keep the gameplay fresh. And for doing well you'll unlock new costume pieces, allowing you to make your Sackboy your own. If you miss any, you can handily buy them later with the countless bells you've collected. Added after the game's launch, online co-op makes Sackboy: A Big Adventure even more fun to play, so if you're after the best online co-op games on PS5, consider it a must-have.
Read our review of Sackboy: A Big Adventure
Buy Sackboy: A Big Adventure on Amazon
7. Outriders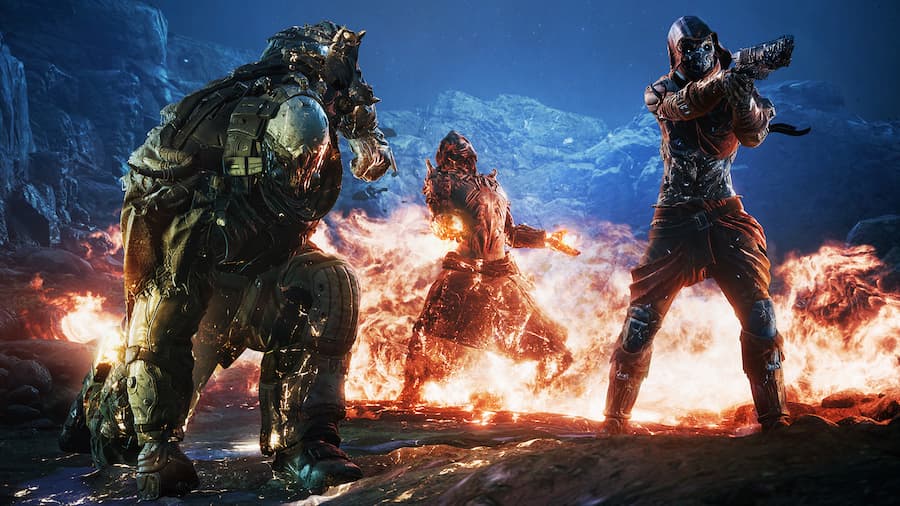 Co-op third-person shooter Outriders unfortunately hasn't had the best launch. Many of the game's server issues have now been resolved, however, making it an ideal time to jump in if you haven't already.
Outriders is a unique game, taking elements of games such as Diablo, Gears of War and DOOM and mashing them together. The combat is intense, requiring you to gear up effectively and make use of your skills to take control of the battlefield. You can take cover if you wish, but it's rarely the best course of action. Thanks to copious amounts of life-leech and other survivability-enhancing mechanics, it's generally more rewarding to get into the thick of the action.
Up to three people can play together in Outriders, making their way through the game's meaty campaign. Afterwards, they can jump into Expeditions – tough endgame content that requires players to get the best gear and fully make use of their skills in order to succeed. Needless to say, there's plenty to go at, especially considering there are four character classes to choose from. So, if you're after an action-packed game that you can play with up to two others, give Outriders some thought. It's still one of the best online co-op games on PS5 despite some issues.
8. It Takes Two
It Takes Two is a rare thing – a game that can only be played in co-op. And because it was designed with co-op play in mind, it stands to reason that it's one of the best online co-op games on PS5.
In It Takes Two, players take control of a married couple whose relationship is on the brink of collapse. Something magical happens, however, when their daughter cries on some dolls she's made of them while consulting a mysterious book on rekindling love. With her parents' consciousness now within the dolls, they must travel from their shed, back into their home to hopefully restore their former selves. Though their dinky new forms present some issues along the way.
Like Hazelight's A Way Out before it, It Takes Two is a wonderfully inventive adventure that forces players to work together in order to succeed. It has brilliant puzzles, exciting boss battles, and a variety of entertaining minigames. On PS5 it looks absolutely fantastic as well; it's like playing an interactive animated movie at times. It Takes Two is a must-have for those into co-op games, and whether you buy it digitally or physically, the included Friends Pass means someone will be able to play it with you without having to buy the game themselves.
Read our review of It Takes Two
9. Marvel's Avengers
While Marvel's Avengers starts out as a story-driven single-player adventure, it does eventually allow for online co-op action. In it, players take control of multiple members of the Avengers as they attempt to thwart the nefarious plans of A.I.M.
From Thor to Black Widow, Marvel's Avengers is a treat for those who'd like to go hands-on with their favourite Marvel super heroes. Jumping into missions, players are able to pummel hordes of generic bad guys before taking on notable villains in vicious combat. Along the way, they also may need to solve puzzles and collect gear. The latter being particularly useful in powering their characters up. It's just a shame that said gear doesn't change their character's appearance. Skins are available though, for those who wish to put the effort in to unlock them.
Those who already own the PS4 version of Marvel's Avengers can upgrade to the PS5 version for free. It features improved visuals, reduced loading times, and most important of all, a more stable frame rate. It's not for everyone, but Marvel fans wanting a game that they can play with their like-minded friends should definitely check it out.
Read our review of Marvel's Avengers
Buy Marvel's Avengers on Amazon
10. Diablo II: Resurrected
For those who love action RPGs, Diablo II: Resurrected is without a doubt a must-play. And while some may rue the lack of local co-op, up to eight players can team up together when playing online.
A remaster of the classic Diablo II, previously only available on PC, Diablo II: Resurrected breathes new life into the much-loved title thanks to dramatically-improved visuals and some minor gameplay tweaks. When it comes to playing online, the more people there are in your party the harder your enemies will be. So, with a full party of eight, your enemies are going to be much tougher than if you were fighting them alone. But with an increased level of challenge comes better rewards and loot. Though just be careful because loot has to be shared. Play with untrustworthy types and they might steal the best loot from right under your nose.
With multiple difficulties to play through and a hardcore mode in which death is permanent, you can spend hundreds of hours playing Diablo II: Resurrected. It's undoubtedly one of the best online co-op games on PS5, so grab a pal or two and set off on an intrepid journey to the depths of hell.
Read our review of Diablo II: Resurrected
11. Aliens: Fireteam Elite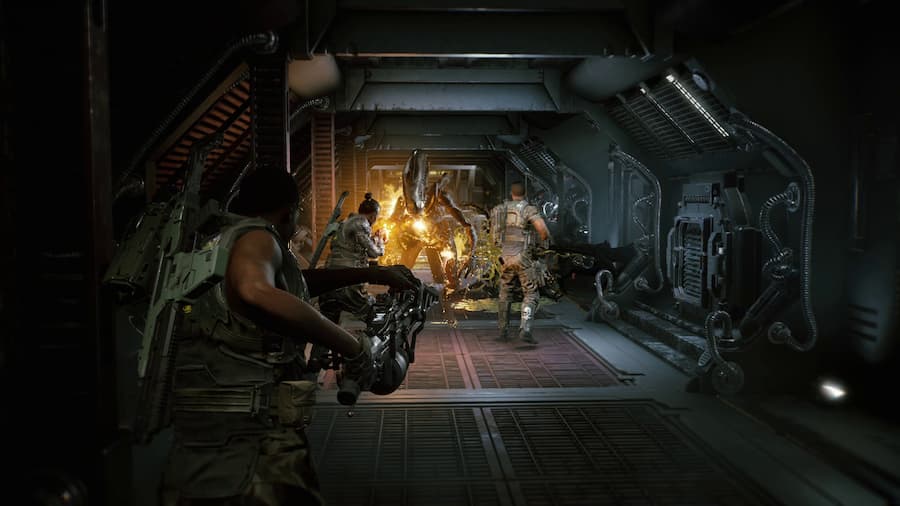 There are plenty of co-op shooters available these days, but there's only one with the Alien license attached to it.
In Aliens: Fireteam Elite you get to be a colonial marine. After creating your character and choosing a class, you can make your way through numerous campaigns, each one throwing a range of enemies your way including androids and, of course, xenomorphs. It's the xenomorphs that prove to be your most troublesome adversaries, too, thanks to the sheer number of them that you're up against. And among their ranks are a handful of more powerful variants, that prove to be particularly troublesome to combat.
Up to three players can team up online, and you'll need all the help you can get when tackling anything higher than the easiest difficulty. A progression system means that your marine will keep growing in power, however, and gain access to new abilities. Definitely check this out if you like co-op shooters. And if you're an Alien fan, consider it a must-have.
Read our review of Aliens: Fireteam Elite
Buy Aliens: Fireteam Elite on Amazon
12. Saints Row: The Third Remastered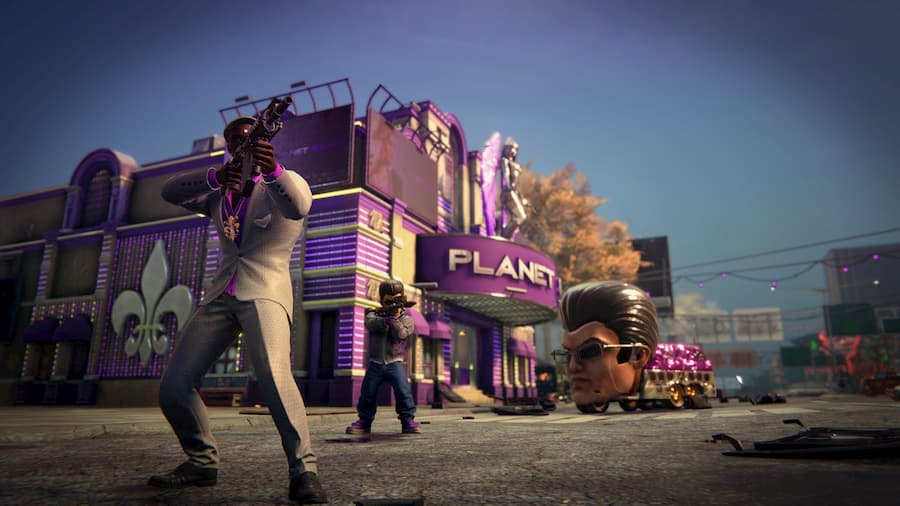 We've always felt that Saints Row: The Third is the best game in the series. Needless to say, when we found out it was getting the remaster treatment we were very happy indeed. Even better, it turned out to effectively be a remake. And now it's been upgraded for PS5.
In Saints Row: The Third Remastered the Saints have never looked better, and neither has Steelport, which makes your explosive activities more fun than ever. Along with the base game, pretty much all DLC is included too, which means there are three expansions for you to also play through. And of course, nothing beats playing it in co-op with a friend.
It should go without saying that if you have a PS5 and love playing in online co-op, you really need to add Saints Row: The Third Remastered to your collection. It provides hours upon hours of absolute mayhem.
Read our review of Saints Row: The Third Remastered