Sometimes, there's nothing finer than a huge, open world to completely get absorbed into.
There are plenty of great open world games on PS5, too, so if lengthy games that allow you to make your own path are your jam, you're well catered for. They come in all different forms, too. There's the epic, story-focused open world of God of War Ragnarok, the action-packed superhero tale of Spider-Man: Miles Morales, or even the slower, more thoughtful open world of Sherlock Holmes: Chapter One.
Whatever type of open world you fancy jumping into on PS5, we're certain we'll have the best one for you below. We've rounded up 20 of our favourites, all taking you to brilliant, engrossing worlds that we're sure you'll love. And so, read on, and find the next open world game on PS5 you're going to get utterly engrossed in.
This article was first published in January 2021 and has been periodically updated with new titles.
Want to support GameSpew? If you decide to try any of the games on this list, please consider buying them through our Amazon links, included below each entry. It won't cost you anything extra, but we'll get a small slice of the purchase.
1. God of War Ragnarok
2018's God of War wasn't exactly an open world – at least, not to the scale of some of the other games on this list – but God of War Ragnarok came along in 2022 and blew it out of the water. If we weren't entirely confident in calling God of War an open world game, we can rest easy giving Ragnarok that title.
The follow-up adventure of Kratos and Atreus is bigger and better in every way, providing players not only with an epic story to get absorbed in, but plenty of side quests and opportunities to go off the beaten path. You'll want to explore it all, too, because the world of Ragnarok is just so bloomin' wonderful.
Read our review of God of War Ragnarok
Check latest prices of God of War Ragnarok
2. Horizon Forbidden West
Horizon Forbidden West picks up from where Zero Dawn left off, putting you in the shoes of Aloy, a female hunter who has grown up as an outcast from her tribe. Both games offer excellent open worlds to explore – and of course, if you're new to the series, we'd recommend starting with Horizon Zero Dawn. But its sequel, Forbidden West, offers a bigger and more beautiful world than ever before.
If you can tear yourself away from gawping at the scenery and taking screenshots (we struggled!), you'll find a massive adventure waiting for you as you journey with Aloy to delve deeper into the truth about her past. Without a doubt, Horizon Forbidden West is one of the best open world games on PS5.
Read our review of Horizon Forbidden West
Check latest prices of Horizon Forbidden West
3. Elden Ring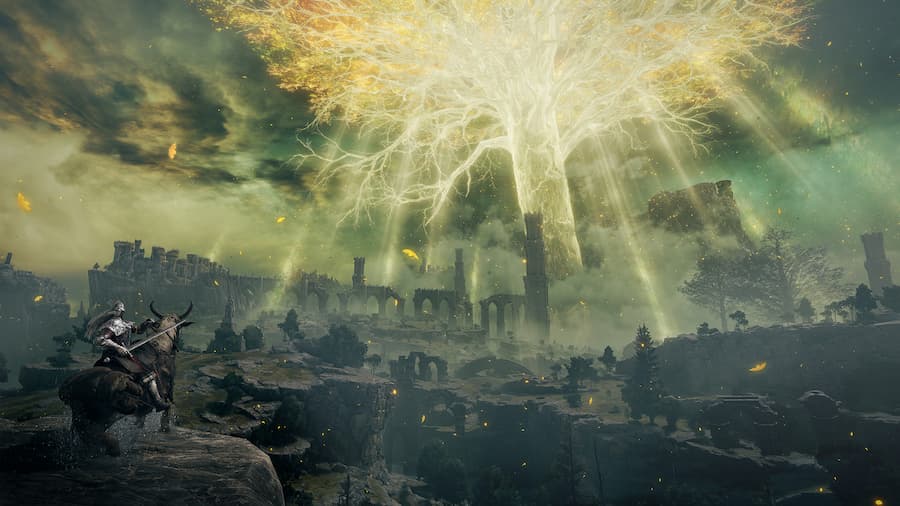 We couldn't have a list of the best open world games on PS5 without including Elden Ring, could we? Lauded one of the best games of all time, Elden Ring cleaned up when it came to GOTY awards in 2022. Indeed: we crowned it our Best Game of 2022. How could we not? FromSoftware's latest game is its best yet, presenting a fantastical world that's a pleasure to explore and, despite still being challenging, it's perhaps the most accessible game from the company yet.
Elden Ring still isn't going to be for everyone, though. Its combat isn't easy, and not everyone is going to gel with it. But if you're willing to put the time in and master your weapon of choice, this is one of the most rewarding open world experiences you'll ever have. You never quite know what's waiting for you around a corner (spoiler: it's usually an enemy), but discovering something new is always a joy. And with well over 100 hours of gameplay to enjoy, you're not going to get bored any time soon.
Check latest prices of Elden Ring
4. Dying Light 2: Stay Human
If fighting off zombies and parkouring around a huge city sounds like your sort of thing, then Dying Light 2 may be the open world game on PS5 for you. While it is a sequel to the original Dying Light, it picks up with an all-new protagonist in a new location, and so you don't need to have played the first to enjoy it. It's much bigger than the first, too, with a huge world to explore, plenty of story to enjoy and a huge cast of characters to meet.
Whether you're jumping from rooftop to rooftop or engaging in hand-to-hand combat with zombies, there's so much to enjoy in Dying Light 2. It's the traversal that really sets it apart from other open world games on this list, though. We just can't get enough of free-running around the city, running up walls, grabbing ledges and even hang-gliding between buildings.
Read our review of Dying Light 2
Check latest prices of Dying Light 2
5. Cyberpunk 2077
Cyberpunk 2077 didn't have the best launch back in December 2020. While the PC version we reviewed was excellent, its console counterparts were riddled with problems, marring the launch and putting lots of people off from playing the game. Over two years later, though, Cyberpunk 2077 is finally the game that it always should have been. And now with a dedicated PS5 version, it plays better than ever on console, making this one of the best open world games you can jump into.
Its futuristic world is a joy to explore, and with a cast of wonderful characters to meet – including Keanu Reeves' Johnny Silverhand – it's a pleasure to be a part of. Cyberpunk 2077's narrative might be one of our favourite of any open world game, too. It might not be the biggest world, particularly compared to CD Projekt Red's The Witcher 3, but don't let that put you off: there's still plenty to love here.
Read our review of Cyberpunk 2077
Check latest prices of Cyberpunk 2077
6. Spider-Man: Miles Morales
A standalone expansion to the excellent Marvel's Spider-Man, this time Miles Morales dons the legendary spider suit to protect New York. If you've played the first game, you'll be able to hit the ground running (uh, swinging?) in Spider-Man: Miles Morales, with many of the mechanics and gameplay functions feeling familiar.
There's something special about Spider-Man: Miles Morales, though. Although it's shorter and more focused than its predecessor, there's still tonnes to do in its recreation of Manhattan. And Miles has to be one of our favourite protagonists yet. If you enjoyed the first, then we've no doubt you'll also find Spider-Man: Miles Morales to be one of the best open world games on PS5. And as a launch title for the console, it's a true technical showcase too; few games look as beautiful as this.
Read our review of Spider-Man: Miles Morales
Check latest prices of Spider-Man: Miles Morales
7. Sherlock Holmes: Chapter One
A Sherlock Holmes game? That's also open world? Yes, that's basically what Sherlock Holmes: Chapter One is. This might not be the biggest open world game on this list, but playing as a young Sherlock, players are free to explore his childhood hometown on the island of Cordona. Split into multiple distinct areas, Cordona is a rich and vibrant island with a mixture of British, Arabic and Mediterranean influences. It's a melting pot of culture, then, with so much to see and do.
While you'll typically focus on the main story as you play through Sherlock Holmes: Chapter One, there are plenty of branching narrative paths to follow, side quests to take up, and endless reasons to go exploring. And you'll want to, too. This is a gorgeous game set in a realistic and beautifully-realised location. And, as the world's most famous fictional detective, you'll have plenty of cases to solve, too. Especially if you're looking for something a little different, this is one of the best open world games on PS5.
Read our review of Sherlock Holmes: Chapter One
8. Assassin's Creed Valhalla
The latest game to the Assassin's Creed series is also undoubtedly one of the best. Assassin's Creed Valhalla casts you in the shoes of Eivor who, along with their band of fellow vikings, has sailed to England in search of a new life. You'll work towards building up your new village while creating partnerships – and rivalries – with nearby towns.
The world of Assassin's Creed Valhalla is huge and beautiful. It's England like you've never seen it before: stark, picturesque, and often violent. But that's no problem for Eivor – equipped with weaponry and armour, they're ready to take on anything this world can throw at them. It's a huge game with an endless amount of side activities to take on. Even after 100 hours, you'll still be finding new places to explore. It's not just its sheer size that makes Assassin's Creed Valhalla one of the best open world games on PS5, it's everything; its story, its setting, its characters. We love it all.
Read our review of Assassin's Creed Valhalla
Check latest prices of Assassin's Creed Valhalla
9. Gotham Knights
Fancy another open world superhero game? Enter Gotham Knights. Set in a post-Batman world, it's now up to Batgirl, Robin, Nightwing and Red Hood to protect the streets of Gotham from never-ending crime. Take on the role of any one of the four heroes – or switch between them at will – to glide, Batcycle or run your way around Gotham, attempting to rid the city of dangers. It's going to be easier said than done, though.
If you're a fan of DC, you'll get a big kick out of Gotham Knights' original story, packed with plenty of familiar faces and iconic villains. Shape your character how you see fit by unlocking new skills and abilities, and even customise their appearance by unlocking new outfits. Gotham really is your oyster here, and aside from a sizeable story to play through, there's plenty of side activities to keep you coming back for more, too.
Read our review of Gotham Knights
Check latest prices of Gotham Knights
10. Far Cry 6
Yes, another Ubisoft game appears on our list of best open world games on PS5 – and it won't be the last. What can we say: this is a developer who knows how to nail a huge, sprawling open world. Far Cry 6's fictional island of Yara is no different. Although this isn't a real place, this Caribbean island is evocative of Cuba and absolutely nails the Caribbean vibes. Forget the guns, blood and violence for moment, and you could almost think you're on a tropical holiday.
Not quite, though, since most of your time in Far Cry 6 will be spent hunting down bad guys and trying to overthrow the president. No big deal, then. But when you're not plotting to thwart President Castillo, Yara is your playground. You're free to go wherever you want, and there are numerous side activities to take part in (generally involving violence). This is a huge map, and thankfully you've got numerous vehicular options to help you get around. Whether you want to travel on horseback, drive a jeep, fly a helicopter or parachute off a tall cliff, Far Cry 6 has you covered.
Check latest prices of Far Cry 6
11. Immortals Fenyx Rising
Taking clear inspiration from The Legend of Zelda: Breath of the Wild, Immortals Fenyx Rising builds on Ubisoft's traditional open world formula to deliver a game quite unlike any other. Jump into Immortals Fenyx Rising and you'll discover a beautiful and colourful world steeped in Greek history and mythology. Playing as the titular Fenyx, you'll race to take down the nefarious Typhon who threatens the land. To do so, you'll have to conquer countless puzzles, vanquish powerful foes and negotiate hostile environments. Wrapping it all up is a narrative told by Zeus and Perseus which ramps up the humour found in the game.
If you want to play something that will consume tens of hours of your life, test your grey matter and give you a chuckle along the way, Immortals Fenyx Rising is one of the best open world games on PS5 you can pick up.
Read our review of Immortals Fenyx Rising
Check latest prices of Immortals Fenyx Rising
12. Ghost of Tsushima: Director's Cut
Ghost of Tsushima, from Sucker Punch Productions, casts you in the role of Jin Sakai on a quest to reclaim the beautiful lands of Tsushima. This was one of our favourite open world games when it originally released on PS4, but with the PS5-centric Director's Cut, it's even better than ever.
You can rush through the game's story if you wish, but in doing so you'll miss out on much of the joy of the game. Ghost of Tsushima: Director's Cut feels most alive when you're simply exploring its extraordinary world. You'll encounter enemies to defeat in duels or intense swordfights; you'll meet old and new friends who need your help, and, curiously, you'll also come across wild foxes and birds who want to guide you to helpful points of interest. It's an absolute wonder to explore, and for that reason, it's one of the best open world PS5 games. Plus, it's just super cool to be a samurai.
Read our review of Ghost of Tsushima
Check latest prices of Ghost of Tsushima
13. Death Stranding: Director's Cut
Okay, Death Stranding isn't for everybody, but some out there are likely to consider it one of the best open world games on PS5. In Death Stranding the world has become disconnected after a catastrophic event. And so it's down to you, playing as The Walking Dead's Norman Reedus, to activate a network, going from east to west. Along the way there are countless deliveries to make, because it would be too easy to just let you concentrate on your important task. And instead of hostiles being your main enemy, it's the terrain that will cause you the most hardship.
It can be boring at times, and the story doesn't quite pay off in the end, but there's something strangely alluring about Death Stranding. You probably won't be able to say that you enjoyed every minute of it when the credits roll, but you'll be glad you played it.
Read our review of Death Stranding
Check latest prices of Death Stranding
14. Watch Dogs Legion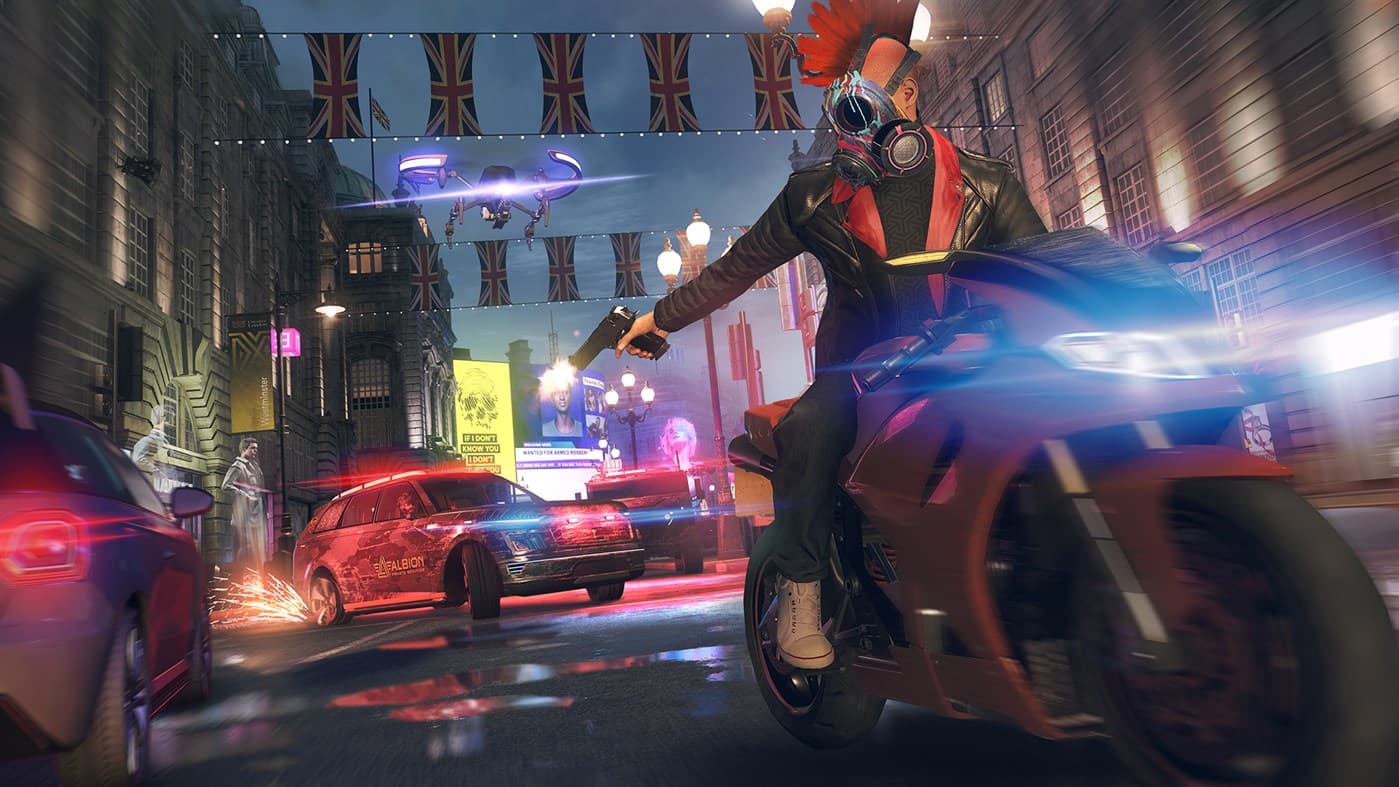 Watch Dogs Legion takes you to the streets of London, giving you a hyper-realistic version of the city to play around in. But unlike other games on this list of best open world games on PS5, Watch Dogs Legion doesn't have a central protagonist. Oh no – essentially, you can play as anyone you meet on the street.
It's a very cool gimmick, and one that allows more freedom than ever to tackle the game as you see fit. You see, everyone has their own unique skills and abilities. Want to infiltrate your enemy from the inside? You can recruit a disgruntled employee. Or maybe you need someone with their own drone. There's plenty of drone experts around. The freedom is unparalleled, and the game's vision of London is simply breath-taking.
Read our review of Watch Dogs Legion
Check latest prices of Watch Dogs Legion
15. GreedFall
If adventure is your thing, you probably ought to check out GreedFall, a brilliant open world action RPG developed by Spiders. An illness called Malichor is eating at the heart of Teer Fradee, and of course, you're the one who has to find a cure for it. Cue a dangerous journey full of monsters, traps and plenty of loot to make it all worthwhile.
Adventuring isn't the only thing you have to concern yourself with in GreedFall though; you also have to manage relations with various tribes and factions, aligning with them as you see fit. There are various companions you can recruit, too, who also might assist with your diplomatic endeavours. But at the end of the day, GreedFall mainly has you exploring beautiful environments and hacking away at enemies with a variety of weaponry. And there's nothing wrong with that. Needless to say, if you're after an open world game on PS5 to get lost in, GreedFall will certainly do the trick.
Check latest prices of GreedFall
16. Days Gone
The world of Days Gone is dangerous. Not only have people been turned into zombie-like creatures called freakers, but many of those who have survived are lawless. Taking control of Deacon St. John, it's your job to navigate this hostile world as a drifter. Riding your bike, you'll ride from settlement to settlement, completing bounties, checking in with your friends and simply surviving.
Although there's another thing on Deacon's mind: his wife who he became separated from at the start of the freaker outbreak. Is she still alive? He honestly doesn't know. But he'll do his best to find out, even if it means taking on massive freaker hordes. If you like a good story, Days Gone is undoubtedly one of the best open world adventure games you can play. It might not have a native PS5 release, but don't let that put you off: thanks to the extra power of the new console, it's never looked or played better.
Check latest prices of Days Gone
17. The Outer Worlds
Take Fallout, Mass Effect and Borderlands, put them in a pot, mix them up, and you have The Outer Worlds. Rather than having one massive open world, The Outer Worlds has multiple smaller ones. It still feels very expansive though. Using your ship, you can hop between them at your leisure providing you have the clearance to do so, and each one has plenty of quests for you to discover and complete.
The Outer Worlds packs in plenty of humour; it's just as content with making you chuckle as it is pumping you up for combat or leaving you slack-jawed with its sumptuous visuals. You'll get a kick out of recruiting and bringing along a couple of companions along for the ride, too. They'll help you in combat, and if they have something useful to say they'll helpfully chime in. Though they're also vocal if you do something they don't like as well.
Whether or not The Outer Worlds is truly an open world game or not is up for discussion, but it sure as hell feels like one. And if you pick it up, you're sure to have many enjoyable hours with it.
Read our review of The Outer Worlds
Check latest prices of The Outer Worlds
18. Red Dead Redemption 2
Playing Red Dead Redemption 2 is like stepping into an alternate reality. Never before has an open world felt so cohesive, immersive and real. While there's an in-game map available with important quests marked with icons, all of Red Dead Redemption 2's side content plays out naturally. You might come across someone sifting for gold, for example, and hanging around might present you with an opportunity. Or you might find two escaped convicts at the side of the road, and it's up to you whether to free them or not.
You feel like you have a real choice in how you act in the world, making you feel like you belong there rather than just visiting. The real draw of Red Dead Redemption 2, however, is its epic story that will take you around fifty hours to unravel. Needless to say, it's one of the best open world games on PS5.
Read our review of Red Dead Redemption 2
Check latest prices of Red Dead Redemption 2
19. Kingdom Come: Deliverance
Have you ever wondered what it would be like living in medieval times? Well, wonder no more. Pick up Kingdom Come: Deliverance and you'll be transported to the medieval Kingdom of Bohemia. You're not a hero in Kingdom Come: Deliverance. You're no one special. The son of a blacksmith, you're just an unremarkable young man who's found himself in the middle of conflict. But you want revenge for your parents and have some spunk. Therefore, tragedy is just the start of your adventure.
With its unique combat system and realistic open world, there's nothing else quite like Kingdom Come: Deliverance available right now. It might have been made for PS4, but it's still one of the best open world games you can play on PS5.
Read our review of Kingdom Come Deliverance
Check latest prices of Kingdom Come Deliverance
20. The Witcher 3: Wild Hunt
Whether it be Geralt's gruff and manly tones or Ciri's, well, Ciri-ness, whoever you are, there's a good reason to play The Witcher 3. It's a truly massive experience – and not one to embark on lightly. As far as open worlds go, The Witcher 3 takes the biscuit in terms of size and scope – it's apparently thirty times larger than the previous Witcher games. Unless you have a couple hundred hours to spare, you won't be getting far!
The Witcher 3 follows said gruff and manly Geralt, a monster hunter who sets out to find his adoptive daughter who's being pursued by a group known as the 'Wild Hunt'. It's massive, it's beautiful, and it's without a doubt one of the best open world games on PS5. Expect a lot of combat, a lot of horseriding, and a lot of sitting around in taverns trying your hand at Gwent.
Read our review of The Witcher 3