We hear you like going fast.
The racing game genre is a varied one. From super-realistic rally sims to open world racers all about having fun, pretty much the whole gamut of automobile-based sport is covered. And quite a range of racing games are available on Xbox Game Pass, too. So if you pay for Microsoft's gaming subscription and like getting behind the wheel of a digital car, we're sure you'll find a racing game to suit.
We've rounded up the best racing games you can play on Xbox Game Pass below. We've tried to ensure there's a varied selection in here, so whether you're a serious racer or just like to mess around, you're catered for. Each of these games are available on Xbox Game Pass at the date of publication, and we'll be updating regularly as and when games are added or removed from the service.
So: start your engines. And get ready to race.
Related: The Best Racing Games on Xbox Series X 
If you need to top up your Xbox Game Pass subscription to play these, please consider doing so via our affiliate link below. On top of scoring yourself a discount, you'll be supporting GameSpew with a slice of the purchase.
1. Forza Horizon 5
Racing games don't come much better than Forza Horizon 5. Or the Forza Horizon series in general, in fact. Forza Horizon 3 wowed us when it took us to Australia back in 2015, and Forza Horizon 4's setting of Great Britain cemented the series as one of the best for us. But now we have Forza Horizon 5, and it's bigger and better than ever.
Set in a luscious and varied rendition of Mexico, Forza Horizon 5 will see you zooming through dense jungles, whizzing past ancient Mayan ruins and even darting up the side of a volcano. This is based on real Mexico, and so while the map isn't exactly accurate, you will see familiar locations if you've spent any time there. We have, and were blown away by how realistic locations like Tulum feel.
But that's by the by. This is a racing game after all, and so all that really matters is how good Forza Horizon 5 feels to play. The answer? Damn good. Whether you're driving a buggy, a classic car or a supercar, it feels incredible. Drifting down sun-drenched highways is a joy, and you have hundreds of activities and events to jump into. This really is one of the best racing games on Xbox Game Pass. Probably THE best.
Read our Forza Horizon 5 review
2. Burnout Paradise Remastered
The Burnout series is an absolute classic. And while it may be over 10 years since we've had a new entry to the series, the Remastered version of Burnout Paradise has given us something to cling to. This open world racing game gives players the freedom to explore and to do events in whatever order they see fit. Fancy a race? Sure thing. How about a crash event, where you need to wrack up as much damage as possible? Absolutely.
The original game's age means that Burnout Paradise Remastered doesn't look quite as sharp as it once did, but don't let slightly dated visuals put you off. This is still a top tier racing game, and one of the best on Xbox Game Pass. It's an EA game that's available via EA Play, though, so you will need Game Pass Ultimate to be able to play.
Read our Burnout Paradise Remastered review
3. Wreckfest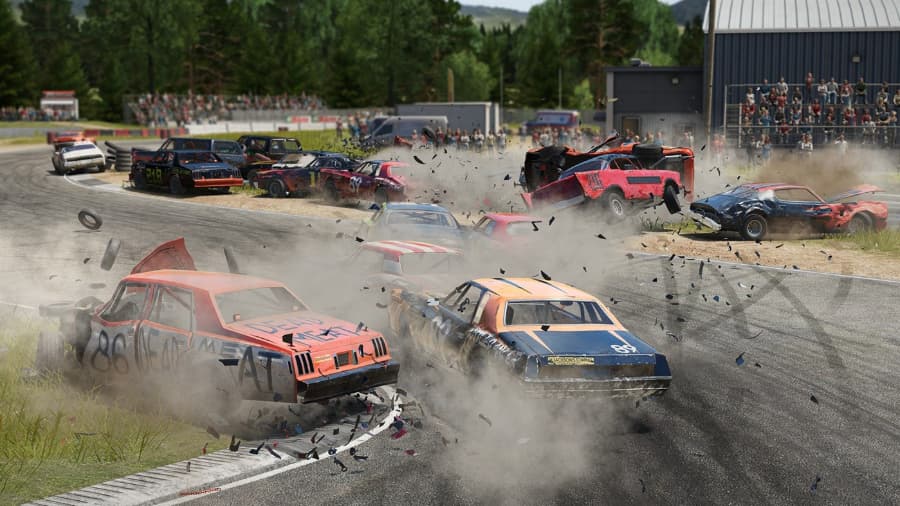 The clue is in the name, really: Wreckfest is all about wrecking stuff. If you remember the 1990s series Destruction Derby, then you're going to have an absolute blast playing Wreckfest. That's all you need to know.
There are races to be had, sure. And winning is important. But Wreckfest never takes itself too seriously. That's not to say you'll not need to think about what you're doing; winning means going fast, and that means driving a car that's not bogged down by heavy armour. But that means you're left open for opponents to damage you. And if your car gets wrecked? It's game over for you.
That's all part of the fun, though. You can weed out the competition by taking them out before they get a chance to do the same to you, but you'll have to be mindful of the damage it does to your car in the process. And if you'd rather forget about racing and focus solely on doing damage? Of course there are events for that, too. Honestly, this is one of the best racing games on Xbox Game Pass. They don't come much more entertaining than this.
4. DiRT Rally 2.0
Forget crashing and having fun driving around an open world. If you prefer your racing to be more serious and hardcore, then DiRT Rally 2.0 is the game for you. There's a reason this game has been dubbed the "Dark Souls of racing games". It takes no prisoners, and to succeed at it, you simply need to practice and, well, get good. There's no two ways about it.
DiRT Rally 2.0 has a career mode that puts you through your paces as a rally driver, or you can jump into freeplay, either alone or online with friends. Whichever mode you decide to play in, though, one thing is for sure: you'll be treated to one of the best rally games you can find. Its handling is second to none, leading to a truly realistic feel that not many other driving games will give you. It looks fantastic too, particularly if you're playing on Xbox One X or Series X.
And so, if you fancy a challenge but also want to try out one of the best racing games on Xbox Game Pass, you really shouldn't miss DiRT Rally 2.0.
Read our DiRT Rally 2.0 review
5. Need for Speed Hot Pursuit Remastered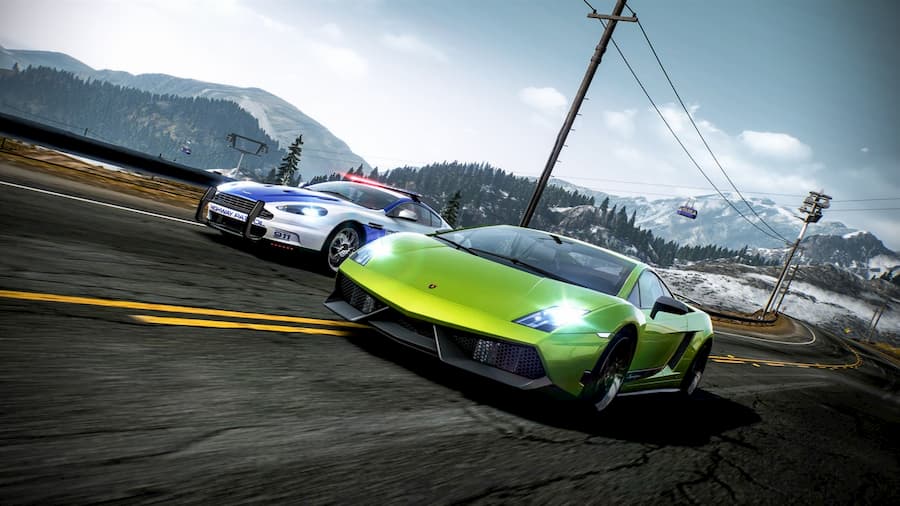 Thanks to it being included in EA Play, Need for Speed Hot Pursuit Remastered is available on Xbox Game Pass. It does mean you'll need an Ultimate subscription to be able to play it, though, so bear that in mind.
If you do have an Xbox Game Pass Ultimate subscription though, this really is one of the best racing games you can play on the service. Originally released in 2010, the Remastered version gives it a fresh lick of paint, making it look and play better than ever. This all-out arcade racer lets you hit the streets in a range of superfast supercars, burning rubber and trying to win every race. There's just one problem: the cops are often after you. The solution to that problem? You can be the cops.
That's right – as a cop, you get to take down racers, spoiling their fun and taking them out of the race. Whatever side of the law you find yourself on, though, Need for Speed Hot Pursuit Remastered is all-out fun, and it's well worth your time.
Read our Need for Speed Hot Pursuit Remastered review
6. F1 2021
Racing games don't get much better, or more realistic, than F1 2021. When we reviewed it, we called it Codemasters' best game to date, and that's a sentiment we stand by. Sure, F1 2022 may be out now, but this one is still probably our favourite.
We've always praised the F1 series for its fantastic visuals, realistic handling and sim-like action. But F1 2021 took things to the next level by making its career mode the best one yet – and by adding a completely new Braking Point story mode. In Braking Point, you'll take on the role of a young F2 driver making his way up to F1. It blends CGI story scenes with excellent racing scenarios, making a racing experience unlike any other.
The only thing that lets F1 2021 down slightly is that its not quite as realistic as usual; thanks to the real F1 2021 series being interrupted due to Covid, the game had to take some liberties. But when everything else is as good as it is, it's easily forgiven. If you enjoy realistic racing and you're an F1 fan, then F1 2021 wholeheartedly deserves a place on this list of best racing games on Xbox Game Pass.