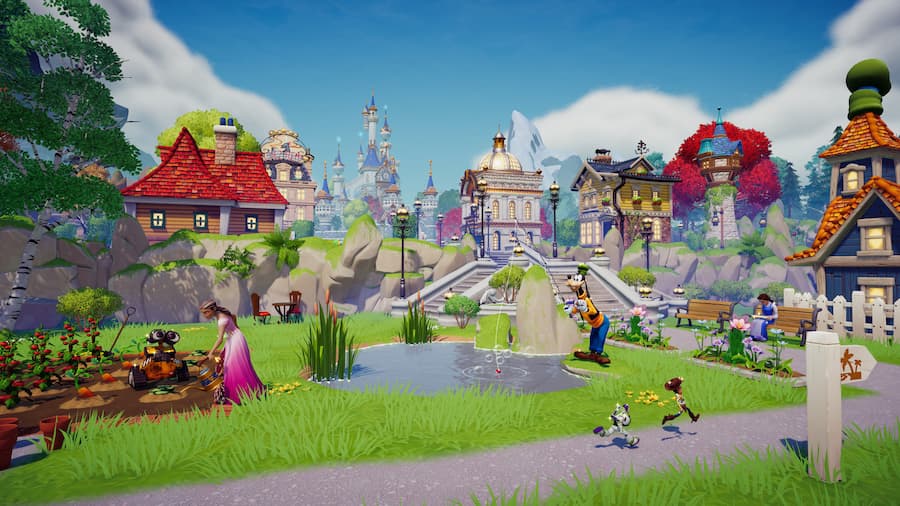 It's going to be an exciting year for Disney Dreamlight Valley fans.
A new content roadmap for Disney Dreamlight Valley lays out three major updates for the first half of 2023, and teases at more content to come later down the line. In a nutshell, we can expect new characters, new realms, to learn the secrets of existing regions, and of course, new questlines to follow through. We can't wait.
The roadmap, shared on the official Dreamlight Valley website, lays out three updates for February, April and 'Early Summer'. There's also a brief overview of 'more to come in 2023'. Let's dive into some what we have to look forward to, shall we?
Disney Dreamlight Valley February Content
In February, a new character will be joining the game. It looks like it's going to be Encanto's Mirabel! There's also mention of a 'special snowman', so does that mean Olaf from Frozen is finally going to make an appearance?
We're also going to 'discover the secrets of Frosted Heights'. Olaf will likely be a part of this. Whether or not we'll get a new Encanto-themed realm, however, is unclear.
Disney Dreamlight Valley April Content Update
April's description is a little more vague: "A new realm opens, new characters arrive to the Valley, and more surprises". We're guessing one of those characters will be The Lion King's Simba, judging by the picture (yay!). We hope Timon and Pumba aren't far behind. It's about time someone was around to put Scar in his place.
As for what else to expect, we'll have to wait and see. No doubt we'll have more updates closer to April.
Disney Dreamlight Valley Early Summer Content Update
The Early Summer update, which we imagine will land around June, will give us some context to the Forgotten Lands. Looks like we'll finally learn who lives in that pumpkin, and hopefully we'll be able to extinguish those flames. There's also mention of a princess coming to the valley. Who could it be? Belle? Jasmine? Aurora? There are too many to choose from: we'll just have to wait and see.
Further 2023 Updates
We're most excited for some stuff that's still to come to Disney Dreamlight Valley. We can expect yet more characters and realms later on in the year. But one word here has particularly piqued our interest: multiplayer! Are we finally going to be able to visit our friends' valleys and have them visit us?
Overall, it's a great roadmap, and gives players plenty to look forward to. Of course, some of the details are still rather vague – we'll have to wait a while to find out exactly who some of those new characters are going to be. Stick with us: we'll have more updates on Dreamlight Valley as they come.