Not only do we have a new month upon us, but a whole new year. But what games do we have to look forward to in January?
The first month of the year is typically a quiet one, but January 2023 holds some exciting titles. The remake of Dead Space! One Piece Odyssey! Forspoken! There's also a handful of re-releases of games coming to new formats, such as Persona 3 and 4, and Monster Hunter Rise finally coming to PlayStation and Xbox.
And so, if you're looking for something to tackle the January blues with, perhaps one of these new games will help. Without further ado, here are the games to watch out for this January.
Want to support GameSpew? If you decide to buy anything from this list, please consider using our affiliate links. They're included below each entry. It won't cost you anything extra, but we'll get a small slice of the purchase. Thank you for your support!
Vengeful Guardian: Moonrider
Formats: PS4, PS5, Xbox One, Xbox Series X/S, Switch, PC
Release date: 12th January
After the brilliant Blazing Chrome, JoyMasher is back with another retro-inspired title. This time around the developer is taking on the action genre, with Vengeful Guardian: Moonrider set to entertain those who revelled in playing the likes of Shinobi and Strider years ago. We played a small bit of it some time ago and were rather impressed, so be sure to keep it on your radar.
One Piece Odyssey
Formats: PS4, PS5, Xbox One, Xbox Series X/S, PC
Release date: 13th January
This latest videogame based on the One Piece franchise is a bit of a departure, swapping out the insane action found in Pirate Warriors to deliver a fairly traditional RPG instead. Still, there's set to be an entertaining story to unravel, and countless battle to overcome where effectively using your skills is if the utmost of importance. Check out our preview for our early impressions.
Check prices of One Piece Odyssey
Monster Hunter Rise
Formats: PS4, PS5, Xbox One, Xbox Series X/S
Release date: 20th January
If you're a Switch or PC gamer, you've been able to play the brilliant Monster Hunter Rise for a while. Now PlayStation and Xbox gamers are going to be able to get in on the act, however, and they're bound to have lots of monster-slaying fun. It's just a shame that the Sunbreak expansion isn't arriving alongside it, but at least it gives players time to make their way through its lengthy campaign and achieve master rank.
Check prices of Monster Hunter Rise
Persona 3 Portable & Persona 4 Golden
Formats: PS4, PS5, Xbox One, Xbox Series X/S, Switch, PC
Release date: 20th January
Whether you're a long-time series fan or have recently got into it thanks to Persona 5, these remastered releases of Persona 3 and Persona 4 are sure to entertain. As well as spruced-up visuals, they also have quality of life improvements to make them more palatable for modern audiences. It's the stories and characters here that are sure to delight though. JRPG fans are in for a treat.
Fire Emblem Engage
Formats: Switch
Release date: 20th January
A new entry in the legendary Fire Emblem series this early in the year? Yes please. Fire Emblem Engage will, as ever, marry an engaging story with deep tactical combat, providing tens of hours of, engaging, gameplay. New is the ability to collect Emblem Rings, enabling players to summon legendary heroes of the past to fight alongside them. This is bound to be a hit.
Check prices of Fire Emblem Engage
Forspoken
Formats: PS5, PC
Release date: 24th January
What's the biggest game releasing in January? Forspoken, possibly. Exclusive to the PS5 console and PC, Forspoken finds Frey Holland mysteriously transported from New York to the magical land of Athia. Equipped with a bracelet that allows her to cast spells, she must work to discover why she's been whisked away to a new world, which of course involves going up against some powerful foes. With a large open world and thrilling combat, this could be very epic.
Dead Space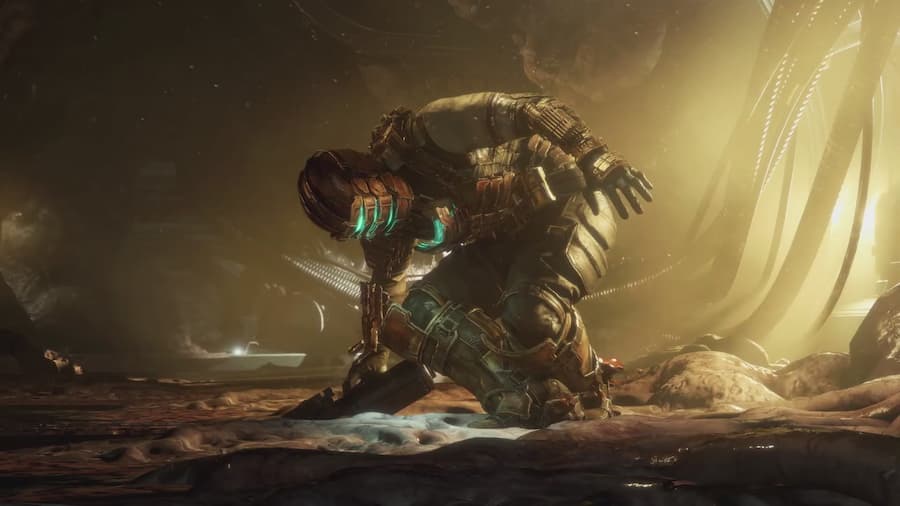 Formats: PS5, Xbox Series X/S, PC
Release date: 27th January
The Callisto Protocol may have only released in December, but January is providing even more space-based horrors. EA Motive's remake of the original Dead Space hopes to creep players out with its next-gen visuals and unpredictable enemies. Needless to say, we can't wait to get reacquainted with this classic title, even though it might just possibly scare us silly.
Spongebob Squarepants – The Cosmic Shake
Formats: PS4, PS5, Xbox One, Xbox Series X/S, Switch, PC
Release date: 31st January
Spongebob fans rejoice – yet another colourful 3D platformer featuring some of your favourite characters is on the way. In Spongebob Squarepants: The Cosmic Shake an incident involving Mermaid's Tears results in portals opening to Wishworlds. Utilising a variety of costumes, it's down to Spongebob and Patrick to sort out the mess. Ultimately, this could prove to be a lot of fun for platforming fans of all ages.