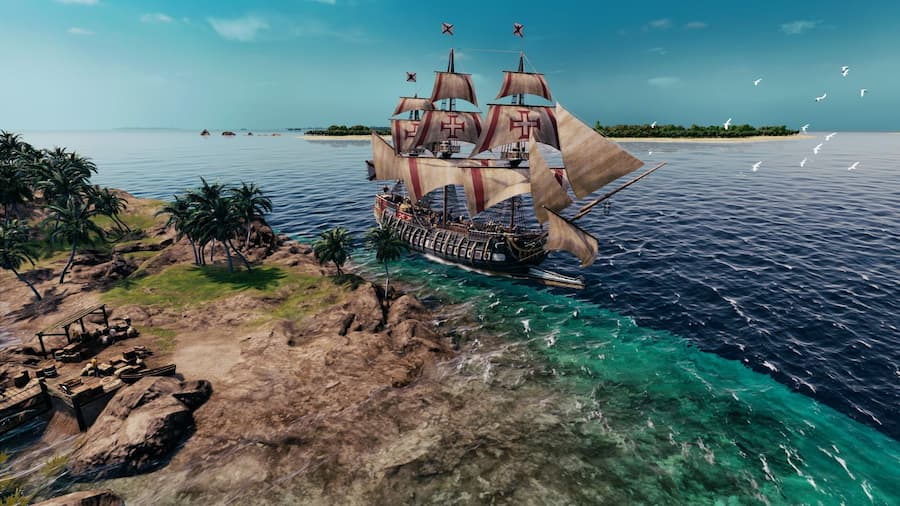 Wondering how to repair your ships after they've taken damage in Tortuga – A Pirate's Tale? Here's what you need to know.
It's inevitable that your ships are going to take damage in Tortuga – A Pirate's Tale. You're going to be engaging in combat regularly, and even the most successful fight is going to end up with one or more of your ships taking a bit of damage. As such, it's important that you repair your ships regularly – and thankfully, doing so in Tortuga – A Pirate's Tale is rather easy.
You can repair them by docking into any port. Each town in Tortuga has a Harbor Master, and it's by visiting here that you can repair (and even upgrade) your ships. To access the Harbor Master, dock into the nearest port and use your shoulder buttons (or bring up the radial wheel) to select 'Harbor Master'.
On the Harbor Master's menu, choose 'Maintenance'. From there, you can then choose to repair one ship, or repair all ships. Choose your option, then press triangle (or Y on an Xbox controller) to confirm. That's it: your ships are repaired!
Remember that it will cost gold to repair your ships. The amount of gold depends on how many ships need repairing, and how great the damage is. Always make sure you've got a supply of gold to keep your ships in tip-top condition. Fail to repair your ships between battles in Tortuga – A Pirate's Tale, and you're setting yourself up for failure.