Like most side-scrolling beat 'em ups, Jitsu Squad has a story that you won't give two hoots about.
The dialogue, with pop-culture references aplenty, is occasionally entertaining, sure, but the real draw here is the hectic, over-the-top action. The good news is that the combat is solid, and fresh enough to make Jitsu Squad stand out in the genre – despite there being an abundance of new entries in the last year or so.
A crowdfunding success, Jitsu Squad finds a team of anthropomorphic creatures going up against forces that mean to bring darkness to their world. Four playable characters are present, covering all the archetypes you'd expect. There's Hero, for example, a racoon and capable all-rounder that's good for beginners and those playing alone. Then there's Aros, a muscular warthog that hits hard but is slow on his feet. And then there's Baby, a nimble rabbit that relies on a variety of fast-hitting attacks. Throw in Jazz, a frog that's best for players who like to get a little more technical, and you have all bases covered.
Whichever character you choose to play as, the gameplay of Jitsu Squad is typical of the genre on the face of it. As you move from left to right during each of the game's stages, there's a large emphasis on controlling crowds of enemies and making use of space. To achieve that, you'll be making ample use of basic combos with the attack button, as well as jumping attacks and dodges.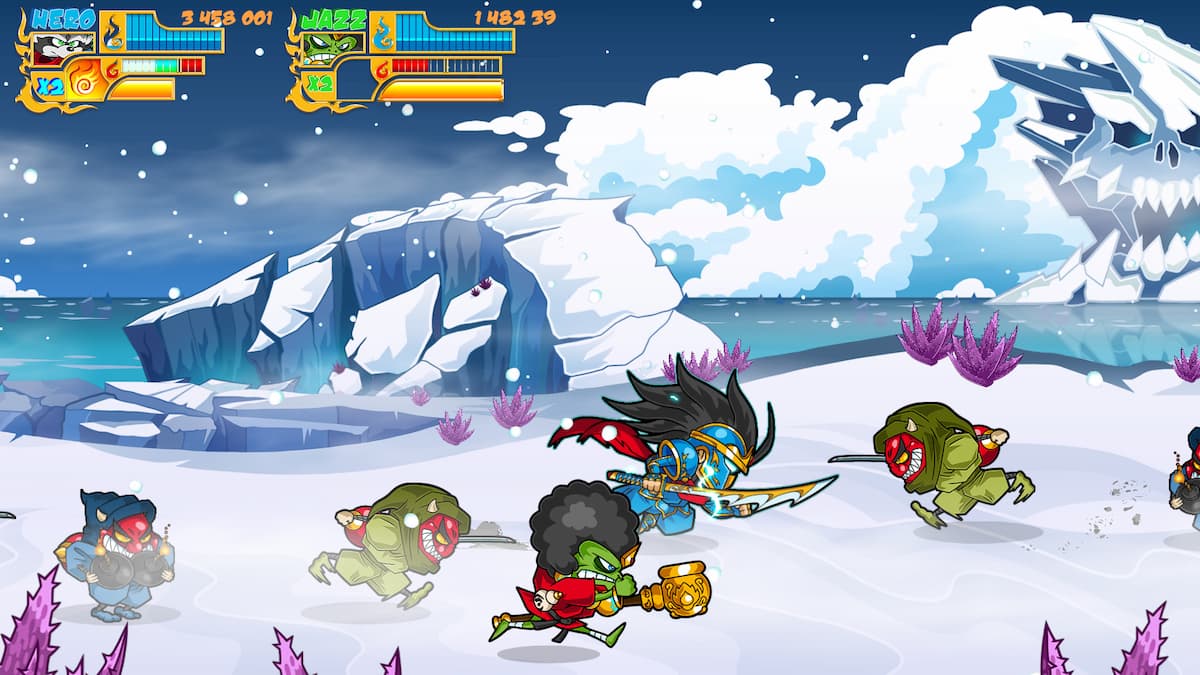 Where Jitsu Squad comes into its own is in its range of additional special attacks and abilities available to you. Over the course of the game you'll earn experience and unlock a range of helpful manoeuvres that can give you the edge in battle, for example. You can also parry attacks and perform counters if you get the timing right. And as well as being able to pick up and wield a range of useful weapons, you can sometimes come across screen-clearing and often humorous assist pickups, too.
Needless to say, Jitsu Squad feels more zany and dynamic than most other entries in the genre, and that's definitely one of its strengths. Another strength is its strong visual design, with each and every character and environment being meticulously created and animated in great detail. It's genuinely a feast for the eyes, and it's backed up with a enjoyable soundtrack as well. It's just a shame that the voice acting is all over the place.
While Jitsu Squad is very enjoyable when played alone, often pitting you against a screenful of enemies that allows you to get your combo count into the hundreds, many will prefer playing in co-op with others. Up to four players can band together, and the more players there are, the more chaotic the action becomes. What's disappointing, however, is that only local co-op is supported.
There are other omissions that may irritate. There's no stage select once you've completed the game's story mode, for example. And you also lose your unlocked moves with a character when starting a new game. It's even impossible to add new players to a game that's already in progress, which is particularly egregious.
Though it has its shortcomings, Jitsu Squad is a good entry into the ever-growing side-scrolling beat 'em up genre that is bound to find a legion of fans should they give it a chance. The combat is entertainingly maniacal, and there's plenty of scope for skilful play beyond button bashing. Add in the sharp, colourful visuals, and you have an attractive game that's fun for all.
---
Jitsu Squad Review – GameSpew's Score
This review of Jitsu Squad is based on the PS5 version, with a code provided by the game's publisher. It's available on PS4, PS5, Xbox One, Xbox Series X/S, Switch and PC.