If you're serious about fighting games or want a true arcade experience, an arcade stick is the way to go.
You'll find plenty of them on the market, some from known brands such as HORI. The latest to hit the scene, however, is the DAIJA arcade stick. Brought to players by NACON, this stick aims to impress. Everything about it screams quality, and it even has an endorsement from an eSports pro, Kayane.
We've spent some time with the PlayStation version of the DAIJA, taking it through its paces. There's also an Xbox version available, and both are compatible with PC, too. Open the box of the DAIJA, and you'll find the arcade stick itself as well as an accompaniment of pamphlets, stickers, and some optional faceplates. More on them later.
You'll instantly find that the arcade stick itself is weighty, giving you confidence that's it's a solid, well-built product. Fail to look at the included quick start guide, though, and you might be at a loss as to how you connect it to your console. The answer lies within. Press a pair of clasps on either side of the unit and it opens up, revealing not only a USB cable, but also a couple of tools and a second knob for the unit's stick, should you prefer a different shape.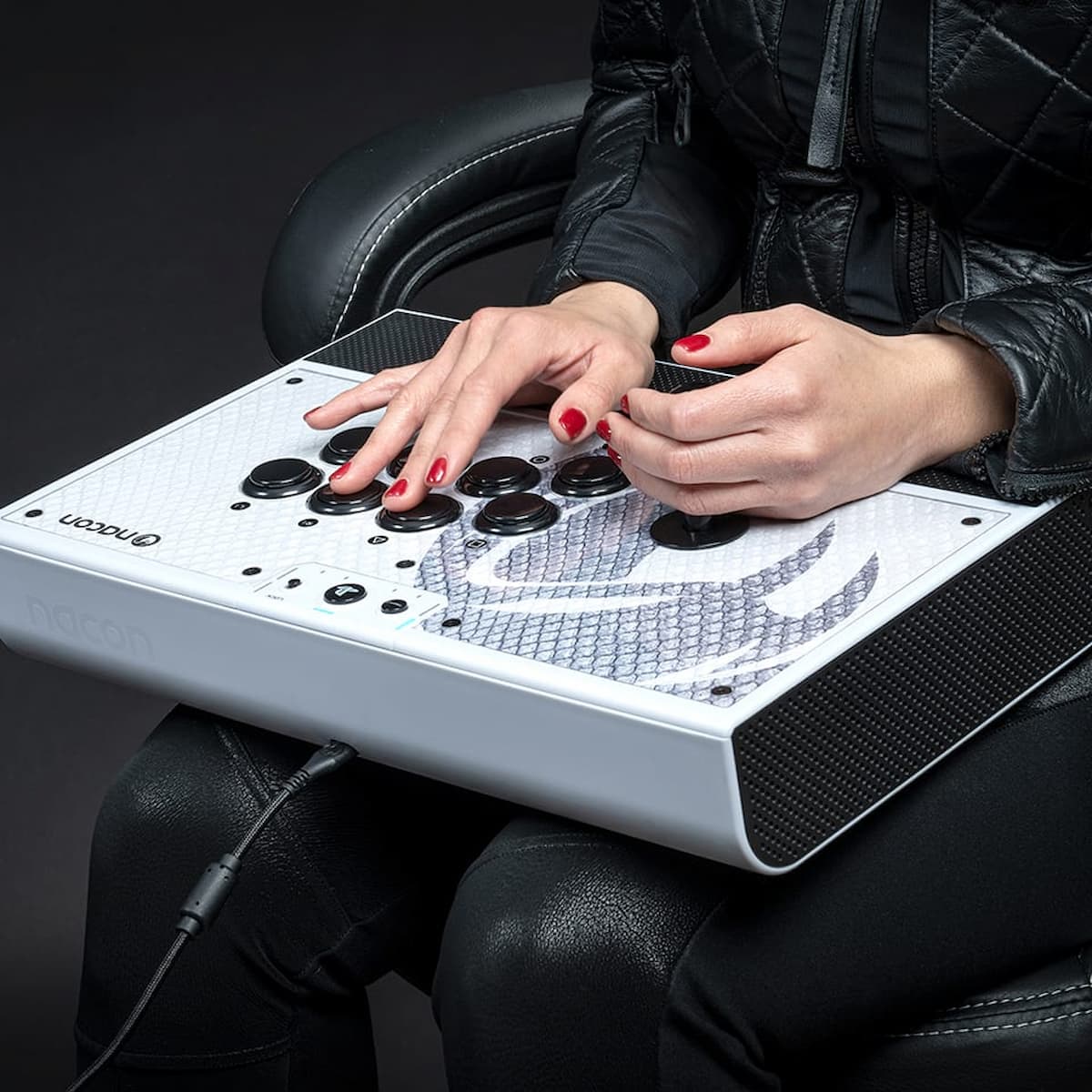 The final thing to do before using the DAIJA is make sure it's in the correct mode. A switch on the right hand side of the unit can be set to either PS5, PS4 or PC to ensure the appropriate functionality. There's also another switch that determines the mapping of the stick; you can have it replicate the left or right analog stick, or the d-pad. Once everything is set, plug it in via USB and you're pretty much ready to go.
Thanks to the heft of the arcade stick, and the rubberised pad on its underside, it sits great on either your lap or the top of a table or desk. Its large size and sturdy construction means it's very comfortable to use, too, something which is further enhanced by the included textured palm rest. To match the target hardware, the PS5, that stick has a wonderful matte white finish, while the palm rest and side trims are black.
Looks will only get an arcade stick so far though, which is why we're happy report that it performs excellently as well. Eight buttons are nicely placed on the stick, allowing for all of a PlayStation controller's face and shoulder buttons as well as triggers to be accessed without fuss. And with them being SANWA buttons, you can be assured that they're responsive and reliable. We certainly haven't had any troubles during testing. The stick, meanwhile, feels good in the hand and offers tactile clicks as you move it through the eight directions.
While most users will find the buttons and stick provided perfectly adequate, NACON has taken steps to make it easy to replace them. The included tools can be used to remove them without a fuss, and get wires etc. connected back up again. The faceplate of the DAIJA can also be customised – two are included in the box, and you can make your own thanks to a handy template available online.
Other features of the DAIJA include support for up to four profiles, customisable by connecting the device to a PC. It makes it easy to quickly adjust the stick for different games, but with most allowing you to remap your buttons these days, it's not entirely essential. For those who do use them though, there's also a handy lock button so that you don't change the profile in the middle of a heated bout.
Our only real complaint about the DAIJA is the placement of various additional buttons on its right hand side. Accompanying the aforementioned format selector and stick mapping switches are a touch pad and buttons for L3, R3, Menu and Share/Create. They're all useful, for sure, but it's easy to press them in error when you're not actually fighting. Still, chances are you'll get used to not resting your hand on the side of the unit over time.
All things considered then, the DAIJA is a seriously impressive piece of kit. And it is indeed quite possibly the best arcade stick on the market right now. As you'd expect though, it comes at a price. With an RRP of around £280, it's certainly not cheap. But as they say, you get what you pay for. In this case, you're getting a premium arcade stick made with premium components. Factor in the included tools and features that make it easy to customise and repair your unit, and you have a worthy investment.
Thanks to NACON for providing access to a DAIJA to facilitate this review. The DAIJA Arcade Stick is available to buy now from the NACON store.