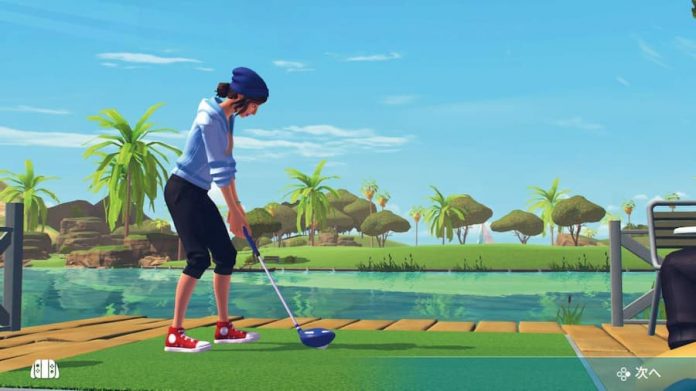 Want to play some golf without leaving the sofa? We've got you covered.
Golf games might not be quite as popular as they used to be. We had a drought for years with no official PGA game. And we had to wait far longer than we'd have liked for a new Mario Golf game. But all that said, there's still a healthy selection of golf games on Nintendo Switch, and we've rounded up the best of them right here.
Whether you're looking for a serious golf simulator or want something a little more fun, there's a golf game on Switch for you. The PGA license is back in full swing (ha, get it?) thanks to 2K Games. And there's more than a handful of fun, arcade-style golf games, perfect for playing with friends.
So: whatever sort of golf you feel like playing, read on. We've weeded out the bogeys and left only the hole-in-ones.
Want to support GameSpew? If you decide to buy any of the games on this list, please consider doing so via our affiliate links, included below each entry. It won't cost you anything extra, but we'll get a small slice of the purchase.
1. PGA Tour 2K21
If you're after a serious golfing game on Switch, then you can't do better than PGA Tour 2K21 right now. After creating your character, PGA Tour 2K21 allows you to embark on a sizeable career, working your way up from the bottom. Along the way you'll earn a host of rewards, including money that can be used to buy new clubs and clothing options, allowing you to customise your character even further. Outside of the career, you can even design your own courses before sharing them with others.
What might disappoint you about PGA Tour 2K21, however, is that you can't play as any professional golfers in it. You can play against them, sure, but if you want to take control of Tiger Woods or Justin Thomas, you're out of luck. Still, this truly is the best simulation of the sport on Switch, so be sure to give it a go.
Check latest prices of PGA Tour 2K21
2. Mario Golf: Super Rush
Want to sprint a golf course or two with Mario and chums? You can do that in Mario Golf: Super Rush. The latest entry in the Mario Golf series, Super Rush features an adventure mode in which you import or create a Mii before embarking on a journey of golf enlightenment. Unfortunately it's not very long, but it's fairly fun while it lasts and is a good way to learn the game's mechanics. Outside of adventure mode, there's a single player challenge mode, and of course you can play a game of golf against friends, either online or offline.
The Super Rush in the title alludes to the new Speed Golf mode, in which after taking a shot you must run to your ball like a maniac. And along the way, you can obstruct other players if you wish, making it harder for them to get their golf ball in the hole. It's just a shame that Mario Golf: Super Rush doesn't have a great deal of content. If you're after one of the best golf games on Switch, however, it's worth checking out.
Related: The 10 Best Mario Sports Games of All Time, Ranked
Check latest prices of Mario Golf: Super Rush
3. What the Golf?
Forget serious golfing for a second. If you simply want to have fun, they don't come much more enjoyable than What the Golf?. Unless you're looking for a serious sim, this is hands-down the best golfing game on Switch. Trust us.
Why? Well, it's clearly been designed with love, and with only one goal in mind: for its players to have a riotous, hilarious time. At first glance it might look like a normal golfing game, and indeed, your goal is always to get something to the flag on the green. We say 'something' because rarely is it a regular golf ball you're putting. Fling a golf club across the screen? That's more like it in What the Golf?. The best levels are those that poke fun at other games: we love the levels based on SUPERHOT and Angry Birds. If you're yet to play this, do so pronto.
Read our review of What The Golf?
Check latest prices of What the Golf?
4. Sports Party
Although Ubisoft's Sports Party game includes a range of sports other than golf, it's still one of the best golf games on Switch right now. It offers up perhaps the most realistic golfing experience on the console, even if it is a bit limited.
It's a game designed to be played competitively with fellow players in the same room. You'll each take it in turns to make your way around a number of courses, choosing either 3, 6 or 9 holes. Like any good golf game, there's a variety of clubs to choose between; so whether you're on the green, in the rough or on the fairway you'll want to change your club to match. Motion controls make it a lot of fun too – just be careful not to hit anyone when you swing your Joy-Con!
Check latest prices of Sports Party
5. Golf Club Wasteland
Now, Golf Club Wasteland isn't exactly a traditional golfing game. It does, however, require you to consider the trajectory of your ball, hit with the appropriate amount of power, and try to get in the hole as efficiently as possible. But rather than playing on a green, you're instead playing on an apocalyptic wasteland. This is Earth, in the future, when all it is good for is a rich man's crazy golf course.
You'll need to navigate buildings and other obstacles as you aim to hit your ball through each level, where a hole waits for you on the other side. It's a seriously atmospheric game, too, with an excellent soundtrack to keep you company. It's a golf game on Switch quite like no other, and if you like the idea of a 2D golfing experience with a twist, you really ought to pick it up.
Read our review of Golf Club Wasteland
Check latest prices of Golf Club Wasteland
6. Golf Story
Bet you never thought you'd see a game that combines classic RPG storytelling with golf. Well, you have now; that's exactly what Golf Story is. In it, you'll discover the story of a golfer who's been forced to give up everything in order to accomplish his golfing dreams. Along the way you'll encounter numerous obstacles getting in his way – and it's up to you to overcome them.
Aside from the story and RPG elements, the simple golfing in Golf Story is excellent, too. Its wonderful 2D pixelated graphics make this feel like a SNES classic, and its simple golfing mechanics are easy to get to grips with. Sending your ball flying up the fairway has never been so satisfying. It might be far from your traditional golf game, but it's still one of the best on Nintendo Switch by far.
Check latest prices of Golf Story
7. ACA NEOGEO NEO Turf Masters
Prefer your videogames a little more… classic? Neo Turf Masters originally released in 1996, but as part of Hamster Corporation's resurgence of Neo Geo games, it's now available on Nintendo Switch. Despite its age, its 2D visuals are pretty charming, and it's packed with colour and personality. There are six golfers to choose between, and whoever you choose will accompany you on a golfing tour around the world.
There are difficulty settings so you can adjust the game to suit you (we won't judge if you prefer an easy win), and, like any golf game on Switch should have, Neo Turf Masters has multiplayer options. You can either battle it out with players around the world for a high score, or get a friend to join you locally for a two-played battle. It might not look quite as realistic as some of its more modern counterparts, but Neo Turf Masters has a whole lot of charm all the same.
8. Infinite Minigolf
For those who prefer their golfing games much less serious, Infinite Minigolf is for you. A series of minigolf (or crazy golf, depending where you live) courses, it's all about making precise putts and having a lot of fun in the process.
Infinite Minigolf contains a number of themed courses. There's a spooky Halloween set, and my personal favourite, a giant-sized bedroom. What makes it stand out, though, is that like the title suggests, it pretty much is infinite. The game lets you create your own courses using the assets provided, and you can download other people's creations too. There are thousands of them, and it means you never need to play the same hole twice.
It can be played alone, but Infinite Minigolf is at its best when you're competing against friends. With full local multiplayer support, you'll score points for putting your ball in the fewest shots as well as hitting various collectibles that are dotted around every course. It's not the most serious golf game on Switch, but it sure is a lot of fun.
Read our review of Infinite Minigolf
9. Super Inefficient Golf
Golf! With explosions! That's pretty much the elevator pitch for Super Inefficient Golf, and honestly, what else do you need to know? It's not exactly a realistic golf sim, but it is one of the most fun golf games out there, and is great fun to play with friends.
Super Inefficient Golf is rather like minigolf, but instead of having a putter to move your ball down the course, you use a series of explosions. Yep, placing explosive rockets directly on your ball will move it towards the hole. It's as crazy as it sounds – and all the better for it. It opens up a lot of creativity too; exactly how you get the ball to the hole is entirely up to you, and each level lets you experiment with the most efficient ways of achieving your goal. It might leave the clubs behind, but Super Inefficient Golf is still one of the best golf games on Switch.
Read our review of Super Inefficient Golf
10. Golf Peaks
The next PGA Tour this is not, but Golf Peaks is a delightful little puzzle game about putting a ball around a myriad of obstacle courses. Starting simple, Golf Peaks' levels quickly get more complicated, throwing in different kinds of challenges and really making you use that thinking cap of yours.
We're cheating a little by putting Golf Peaks on this list; it's a golf game in name only. But it's fun, so we're arguing it's worthy of a place. It places a ball on a grid made up of squares, and equipped with a number of particular moves, your goal is to get the ball into the hole. With 108 levels to complete, Golf Peaks works your brain more than your backswing, but it's enjoyable while it lasts.