If you're the sort of gamer that loves to spend all of their time dedicated to a single game, you've probably played an MMORPG or two in your time.
All of the best MMO games on Switch typically receive content on a constant basis, regularly refresh the endgame, and provide tonnes of challenging content against AI monsters and real players.
That's all on top of a base game that typically takes as long as a standard RPG to beat, if not longer.
While the genre is still growing on Nintendo's hybrid console sensation, the Nintendo Switch, there are a few options already available to those that want to dive into something for a few hours every day. Let's take a look at six of the best MMO games on Switch.
This list was first published in 2019 and has been updated periodically with new titles.
1. Warframe
Destiny 2 and Warframe feel like two sides of the same coin. Both take place in a sci-fi universe, feature a wide variety of magical classes to play as, and focus heavily on the loot. But of course, only one of them is available on Nintendo Switch.
Warframe might feel less polished than Destiny 2, but it's entirely free to play. It also just so happens to have one of the fairest free-to-play monetisation systems going, so you can play entirely for free and miss out on nothing if you're willing to put in the grind.
And you'd better be willing to put in the grind, as Warframe is full of it. That's the core appeal of this shooter though. Everything you do earns you valuable resources that you can spend on new Warframes (basically classes) and weapons.
Given that Destiny 2 isn't currently available on Switch, and probably won't be any time soon, Warframe is a no brainer when it comes to being one of the best MMOs on Switch. The port has been handled by Panic Button, the talented developers behind the DOOM and Rocket League ports, so you can expect a solid handheld version of the hit looter shooter.
2. DC Universe Online
DC Universe Online is a more traditional MMORPG than Warframe, with a massive world to explore, end-game gear to grind, and all of the PvP you can eat. Did we mention that it also just so happens to feature your favourite DC characters, including Batman, Joker, Superman, and more?
You'll create your very own superhero from a wide variety of different options. You can customise everything, from what you choose to wield as a weapon, your costume, and even how you traverse around the world. You can fly like Superman, run as fast as Flash, or glide around like gravity doesn't exist.
We say superhero, but you can actually choose to play as a villain or a hero, experiencing an entirely different plot depending on your choice. With raids, PvP, open world gameplay, and seasonal events, DC Universe Online is without a doubt one of the best MMO games on Switch.
Read more about DC Universe Online
3. Elemental Knights R
Elemental Knights R started life as mobile MMORPG that received a Switch port in 2018. You'll create a character from one of four different classes, including Fighter, Cleric, Thief, and Wizard, and head out on an adventure across an anime-inspired world as you complete quests.
Your goal is to try and upgrade to one of the more advanced classes, which include the Guardian, Magiknight, Monk, Assassin, Bishop, and Warlock. There are further advanced classes, including the Dragon Buster, Dragon Lancer, and Dragon Saber, and legendary classes, Samurai and Ninja. There's always something to work towards in Elemental Knights R.
With a wide open world full of varied biomes, plenty of group content, daily quests, and absolute tonnes of cosmetic equipment to unlock for those that like to play dress up, Elemental Knights R is worth checking out if you're looking for one of the best MMO games on Switch.
4. TemTem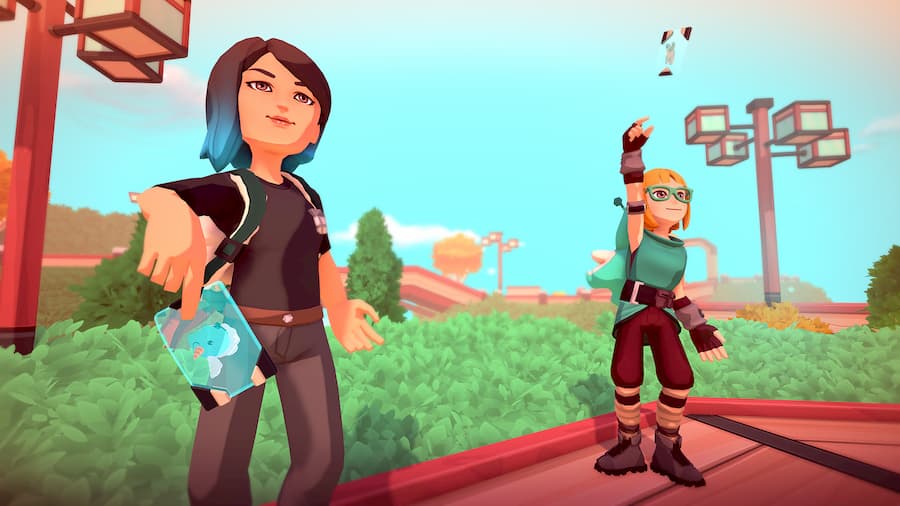 If you're a Pokémon fan, then TemTem is the Switch MMO for you. This massively multiplayer game is all about catching and collecting creatures – here known as TemTem – and training them in battle against other players.
Yes, it all sounds rather derivative of Pokémon, and perhaps it is. But the online multiplayer aspect of TemTem gives it a feeling all of its own. This is a huge game, with six unique islands to explore, dozens of species to discover and collect, and more. There's a story campaign to work through, which you can tackle by yourself or in co-op, and plenty of other things to see and do along the way.
If you want a break from monster-collecting, you can unwind in your own house, too, which you can decorate however you see fit. Use money you earn to buy furniture and decor, and express yourself! Colourful, vibrant and a lot of fun, TemTem is one of the best MMO games on Switch.
5. Dragon Quest X
Dragon Quest X is only available in Japan right now, which is a shame, as this long-running MMORPG provides a pretty innovative combination of classic Dragon Quest gameplay with typical MMORPG tropes. For example, you'll wander an open world, taking on quests, but when you encounter a monster you'll enter a turn-based battling phase that's reminiscent of the mainline DQ games.
There are some really interesting uses of the traditional MMO party system too. You can join a party of three with others and battle monsters together, or you can loan a character that's currently offline to join your party. The loaned character can, therefore, continue to earn XP and gold while they're offline, and can be loaned to up to three different characters at once.
This system also enables you to put together a strong party if you prefer to play MMORPGs alone, because you can just loan powerful existing players. With a job system that allows you to perform numerous roles, trade skills, guilds, and more, Dragon Quest X is undoubtedly one of the best MMO games on Switch. Let's just hope it gets a western release one day.
6. Phantasy Star Online 2
Phantasy Star Online 2 also hasn't made it out of Japan – yet. During E3 2019, Sega announced that it would launch simultaneously across Xbox One and PC in 2020. Given that it's available on the Switch in Japan, and Microsoft has a good relationship with Nintendo, we wouldn't be surprised if this comes over to Switch in the west shortly after its Xbox One and PC release.
But why should you care? Because its one of the best MMO games on Switch, with a solid pedigree. Much like Final Fantasy XIV, it allows all characters to unlock all classes, though they have to be levelled up individually. There's also a solid action-focused combat system, with a focus on comboing attacks together and counter-attacking.