Happy New Year, everyone!
2023 is here, and with 12 new months stretching out in front of us, we can't help but think about all the new games we've got to look forward to. There are many we already know about, and there will no doubt be dozens of others yet to be announced. But of those that have release dates throughout 2023, some excite us more than others.
We've rounded up our 10 most anticipated games of 2023 below. These are the games that we're most excited about and most looking forward to – and so our hopes are high. Only time will tell if they'll live up to expectations, but we can't wait to find out.
Want to support GameSpew? If you decide to buy anything from this list, please consider using our affiliate links. They're included below each entry. It won't cost you anything extra, but we'll get a small slice of the purchase. Thank you for your support!
Dead Island 2
Release date: 28th April 2023
PS4, PS5, Xbox One, Xbox Series X/S, PC
It's been a long time coming – a long, long time coming, in fact – but we're cautiously excited about Dead Island 2. Despite being over a decade old now, we were big fans of the first Dead Island: we're still obsessed with the opening hours of the game that see you battling against the living dead in a picturesque holiday resort. Dead Island 2 might not actually be on an island this time – it's set in California – but we hope it recaptures some of the zany, gory magic of the first.
Check pre-order prices of Dead Island 2
Dead Space Remake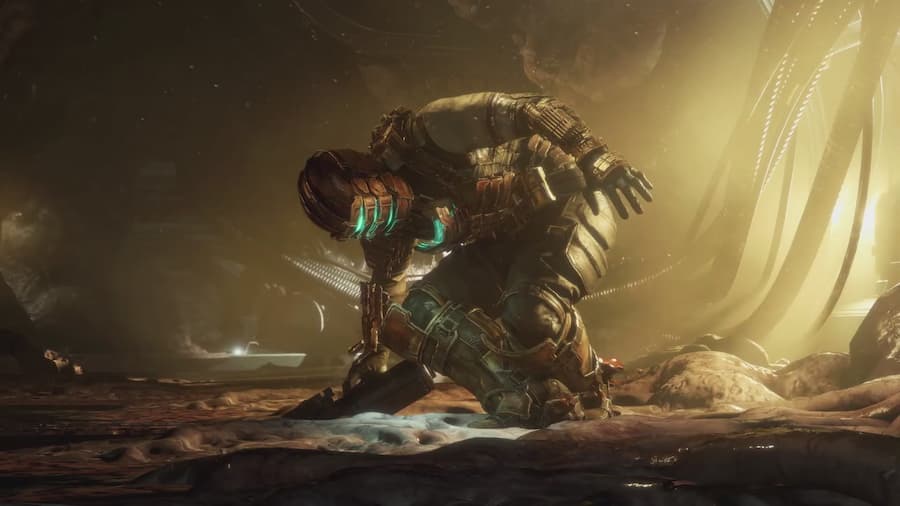 Release date: 27th January 2023
PS5, Xbox Series X/S, PC
If you're a fan of the original Dead Space, then its remake, due out this month, is undoubtedly high up on your radar. We might have only just had The Callisto Protocol –  a sort-of spiritual successor, headed by Dead Space's original creator – but we're not going to say no to more space-based horror action. We're expecting 2023's Dead Space to have us on the edge of our seats with its tense, foreboding atmosphere, next-gen visuals and unpredictable enemies.
Check pre-order prices of Dead Space
Diablo IV
Release date: 6th June 2023
PS4, PS5, Xbox One, Xbox Series X/S, PC
We've put thousands of hours into the Diablo series, and so of course we're extremely excited for Diablo IV. It's set to be dark like Diablo 2, but more fluid to play like Diablo 3. Throw in a new open world focus and a revamped loot system, and you have a game we simply can't wait to sink our teeth into. As ever, the true quality of Diablo IV will only really be apparent once we've hit its endgame. Bring it on, we say.
Check pre-order prices of Diablo IV
Eiyuden Chronicle: Hundred Heroes
Release date: TBC
PS4, PS5, Xbox One, Xbox Series X/S, Switch, PC
Announced before Konami revealed its Suikoden 1 + 2 HD Remaster project, Eiyuden Chronicle: Hundred Heroes is the spiritual successor to the series that was considered pretty much dead. With key members of the the development team having history with the Suikoden series, it looks like it will remain faithful to its core concepts while sporting a brilliant visual style that blends the old with the new. If you want a taste of the world of Eiyuden Chronicle: Hundred Heroes, you can jump into its action RPG prequel, Rising, right now.
Check pre-order prices of Eiyuden Chronicle: Hundred Heroes
Final Fantasy XVI
Release date: 22nd June 2023
PS5
While modern Final Fantasy games might not hit as hard as the classics like VII to X did, we're still excited every time a new one comes along. We can't wait to get our hands on Final Fantasy XVI, with a story of family honour and revenge that reminds us of older entries in the series. Sure, the protagonist may be called Clive which doesn't exactly have the same ring to it as Cloud or Squall, but we're willing to let that slide. As with any entry into the Final Fantasy series, we can expect an epic story, deep battles, and plenty of character upgrades.
Check pre-order prices of Final Fantasy XVI
Hogwarts Legacy
Release date: 7th February
PS5, Xbox Series X/S, PC (other formats later in the year)
We can't help ourselves: we absolutely can't wait to begin our lives at Hogwarts. Let's face it – most of us have been waiting in vain for our Hogwarts acceptance letter being delivered by owl. But now, our time to live our best wizard lives is almost here. Hogwarts Legacy promises a huge, open world adventure filled with many familiar locations – not only Hogwarts School itself, but Hogsmeade and more. But just: not Slytherin, not Slytherin.
Check pre-order prices of Hogwarts Legacy
Silent Hill 2 Remake
Release date: TBC
PS5 and PC
Regarded by many, including us, as one of the best horror games of all time, it's great that Silent Hill 2 is going to get another chance to impress. Sure, some have their worries that Bloober Team may mess things up in some way, but we remain optimistic. At the worst, we expect the Silent Hill 2 Remake to be a visually stunning title with an impressive atmosphere and some good scares. And even if it does lack some nuance of the original, we'll be happy if it gets more people interested in the series and gives it new life.
Star Wars Jedi: Survivor
Release date: 17th March
PS5, Xbox Series X/S, PC
We absolutely loved Star Wars Jedi: Fallen Order. It introduced us to Cal Kestis, the newest Jedi in the Star Wars universe, and his adorable little droid BD-1. Confirmed to be true Star Wars canon, it was an action-adventure that any Star Wars fan was bound to love. The sequel, due out in March, will expand upon Cal's story – now looking meaner than ever thanks to the addition of his facial hair. But of course we care about more than just his beard: we're looking forward to more lightsaber battles, exploration, storytelling and more.
Check pre-order prices of Star Wars Jedi: Survivor
Street Fighter 6
Release date: 6th June 2023
PS4, PS5, Xbox One, Xbox Series X/S, PC
While it has somewhat redeemed itself since launch, it's safe to say that Street Fighter V is our least favourite game in the series so far (well, apart from the first, obviously). When it comes to Street Fighter VI, however, we're much more positive. Having gone hands-on with the title thanks to its recent betas we can already attest that the combat it fantastic, but what's more, it's set to launch with a fantastic set of modes that should please those who like to play alone offline just as much as others who enjoy fighting against others online.
Check pre-order prices of Street Fighter 6
Suikoden 1 & 2 HD Remaster: Gate Rune and Dunan Unification Wars
Release date: TBC
PS4, Xbox One, Switch and PC
The first two Suikoden games are very special to us. They have compelling stories, engaging battles, and vast casts of interesting characters to be recruited, opening up new combat opportunities and activities. Needless to say, we're overjoyed that these two classics are getting remastered. Updated visuals are set to make these much-loved RPGs more pleasant on the eyes, and improvements can be expected elsewhere, too. So, whether you're an existing fan or jumping into them for the first time, there's bound to be a lot to impress.