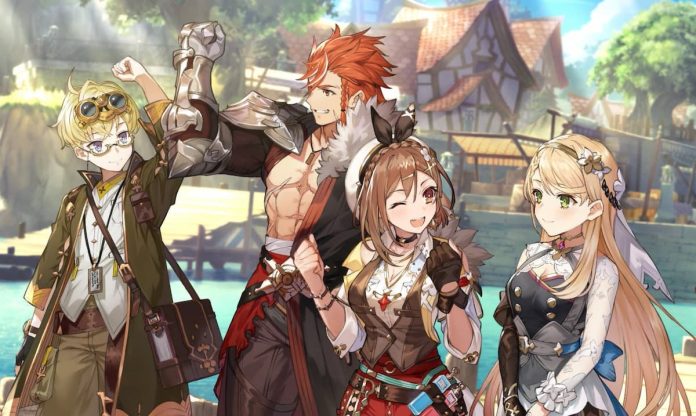 Everyone's favourite alchemist is back next month, and ahead of Atelier Ryza 3's release, we've had our hands on the opening hour of the game.
Atelier Ryza 3: Alchemist of the End & the Secret Key is the third – and alleged final – game in the much-loved Atelier Ryza series. We'd strongly advise that you play the first two games, but thanks to tutorials and an introductory video that'll tell you everything you need to know about Ryza and her friends, you can jump straight in here if you want. Like all Atelier games, there's a bit of a learning curve, particularly when it comes to getting used to the alchemy/crafting system. But once you get invested, the reward is oh-so sweet.
Of course, having only spent an hour with Atelier Ryza 3: Alchemist of the End & the Secret Key, we've barely scratched the surface. We've been reintroduced to Ryza and her friends, now slightly older and more mature but still the same lovable characters we grew attached to in the previous two games. We've been re-familiarised with Ryza's home island, Kurken, and taken in the sights. We've even petted some dogs and cats – yes, you can pet the dog in Atelier Ryza 3.
Related: The Five Best Atelier Games of All Time, According to Metacritic
There's of course a brand new story here: some mysterious islands have appeared near Kurken, and so Ryza and her friends take it upon themselves to investigate. Clearly, something is afoot, and by visiting these islands, hopefully the group can figure out what's going on. That's for the full game, though: our preview ended before we left Kurken, and so we have a lot more to look forward to.
Combat in Atelier Ryza 3 is familiar to the previous game: battles play out in real time, with party members being able to attack on a timer. Along with standard attacks, each character has a range of special attacks that can be dished out at just the right time. Incoming attacks can also be blocked, but again, timing is key. You can stick to controlling just one character, letting others act automatically, or you can switch between them at will.
Perhaps the most iconic part of the Atelier series, though, is its crafting/alchemy. And of course, our preview of Atelier Ryza 3 has let us loose with Ryza's cauldron. Gathering items is as engaging as ever: everywhere you go in Kurken, you'll find items to collect, and most battles will reward you with useful resources, too. These items can be combined in Ryza's atelier, making new and useful equipment. If you're anything like us, you'll be compelled to pick up just about everything you find as you make your way around Atelier Ryza 3's world.
Again, the crafting system will be very familiar to anyone who's played Atelier Ryza 2. At its most basic, it's very easy: simply put the required ingredients in, and hit the 'accept' button. But to get the most out of the system, you'll want to choose the best ingredients, combining them with others and adding in additional resources to create better, more powerful recipes. We've only dabbled in some early quests, which had us making items for villagers, but having played the last game in the series we felt able to hit the ground running.
If you are new, though, Atelier Ryza 3 is packed with tutorials, so you'll be able to get up to speed easily. Tooltips pop up when it's necessary, and by diving into the menus you can find helpful guides for just about everything. Chances are, even if you are already a Ryza fan, you might need a bit of a refresher, so you'll be glad of the extra help on hand.
As engaging as the gameplay is in the Atelier Ryza series is, it's perhaps how lovable Ryza is that keeps fans coming back. And we can confirm she's just as wonderful as ever – as are her friends. It's been two years since we last adventured with them, and stepping back into their fold, running through the streets of Kurken and helping out villagers with their random problems, feels like we're returning to a group of our own friends after being away for a while. That is to say: we're so glad to be back, and we can't wait to sink deeper into Ryza's latest, and final, adventure.
Atelier Ryza 3: Alchemist of the End & The Secret Key is set to release on 24th March. It will be available on PS4, PS5, Switch and PC.