It's often stated that the arcade racing genre is dead. The truth is that it's far from it.
Games like Burnout and Need for Speed don't set the world on fire like they once did, sure, but the arcade racing genre hasn't gone anywhere. Since the PS4 launched way back in 2013, a bevy of arcade racing games have been released on the format, many of them very good indeed. But more than a few of them might have slipped under your radar. So, what are the best arcade racing games on PS4?
Hopefully we can help you with that. If you like racing games that don't require you to nail the perfect racing line and brake heavily as you come up to every corner, check out this list of the best arcade racing games on PS4. They're fast and they're furious, and are sure to leave you with a big smile on your face. Thanks to backwards compatibility, they're all playable on PS5 as well. So you won't have to leave them behind when you update your console.
Want to support GameSpew? If you decide to purchase any of the games featured in this list, please consider doing so by clicking our included Amazon affiliate links. It won't cost you anything extra, but we'll get a small slice of the purchase.
This list was first published in January 2020 and has been periodically updated since.
1. Burnout Paradise Remastered
We're adamant that Burnout Revenge is the best Burnout game ever made, but Burnout Paradise – the entry that took the series into open world territory – comes a close second.
Enhanced to make use of the power of the PS4, Burnout Paradise Remastered features improved visuals, a smoother framerate and all the DLC released for the game. That means you can race faster then ever, witness more eye candy, and race a wider variety of vehicles across Paradise City and Big Surf Island. The only thing disappointing about Burnout Paradise Remastered is that it doesn't enhance the base game all that much. You still can't fast travel to the start of events, for example, or place markers on its map. Still, if you're after the best arcade racers on PS4, Burnout Paradise Remastered is one of them.
Read our review of Burnout Paradise Remastered
Check prices of Burnout Paradise Remastered
2. Need for Speed Heat
Like a greatest hits collection by your favourite band, Need for Speed Heat takes all the winning elements of Need for Speed releases over the years and puts them together to give you a Very Good Time.
During the daytime you can take part in sanctioned street races that pay good money and are free of police scrutiny. Then, at night, you can really show off your driving skills by taking part in illegal street races, during which the police will come down on you like a tonne of bricks. You must strike a balance, then, between earning money and rep. Only then will you be able to develop vehicles capable of outrunning the competition and police at higher levels. Need for Speed Heat isn't only one of the best arcade racing games available on PS4, it's one of the best racing games available on PS4 full stop.
Read our review of Need for speed Heat
Check prices of Need for Speed Heat 
3. DIRT 5
Like your arcade racing to be a little more dirty? Then with its wide range of off-road events, DIRT 5 is the game for you.
With gameplay as far away from the hard-as-nails DiRT Rally 2.0 as possible, DIRT 5 simply wants you to have a fun as you throw a range of off-road vehicles around its many courses. You'll be driving rally cars, trucks and even buggies in everything from straight-up racing events to gymkhana challenges. And once you're done with the game's lengthy career mode you can have fun creating your own events thanks to its Playgrounds mode. Needless to say, if you're after the best arcade racing games on PS4 and like a bit of rally action, you can't get better.
4. Dangerous Driving
From the creators of Burnout comes a spiritual successor. And while Dangerous Driving isn't quite as good as we hoped it would be, it still provides high-octane arcade racing run.
Dangerous Driving is like the Burnout games of old. When you're not racing on traffic-filled roads to beat the clock, you're either racing for pole position or to take down your rivals. The visuals won't overly impress you but the speed at which everything moves will, and there's no real need to slow down due to each vehicle's insane drifting abilities. Somewhat improved since we reviewed it, Dangerous Driving's limited budget means it doesn't impress in all areas. It's still very much worth playing if you crave some good old-fashioned arcade racing action on PS4, however.
Read our review of Dangerous Driving
Check prices of Dangerous Driving
5. WipEout Omega Collection
Ever since it released on Sony's first console in 1995, WipEout has been a PlayStation staple. In the early days the series wasn't exclusive to PlayStation hardware, but it was synonymous with the brand. It made gaming cool. It made PlayStation popular.
Unfortunately the series hasn't been given the attention it deserves in recent years, but PS4 owners have at least been treated to WipEout Omega Collection. Packed with all the content from WipEout HD and WipEout HD Fury, previously released on PS3, and the PS Vita exclusive WipEout 2048, the result is a comprehensive package that provides hours upon hours of high-speed, futuristic, anti-gravity racing bliss. The icing on the cake is that it has full PSVR support as well. So, if you have one of Sony's VR headsets you can immerse yourself in the action like never before.
Check prices of WipEout Omega Collection
6. Need for Speed: Hot Pursuit Remastered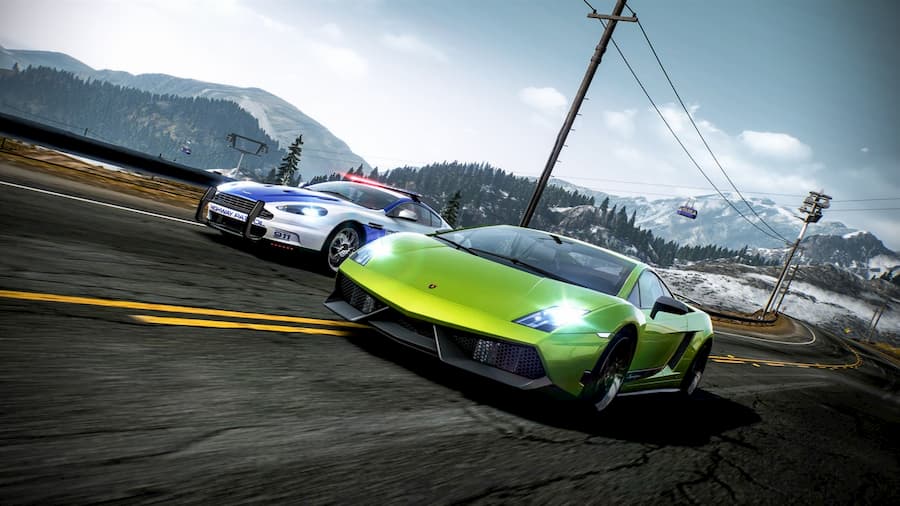 In a time where Need for Speed games had almost exclusively become open-world, Criterion Games' Need for Speed: Hot Pursuit was a breath of fresh air. And it is even more so now, remastered and enhanced for PS4.
In Need for Speed: Hot Pursuit Remastered you're given the choice of being a street racer or a cop. Whichever you chose, fun is surely to follow as you speed through one event after another, utilising a range of gadgets and tools to achieve your goals. Ultimately you'll want to play as both cops and streets racers, enjoying both sides of the action. And with challenging point-to-points events being the order of the day, you'll be kept on your toes every step of the way. With fast exotic sports cars, thrilling crashes and epic police chases, Need for Speed: Hot Pursuit Remastered is undoubtedly one of the best arcade racing games on PS4.
Read our review of Need for Speed: Hot Pursuit Remastered
Check prices of Need for Speed: Hot Pursuit Remastered 
7. Horizon Chase Turbo
From the above screenshot, you might get the impression that Horizon Chase Turbo is pretty much a ripoff of Outrun. While it is undoubtedly influenced by the SEGA classic, however, it doesn't really play much like it.
Unlike Outrun, Horizon Chase Turbo isn't about point-to-point racing. Instead it has tracks set all around the world, and it's up to you to race around them and emerge victorious. To do that you'll need to use your boost effectively, keep your fuel topped up, and avoid crashing into the competition which will really set you back. And if you want to really excel at the game, you'll also need to collect the coins that litter the track, too. It's challenging but a hell of a lot of fun, and when you have friends around you can play the game in split-screen. What more could you ask for?
Read our review of Horizon Chase Turbo
Check prices of Horizon Chase Turbo
8. FlatOut 4: Total Insanity
The original FlatOut by Bugbear Entertainment was simply fantastic, and so was its sequel. But when development was handed over to Team 6 Studios for FlatOut 3, something went terribly wrong. Thankfully, with Kylotonn Games at the helm, FlatOut 4:Total Insanity brought the series back on track.
Featuring races, time trails, arenas and more, FlatOut 4: Total Insanity blends high-stakes racing with destruction. Unlock vehicles, customise them, and then take them out on dynamic tracks to compete against competition that puts up a real fight. And when it gets a bit too much, pay a visit to assault mode in which vehicles are kitted out with weapons so you can cause some real damage to relieve some stress. The icing on the cake is stunt mode in which you can take part in a variety of entertaining minigames. It's silly, but it sure is fun.
Read our review of FlatOut 4: Total Insanity
Check prices of FlatOut 4: Total Insanity
9. Trackmania Turbo
Boost, loop-de-loops and insane jumps: Trackmania Turbo is an arcade racer alright.
Developed by Nadeo and Published by Ubisoft, Trackmania Turbo is all about driving very fast on outlandish tracks and performing ridiculous stunts. When playing alone you'll mostly find yourself trying to beat the clock, which isn't so easy when obstacles are thrown your way when travelling at insane speeds. Trackmania Turbo also features local co-op play, however, where two players try to control the same car. And for those who are competitive, four player split-screen makes for some heated social gaming sessions. It even includes some VR content for PSVR owners. Definitely pick it up if you're a PS4 gamer who loves arcade racers.
Check prices of Trackmania Turbo
10. Road Redemption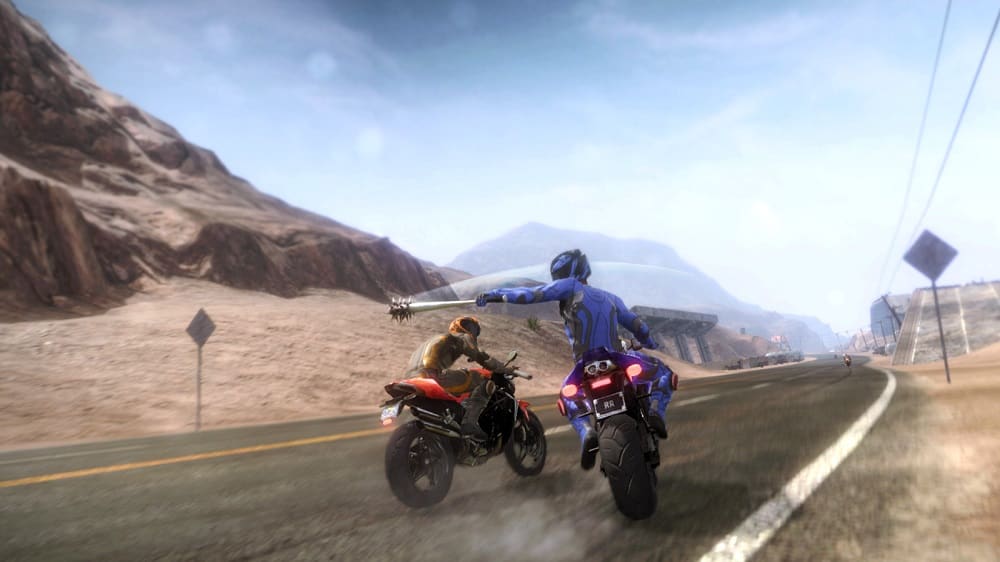 Remember Road Rash? If you do, chances are you're going to love Road Redemption.
It's debatable whether Road Redemption is a racing game at all really, but as sometimes you do need to beat the opposition to the finish line, we're including it. More than anything, Road Redemption is a rogue-like on wheels. After choosing your bike and rider, you're let loose on the road and have to do battle with gang members, police and more as you go about completing objectives. When you eventually fail, the experience you've earned can be used to obtain perks, making your next run that bit more manageable. But don't expect to be finishing Road Redemption any time soon as it's pretty tough. Combining speed with physical violence, Road Redemption is one of the more unique arcade racers available on PS4.
Read our review of Road Redemption