Roguelike games are tough.
They essentially rely on players dying again and again before maybe one day attaining success by getting good and steadily developing a range of stats and/or perks.
The fact of the matter is though, when a roguelike game is made well it can be horribly addictive and alarmingly entertaining. At their best, each arduous minute spent battling through them can feel like time well spent.
On Xbox, there are many roguelike games available, and they're quite a varied bunch too. We've picked out some of the best, making sure to select roguelikes that cover multiple genres. Variety is the spice of life, as they say!
If you're a glutton for punishment, or just enjoy a good challenge, click on through to see the best roguelike games on Xbox.
1. Cursed to Golf
Golf? Roguelike? The two might not seem to go together very well on first thought, but Cursed to Golf proves they're actually the perfect pairing. This 2D golfing adventure challenges you to make your way around various courses, putting your ball by avoiding traps, pulling off trick shots and buying upgrades as you go. Fail, and it's back to the beginning you go. But isn't that always the way? It's an unusual roguelike, but that's what makes it one of the best on Xbox consoles. If you're a fan of golf games, it's well worth your time. Heck, even if you're not a huge golf fan, don't write this one off.
Read more about Cursed to Golf
2. Hades
Perhaps one of the most revered roguelike games of recent years, Supergiant Games' Hades took the world by storm when it launched on consoles in 2021. It's colourful, it's difficult, it tells a fantastic story and introduces us to kick-ass characters. What's not to like? In Hades, you take on the role of Zagreus, the prince of the Underworld, as he tries to escape. But leaving the Underworld is no easy task. As you'll quickly find out. Yes, you'll fail time and again, but that will only make you more eager to jump in, improving Zagreus' abilities and skills as you go.
3. Roguebook
One of our all-time favourite roguelike games on Xbox, Roguebook is a must if you're a fan of card-based combat. Heavy inspiration has been taken from Slay the Spire, but thanks to unique exploration and a colourful cast of characters, there's enough here for Roguebook to stand on its own two feet. Each time you defeat enemies, you'll get new cards to add to your deck, with both characters in your party having their own. You'll need to carefully plan your attacks and defences, and think ahead about what skills and abilities you should make use of along the way. It's colourful, it's engaging, and we can't get enough of it.
4. Ring of Pain
Ring of Pain is unlike most other roguelike games on Xbox. Sure, it's card-based, but its approach to combat is a little different. You'll simply make your way around a ring of cards, clicking on one after the other to find the exit to take you to the next ring. Some cards offer treasure, some will damage you. You'll need to plan your route carefully to avoid enemies stronger than  you, and hope you're powerful enough to survive. Games can be over in a matter of minutes, but it's the sort of game you'll want to dive into again and again.
Read our review of Ring of Pain
5. Neon Abyss
A side-scrolling platformer with a lot of heart – and a lot of challenge – Neon Abyss is very difficult to put down once you've picked it up. Playing as one of several available heroes, you're tasked with defeating a number of so-called 'managers'. But in order to defeat them, you'll have to make your way through increasingly difficult dungeons, killing a range of weird and wonderful foes on the way. Rather like a bullet hell game at times, Neon Abyss can get very hectic. You need to be quick on your toes to avoid enemies' attacks – or just make sure that your attack hits them first. It's the sort of thing that will pull you in again and again; the lure of what pick-ups you might collect is just too strong.
6. RAD
RAD might be one of the most polished roguelike games on Xbox. It's also one of the most enjoyable. Set in a post-apocalyptic world inspired by 80s culture, RAD sees you progress through a series of levels, facing off against mutated creatures who are out to get you. The combat is the crux of RAD. As you play, you'll find new, better, weapons, and by gaining experience you'll level up, unlocking a new perk as you do. RAD is tricky though: one misjudged fight could see you facing the game over screen.
7. Rogue Legacy 2
One trip into Rogue Legacy 2's randomly-generated castle is all it takes to get you hooked on its platforming heavy gameplay, and from there, hours will pass without you even knowing. Playing Rogue Legacy 2 is a bit like playing an old Castlevania game. You enter a castle, defeat enemies such as skeletons and flying skulls with whatever weapon or magic you have at hand, and sometimes you can restore your health by eating a nice piece of meat. Chances are that you'll die pretty soon, though. Honestly, whether you're a fan of roguelike games or not, Rogue Legacy 2 is a game that just has to be played. With brilliant platforming, exciting combat and oodles of humour, it's one of the best roguelike games you can play on Xbox. And its predecessor, Rogue Legacy, is well worth jumping into, too.
Read our review of Rogue Legacy 2
8. Everspace
If mesmerising space battles are your thing, Everspace is one of the best roguelike games on Xbox that definitely should be on your radar. Combining resource management, exploration and epic space combat, Everspace is a game that is brilliantly paced yet also extremely challenging. Forget enemy ships though; it's a lack of fuel that will cut most of your space expeditions short. You see, jumping from one area to the next requires quite a bit of it, and if you don't have enough to make the jump safely there's a good chance you'll emerge badly damaged on the other side. When death does come, you'll find yourself back at your hangar, ready for another journey into space.
9. Immortal Redneck
Take the first-person shooter antics of Serious Sam and add in a Rogue Legacy-like progression system. Just like that you have Immortal Redneck, a first-person shooter roguelike by Crema Studios. And it's absolutely awesome. Immortal Redneck challenges you to make your way through three pyramids, each one filled with a variety of nasties. Along the way you'll die more times than you'll care to remember, but with each death comes the opportunity to buy upgrades with any cash that you've picked up. If you like first-person shooters that are high on action and also chock-full of long lasting appeal, Immortal Redneck is the game for you. It really is one of the best roguelikes on Xbox.
Read our review of Immortal Redneck
10. Atomicrops
Along with being a roguelike shooter, Atomicrops is also a farming simulator. Yeah, we were a bit confused at first too. And then we tried it. And we got addicted. Set in an apocalyptic future, in Atomicrops you're cast as a gun-wielding farmer. Your goal is to earn money by planting seeds and harvesting crops – but to be successful at doing so, you also need to protect your cabbage patch from enemies. You'll also have to explore land around your farm in order to gather new seeds, and that means coming face-to-face with even more enemies. Atomicrops' difficulty is hard from the word 'go', and only gets more difficult. But that just makes you all the more eager to succeed.
11. Enter the Gungeon
The joy of Enter the Gungeon, aside from its wonderful pixel art graphics and pounding soundtrack, is the sheer variety of guns available. Picking up a new gun and discovering what it does is like opening gifts at Christmas: you're never really sure what you're going to get. Sometimes you'll be woefully disappointed, but once in a while you'll discover a gun so awesome that you'll be over the moon. But be careful, because when you die – which you'll undoubtedly do plenty of times – you'll lose it. Give Enter the Gungeon a go and see if you've got what it takes to succeed. It's likely to be an arduous journey, but it's one of the best roguelike games on Xbox all the same.
Read our review of Enter the Gungeon
12. Vertical Drop Heroes HD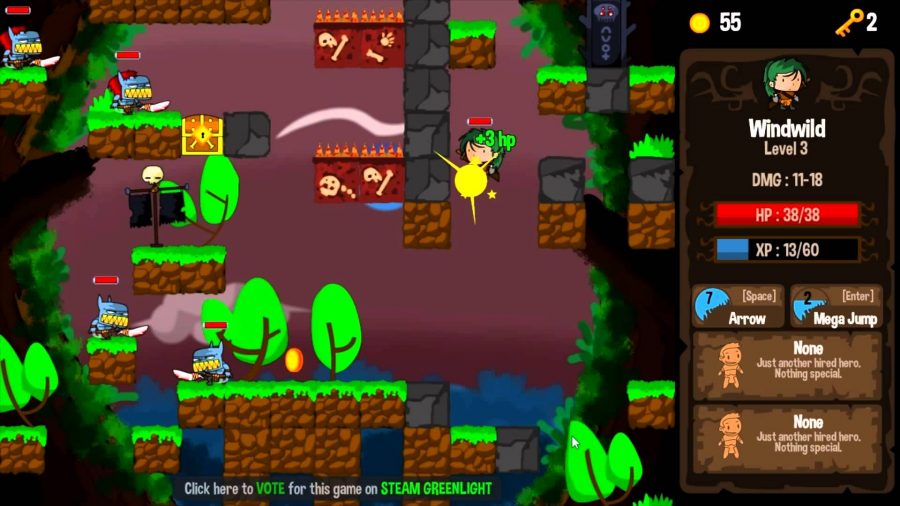 Starting life as a browser-based flash game, Vertical Drop Heroes evolved into a fully-fleshed out game in the form of Vertical Drop Heroes HD. Despite its humble roots, it's still one of the best roguelike games on Xbox One. Starting out as a random hero, Vertical Drop Heroes HD is about making it through a series of levels, each getting harder than the one before it. The twist? Rather than moving across the screen, or even up, each level tasks you with dropping down. Filled with enemies and traps, your hero must fight their way through the perils, opening chests, collecting coins and rescuing heroes as they go.
13. Moonlighter
Moonlighter is perhaps the odd one out on this list. It's not fully a roguelike, but it does have elements of games in the genre. And it's such a fantastic title we're making an exception. Moonlighter is very much a game of two halves. In the first half, you're a shopkeeper living in a small village. In the second half, you're out exploring dungeons, collecting items to sell. It's not a Roguelike in the sense that you'll completely lose your progress at any point, but you'll have to start at the beginning of a dungeon each time you go to explore it. You'll have to constantly balance risk vs reward. Even if you may never completely die altogether, we still consider it one of the best roguelike games on Xbox.
14. Hand of Fate 2
An interactive board game of sorts, Hand of Fate 2 invites you to go on a journey like no other. Combining collectible card tropes with typical adventuring and roguelike elements, it's an absolute joy to play. It very much earns its place on this list of best roguelike games on Xbox. If it's flown under your radar so far, now's the time to give it a go. Hand of Fate 2 is level based, and each level presents you with a new hand of cards. Cards offer various events or rewards, with some seeing you step into battle. It's here the game shines; combat plays out in glorious detail, transporting you to beautiful environments and forcing you to go toe-to-toe with your foes. As it's a roguelike, should you die in Hand of Fate 2, it's back to the start you go. Each time you play, the cards in your hand will determine a different path, so no two games ever feel the same. Only one thing remains constant: your desire to keep playing, and get that bit further each time.