With a new Kirby game on the way, now seems like a good time to look back at the highs and the lows of everyone's favourite pink puffball.
Kirby has been around since 1992, meaning that he's now over 30 years old. He's looking well for his age, we might say. In that time, no less than 38 Kirby games have spawned across various formats. That's more than one a year.
We're using Metacritic scores to reveal the best and worst Kirby games, according to critic reviews. It's worth noting that Metacritic doesn't go as far back as Kirby's earliest days, and so NES, SNES and Game Boy games aren't included. Still, let's hear it for Kirby Super Star and Kirby's Dream Land. Without them, the series wouldn't be here today.
The Best Kirby Games of All Time
And so, without further ado, let's rank the seven best Kirby games, according to their Metascores.
1. Kirby's Epic Yarn
Is there any wonder that Kirby's Epic Yarn has come out as the best Kirby game of all time? It's a side-scrolling platformer where Kirby is… made out of yarn. Everything is presented to look like it's been stitched together out of fabric and string, and the result is absolutely beautiful. Playable in co-op, players must traverse through numerous themed worlds, collecting gems, defeating enemies and finding hidden treasures. Oh, and Kirby can of course take on multiple forms, with levels seeing him take the shape of a UFO, a fish, a car and more.
2. Kirby: Canvas Curse
Kirby: Canvas Curse – or Kirby: Power Paintbrush as it was known in Europe – has tied with Epic Yarn as the best Kirby game of all time. Originally released on DS, Canvas Curse got a second lease of life on the Wii U's virtual console in 2015. On DS, the twist was that Kirby: Canvas Curse had to be controlled entirely with the console's stylus. Despite looking like a traditional platforming game, players had to draw rainbow lines for Kirby to roll along to get from one point to the next. You had a limited supply of Rainbow Ink though, so each pen stroke had to be carefully considered!
3. Kirby and the Forgotten Land
Probably the most adventurous Kirby game to date, Kirby and the Forgotten Land took the pink puffball in a completely new direction. Set loose in an abandoned world, the early trailers for the game looked like Kirby meets The Last of Us. Of course, the actual gameplay was much more playful, but the apocalyptic-style setting certainly made it stand out. As Kirby, you can become a car, copy new enemy abilities, and more. There's a reason this is one of the highest-rated Kirby games of all time – it really is one of the best.
4. Kirby Mass Attack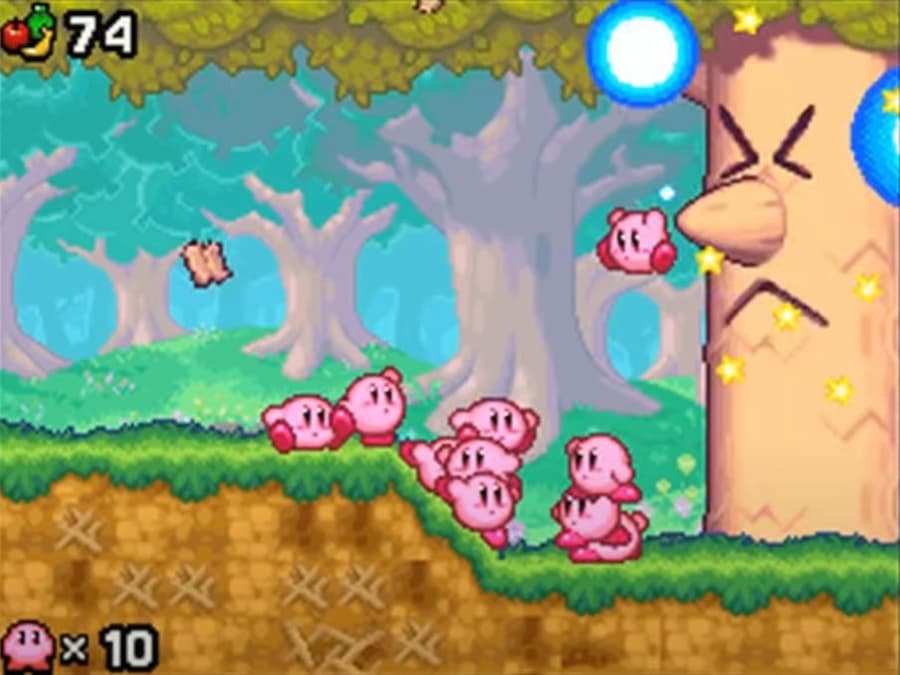 Why have just one Kirby when you can have an entire army of them? That's the approach that 2011's Kirby Mass Attack took. This adorable side scroller allows players to control up to 10 Kirbys at once, all working together to defeat enemies and progress through each level. Since this was a Nintendo DS game, like Kirby: Canvas Curse it required players to use the stylus and touch screen to control the Kirbys. It later came to the Wii U's Virtual Console in 2015.
5. Kirby's Dream Collection: Special Edition
We're not sure why Kirby's Dream Collection only has six reviews on Metacritic, but it doesn't matter. This game deserves a place on this list for one very simple reason: it's a collection of some of the best Kirby games from the series' earlier history. Six games are included in the collection spanning 1992 to 2000. First is Kirby's Dream Land, the Game Boy game which first brought Kirby to life. There's also Kirby's Adventure, Kirby's Dream Land 2, Kirby Super Star, Kirby's Dream Land 3 and Kirby 64: The Crystal Shards.
It was released 10 years ago to celebrate Kirby's 20th anniversary, so maybe, just maybe, we'll see something similar come to Nintendo Switch later this year. Fingers crossed, anyway.
6. Kirby: Nightmare in Dream Land
Kirby: Nightmare in Dream Land is actually a remake of an older game. It started out life as NES title Kirby's Adventure which released in 1993. But in 2002 it was remade for Game Boy Advance in the form of Nightmare in Dream Land. Why the much darker title? We're not sure, but it clearly worked in capturing people's attention, since this is one of the best Kirby games ever released.
Like many other Kirby games on this list, it's a side-scrolling platformer where Kirby must defeat enemies in order to save the day. Here, there's 24 abilities for him to learn and use by absorbing his foes.
7. Kirby: Planet Robobot
Being a 3DS game, Kirby: Planet Robobot makes use of the system's 3D capabilities, allowing Kirby to move between planes in each level. As usual, Kirby can use enemy abilities by inhaling them, but the real focus of Planet Robobot was Kirby's ability to don a mech suit. In the Robobot armour, Kirby can lift heavy objects, defeat big enemies with no problem and destroy various obstacles. Kirby in a mech suit is the hero we all needed, obviously.
As we said in our own review, "Kirby: Planet Robobot sets a new gold standard in a franchise already renowned for excellent platforming".
---
The Worst Kirby Games of All Time
Now we've covered the best Kirby games, what about the worst Kirby games of all time? We've rounded up the three Kirby games on Metacritic with the lowest scores.
1. Kirby Battle Royale
With a Metacritic score of just 57, Kirby Battle Royale is the worst Kirby game of all time. It's not altogether a surprise, what with the Kirby series being known for its platforming and adventuring. Although Kirby Battle Royale isn't the first game (or the last) to scrap that and move into a different genre, these spin-offs are usually the worst received.
As a multiplayer brawler, Kirby Battle Royale just didn't quite pay off. Despite packing in lots of content in its 10 different game modes, it sadly failed to capture the hearts of critics.
2. Team Kirby Clash Deluxe
Here's another multiplayer brawler-type game that failed to capture the hearts of players. Team Kirby Clash Deluxe tried to put its own spin on the popular Super Smash Bros. series, but it was rather poorly received. It's a shame, too, because Team Kirby Clash Deluxe was free to start playing.
It was based on a minigame which appeared in Kirby: Planet Robobot, but as a standalone title there just wasn't enough here to win us over. It turns out Kirby really is best as a platformer game, and those who dare to stray away end up remembered as the worst Kirby games of all time.
3. Kirby Air Ride
Unsurprisingly, the third worst Kirby game of all time is also one that does away with the series' platforming sensibilities. But this isn't a brawler: Kirby Air Ride is a racing game that sees Kirby race his friends while riding a… giant star. (It's Kirby; he's hardly going to have a conventional mode of transport, is he?). While it received some positive reviews for bringing something different to the kart racing genre, it was criticised for being repetitive and uninspiring, and having a poor control scheme.