Couples who play together stay together.
That's a motto we like to live by. After all, GameSpew wouldn't even exist if it wasn't for the fact its creators loved playing games together so much. But we're lucky – we both love games equally. It may be that your other half doesn't enjoy games quite as much as you, but you still hope for something you can play and enjoy together. Never fear, we've got you covered.
While we've written about local co-op games extensively (you can read our picks of the best couch co-op games on PS5 here), not all of those games are best suited for couples to play together. So on this list we're focusing on:
Games that promote co-operative teamwork;
Games that are accessible for people who don't necessarily play games all the time; and
Maybe even a game or two with the theme of love or romance at its core.
If you're looking for a game to play with your romantic other, read on. Here are our picks of the best PS5 games for couples to play together.
Want to support GameSpew? If you decide to buy any of the games on this list, please consider using our affiliate links, included below each entry. It won't cost you anything extra, but we'll get a small slice of the purchase. Thank you.
1. Awkward
Awkward is one of the best games for couples, providing you're both open with each other, willing to reveal some secrets and up for a bit of embarrassing fun. A quiz rather than a game, Awkward has been designed to be played with romantic partners (although you can play with friends if you'd prefer). Questions start out fairly tame, but soon get more personal and intimate. If you're not comfortable talking about your sex life or your previous romantic encounters, then this isn't the game for you. After all, Awkward is literally the name of the game.
Played in a safe space with someone you trust though, Awkward can be a great way to get to know your partner a little better, and have some fun in the meantime. It's a PS4 game, but it's playable on PS5 via backwards compatibility. And so, if you're down for some open conversation and some honest truths from your partner, this is one of the best PS5 games for couples.
2. It Takes Two
We couldn't possibly have a list of best PS5 games for couples without including It Takes Two on it. This is a game designed to be played by two players – you literally cannot play it any other way. And with the protagonists Cody and May being a married couple themselves, it's the perfect game to be played by romantic partners.
Cody and May aren't your typical couple, however; they've unwittingly been turned into a pair of tiny dolls by their daughter. And they haven't been on the best of terms lately – divorce has been on the cards. But they must overcome their differences and work together if they ever want to get back to their human form. That means exploring a gorgeous giant world and embarking on an adventure that includes platforming, puzzle-solving, combat and working together.
It looks gorgeous, particularly on PS5 where it shines as brightly as a Pixar movie. We'd recommend only tackling this if both players are somewhat used to playing games, though.
Read our review of It Takes Two
Check latest prices of It Takes Two
3. Any LEGO Game
Okay, we're cheaping out a bit here, we agree. But why single out just one LEGO game when any one of them makes a perfect game for couples? There's LEGO City Undercover, which is filled from start to finish with fun and adventure. Or for Harry Potter fans, there's the full LEGO Harry Potter Collection, which sees you making your way through all seven years of Hogwarts. Then there's LEGO Batman, LEGO Marvel, LEGO DC Supervillains, LEGO Star Wars, LEGO Jurassic World… the list goes on, and they're all excellent games.
What's great about LEGO games is that they support drop-in and drop-out co-op. That means a second player can come and go as they please. Because they're designed to be family-friendly, they're the best types of games for those who aren't so used to playing video games. We know plenty of people who were introduced to games by playing a LEGO game, and it's often the start of a beautiful relationship. And a great way to spend some time with your significant other, of course.
Read more: the best LEGO games on PS4
Check latest prices of LEGO games
4. A Way Out
A Way Out comes from the same team as It Takes Two, and as such, it's another game that can only be played in co-op. This time, the story focuses around Leo and Vincent. They're prison inmates and together, they've hatched up a plan to escape. With you and your partner each taking on the role of one of the men, you'll have to carry out their plan. But getting outside the prison walls is only the beginning. It turns out life on the outside isn't going to be easy for two runaway convicts.
Over the course of the game you'll learn more about Leo and Vincent, and their separate lives. You'll need to stealth past police officers, work together to solve puzzles, and help each other out in a big world where everyone's out to get you. It's a fantastic game, and one of the best co-op games of recent years. The fact it relies so much on teamwork makes it one of the best games for couples on PS5.
Check latest prices of A Way Out
5. Catherine
If you and your partner haven't been together very long, then playing Catherine together might be a little bit awkward. Part puzzle game, part visual novel, it tells the story of Vincent; a young man who finds himself torn between his long-term girlfriend Katherine and the alluring newcomer Catherine. Play the Full Body version and a third, Qatherine (or 'Rin') is thrown into the mix, too.
While cheating on his girlfriend might not sound very romantic, seeing the story play out as a couple can be fun. As can discussing Vincent's options and deciding on what he should do. The game's puzzles, tricky as they are, are also fun to play together, as is answering the 'morality' questions that the game occasionally throws your way. Catherine isn't technically a co-op game, but it's still easy to enjoy together, and makes for one of the best games for couples on PS5.
Read our review of Catherine: Full Body
Check latest prices of Catherine
6. Cat Quest II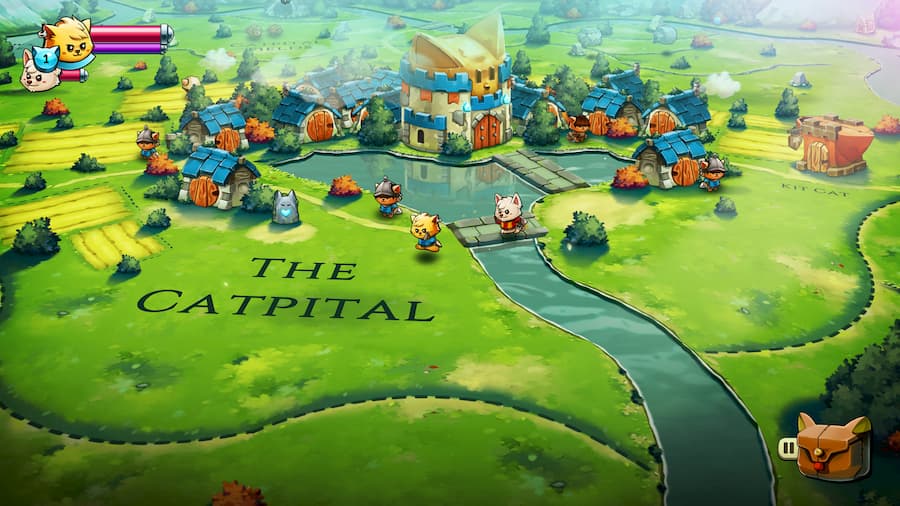 If you and your partner would rather play something more easy-going, Cat Quest II might be the perfect game. It's an easy-to-pick up RPG adventure that has you playing as an adorable cat and dog duo. Together, you're on a quest to save the kingdom. Evil is afoot, and if you don't defeat it, the whole world will be in danger. Standard fantasy stuff, then.
We think Cat Quest II is one of the best games for couples on PS5 because it's easy for beginners to pick up. If your other half isn't as well-versed as you, it's a simple game to get to grips with. Player two can hang back and let player one do all the heavy-lifting, if needs be! Exploring the world is a joy thanks to the cartoon-style visuals, and the amount of loot on offer means there's always a reason to keep playing and exploring.
Read our review of Cat Quest II