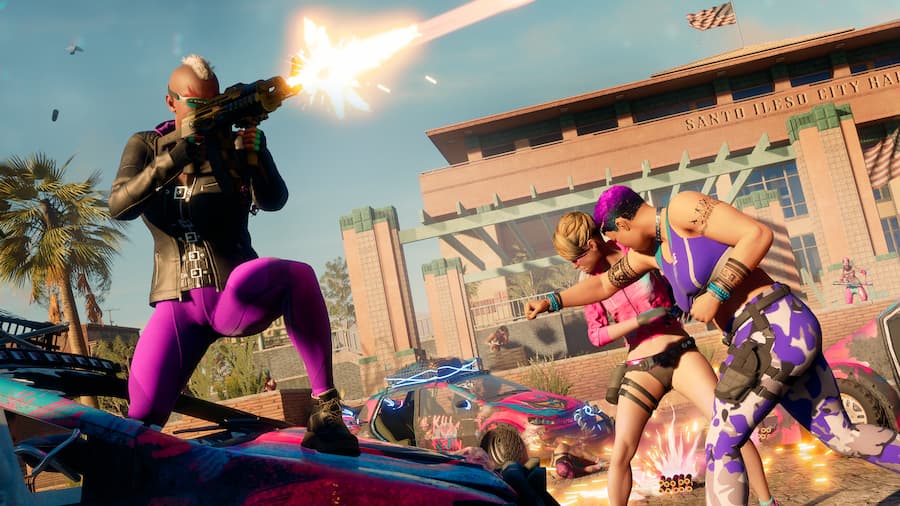 Saints Row is crossing over with Dead Island 2 – sort of.
As revealed by a new roadmap, the Saints Row reboot is getting free Dead Island 2 content next month. However, if you were expecting to take on zombies, we've got bad news – it's a "Dead Island 2 Cosmetic Pack". In other words, you won't be taking on the living dead.
That's a little disappointing, given that Saints Row The Third let you, via a cheat code, flood the city with the living dead. Fortunately, that's not the only content the game is getting. The coming months will see a mix of paid and free DLC dropping.
We're also glad to see that Deep Silver is still supporting the game. We got a big kick out of it (check out our review here) but Embracer Group, who own Deep Silver, expressed disappointment in its performance. And while developer Volition might exist in spirit, it's been folded into Gearbox Software, another Embracer acquisition.
So what else is coming over the next few months? According to the road map, tweeted from the official Saints Row account, the following content will hit Saints Row:
April:
Dead Island 2 Cosmetic Pack (free update)
May:
The Heist and the Hazardous – new story missions, cosmetic and events (expansion pass)
A new district, a combat overhaul, a photo mode and more (free update)
July:
Doc Ketchum's Murder Circus – a new solo mode (expansion pass)
New features, improvements and more (free update)
August:
Expansion 3 – new story missions, enemies, cosmetics and more (expansion pass)
New features, new district improvements and more (free update)
Will this be enough to spur Deep Silver/Embracer/Gearbox to make a sequel? The original Saints Row series really came into its own with Saints Row 2, that much is true. But we won't be holding our breath for a follow-up.
Saints Row is available on PS4, PS5, Xbox One, Xbox Series X/S and PC.