If you want some quick action, you can't really get much better than the fighting game genre.
Best enjoyed with others – though some also have robust single-player options – fighting games let you go toe-to-toe with an opponent in a matter of minutes, if not seconds. They offer up a range of fighters and an assortment of arenas to pummel each other in. Though if you want to win, you might want to get some practice in first. The good news is that if you have Xbox Game Pass, some of the best fighting games available right now are playable at no extra charge.
We've put together a short list of the best fighting games on Xbox Game Pass for your perusal. Whether you like brutal moves with lashings of gore, or a more realistic take on engaging in combat with another, Xbox Game Pass has you covered. So, click on through, and maybe you'll find a new fighting game to sink your teeth into. Or to simply play with a friend the next time you have one over.
If you need to top up your Xbox Game Pass subscription to play these, please consider doing so via our affiliate link below. On top of scoring yourself a discount, you'll be supporting GameSpew with a slice of the purchase.
Buy Xbox Game Pass via CD Keys
1. Mortal Kombat 11
The Mortal Kombat series has been around for years now, and it's still surprising us with its gory fatalities. In Mortal Kombat 11 they're more ridiculous and over-the-top than ever before, but they don't come at the expense of solid gameplay.
Keeping the action on the 2D plane, Mortal Kombat 11 feels reminiscent of the classics. It plays much better, however, and looks absolutely phenomenal, especially if you have a Xbox One X or Xbox Series X.
Perhaps the best thing about Mortal Kombat 11 though, is how much single-player content it has. If you like fighting games but not the idea of going online to face human opponents, this is the game for you, with a meaty story mode and many towers to conquer. The ability to customise your fighters with moves and costume pieces is just the icing on the cake. This isn't only one of the best fighting games on Xbox Game Pass, it's the best.
Read our review of Mortal Kombat 11
2. Killer Instinct: Definitive Edition
A reboot of the popular Killer Instinct series, Killer Instinct: Definitive Edition is packed with content and has been enhanced to take advantage of the power of the Xbox One X. That means it still looks great on Xbox Series X.
Originally released in 2013 alongside the launch of the Xbox One, Killer Instinct impressed gamers with its fluid and deep gameplay. After that, it has just got better and better, with three seasons of additional character being made available, and numerous graphical and gameplay upgrades delivered for free. Killer Instinct: Definitive Edition, as the name suggests, includes all of these, making it very much worth your time.
Its combat system is a bit unique, so it may take a little while to adjust to if you're used to Street Fighter, Tekken or Mortal Kombat, but once you've got your head around it, chances are you'll be hooked.
3. Injustice 2
Take Mortal Kombat, tone down the violence, and replace all the fighters with heroes and villains from DC Comics. The result is Injustice 2, one of the best fighting games on Xbox Game Pass.
If you've played a recent Mortal Kombat game, you'll find the gameplay of Injustice 2 very familiar. It's almost identical, in fact, with just fatalities removed – Superheroes don't kill, after all. It doesn't stop the gameplay from being brilliant though, and where else can you pit Batman against Superman, or The Joker against Harley Quinn?
Like Mortal Kombat 11, Injustice 2 features a fantastic cinematic story mode, as well as many towers to conquer, keeping those who like to play by themselves occupied for hours and hours. Though of course online play is also included, allowing those who like some human competition to easily face off against others from around the world.
Read our review of Injustice 2
4. UFC 4
For those who like their fighting a little more realistic there's UFC 4, EA's latest game based on the popular MMA brand. Though there's a catch; you'll need Xbox Game Pass Ultimate to play it, as it's a part of EA Play's Vault.
UFC 4 features a wide selection of real-life UFC fighters, though chances are you'll want to create your own and dive into its robust career mode. Outside of that, you can take the action online if you wish, or play in a more fantastical game mode that makes the action feel like a more traditional fighting game.
The real joy of UFC 4, however, is the technicality of it. This is a deep fighting game where you need to study and wear down your opponent, before moving in for the knockout or submission. Just be aware that due to its realism, it can be a bit brutal at times. Still, this is undoubtedly one of the best fighting games on Xbox Game Pass.
5. Guilty Gear Strive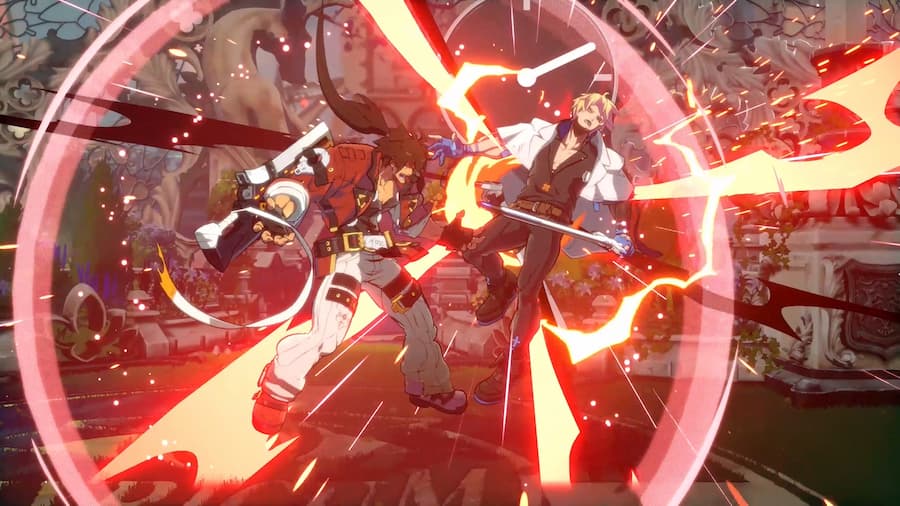 First released in 2021, Guilty Gear Strive is going strong, with new characters and updates still to be added to the game. It's no surprise: it might not be a household name in the same way as Mortal Kombat, but the Guilty Gear series has been going for many years. And so if you're looking for a fighting game with a heck of a lot of style and gorgeous anime art, this is one of the best you can play – on Xbox Game Pass or otherwise.
The roster of the base game features 15 characters to choose from, each with their own individual style and combat moves. Every character has punch and kick attacks alongside strong and standard slash attacks. Of course, you can combine moves and pull off elaborate combos to activate a special attack, and so there's a lot of depth for those who put in the time.
The only disappointing thing about Guilty Gear Strive is a rather lacking story mode: it's essentially a movie to sit and watch. Great if you're a fan of the series, but if you want to simply fight, you'll have to jump into another mode.
Read our review of Guilty Gear Strive
6. Power Rangers: Battle for the Grid
Fondly remember the Power Rangers? Maybe you're still a fan – they still keep making shows, after all. In any case, if you know who the Power Rangers are – or simply like fast-paced fighting games – you should check out Power Rangers: Battle for the Grid. It truly is one of the best fighting games on Xbox Game Pass.
Featuring an assortment of classic Power Rangers characters, Power Rangers: Battle for the Grid lets you pit them against each other in battle. The action is pretty easy to pick up yet frenetic, and you can call upon the power of Megazords to assist you in battle when the situation is dire.
For the single-player there isn't a great deal of content to keep them occupied, but for those prepared to go online there's hours and hours of fun to be had. And those who don't mind spending some money can add even more playable characters to the game's roster such as Lord Zedd or Rita Repulsa.