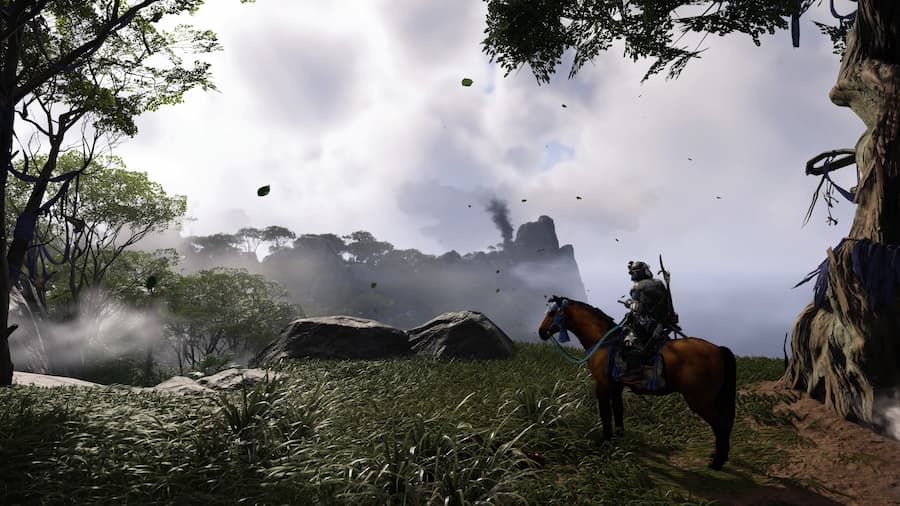 Living by a code and fighting with honour, it's understandable why some people idolise samurai.
It's not easy to be one though: you can't just wake up and declare yourself one on any given day. What you can do, however, is become one in the world of video games. In fact, there are many games that allow you to become a samurai. And even better, it's much safer than becoming one in real life. Katanas are sharp. Trust us, they really are. But what are the best samurai games you can play right now?
We aim to help you with that question. We've put together a short list of what we feel are the best samurai games you can play right now. Even better, pretty much every current format is covered. So, if you want to roam feudal lands, taking on enemies in intense sword combat, these are the games you should play.
Want to support GameSpew? If you decide to buy any of the games on this list, please consider doing so via our affiliate links, included below each entry. It won't cost you anything extra, but we'll get a small slice of the purchase.
1. Ghost of Tsushima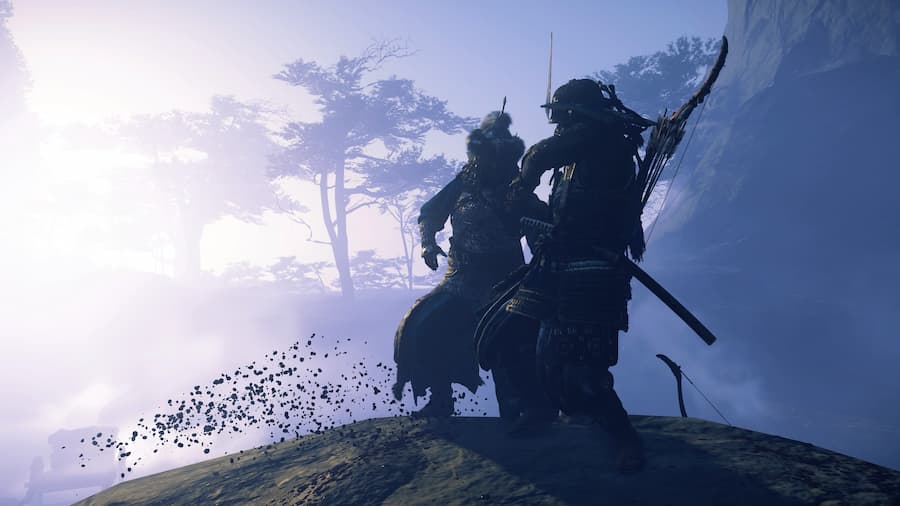 If you've got a PS4 or PS5 console, congratulations: you can play what is perhaps the best samurai game of all time.
The story of Ghost of Tsushima begins in 1274, with a Mongol fleet led by fierce warlord Khotun Kahn invading the island of Tsushima. The island's samurai, including Lord Jin Sakai and his uncle Lord Shimura, put up a brave fight, but are ultimately defeated. Left for dead, Jin is removed from the battlefield and nursed back to health by a local thief named Yuna. Believing he is the last samurai left alive, he aims to free his uncle who has been captured by the Mongols, and ultimately liberate Tsushima.
There's just one catch for samurai fans: with a large open world to explore and many battles to be won, what deepens Ghosts of Tsushima's gameplay is how Jin can deviate from the code he's held so dear. To stand a chance of achieving his goal, he'll need to let go of some of his honour and fight in the shadows, becoming the titular Ghost of Tsushima. Still, if you're after the best samurai games you can play right now, you'd be mad to give this a miss.
Read our review of Ghost of Tsushima
Buy Ghost of Tsushima on Amazon
2. Like a Dragon: Ishin!
Available on: PS4, PS5, Xbox One, Xbox Series X/S & PC
An old entry in the Yakuza series that we feared would never make its way west, Like a Dragon: Ishin! lets you become a samurai of legend.
As Sakamoto Ryoma, you're out for revenge, hunting down your father's killer. But as is the norm for a Yakuza game, there are twists and turns galore. You'll recognise many of the faces here, but given the game's historic setting they're attached to new characters. The biggest change, however, is the combat. You can fight like a true samurai if you wish, or you can wield guns or a mixture of both.
Whichever you chose, this adventure set in 1860s Kyo is sure to draw you in and keep you engaged. We're just happy that its finally available in the west, even if it isn't the most spectacular remake. Ultimately, it lets you take control of a character who's effectively a katana-wielding Kazuma Kiryu. What's not to love about that?
Read our review of Like a Dragon: Ishin!
Buy Like a Dragon: Ishin! on Amazon
3. Nioh 2
Available on: PS4, PS5 & PC
Not only does Nioh 2 allow you to become a samurai, it allows you to become a demonic samurai. Can you get any better then that?
It's unfortunate that you probably won't care about the story of Nioh 2, which incorporates many historical figures. But with gameplay as good as this, it really doesn't matter. Developed by Team Ninja, it blends the hardcore action of a FromSoftware game with the thrilling fast-paced action the studio is traditionally known for, And so, while you're likely to die often, you'll just keep going back for more.
With a wide range of weapons to choose from, each with their own strengths and weaknesses, there are many ways to play Nioh 2. It's also got a unique stance system, and you have access to wide range of Yokai skills that enable you to get the upper hand. Needless to say, it's an absolutely massive game with large amounts of replayability. As samurai games go, they don't get much better then this. Its predecessor is very much worth playing, too.
4. Samurai Warriors 5
Available on: PS4, Switch & PC
Featuring a snazzy new art style, Samurai Warriors 5 is essentially a reboot of the popular series.
Focusing on the lives of Nobunaga Oda and Mitsuhide Akechi, Samurai Warriors 5 tells an epic tale. It's the action that will keep you coming back time and time again though; thrilling battles in which you'll defeat entire armies pretty much single-handedly. This is a Musou game, after all.
As far as Warriors games go though, Samurai Warriors 5 might just be the best. Aside from the sumptuous visuals, other changes include a new skill system that allows you to create your own palette of special abilities and use them in battle. The result is more engaging gameplay and crazy combo opportunities. It's a massive game, too, with lots of characters to unlock and multiple modes offering a crazy number of missions for you to complete. So, if you don't mind your samurai games being over the top, be sure to give this a try.
Read our review of Samurai Warriors 5
Buy Samurai Warriors 5 on Amazon
5. Sekiro: Shadows Die Twice
Available on: PS4, Xbox One & PC
Developed by FromSoftware, you probably won't be surprised when we tell you that Sekiro: Shadows Die Twice is as hard as nails.
You don't actually play as a samurai in Sekiro: Shadows Die Twice but you do fight against them, as well as a range of creatures. You are, in fact, a shinobi, who's better suited to taking enemies out via stealth. But that's not always possible, and when going face-to-face with an enemy, you'll unsheathe your katana and engage in heated sword battles.
So, while you're not a samurai in Sekiro: Shadows Die Twice, you'll feel like one as you anticipate enemy attacks, trying to deflect or avoid them where you can before getting some of your own hits in. Needless to say, if you're after the best samurai games you can play right now, this is certainly one of them, but it's not for those who are easily frustrated. For some, this might be the hardest game FromSoftware has released.
Read our review of Sekiro: Shadows Die Twice
Buy Sekiro: Shadows Die Twice on Amazon
6. For Honor
Available on: PS4, Xbox One and PC
While For Honor does have a single-player campaign, the meat of it requires you to play online with others.
More than just a samurai game, For Honor gives you a choice of a range of heroes to play as. So, while you can be a samurai if you wish, you can also be a Viking or a knight. Whichever you chose, you'll be drawn in by the tense combat system, and with a multitude of maps and game modes to engage with, there's hours of fun to be had.
To get the most out of For Honor, however, you're going to have to buy some DLC content. Our advice is to give the base game a go first to see if you like it, then consider spending more money. If you gel with the gameplay and don't mind playing online, chances are you'll love it.
7. Way of the Samurai 4
Want to live the life of a samurai, choosing what you do and how? Way of the Samurai 4 is probably the game for you.
Originally made for PS3 and then ported to PC in 2015, Way of the Samurai 4 is a bit long in the tooth now. Despite that, however, it's still one of the best samurai games around. Why? Because of the freedom it gives you. Dropping you into a port town in the mid 19th century, it's up to you how your days plays out. Want to become a feared samurai who helps those in need? Do it. Or you could also become a villain who goes around killing townsfolk for no reason whatsoever. It truly is up to you.
Essentially an action RPG, you can have a lot of fun, living your life as a samurai while developing your skills. And once you've reached one of the game's multiple endings, you can begin again and try to do things differently. Steam reviews indicate that some players have had trouble running it recently, but if you can play Way of the Samurai 4, chances are you'll love it.
Read our review of Way of the Samurai 4
8. Samurai Shodown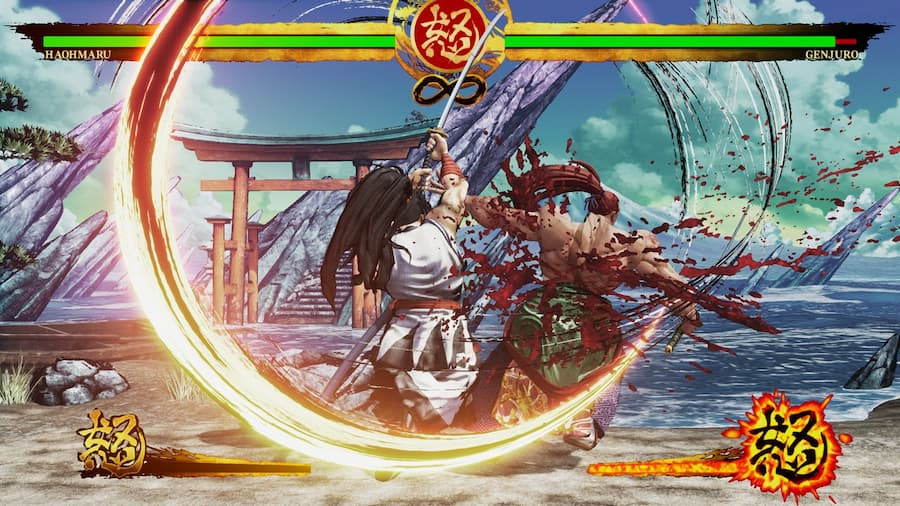 Available on: PS4, Xbox One, Xbox Series X/S, Switch and PC
The Samurai Shodown series has been around for ages, and this latest entry proves that it's still going relatively strong.
In Samurai Showdown, you can indeed fight as a samurai or one of numerous other characters from other backgrounds. Regardless of who you choose, the action tense, fast-paced, and often bloody.
What makes Samurai Shodown stand out from the crowd is its battle system, which is easy to pick up but hard to master. Catching your opponent out and landing a heavy blow with your weapon can be devastating here. But you need to watch out, as sometimes being caught off-guard yourself can see you drop your preferred instrument of death on the ground. Is Samurai Showdown the best samurai game you can play right now? Not quite, but it's certainly one of them. It's very much worth playing if you're a fighting game fan.
Read our review of Samurai Shodown