When it comes to the isometric action RPG genre, the Diablo series is about as good as it gets.
Pick up a Diablo game, and you can be sure of a few things. First is that it's going to have deep character development. Second its that it's going to have hundreds, if not thousands of monsters for you to kill. And third is that it's also going to have mountains of loot. Combine them all, and you're in for a good time. But what are the best games like Diablo on Switch?
While there isn't an abundance of games like Diablo on Switch, the good news is that there are enough to keep you occupied. And so, we've put together a list of them to help you on your way. Not all of these games are exactly like diablo: some of them have a different setting, for example, or are played from a different perspective. But they all have elements of what makes a Diablo game so great.
In any case, if you're after games like Diablo on Switch, read on.
Want to support GameSpew? If you decide to buy any of the games on this list, please consider doing so via our affiliate links, included below each entry. It won't cost you anything extra, but we'll get a small slice of the purchase.
This list was originally published in September 2020 and has been periodically updated since.
1. Diablo II: Resurrected & Diablo III
It goes without saying that the best games like Diablo on Switch are actual Diablo games. Both Diablo II: Resurrected and Diablo III have been ported to Switch, offering the best ARPG experiences you could possibly hope for. Of course, neither game looks quite as good as their home console counterparts, but that's to be expected. Other than scaled-down visuals, both games perform excellently, and there's nothing quite like storming through Sanctuary while on the go.
Diablo II: Resurrected even has cross-progression: as long as you're playing an online character, you can pick up your PC, Xbox or PlayStation character on Switch (and vice versa). That's unfortunately not a feature on Diablo III, but it's hardly a deal breaker. These games are the real thing, and nothing scratches that dungeon-crawling, loot-finding itch quite like an official Diablo game.
Read our review of Diablo II: Resurrected and Diablo III: Eternal Collection
Check latest prices of Diablo on Switch
2. Minecraft Dungeons
Think of Minecraft Dungeons as My First Diablo. It has all the ingredients, only it's much more colourful, less gory, and a lot simpler.
After creating your character, you're free to play Minecraft Dungeons alone or in a group. Either way, you'll make your way through numerous campaign missions, killing hordes of enemies, collecting loot and levelling up along the way. As you level up you earn enchantment points, which can be used to bestow your weapons and armour with a myriad of useful powers.
It may start out easy, but Minecraft Dungeons does get tricky as you crank up the difficulty. And you'll want to play on harder difficulties eventually, as that's how you get the best loot. Needless to say, if you're after games like Diablo on Switch, Minecraft Dungeons should definitely be considered.
Read our review of Minecraft Dungeons
Check latest prices of Minecraft Dungeons
3. Torchlight III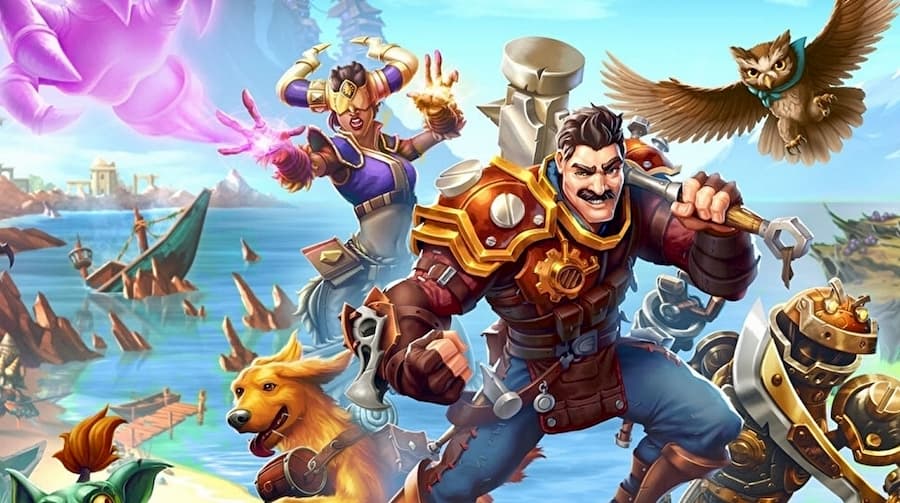 From a gameplay perspective, Torchlight III is about as close to Diablo as you can get. Those familiar with the series will understand why; the first two entries in the Torchlight series were developed by Runic Games, a studio that was formed by co-founders of Blizzard North. This third entry is developed by Echtra games, which was founded by Max Schaefer, co-creator of both the Torchlight and Diablo series.
After choosing from one of five unique characters, Torchlight III lets you loose into a fantasy world in which there's plenty of looting to be done. Of course, there are also hordes of enemies to kill along the way, and doing so will allow you to level up as well as acquire and develop a multitude of skills. You can play alone, but teaming up with others is the best option. And unique to Torchlight III is the ability to build your own fort, which you can then fill with decorations and useful services.
Honestly, if you love the Diablo series, give Torchlight III a try. It truly is one of the best games like Diablo on Switch.
Read our review of Torchlight III
4. Titan Quest
Originally released in 2006 on PC, Titan Quest has endured the test of time and is now available on consoles, including Nintendo Switch.
Spruced up and given a new user interface, Titan Quest on Switch has its issues but is still a very worthy Diablo clone. Its story will take in excess of 30 hours to complete, and there's so much loot that you won't know what to do with it. On top of that, its character development is surprisingly deep, too.
The more you play Titan Quest, the more you become aware that it's an old game given a new lick of paint, but if you love Diablo don't let that put you off; it has a lot to offer for fans of loot-filled action RPGs. And if you want more, there are numerous expansions available for it now as well.
Read our review of Titan Quest
Check latest prices of Titan Quest
5. Borderlands: The Legendary Collection
Surely everyone has heard of Gearbox's Borderlands series? If you haven't, acquaint yourselves; it's rather good.
Borderlands Legendary Edition is very nearly the ultimate Borderlands package, featuring three of the four games released in the series overall. Borderlands: Game of the Year Edition is the remastered and enhanced version of the original 2009 game, which is still great fun to play. And then there's Borderlands: The Handsome Collection, which bundles together Borderlands 2 and Borderlands: The Pre-Sequel with all of their DLC. The only things that's missing is Borderlands 3. Altogether, they provide hours upon hours of first-person shooting, looting, RPG action that you can enjoy alone or with friends.
Trust us, if you like Diablo 3 but also have a fondness for shooting things in the face with guns, you'll absolutely love the Borderlands games.
Read our review of Borderlands Legendary Collection
Check latest prices of Borderlands Legendary Collection
6. Victor Vran Overkill Edition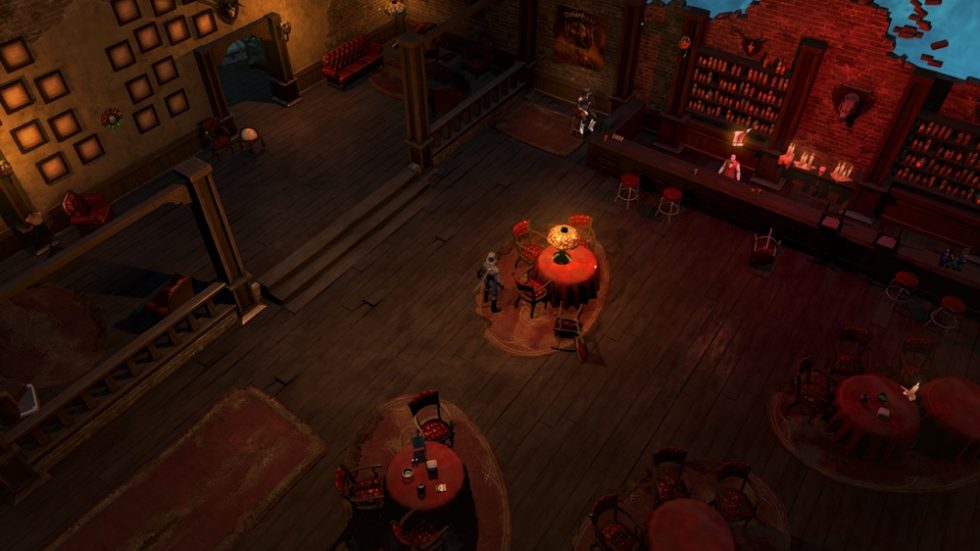 It has demons, loot and bucketloads of action, and it's also one of the best Diablo clones on Switch. It is Victor Vran Overkill Edition, and if you're after more games like Diablo on Switch, you should hunt it down.
Including the base game and both of its expansions, Victor Vran Overkill Edition offers the complete Victor Vran experience in the palm of your hands. Well, unless you dock your Switch and play via a TV. Either way, you'll be having lots of fun killing demons while powering up Victor.
Even better, you don't have to play Victor Vran Overkill Edition alone – local and online co-op is available, so you can slay with friends, family or complete strangers by your side if you wish.
Read our review of Victor Vran
Check latest prices of Victor Vran Overkill Edition
7. Torchlight II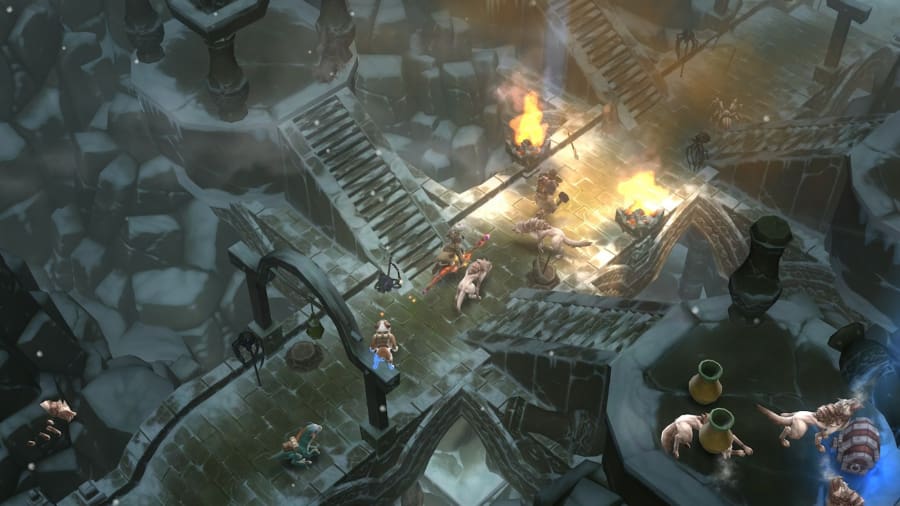 Originally released on PC back in 2012, Torchlight II has finally made its way to consoles seven years later. And of course, it's full of monsters to slay and loot to collect.
Developed by Runic Games, formed by the creators of Diablo, Torchlight II actually felt more like a sequel to Diablo II than Diablo III did at the time, minus the horned one himself. While Diablo III has grown and improved over the years though, Torchlight II has remained the same.
The result is that it feels a bit dated now, and there are one or two issues introduced thanks to the porting process. But despite that, Torchlight II still has a lot to offer Diablo fans. It's cheap, too, which is always a bonus. Pick it up on Switch and you're sure to lose tens of hours to it, but it won't blow you away.
Read our review of Torchlight II
8. Aluna: Sentinel of the Shards
Take a trip to 16th century Latin America with Aluna: Sentinel of the Shards. In this action RPG, with gameplay that will be very similar to anyone that has played a Diablo game, you take control of Aluna, an Incan demigod.
As the warrior daughter of a Spanish conquistador and the South American nature goddess Pachamama, Aluna won't stop until her quest to restore the amulet her mother entrusted to her is complete. Cue a journey through Inca mythology, filled with action, adventure and mountains of loot.
While Aluna is the only playable character in Aluna: Sentinel of the Shards, she's quite versatile. You can equip her with melee weapons if you want, or even make use of ranged weapons or magic. As you level up, you'll be able to place skill points in trees for each of those approaches, making Aluna more specialised. Ultimately, however, your success will largely be based on the gear you're wearing.
The only thing that holds Aluna: Sentinel of the Shards from being a wholly enjoyable adventure is its performance; whether you play handheld or docked, the framerate will drop regularly, while menus often become unresponsive. Still, if you can look past these issues, you'll have an entertaining time.