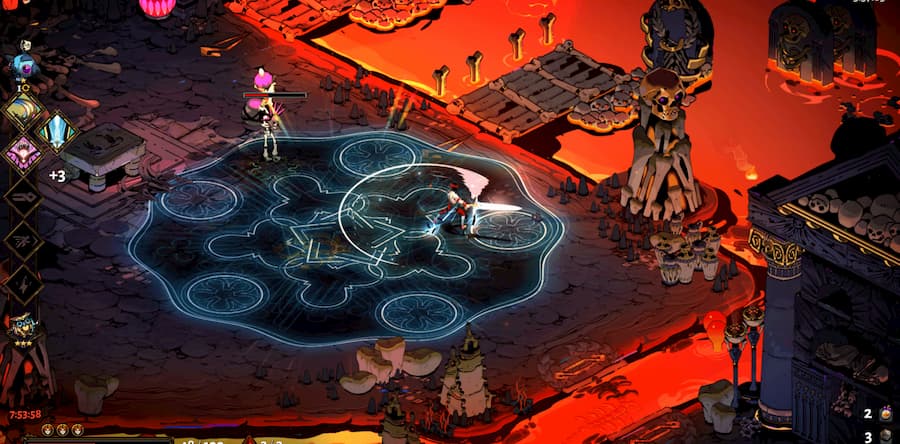 If you're a fan of Supergiant Games' excellent roguelike Hades, you'll probably appreciate something similar to play.
The bad news is there's nothing out there quite like Hades. With its excellent storytelling and underworld setting, it's in a league of its own. The good news is there are lots of other great roguelike games out there that you'll undoubtedly appreciate if you like Hades.
We've rounded up six of the best of them below. They are either roguelike games, tasking you with gameplay similar to Hades, or they've been made by the same company, offering similar themes and styles. Either way, we can vouch for all of these games and are certain you'll love them.
So: read on for our picks of the best games like Hades.
Want to support GameSpew? If you decide to buy anything from this list, please consider using our affiliate links. They're included below each entry. It won't cost you anything extra, but we'll get a small slice of the purchase. Thank you for your support!
1. Bastion
Available on PS4, Xbox One, PC
Not to be confused with the Overwatch character, Bastion is the first game developed by Supergiant Games. Despite being over a decade old now, it still stands head and shoulders above most indie games of today. This beautiful action adventure game takes you to the mysterious realm of Calondia, a land filled with enemies waiting to be dispatched. It's not a roguelike, and so isn't perhaps quite as much like Hades as some games, but it boasts a similar art style (signature Supergiant), and with an excellent story, fantastic voice acting and gorgeous design, it's well worth jumping into.
Check latest prices of Bastion
2. Enter the Gungeon
Available on PS4, Xbox One, Switch, PC
With a top-down perspective just like Hades, Enter the Gungeon is a roguelike that fans of Hades are very likely to love. And like Hades, it can also be tough as nails until you learn the ropes. But rather than focusing on melee attacks, Enter the Gungeon is all about guns. Well, the clue's right there in the name, isn't it? This bullet hell roguelike is all about dodging bullets like a ninja and shooting your foes before they have the chance to end you. Give it a try, and you're sure to love it.
Read our review of Enter the Gungeon
Check latest prices of Enter the Gungeon
3. The Binding of Isaac
Available on PS4, PS5, Xbox One, Xbox Series X/S, Switch, PC
One of the oldest games on this list, The Binding of Isaac is every bit as good as it was when it first released. Well, as long as you don't mind disgusting imagery: The Binding of Isaac and its several more modern forms are filled with poo, gore and deformed babies. Yeah. As grim as its world is, though, its gameplay loop is utterly entrancing, tasking you with clearing rooms filled with enemies before facing off against ferocious bosses. It might not look anything like Hades, but its roguelike gameplay certain scratches a very similar itch.
Read our review of The Binding of Isaac
Check latest prices of The Binding of Isaac
4. Neon Abyss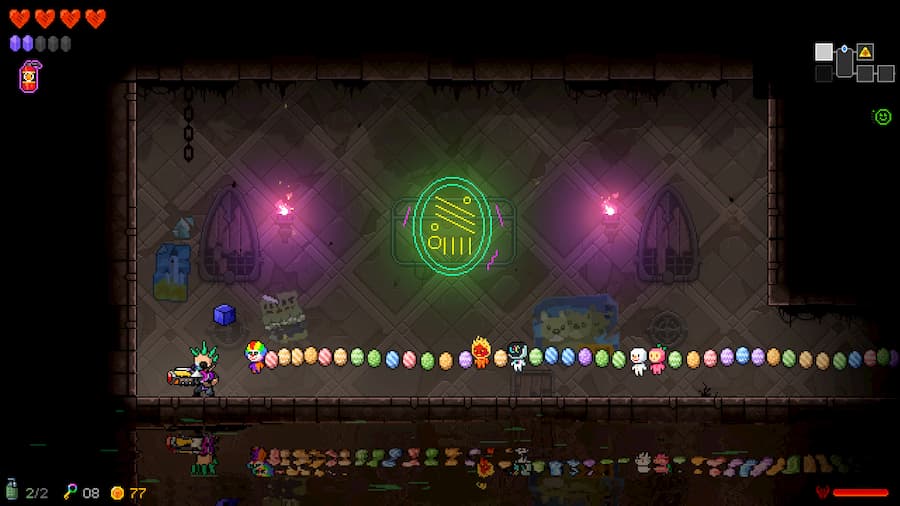 Available on PS4, Xbox One, Switch, PC
When it comes to games like Hades, Neon Abyss is one of our favourites. True, in terms of tone it's rather different: Neon Abyss is bright, bold and colourful. And rather than exploring a top-down world, Neon Abyss is instead 2D. But the roguelike gameplay loop is very similar, with each run through the abyss being as seductive and engaging as each time you try to escape from hell. With a range of weapons available and a ridiculous amount of modifiers, no two runs of Neon Abyss feel the same, either.
Check latest prices of Neon Abyss
5. Dandy Ace
Available on PS4, Xbox One, Switch, PC
Over the top and set in a world filled with magic, we love Dandy Ace. And if you're a fan of Hades, we're fairly certain you'll like it too. Its gameplay is very similar, taking you through a top-down, isometric world. It might not be quite the depths of hell, but the enemies that fill Dandy Ace's world are just as challenging to face. And each time you die, you'll be just as eager to jump straight back in.
Read more: Upcoming Rogue-like Dandy Ace is Dastardly, But Ace
6. Dead Cells
Available on PS4, Xbox One, Switch, PC
Dead Cells is often cited as one of the best metroidvania games of recent years – and if you spend just a few minutes with it, it's not hard to see why. But it's more than just a metroidvania: its roguelike elements earn it a place on our list of games like Hades. You'll explore a wider range of areas in Dead Cells than you will in Hades, and you'll also be traversing a 2D side-scrolling world. But its focus on storytelling puts it in line with Hades, with players piecing together a narrative as they play through. You'll care for its protagonist, The Prisoner, just as much as you do Zagreus after the end of your first run, trust us.