Peppa Pig is back to star in her second video game. What a lucky little pig!
We thought rather highly of 2021's My Friend Peppa Pig. Presenting exactly like the animated TV series, it gave youngsters and fans of the programme an opportunity to star in their own Peppa-flavoured adventure. By creating their own animal character, kids could enter Peppa's world, play in her house, meet her friends and live the true Peppa experience. Now, Peppa Pig: World Adventures aims to take things to the next level by letting players leave Peppa's neighbourhood and literally travel the world.
Last time, players could only create their own character. This time, they can create a whole family. It's a nice touch, even if it doesn't add much to the actual gameplay (since you'll still spend most of your time with Peppa and her family). What's particularly neat is that it isn't formulaic: any family dynamic is welcome from single-parent families to same-sex couples. Hooray for inclusivity. The character creator is nice and fun too: choose clothing styles to represent gender, pick fur and outfit colours, and then choose a species.
But, yes, it all feels rather arbitrary when, your family being newcomers to town, get Peppa's family knocking on their door to welcome them. Lo and behold, they're happy for their child to literally travel the world with these perfect porcine strangers. As an adult, it's enough to raise an alarm. But this is the world of Peppa Pig, where logic (and seemingly stranger danger) doesn't matter. After all, it's Peppa, George and Mummy and Daddy Pig. We know we can trust them.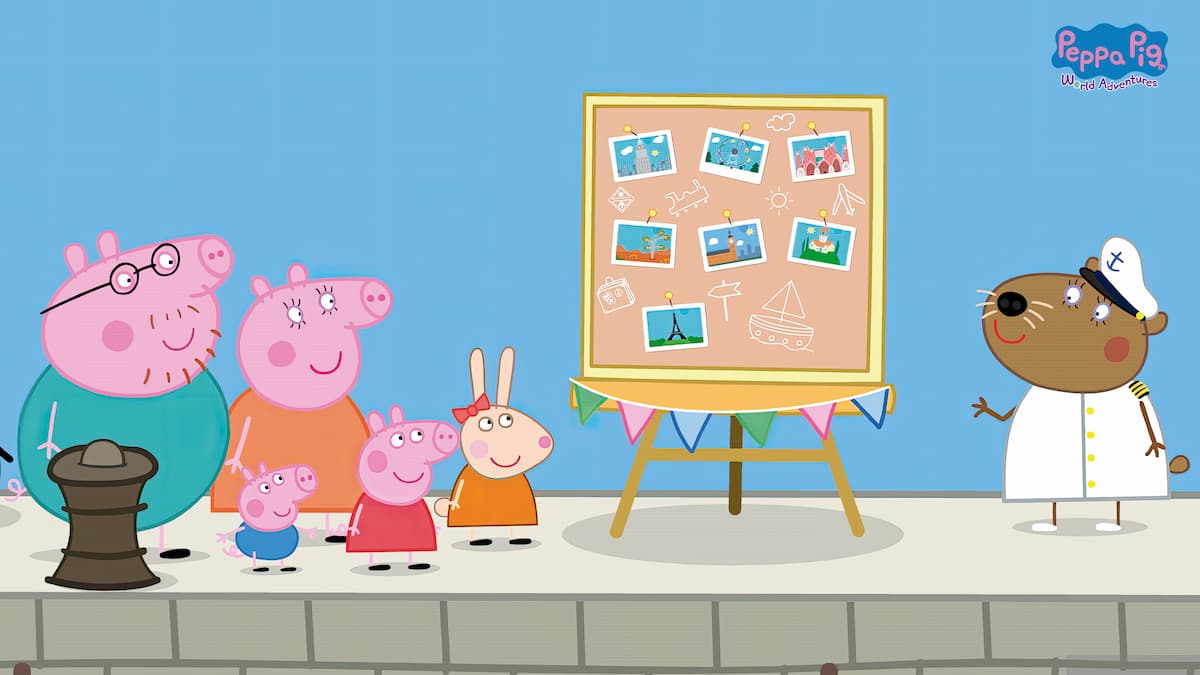 Smaller players, the target of Peppa Pig: World Adventures won't bat an eyelid at this, however, and they'll happily trot along to the cruise ship that will take their character and Peppa's family to various worldwide locations. There's Paris, Barcelona, Australia, Germany New York, Hollywood and London, which can be visited in any order. Each location has a handful of activities players can enjoy, like picking flowers in Barcelona followed by kicking a ball on the beach. It's fun, but there's one glaring omission in our opinion: there's a huge missed opportunity to provide some valuable education.
In New York, for example, Peppa and co simply visit a "New York Skyscraper". It's clearly modelled on the Empire State Building, so why not introduce players to it, and perhaps provide some fun facts about it? In Barcelona, we visited the La Sagrada Familia, yet no mention was made of what's undoubtedly one of the most famous landmarks in Europe. Instead of introducing children to the long-unfinished church, an interactive prompt simply had our character go "oooh!". And upon entering it? A shape-sorting puzzle.
Granted, the target age range of Peppa Pig: World Adventures is three to six year olds. And so suitable geographic knowledge and factoids are limited. But we still feel like there should have been a better balance here, with plenty of missed opportunities in each location. When the only presented cultural relevance of Barcelona is playing football on the beach and shouting "goooaaaal", we couldn't help but roll our eyes.
Not all is lost, however. Like My Friend Peppa Pig, this is another opportunity for young Peppa fans to star in their own Peppa adventure. Once again, it looks fantastic: exactly like the series. There's much more content than the first game, too, and again there's plenty of scope for replayability. Not only can you still explore Peppa's home and nearby locations, but you can visit each world location as many times as you want. Even if it may be disappointing from an adult perspective for its missed opportunities, there's no denying that its young audience will absolutely love the wealth of colourful locations they can visit.
Is Peppa Pig: World Adventures better than Peppa's first game? Yes and no. Its young fan base will undoubtedly lap up another opportunity to star alongside Peppa in their very own episode, and its character creator is better than ever by letting kids create their own families this time, too. There's also way more content, and the worldwide locations are bound to delight and inspire. If your little one is a Peppa Pig fan, they will love it. But as adults, we simply wish there was more educational value here.
---
Peppa Pig: World Adventures Review – GameSpew's Score
This review of Peppa Pig: World Adventures is based on the PS5 version of the game, via a code provided by the publisher. It's available on PS4, PS5, Xbox One, Xbox Series X/S, Switch and PC.