Life is stressful, let's face it. And so we all need an easy way to relax.
Playing video games is often seen as a stressful, high-adrenaline activity. And it can be, if you're playing a first-person shooter or a fast-paced action game. But more and more games out there are simply designed to be relaxing, calm experiences. And thankfully, if you're looking to unwind, there's more than a handful of relaxing games on Switch.
How about swimming peacefully through a colourful ocean? Or sitting back on a safari, snapping photographs of creatures as they pass you by? Or how about exploring a beautiful island, where the only danger you have to face is the odd pesky wasp?
We've rounded up some of the best, most relaxing games on Nintendo Switch right here. So get yourself comfortable, grab your console and get ready to relax. Click on through to see our picks.
Want to support GameSpew? If you decide to buy any of the games on this list, please consider using our affiliate links, included below each entry. It won't cost you anything extra, but we'll get a small slice of the purchase. Thank you.
This article was first published in May 2021 and has been periodically updated since.
1. New Pokémon Snap
New Pokémon Snap is a remake of a classic GameCube game, and although it's part of the Pokémon franchise, it's nothing like your typical Pokémon game. You see, instead of capturing and fighting with Pokémon, here you simply observe them. Equipped with a camera, you'll visit their natural habitat and take photos of them.
It's a calm and tranquil activity, with every little safari outing only lasting five to ten minutes. There's a range of environments to visit, each with new Pokémon to find. As you level up in a certain area, the creatures will get more comfortable with your presence, and you'll start to capture new behaviours from them. Nothing quite beats the feeling of capturing a Scorbunny flashing you a dazzling smile, or seeing a Magikarp gracefully jump out of the water.
With nothing to worry about except capturing the perfect shot, New Pokémon Snap is the perfect Switch game to relax with.
Check latest prices of Pokémon Snap
2. Abzu
Although Abzu isn't a very long game, practically every moment with it is incredibly relaxing. A game that casts you into the depths of the sea, free to explore as you wish, its charm is in just how beautiful it looks. Whether you're watching schools of fish circle around you or watching a giant whale majestically swim in the distance, Abzu is just breath-taking.
There is a loose narrative to follow, but that isn't the focus of the game. The focus is on your own exploration, making sense of the world around you as you explore it. A superb soundtrack from Austin Wintory only helps makes Abzu even more enjoyable; this is a game you can simply sink into, and forget about quests, challenges and time trials. Take it at your own pace, explore however you want; Abzu is one of the most relaxing games on Nintendo Switch, hands down.
3. Animal Crossing: New Horizons
A game about starting anew life on a beautiful island? Every single thing about Animal Crossing: New Horizons screams 'relaxing'. As you settle into your new life, you'll upgrade your home, build homes for fellow villagers to move in, and decorate the island however you see fit. You'll need to earn 'bells' – the currency of Animal Crossing – in order to pay for those upgrades and decorations, however. But there's nothing too arduous; simply pick fruit, sell the shells you find on the beach, and you'll soon have all the wealth you could need.
There's no right or wrong way to play Animal Crossing: New Horizons. Early on, you'll have some basic tasks to complete to get you started. But they can be taken at your own pace. But once they're out of the way, you're free to simply relax and enjoy your island however you want. It's the sort of game you'll likely want to visit every day to simply unwind, and that's why it's one of the most relaxing games on Nintendo Switch.
Read our review of Animal Crossing: New Horizons
Check latest prices of Animal Crossing: New Horizons
4. Stardew Valley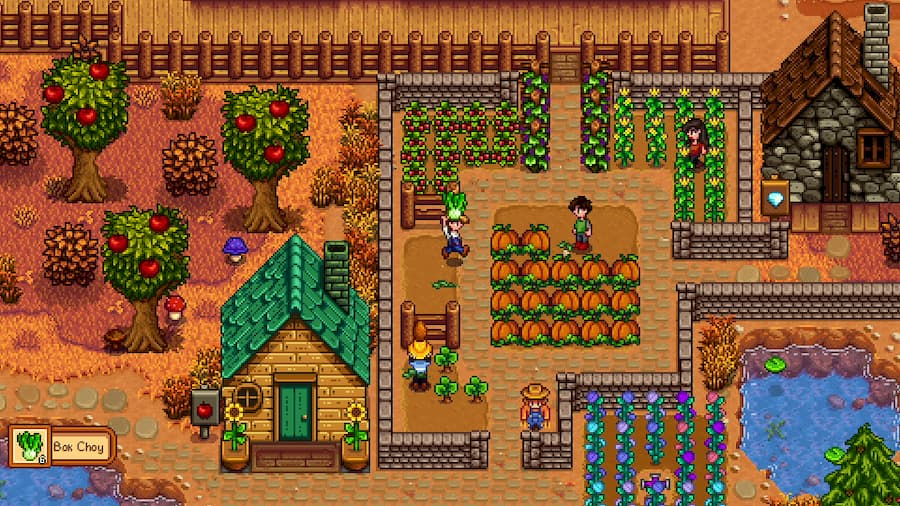 How relaxing Stardew Valley is depends on how you play it. With caverns to explore, which can see you facing off against a range of monsters, there is danger to be found. But focus on farming, exploring the town, and forging relationships with your neighbours, and Stardew Valley becomes one of the most relaxing games on Nintendo Switch.
This isn't a game that sets you tasks or missions to complete. You can play Stardew Valley however you want, and that's part of its charm. You've just inherited a farm, you see, and so it's up to you to keep it running, getting it back in ship-shape condition. You'll spend your time planting and farming crops in order to earn money. And when you're not doing that, you can potter around town, talking to the fellow townspeople. Play your cards right, and you'll make friends – or even find yourself a spouse. The freedom that Stardew Valley offers is just one of the reasons it's so relaxing.
Read our review of Stardew Valley
Check latest prices of Stardew Valley
5. Islanders: Console Edition
We just love Islanders. It's one of the most relaxing games we've ever played, and not enough people have heard of this game. It's an incredibly simple premise, and that may be why we enjoy it so much. It's a city builder of sorts, but you don't have to worry about building an economy or any type of politics. Simply place down buildings, trying to score the highest points.
Set to a tranquil soundtrack, you'll score points in Islanders by placing buildings in an optimal position. Put houses near a city centre, for example. And fishing outposts on the water. Score enough points and you'll be handed more and more buildings to place. The game's over when you run out of things to build. But we think you'll want to jump back in and try again.
Buy Islanders on Nintendo eShop
6. The Legend of Zelda: Breath of the Wild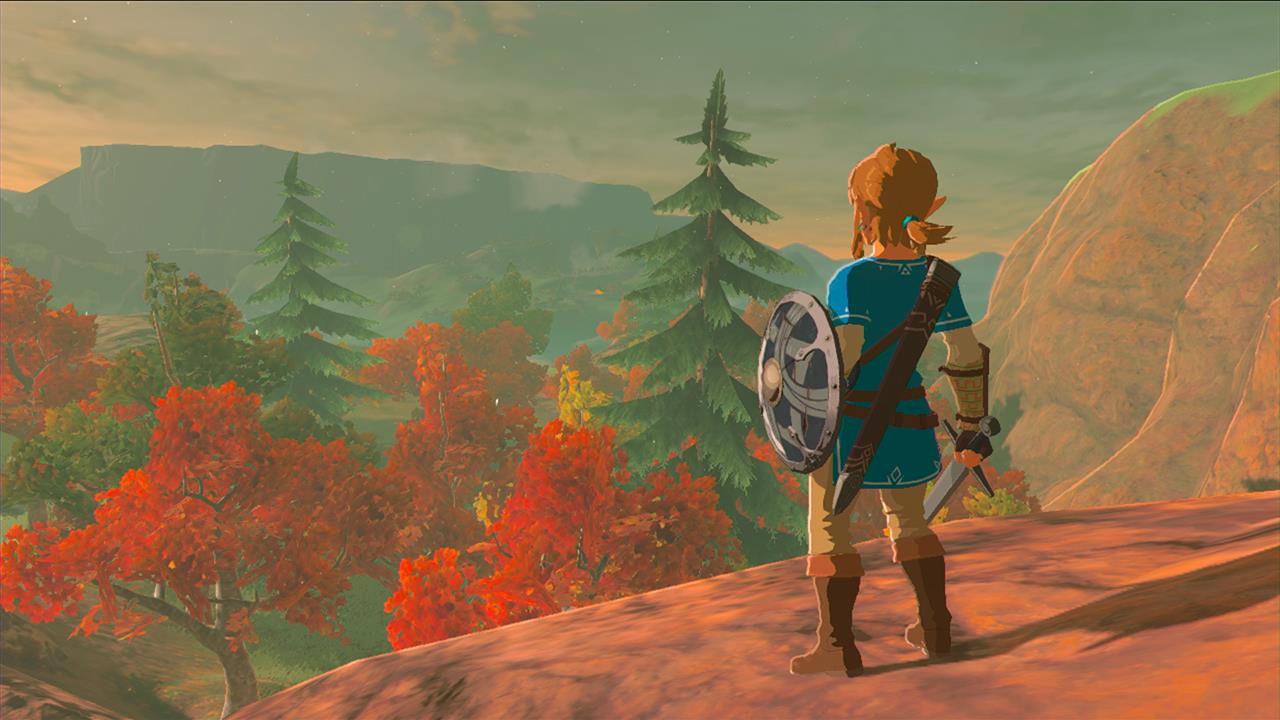 Zelda? Relaxing? Okay, it's not the most obvious choice when it comes to the most relaxing games on Nintendo Switch. But hear us out. Put aside the fight against Ganon and the Guardians that you'll come across in certain areas, and just picture the huge, open world that's ripe to explore. The puzzling shrines that can be completed in your own time. The Koroks waiting to be found. There's so much about The Legend of Zelda: Breath of the Wild that's relaxing to play. You've just got to avoid getting yourself into a skirmish!
But when so much of the game is open, it's not hard to do. Spend time exploring, climbing cliffs and taking in the scenery, and this is a truly beautiful game that can easily calm the soul. Sure, some of the shrine puzzles may vex you a little if you get stuck, but the vast majority of them can be completed at your own pace, and solving them is an enjoyable activity. Even if you've played it before, jump into Breath of the Wild with a different mindset and you'll see how relaxing it can be.
Read our review of The Legend of Zelda: Breath of the Wild
Check latest prices of Breath of the Wild
7. Clubhouse Games: 51 Worldwide Classics
Clubhouse Games: 51 Worldwide Classics, or 51 Worldwide Games as it's known in Europe, is a different sort of relaxing game. It's actually a collection of classic board games and minigames, which you can play alone against the CPU or with a friend. Whether you want to play checkers, cards or solitaire – or maybe something a little more action-oriented like bowling – there's something for you here. And all presented in a lovely package, it's the perfect game to dip into for short periods.
Not every game in the collection might be as relaxing as the one before it, but you'll certainly find something here that will help you unwind. The joy is that you can play however you want; you don't need to work to unlock new games – they're all available to you at the outset. So switch off from the world, pick up your Switch, and enjoy some fun and relaxing games for a few moments.
Read our review of 51 Worldwide Games
Check latest prices of Clubhouse Games
8. Unpacking
A house move definitely isn't relaxing in real life. But Unpacking, a game all about moving house multiple times, manages to make the act seem almost appealing. You see, in Unpacking, you'll follow a faceless protagonist throughout their lives as they move from their childhood bedroom, to their college dorm room, eventually to their own family home.
Each time they move, you'll need to unload their belongings from a box, finding the right place for it to go. Kitchenware goes in the kitchen, clothes go in the closet, and so forth. Sometimes an item will have a very specific location; other times you can put it where you think is best. Simply sorting through someone else's stuff is relaxing, and getting a glimpse into their life based on the trinkets they own is very heartwarming. You're not the only one who can't let go of their childhood stuffed toy, after all.