Looking for something to enjoy with a friend on PS Plus? We've got you covered: here we've rounded up ten of the best online co-op games on PlayStation Plus Extra.
Online co-op games come in all shapes and sizes. There are those that require you to completely work together, co-ordinating your every move. Then there are some that simply require you and your partner(s) to be present, acting at the same time. Maybe you're all shooting your way through enemies. Or maybe you're trying to solve a puzzle, or simply survive. Whatever you like in your online co-op game, we're sure you'll find something on PlayStation Plus Extra.
PS Plus Extra is the middle tier of the revamped PS Plus system. Along with standard perks like free monthly games and online storage, you also get access to a downloadable library of several hundred games for PS4 and PS5. And so, if you and a friend both have PS Plus Extra, perhaps you want to team up and play. Without further ado, here are the best online co-op games on PlayStation Plus Extra.
Need a PlayStation Plus subscription? Check latest prices here
1. Back 4 Blood
If zombie shooting antics are your thing, then Back 4 Blood is undoubtedly one of the best online co-op games for you on PlayStation Plus Extra. Essentially a spiritual successor to Left 4 Dead, it sees you and up to three other players battle your way through zombie-filled scenarios, picking up gear and collectibles as you go. Along the way you'll find sanctuary in safe houses where you can check your equipment and heal yourself up. It had mixed reviews at launch, granted, but it's perfectly enjoyable if you want simple, mindless zombie-killing.
Read our review of Back 4 Blood
2. Returnal
One of the best PlayStation 5 exclusives so far, Returnal now has a co-op mode. It launched as a single-player only game, but 2022 saw its 'Ascension' update add online co-op to the mix for free. Host a co-op game and you'll be joined by a second Selene, fighting through the weird, alien world alongside you. It doesn't change up the gameplay much, and you probably won't have much time to strategise, but it's Returnal. With a friend. What's not to love about that?
3. Borderlands 3
There's a hell of a lot to like about Gearbox's Borderlands series. The most recent of them, Borderlands 3, is the biggest, taking the action off of Pandora for the first time and opening up an entire galaxy of planets to explore. But this is still the same irreverent, zany Borderlands you know and love. We'd be remiss not to include it on our list of best online co-op games on PlayStation Plus Extra. Shooting stuff in the face and picking up way more loot than any single person could ever need never gets old.
Read our review of Borderlands 3
4. KeyWe
Now for something a little less… shooty. KeyWe is a delightful co-operative puzzle game that puts you and a friend in the role of two Kiwi birds helping out in a mail office. There are different tasks to complete, from decoding letters to sorting parcels. You'll need to work together to correctly complete everything, and you'll regularly have to use your noggin. It's cute, and well worth checking out if you and a friend fancy playing something a little more laid back.
5. Outriders
From Square Enix and released in 2021, we couldn't get enough of Outriders when it first came out. This looter-shooter casts you as a titular Outrider, sent to a foreign planet in search of a new home for humanity. Of course, said foreign planet is hostile and filled with beasties. Luckily, you're equipped with a variety of guns and weaponry, and as you play through you'll amass plenty more. With a friend (or two) in tow, Outriders is a riot, and there's a great amount of endgame content, too, thanks to post-launch updates.
6. Saints Row 4: Re-elected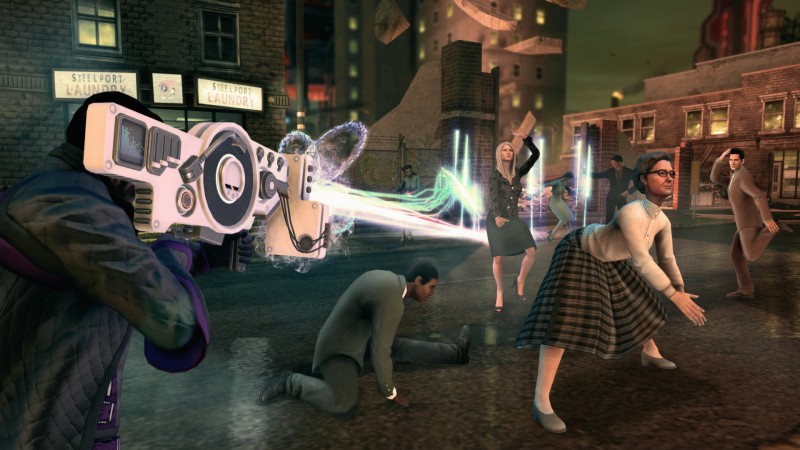 If you like the open world fun that games like GTA allow you, then Saints Row should be right up your street. Imagine Grand Theft Auto but with absolutely ridiculous storylines, alien invasions, and uh, weaponised dildos. Yup, it's absolute mayhem – and with a friend along for the ride, it's even better. Both Saints Row 4 and its standalone expansion, Gat Out of Hell (also on PS Plus Extra) can be played in online co-op, and both are an absolute blast. Sure, it's a little long in the tooth now, but few games are quite this much fun, and that alone makes this one of the best online co-op games on PlayStation Plus Extra.
7. Scott Pilgrim vs the World: The Game – Complete Edition
If side-scrolling beat 'em ups are your thing, we urge you to check out Scott Pilgrim vs the World: The Game. Based on the movie of the same name (obviously), it tasks you with fighting your way through various levels, taking down enemies of different shapes and sizes. It's colourful and fun-loving, and when you're playing in online co-op with a friend, it's an absolute blast. You don't need to have seen the film to enjoy it, either, but it helps.
Read our review of Scott Pilgrim vs the World: The Game – Complete Edition
8 and 9. The Dark Pictures Anthology: Little Hope & Man of Medan
We're cheating a little bit here, bundling together Little Hope and Man of Medan into one entry. But if you're a horror fan and enjoy narrative-driven games, these are two of the best online co-op games you'll find on PlayStation Plus Extra. Both part of Supermassive Games' Dark Pictures Anthology, their stories are very different, but their gameplay is similar. Playing in Shared Story mode with a friend, you'll take control of a group of people, making choices and taking actions that will literally determine who lives and who dies. Man of Medan sees you board a ghost ship out at sea, while Little Hope concerns itself with 17th century witch trials. They're both filled with edge-of-your-seat action and terrifying moments.
Read our review of Man of Medan | Read our review of Little Hope
10. The Division 2
It's been several years since Ubisoft's looter-shooter based on the Tom Clancy property released, but The Division 2 is still going strong. Set in Washington DC, it casts you as a Division agent in a post-apocalyptic world that's been ravaged by a deadly virus. There's a gripping story to follow through, plenty of incredible set pieces that keep you on the edge of your seat and, of course, more loot than you can fit in your backpack. Ubisoft continue to support the game, and it's been expanded upon immensely since launch.