It's not the size of your deck that matters, it's how you use it.
Out of the types of cards – business cards, birthday cards, debit cards, library cards – playing cards are the ones we like the most. And playing cards come in a variety of shapes and sizes. There's your standard deck of cards, of course. And various other family-friendly card games out there. And, in recent years, collectible card games – or CCGs – have taken off in a big way when it comes to video games, too.
CCGs typically see players collecting a hand of cards which they can use to battle against their opponent with. Not all collectible card games are made equally, though: some will have you battling a real person online. Others are single-player affairs that see you taking down swarms of enemies, with the cards in your hand allowing you to dole out various attacks.
We've scoured through our collection and dug out our picks of best collectible card games out there, all of which can be played on PC. And so, without further ado, let's get to them.
This list was first published in 2018 and has been updated periodically since.
1. Pokémon TCG Online
Don't lie: you didn't know how to play the Pokémon Trading Card Game at school. No-one did. It remained a mystery. We simply liked the cards and their pretty pictures. They were cool. The became even cooler when they were banned, though, as they were in most schools; now we were trading contraband so it was cool and dangerous! But we were all missing out on how fun Pokémon actually was to play. And thanks to Pokémon TCG Online, you don't even need a physical stack of cards to jump in.
Pokémon TCG Online is a perfect replica of the surprisingly dense card game that you can play on PC, Mac or mobile. There are computer opponents to play against and a whole host of cards to collect.
If you do want to collect physical cards, however, you still can: your goal to "catch 'em all" is made easier by the new code cards included in physical booster packs that give you digital copies of the same cards. The fabulous link up between the physical and online card games makes this the perfect way to play what is surely one of the best collectible card games of all time.
Download Pokémon TCG Online from the official website
2. Yu-Gi-Oh! Duel Links
Another animé that spawned a popular CCG is Yu-Gi-Oh!. But in this case, we were under no illusions about the purpose of series. Yugi and his pals' whole lives revolved around this game that dated back to ancient Egyptians. It turns out they were just as nerdy as us.
What made Yu-Gi-Oh! so good was the extensive use of traps and cohesion that your deck could possess, and over the years this has only become more and more refined. But with this refinement, the rules have also become insanely complicated. Thankfully, Yu-Gi-Oh! Duel Links made some minor adjustments, making the game easier and more friendly to newcomers. Main Phase 2 has been removed from the game, and the field size has been reduced, allowing for much faster and simpler battles. Despite these changes though, Yu-Gi-Oh! Duel Links still very much feels like the Yu-Gi-Oh! we know and love, and it's is just as engaging to play.
Download Yu-Gi-Oh! Duel Links for free on Steam
3. Hearthstone
You knew this would be on the list of best collectible card games on PC! How could it not be? Not only is Hearthstone one of the most popular CCGs of all time, it's one of the most popular games, full-stop. It's a free-to-play classic that combines elements of other successful card games to great effect; the result being a fast-paced card game with deck-building strategy at its core. And, of course, it's all infused with the wonder of World of Warcraft.
Polished, quirky and inviting is how we'd sum up Hearthstone to someone who hasn't heard of it before – but there are very few of them left. Like all of the best collectible card games on PC, though, your success in the game entirely depends on the cards in your hand. And in the case of Hearthstone, it means you'll need a lot of resources to get the right cards for the latest expansion, just to be competitive at the higher tiers. Still, there's no denying how fun this game is, and how deserving it is of a space on this list.
Download Hearthstone for free on the official website
4. The Elder Scrolls: Legends
Many will see The Elder Scrolls: Legends as a Hearthstone copy, which isn't totally unfounded. The rules are rather similar and much of the card traits in Hearthstone are redesigned in The Elder Scrolls: Legends. However, we can't forget that Hearthstone itself is built on the foundations of previous successful card games.
The Elder Scrolls: Legends does change the formula up enough to make the game interesting in its own right, however. It creates channels across the game board, making the game more likely to ebb and flow as you concentrate on one flank to get back into contention. It also has an excellent single player campaign that mirrors the decision system from the main Elder Scrolls games. That alone warrants The Elder Scrolls: Legends being one of the best collectible cards games you can play on PC.
Download The Elder Scrolls Legends for free on the official website
5. Magic: The Gathering Online
Magic: The Gathering has been an unrelenting force that has been around for quarter of a century. Its mechanics have formed the foundations of just about other title on this list of best collectible games on PC. The idea of deck synergy and different elements focusing on different playstyles has made Magic a force to be reckoned with in the world of collectible card games.
Magic: The Gathering Online is not free-to-play – it requires a paid registration. This means that it's only really be worth trying if you are already a card game fanatic. The complexity of its cards and expansions makes it pretty hostile if you're an absolute beginner.
But if you already play Magic: The Gathering physically, it is certainly worth trying the online version. The ability to play in virtual tournaments against anyone in the world is worth the entry price alone. It is a recreation of the offline game and that's it; there are no gimmicks here – Magic: The Gathering Online speaks for itself.
Download Magic: The Gathering Online from the official website
6. Slay the Spire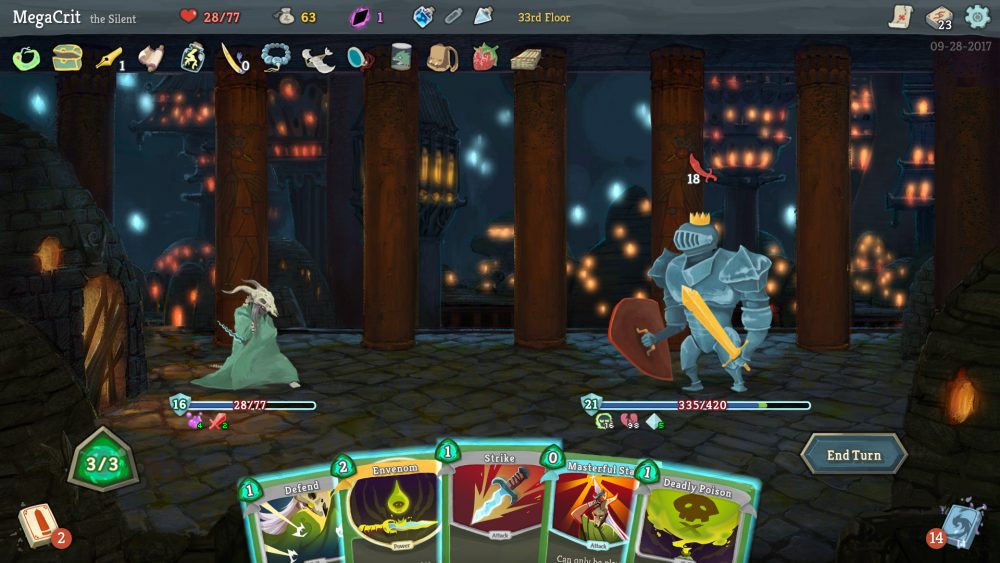 Slay the Spire is the first game on this list that is completely single player. It's perhaps a slightly different type of collectible card game to the likes of Magic: The Gathering and Hearthstone, but one that's fantastic all the same. Rather than battle against real players, you'll engage in turn-based battles against CPU enemies, with the cards in your hand providing you with attacks, defences and buffs to employ at your will. You only have a certain amount of energy to spend, though, and with each card having its own energy value, you better play your cards carefully.
What makes Slay the Spire particularly interesting is that you always know how your opponent is going to act in its next turn. See the '18' and sword icon hovering over the knight's head in the image above? That means he's going to attack for 18 HP, and so we need to act to avoid taking damage. It makes Slay the Spire a game of skill, and choosing a carefully-curated hand of cards really is key to success. This is one of the best collectible card games on PC, and even if you're new to CCGs we'd recommend you give this one a try.
7. Roguebook
Roguebook takes many of its cues from Slay the Spire. It's clearly inspired by it, but it employs enough of its own originality to make it stand on its own two feet. In Roguebook, you'll play two heroes at once, with each one having their own set of cards. It essentially means building two decks, both which complement each other. Like Slay the Spire, you'll be able to see an enemy's intent before they act, allowing you to plan your response effectively.
What makes Roguebook stand out from the other games on this list of best collectible card games, is that it's also about exploring the world around you. Outside of card-based battles, you'll use paintbrushes and inks to uncover new spaces of your world map. Exploring will net you things like new cards, new abilities, and random scenarios. Exploring is just as much fun as the battle, and you never know what you might uncover.
8. Nowhere Prophet
Nowhere Prophet puts you in charge of a group of outcasts and refugees living in the wasteland of Soma. It's a place where civilisation is not doing well and you're going to come across some of the worst villains. To avoid being taken out, you'll have to train up your followers with the ultimate goal of reaching the Crypt; a mysterious location said to be home to untainted, rare technology. This is a collectible card game all about strategy, and we can't get enough of it.
The reason that Nowhere Prophet has made its way onto this list of best collectible card games on PC is because it has lots of customisation options for your deck as well as some juicy, juicy combat. It can be pretty challenging to begin with, but once you've played for a couple of hours you'll get the hang on it quickly – and likely get rather addicted. Don't say we didn't warn you.
9. Zoeti
Zoeti is the newest game on this list of best collectible card games on PC, but it's certainly worth a mention. It stands out thanks to its beautiful animations. And, rather than having a unique deck of cards, you're playing with a standard set of playing cards. It sounds strange, but it works. Each poker hand is assigned a skill – and providing you've got enough cards in your hand, you can play as many moves as you like.
And so, rather than collecting cards, in Zoeti you're collecting (and powering up) skills that are assigned to hands of cards. Is it technically a CCG? Perhaps not. But we're not one to get into semantics. If you enjoy single-play card-based combat games, this one is well worth checking out. It gives us serious Slay the Spire vibes, but with extra narrative and exposition thrown in.
10. Inscryption
Inscryption is far more than a collectible card game, but it still deserves a place amongst the best in the genre on PC. This is a mysterious game that keeps you guessing at every turn – but a large part of it is, indeed, playing a card game.
Sat at a table in a dark, eerie cabin, you'll be forced to play a hand of cards, battling against a series of opponents. Each card is based on a creature, with an attack power that can be used to weaken your opponent's hand. Play carefully and logically, and you'll win, but be too reckless and it's all too easy to lose. Just watch out for the cards that start talking to you. And maybe you'll want to get up and have a wander around the cabin before you play your next hand…