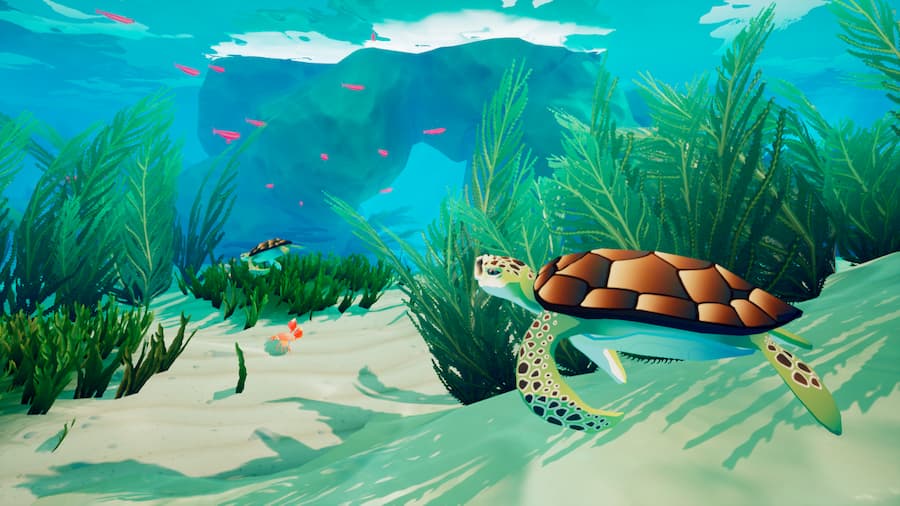 Looking for a new game to… dive into? Read on to find the best games set underwater that you can play right now.
There's something mysterious and alluring about the ocean, or underwater spaces in general. It's somewhere that most of us can't ever truly explore in real life. But thinking about what might be laying in the depths is both fascinating and terrifying. Jumping into one of the many underwater games available on PC or consoles is perhaps the only way most of us can explore this largely unknown world.
Underwater games come in many shapes and sizes. There are those that focus on the fear and terror of being underwater, like Barotrauma or Narcosis. Then there are those that focus on a more realistic diving exploration experience, like Beyond Blue. And so we've rounded up a list 10 of the best underwater games, all offering something slightly different, and all sitting somewhere on the scale between realistic to completely fantastical.
Want to support GameSpew? If you decide to buy anything from this list, please consider using our affiliate links. They're included below each entry. It won't cost you anything extra, but we'll get a small slice of the purchase. Thank you for your support!
1. Abzu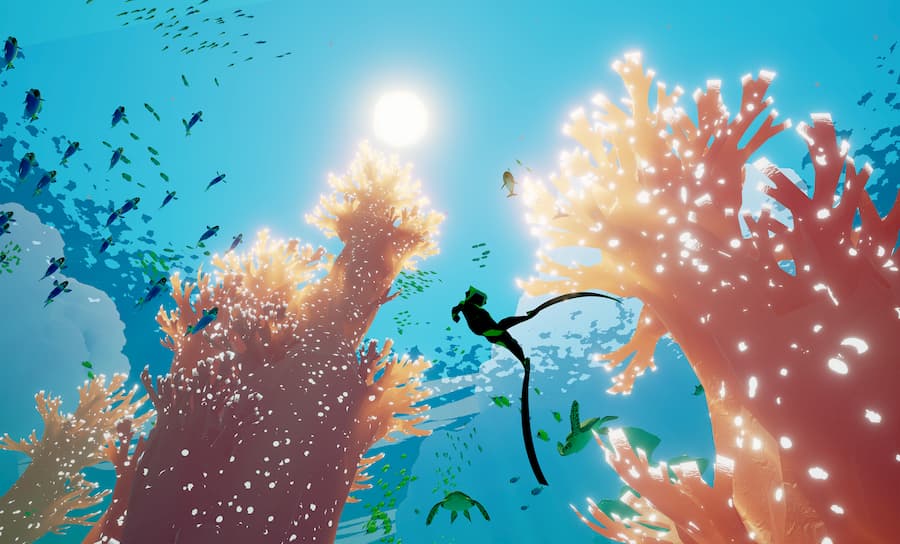 Available on PS4, Xbox One, Switch and PC
Few underwater games are as beautiful as Abzu. This is a short experience but one that focuses on exploring a vast underwater world. It's a serene and mystical journey that will see players swimming alongside schools of fish, coming up close to huge marine animals and uncovering lost worlds. It's the perfect underwater game to relax with, and we'll never get bored of its gorgeous visuals and enchanting soundtrack.
2. Silt
Available on PS4, PS5, Xbox One, Xbox Series X/S, Switch and PC
Silt is a beautifully crafted underwater puzzle adventure game where players traverse a submerged world inhabited by strange creatures and eerie landscapes. You'll take control of a nameless diver, making your way through an eerie but captivating world as you uncover secrets. The haunting atmosphere and hand-drawn art style create an immersive experience that sets Silt apart as one of the best underwater games.
3. Beyond Blue
Available on PS4, Xbox One, Switch and PC
Of all the entries on this list of the best underwater games, Beyond Blue is the most realistic. In fact, it's been created in conjunction with the BBC's Blue Planet team, offering a realistic diving experience. Players take on the role of a marine biologist, and in that role you'll be tasked with discovering certain species, tagging them, and analysing their behaviour. It's beautiful, educational and a lot of fun.
Read our review of Beyond Blue
4. Subnautica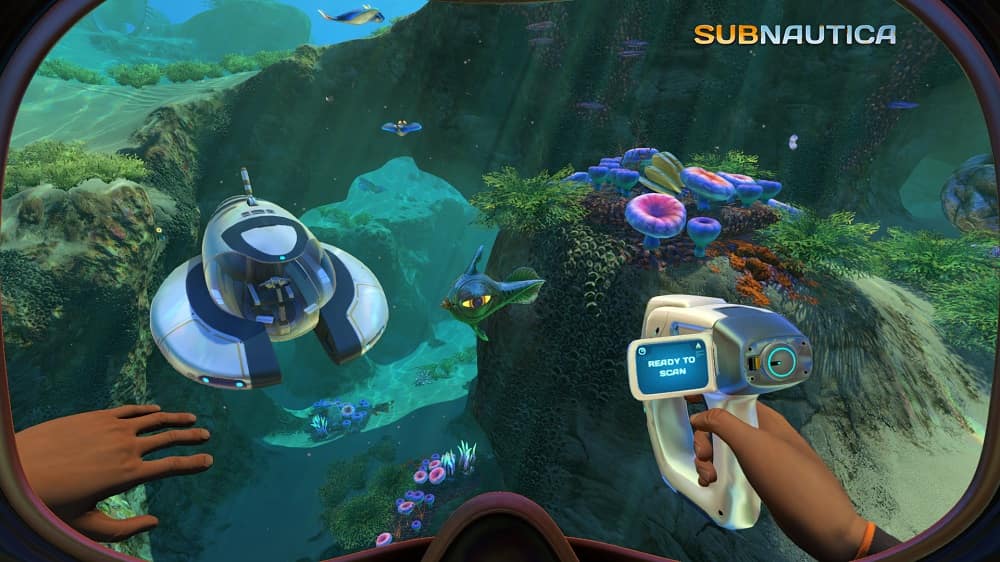 Available on PS4, PS5, Xbox One, Switch and PC
The original Subnautica, and its sequel Subnautica: Below Zero might not exactly be realistic, but these open-world survival games are some of the most compelling underwater games to truly get lost in. Subnautica sees you explore an underwater world, scavenging resources, crafting equipment and building your own habitats in order to survive the world around you. With its deep crafting system, unique creatures, and engaging story, Subnautica stands out as one of the best underwater games in the survival genre.
Check latest prices of Subnautica
5. Barotrauma
Designed to be played in co-op, Barotrauma is a tense "submarine simulator" packed with horror and RPG elements. Players will need to work together to ensure their submarine stays up and running. Keeping your defences working is important to fend off the terrifying alien creatures that stalk the waters around you. You'll need to fix leaks, keep your submarine in tip-top condition and craft important items in order to succeed.
Read more: Barotrauma Wants to Make Your Underwater Nightmares Come True
6. Narcosis
Available on PS4, Xbox One and PC
Narcosis plunges players into a haunting underwater survival horror experience set in the depths of the Pacific Ocean. As an industrial diver, players must navigate a dark and oppressive environment while battling against deep-sea creatures, dangerous hazards, and the crushing pressure of the ocean depths. With its chilling atmosphere and immersive storytelling, Narcosis stands out as one of the best underwater games for fans of the horror genre.
7. Aquanox: Deep Descent
Do you want to explore the mysteries of the deep from the comfort of a vehicle? Aquanox: Deep Descent might be for you. It's set in a world where Earth is in ruins, and humans have had to find a new home deep in the oceans. But not all is well, and in your customised fighter ship you're going to have to shoot away threats and foes. As you progress, you can customise and upgrade your ship – and judging by the nasties living underwater, those upgrades are going to come in very handy…
Read more about Aquanox: Deep Descent
8. Mythic Ocean
Available on PS4, Xbox One, Switch and PC
Fantastical but colourful, Mythic Ocean is the antithesis to the horror-based titles on this list of the best underwater games. This is an enchanting, uplifting game about meeting a cast of powerful underwater creatures, each with their own stories to tell. By influencing decisions those powerful creatures make, you can shape the fate of the world in Mythic Ocean. This is a fun narrative experience that's a joy to look at, and a delight to play.
Read our review of Mythic Ocean
9. Sunless Sea
Available on PS4, Xbox One, Switch and PC
Here's another game that has you control an underwater vehicle. Set in an underwater steampunk world, Sunless Sea is a roguelike exploration adventure. Players control their craft to explore a mysterious underwater world, uncovering secrets and fighting against terrifying beasts along the way. You'll need to manage resources to succeed, checking into various ports to meet new characters and pick up new missions. It's tricky, but once Sunless Sea gets its teeth into you, it's one of the best underwater games you can play.
10. Song of the Deep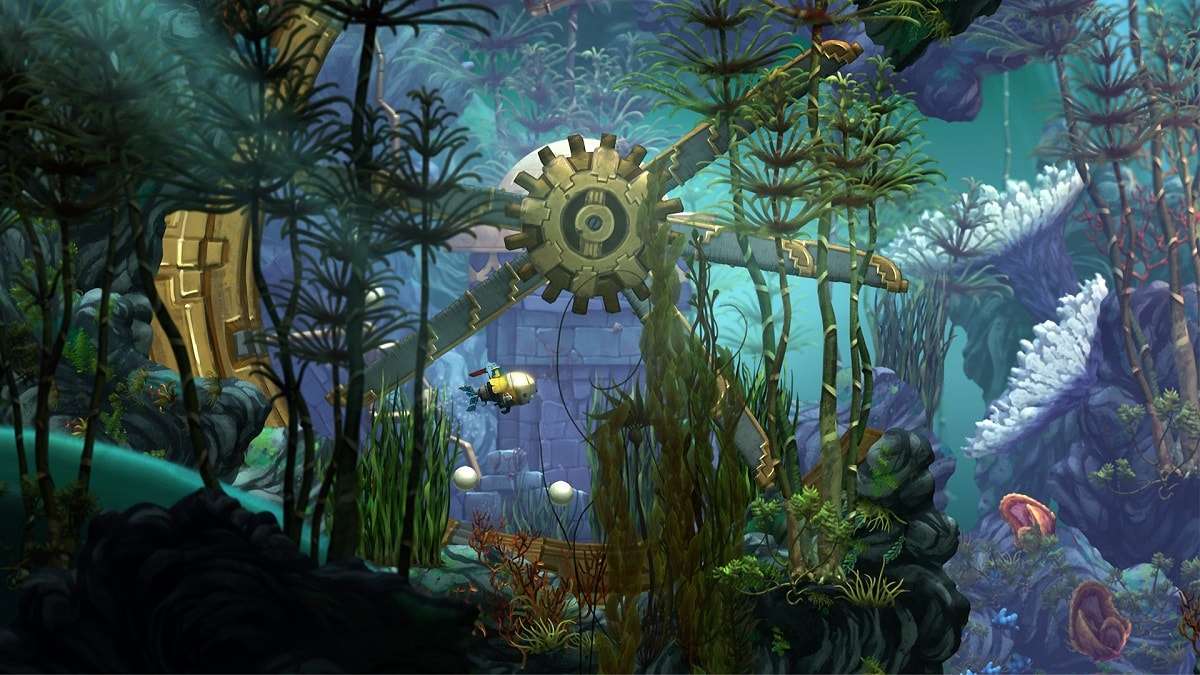 Available on PS4, Xbox One and PC
Developed by Insomniac Games – yes, the very same Insomniac Games behind Spider-Man – Song of the Deep is a gorgeous metroidvania about exploring a mystical underwater world. You'll take on the role of Merryn, a young girl who sets out on a mission to rescue her missing father. As Merryn, you'll need to navigate rich environments, solving puzzles and facing up to fearsome underwater beasts. If you've never played this, put it on the top of your list: it's one of the best underwater games there is.
Read our review of Song of the Deep