There are few companies that do genuine expansions these days.
Lots of games have season or expansion passes that encompass one or more pieces of DLC, but they generally pale in comparison to what expansions used to be. An expansion to us is something like the Lord of Destruction add-on for Diablo 2; something that adds a considerable amount of content as well as new features that transform a game entirely, almost making it feel brand new. And that's exactly what Sunbreak is to Monster Hunter Rise.
It's safe to say that Capcom is one of the few companies that still knows how to make an expansion. You pay for it, granted – at £32.99, Sunbreak isn't cheap – but when it adds so much to a game you already know and love, it's worth it. This is for seasoned Monster Hunters though: unless you've completed the 7-star Hub quest "Serpent Goddess of Thunder", in which you do battle against the mighty Narwa, the benefit of owning this expansion is minimal.
But worry not, with the arrival of the Sunbreak expansion comes easy-to-craft weapons and armour, powerful enough to carry you through the toughest battles that the base game has to offer. And with the Serpent Goddess of Thunder defeated, it's time for a new adventure – quite literally.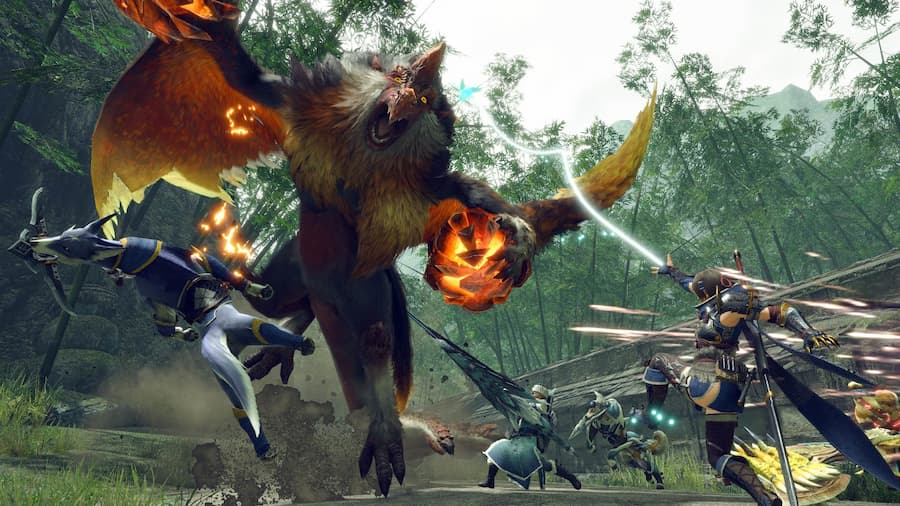 Begin the Monster Hunter Rise: Sunbreak expansion, and you'll find that there's a new visitor in Kamura Village. But they're not there to simply sightsee. It comes to pass that the kingdom they come from has a monster problem of its own, and so you're dispatched to help them deal with it. It'll help relations, after all. And who knows – if left unchecked, maybe the monster problem will spread.
Operating from a new base – the Elgado Outpost – Monster Hunter Rise: Sunbreak elevates you to Master Rank. That means encounters are more fierce than ever before, but to compensate new weapon and armour upgrades are available. There are many other new tweaks and features that can give you the upper hand as well. More Switch Skills have been added, for example, and these can now be assigned to loadouts which can be easily switched between within missions.
There are actually way too many changes in Monster Hunter Rise: Sunbreak to list, and while many of them may be small in the grand scheme of things, all added up they make quite the impact. Basically, this takes the base gameplay of Monster Hunter Rise and builds upon it, making it deeper, more varied and even more accessible in ways. One new feature, for instance, allows you to enter some missions with a computer-controlled ally, taking some of the pressure off you when engaging in battle.
The real draw here for most, though, will be the new locations and enemies added into the mix. Two new hunting grounds are added – a jungle and a citadel – both adding to the base game's varied range of environments. We particularly like the jungle thanks to its attractive scenery and stress-free navigation. When it comes to monsters, however, some may be disappointed to hear that there are only three genuinely new additions here.
While only three monsters may be brand new, lots of monsters from previous titles not present in Monster Hunter Rise have been brought back. There are new variants, too. In addition to yet more monsters and variants added via title updates, Monster Hunter Rise: Sunbreak has an outstanding number of monsters to face off against. Put it this way: you're not going to get bored anytime soon.
Having previously played Monster Hunter Rise and its Sunbreak expansion on Switch and PC, we're overjoyed that the full experience is now also available on additional consoles including PS5. On PS5, Monster Hunter Rise: Sunbreak looks and performs better than ever before. The visuals are detailed and crisp, the framerate is silky smooth even with the graphics pushed to the max, and load times are ultra quick. It's undoubtedly the best way to play.
If you've played the hell out of Monster Hunter Rise and are hungry for more, Sunbreak should be considered a must-have. With new monsters, locations, features and more, there's just so much here that makes this latest Monster Hunter foray a richer, deeper and more enjoyable experience.
---
Monster Hunter Rise: Sunbreak PS5 Review – GameSpew's Score
This review of Monster Hunter Rise: Sunbreak is based on the PS5 version, with a code provided by the game's publisher. It's available on PS4, PS5, Xbox One, Xbox Series X/S, Switch and PC.