We didn't quite realise it before, but it's actually a crime that the base game of Arcade Paradise didn't include a pinball machine. Come on: it's a staple of any good arcade, and here we were, trying to flog our gaming emporium without one to be seen. Finally, developer Nosebleed Interactive has seen the error of its ways, introducing Vostok Inc. Pinball to the game to rectify it. And it's very much been worth the wait.
Arcade Paradise's newest DLC, Vostok Inc. Pinball, landed on Friday. It adds a pinball machine themed on Vostok Inc., an earlier game from the same developer. Like all of the machines in Arcade Paradise, then, it's not a real pinball table, but it might as well be. It's very well designed and when you're stood in front of it, you feel like you could be in an actual arcade. But that's the beauty of the game as a whole: Nosebleed has done such an incredible job in bringing the joy of the arcade to life in video game form. As much as we loved the sim part of the game, building our arcade from scratch in the back of a laundrette, nothing can beat simply hanging out in our fully-fledged digital arcade.
Arcade Paradise Vostok Inc. Pinball: The most recent DLC of many
Vostok Inc. Pinball is the latest of several DLC releases that add brand new arcade games to Arcade Paradise. We've had Empathy, Smoke 'Em and Cyber Dance Euromix; Summer of Sports, R.O.G.E.R and Penguin Push; and even a real game in the form of HelloThereGames' Kung Fury: Street Rage. They've all made welcome additions to our arcade, but Vostok Inc. Pinball has to be the most noteworthy. That's simply because it's the first pinball table to grace the game. We absolutely hope it won't be the last.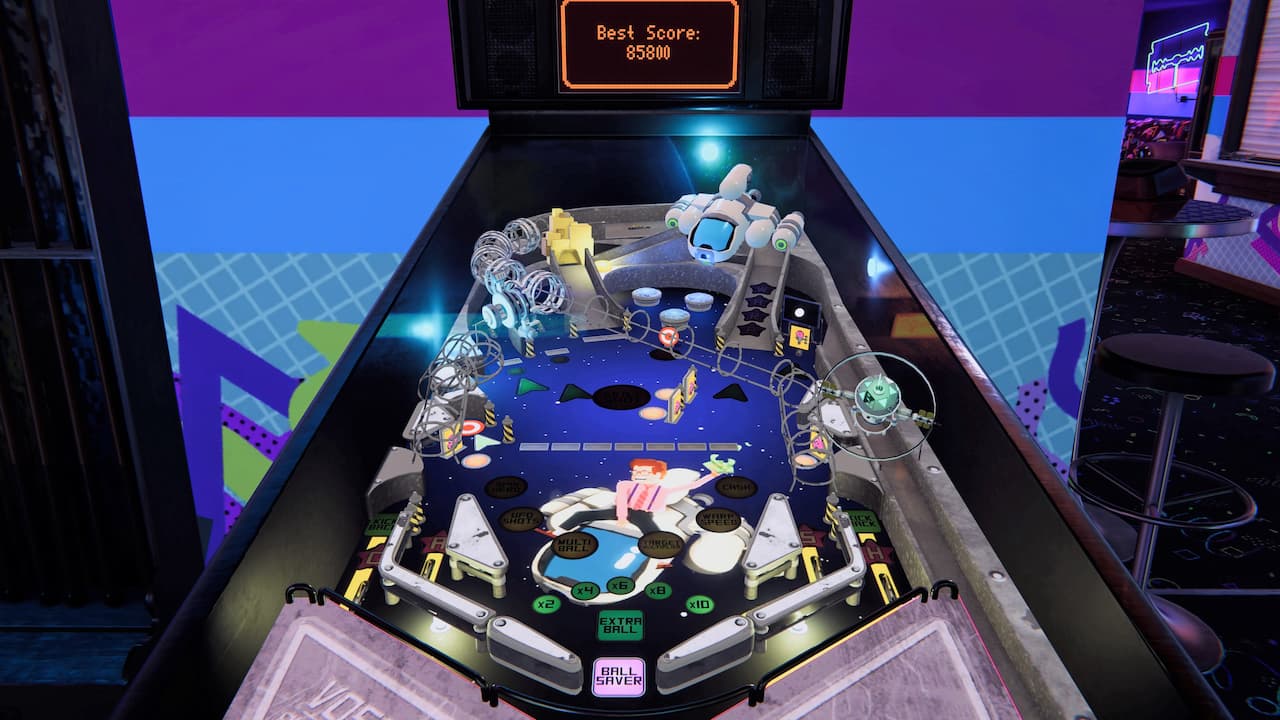 Read more: Arcade Paradise Review
Head over to the machine to play it, and you'll find it operates just like any pinball game. Your right and left triggers operate the flippers, and pulling back on the right stick releases the ball. The timing takes a little while to get used to, however. It's perhaps not quite as precise as something like Pinball FX – but Arcade Paradise isn't a dedicated pinball game and so it's to be expected.
Like any good pinball table, The Vostok Inc. machine has many bonus states and rewards to be earned. For players who want to learn its ins-and-outs, there are some epic high scores to be earned. There are pathways to shoot your ball down, an extra flipper to control and plenty of bumpers to hit and rack up a score with. It might not be a licensed table, then, but it has everything you'd expect to find on one.
Yes, it is a shame that a pinball table wasn't included in Arcade Paradise at launch. (Although if we're being brutally honest, we were too busy playing Blockchain forever to really notice.) But it's better late than never, and Vostok Inc. Pinball is perhaps the best DLC addition to the game yet. It will cost you a little to add it to your arcade, though: £1.69/$1.99. It's a price we think is very much worth it.