The Switch isn't the best format for serious racing games, in all honesty. It's great for arcade racing games though.
In arcade racing games, it doesn't matter that the Switch's triggers are digital rather than analogue. And more stylised visuals allows performance to be brought to the forefront. Besides that, arcade racing games are simply more fun. But you might be wondering: what are the best arcade racing games on Switch?
For that very reason, we've delved into the recesses of our minds and put together a list of the best arcade games we've had the pleasure of playing on Switch. All of these games have our seal of approval – we've put time into them and enjoyed nearly every minute. So, if you're after some arcade racing games to play on your cherished Switch console, give one of these a try.
Want to support GameSpew? If you decide to buy any of the games on this list, please consider doing so via our affiliate links, included below each entry. It won't cost you anything extra, but we'll get a small slice of the purchase.
This list was originally published in September 2020 and has been updated periodically since.
1. Cruis'n Blast
If you visit arcades regularly, you might be familiar with Cruis'n Blast. This colourful arcade racer first became available in 2017, and after proving popular it was ported to Switch in 2021.
The sixth instalment in the Cruis'n series, which has been going since Cruis'n USA entertained players in 1994, Cruis'n Blast is very over-the-top. Driving at insane speeds through a variety of real-world locations, you'll trade paint with your competitors, perform extreme jumps, and boost your way to success. Needless to say, you'll have a smile on your face every minute you spend playing it.
With additional cars and tracks over the arcade version, Cruis'n Blast is better than ever on Switch. It even has a split-screen mode so you can enjoy it with your friends. If you're after the best arcade racing games on Switch, then, consider this a must-have.
Check latest prices of Cruis'n Blast
2. Need for Speed: Hot Pursuit Remastered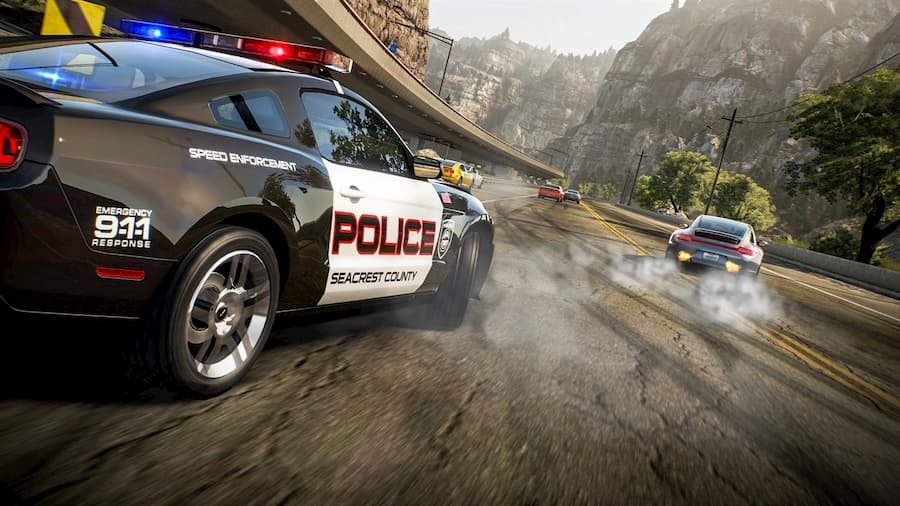 Developed by Criterion Games, Need for Speed: Hot Pursuit was originally released on PS3, Xbox 360 and PC way back in 2010. And it was so good, that it was remastered for PS4, Xbox One, Switch and PC ten years later.
Unlike most modern Need for Speed games, Need for Speed: Hot Pursuit Remastered isn't focused on an open world. Instead, it offers you an ever-growing number of events via a map. It's up to you whether you focus on being a racer or a cop, and as you go you'll unlock new vehicles to use and more tools to play with, such as spike strips and boost.
There are many reasons why Need for Speed: Hot Pursuit Remastered is one of the best arcade racing games on Switch. It looks great, for one, and then there's the fact that it has a good soundtrack. It also has a wonderful variety of events, and its gameplay is challenging but very enjoyable. Definitely check this one out, yeah?
Read our review of Need for Speed: Hot Pursuit Remastered
Check latest prices of Need for Speed: Hot Pursuit Remastered
3. Hot Wheels Unleashed
We all know and love physical Hot Wheels cars, right? Hot Wheels Unleashed turns those tiny die-cast models into real racers, allowing players to speed their way along signature orange Hot Wheels tracks. As far as high-octane action goes in an arcade racing game, it doesn't get much better than this: you'll go around loop-de-loops, make impossible jumps and navigate impossible obstacles. It's a great deal of fun.
There's plenty of content, too, with a fully-featured single-player campaign and plenty of multiplayer options. Grab a friend and complete in split-screen, or simply master all of the tracks by yourself. If you're a fan of arcade racing games, this is undoubtedly one of the best you can play on Nintendo Switch.
Check latest prices of Hot Wheels Unleashed
4. Hotshot Racing
If you fondly remember the Ridge Racer series, chances are you'll love Hotshot Racing. Like a blast from the past, Hotshot Racing is all about drifting around corners and efficiently using boost to keep ahead of the pack. It doesn't have a meaty campaign for you to get stuck into, but it doesn't matter; with numerous game modes, as well as a generous selection of cars and tracks, it'll keep your attention for a long time indeed.
There are many car customisations to unlock and purchase, and its colourful low poly graphics are pleasing on the eyes. But best of all, it's simply a pleasure to play. So, needless to say, if you're after the best arcade racing games on Switch, Hotshot Racing is essential.
Read our review of Hotshot Racing
Check latest prices of Hotshot Racing 
5. Burnout Paradise Remastered
We're adamant that Burnout Revenge is the best Burnout game ever made, but Burnout Paradise, the entry that took the series into open world territory, comes a close second.
Enhanced for Switch, Burnout Paradise Remastered features improved visuals, a smoother framerate and all the DLC released for the game. That means you can race faster than ever, witness more eye candy, and race a wider variety of vehicles across Paradise City and Big Surf Island. The only thing that's disappointing about Burnout Paradise Remastered is that it doesn't enhance the base game all that much.
You still can't fast travel to the start of events, for example, or place markers on its map. Don't let that put you off though –  if you're after the best arcade racers on Switch, Burnout Paradise Remastered is undoubtedly one of them. It's just a shame that it's so expensive.
Read our review of Burnout Paradise Remastered
Check latest prices of Burnout Paradise Remastered
6. Horizon Chase Turbo
From the above screenshot, you might get the impression that Horizon Chase Turbo is pretty much a ripoff of Outrun. While it is undoubtedly influenced by the SEGA classic, however, it doesn't really play much like it.
Unlike Outrun, Horizon Chase Turbo isn't about point-to-point racing. Instead, it has tracks set all around the world, and it's up to you to race around them and emerge victorious. To do that you'll need to use your boost effectively, keep your fuel topped up, and avoid crashing into the competition which will really set you back. And if you want to really excel at the game, you'll also need to collect the coins that litter the track. It's challenging but a hell of a lot of fun, and when you have friends around you can play the game in split-screen. What more could you ask for?
It won't be for everyone, but for those after the best arcade racing games on Switch, Horizon Chase Turbo is definitely worth a try.
Read our review of Horizon Chase Turbo
Check latest prices of Horizon Chase Turbo
7. Rise: Race The Future
You've possibly never even heard of Rise: Race The Future, but if you love arcade racers you should definitely add it to your Switch library.
Rise: Race The Future keeps the spirit of old-fashioned arcade racers alive. Not only is it fast, it also looks great and lets you drift and boost your way to victory. Getting behind the wheel of a range of wonderfully designed futuristic vehicles, you'll cover tarmac, dirt and water, keeping you on your toes. And while the handling takes some getting used to, it's responsive and reliable.
The only thing that Rise: Race the Future lacks is multiplayer. Though with 84 challenge races and eight championships to conquer, it has a lot to offer for those seeking out the best arcade racing games on Switch at its humble price of just £16/$16.49.
8. Fast RMX
If you're a fan of anti-gravity racing games like Wipeout, Fast RMX is the closest thing you'll get to it on Switch. At least until a new F-Zero game arrives anyway.
It's got beautiful visuals, a pounding soundtrack, and its blistering sense of speed keeps you glued to your Nintendo Switch's screen as you complete race after race, ever hopeful that you'll finish ahead of the pack. Thanks to its brutal difficulty level the number one spot will elude you often, but you'll keep going back again and again until you emerge victorious. Fast RMX is addictive like that.
Updated since launch to include new features, Fast RMX is one of the Nintendo Switch's best arcade racing games, and is certainly worthy of your hard-earned cash.
Check latest prices of Fast RMX
9. Mantis Burn Racing
Including all the DLC released to date for the title, which is quite a lot, Mantis Burn Racing on the Nintendo Switch is a bit of a steal really.
Viewed from an isometric perspective, the action that Mantis Burn Racing provides is drift heavy with a side-order of boost. As such, it's rather fun. When you're not making your way through its career mode – completing a variety of events to purchase and upgrade vehicles – you can take part in both local and online multiplayer races or attempt to make your mark on the daily challenge.
However you choose to spend your time playing Mantis Burn Racing, it's sure to be thoroughly entertaining. It's a damn fine arcade racer, and on Nintendo Switch it looks and plays great too.
Read our review of Mantis Burn Racing
10. Road Redemption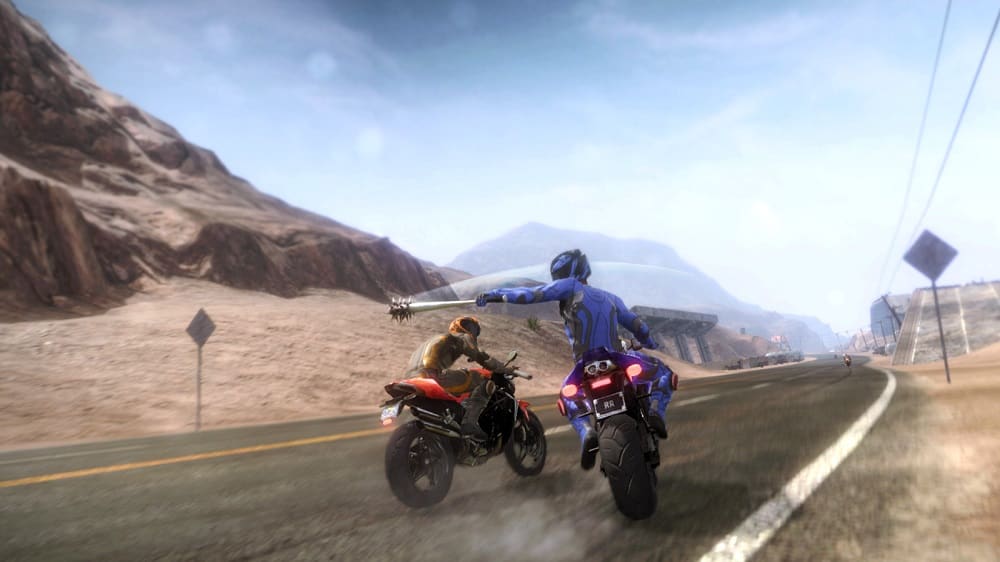 Remember Road Rash? If you do, chances are you're going to love Road Redemption.
It's debatable whether Road Redemption is a racing game at all really, but as sometimes you do need to beat the opposition to the finish line, here it is. More than anything, Road Redemption is a Rogue-like on wheels. After choosing your bike and rider, you're let loose on the road and have to do battle with gang members, police and more as you go about completing objectives. When you eventually fail, the experience you've earned can be used to obtain perks, making your next run that bit more manageable. But don't expect to be finishing Road Redemption any time soon as it's pretty tough.
Combining speed with physical violence, Road Redemption is one of the more unique arcade racers available on Switch, and it's well worth checking out.