Check out our list of the best bike racing games on PS5 and you'll soon be having two-wheeled fun.
We love racing games. It doesn't matter if they put us in cars, bikes, karts or something more outlandish, we'll play them. Some, though, may have a certain affinity to bikes. We don't blame them, either – there is something rather alluring about how they look and their ratio of power to weight. But what are the best bike racing games on PS5?
We've spent some time with the lot of them, and after some deliberation have put together a list that answers that very question. Our list of the best bike games on PS5 has titles that will appeal to a range of bike-loving gamers. And so, if you want to blast down country lanes, take bikes apart or simply get dirty, there's something on this list for you. Enjoy!
Want to support GameSpew? If you decide to buy any of the games on this list, please consider doing so via our affiliate links, included below each entry. It won't cost you anything extra, but we'll get a small slice of the purchase.
1. RIDE 4
There's no doubt about it, RIDE 4 is currently the best bike racing game on PS5 at this very moment in time. With a fifth entry in the series on the way though, things could change in the future. Jump into RIDE 4 and you'll find that it has an extensive single-player career for you to complete, tasking you with collecting and racing a wide variety of bikes. And did we mention that it looks absolutely sublime on PS5? If someone passes by while you're playing it, they'll genuinely think it's real-life. Throw in great DualSense support and you're really in for a treat.
2. TT Isle of Man – Ride on the Edge 3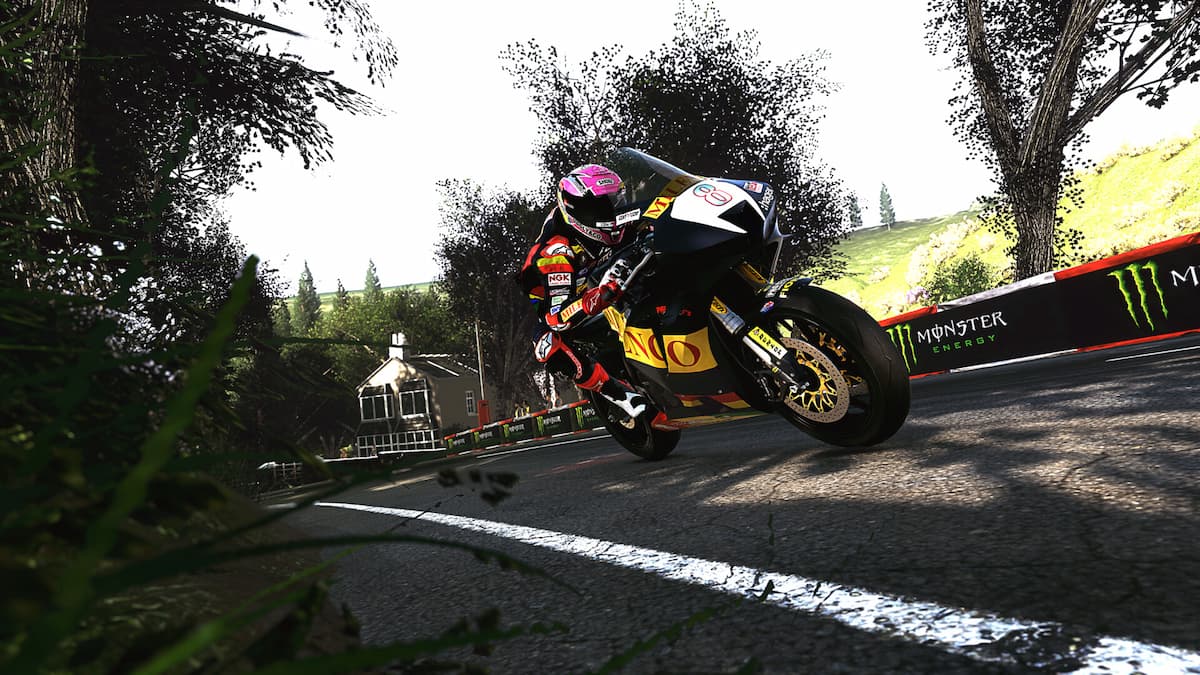 Based on one of the most dangerous sports in the world, TT Isle of Man – Ride on the Edge 3 isn't for the faint-hearted. The first entry in the series to have a native PS5 version, racing on narrow country roads and through quaint villages has never been so hair-raising. Both Supersport and Superbike classes are available, with the latter letting you reach speeds of up to 200mph. The game relays that sense of speed quite effectively, too. The catch is that without a rewind feature, if you mess up the repercussion are great. You've been warned.
Read our review of TT Isle of Man – Ride on the Edge 3
Check the price of TT Isle of Man – Ride on the Edge 3
3. Monster Energy Supercross 6
Something a little bit different to the rest of the entries on this list of the best bike racing games on PS5, Monster Energy Supercross 6 is for those who'd rather race on dirt than tarmac. Here, success is not just about speed; it's also about flow. With tracks being full of jumps and sharp corners, you need to manage your speed effectively in order to maintain maximum momentum. Get it right and you'll fly ahead of the pack. Get it wrong and you might just end up frustrated. One big plus here is a brilliant course creator – you can have a great deal of fun with it.
Read our review of Monster Energy Supercross 6
Check the price of Monster Energy Supercross 6
4. RiMS Racing
Enjoy maintaining bikes just as much as you do racing them? RiMS Racing might just be the game for you. Developed by Raceward Studio, who also put together TT Isle of Man – Ride on the Edge 3 further up this list, RiMS Racing tasks you with being a mechanic as well as a racer. As you vie for success, you'll need to use the wealth of data available to you to setup, maintain and upgrade your bike, even going so far as removing and replacing parts yourself via sequences of commands. Needless to say, it's quite unique, but devout bike fans are likely to love it.
Read our review of RiMS Racing
Check the price of RiMS Racing
5. MotoGP 22
For fans of MotoGP, the latest entry in the videogame series is a must-buy. MotoGP 22 features all the latest teams, classes and tracks that you'd expect of an official game. It also looks and plays absolutely superb, and has some neat new modes. In the Nine Season 2009 mode, for example, you'll take part in iconic races and watch real footage. And then there's the managerial career, which allows you to create your own team and lead it to success. Throw in online multiplayer, and there's something for everybody.