There haven't been too many great golf games in recent years, but we're getting there. Virtua Golf is long gone, and until recently, yearly releases licensed from PGA were a thing of the past, too. We've have a drought of games that let us practice our swing on the green, but lately things are starting to turn around. Finally, there's a good selection of golf games on PC – but which ones are the best?
There are a couple of serious golf games to choose from if you're looking for an authentic simulation of the sport, complete with real-world locations and golfers. But if you're more open-minded about your golf game experience, there are plenty of creative and fun games to choose from. How about a crazy golf experience, or a game where your goal is to cause as much destruction with a golf ball as possible? Yup, that's a real game, and you'll find it here on our list of best golf games on PC.
And so, read on to find your next PC-based golf game. Whether you're looking for the serious or the super-silly, we've got you covered.
This list was first published in August 2020 and has been updated periodically since.
1. EA Sports PGA Tour
What feels like a long, long time ago now, EA used to bring out an annual official PGA Tour game. But that came to a halt at least a full generation ago, and it's been a long time since EA Sports brought out a golfing game. That all changed this spring, with EA Sports PGA Tour. It's undoubtedly one of the best golf games you can play on PC right now, particularly if you're looking for a realistic experience featuring famous faces. It features a fully-fledged career mode that sees you (hopefully) rise through the ranks, all the while you'll be playing on more than 30 faithfully-recreated golf courses.
2. PGA Tour 2K23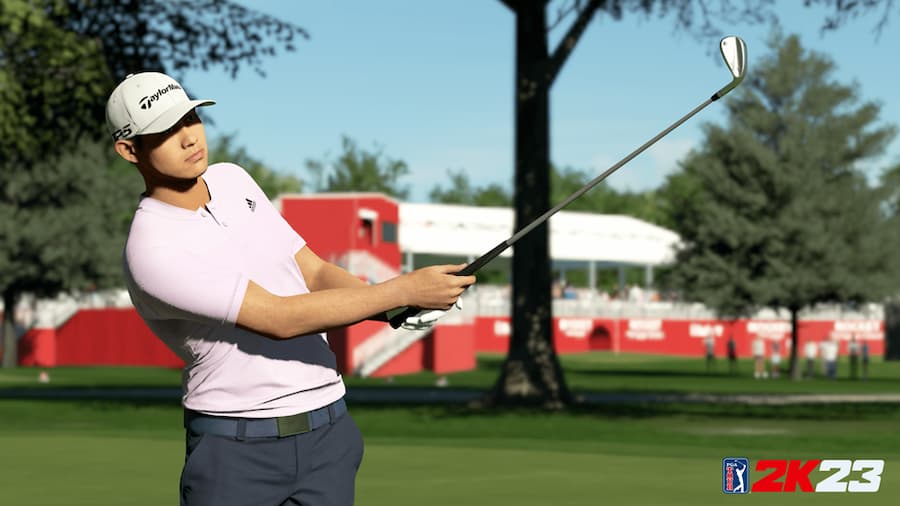 Back in 2020, 2K Games acquired the PGA licence, and PGA Tour 2K23 is the second official golfing game from the company. That's right: both 2K and EA are putting out officially branded PGA Tour games, and that means you have more choice than ever when it comes to finding a realistic golfing experience. As for which one is the best? That's up to you to decide, but they're both deserving of a place on our list of the best golfing games on PC. PGA Tour 2K23 has a full career to play through alongside various other modes. You can also create your own courses if you feel like getting creative.
3. Golf Club Wasteland
It's some time in the future. Humans no longer inhabit Earth. Those who were wealthy enough moved to Mars to start a new life. What's left of Earth has now become a playground for the rich and famous. A golfing playground. Okay, that might not be the introduction you were expecting to read on a list of best golf games on PC, but that's exactly what Golf Club Wasteland is. Dressed in a space explorer's suit, this 2D adventure sees you putt balls on an extended golf course made out of Earth's wasteland. It's more of a puzzle game than a straightforward golf game: you'll need to manoeuvre your ball around obstacles, hitting it up through windows and down through pipes in order to reach the hole. But it's a lot of fun, and has a truly killer soundtrack to boot.
Read our review of Golf Club Wasteland
4. Golf With Your Friends
If you love crazy golf, Golf With Your Friends will be an absolute delight. Those looking for a serious golfing session won't find what they're looking for here, mind. Golf With Your Friends allows you to enjoy a round of crazy golf on a varied range of courses. There's a haunted house, a world made of candy, and even a Worms-themed course. Perhaps the best thing about Golf With Your Friends though, is the ability to totally change how the game plays. You can play with hockey pucks instead of balls, for example, with holes being replaced with nets and cardboard goalies. Or you can activate party mode which allows the use of power ups. It really is daft, but Golf With Your Friends is a must-have if you're after the funniest golf game on PC.
Read our review of Golf With Your Friends
5. Dangerous Golf
Three Fields Entertainment's Dangerous Golf isn't the most serious of the best golf games on PC – but it's one of our favourites. Remember the Burnout series? Well, Three Fields Entertainment is made up of veterans from Criterion, the team that brought us Burnout. And Dangerous Golf is essentially Burnout. But instead of crashing a car into more cars, you're smashing a golf ball into all kinds of expensive things. If that sounds like ridiculous amounts of fun, that's because it is.
Read our review of Dangerous Golf
6. What the Golf
Okay, so What the Golf isn't exactly a straight-up golfing game either. But we don't care, because it's so flippin' good. It features golf courses, golf clubs and golf balls – but you aren't always using them in the right way. Maybe the club becomes your ball. Or maybe there's no ball at all, and you're simply flinging your ragdoll-like character down the green. Anything goes. Essentially a puzzle game filled up with hundreds of madcap levels, What the Golf has you flinging all sorts of things down a golf course. Don't expect a serious golf game here, but do expect to have a great deal of fun in a game that you'll struggle to put down.
Read our review of What the Golf
7. Infinite Mini Golf
A series of mini golf (or crazy golf, depending where you live) courses, Infinite Mini Golf is all about making precise putts and having a lot of fun in the process. It has a wealth of cool courses to play through: there's a spooky Halloween set, and our personal favourite, a giant-sized bedroom. What makes it stand out, though, is that like the title suggests, it pretty much is infinite. The game lets you create your own courses using the assets provided, and you can download other people's creations too. There are thousands of them, and it means you never need to play the same hole twice. It's not the most serious golf game on PC, but it sure is a lot of fun.
Read our review of Infinite Minigolf
8. 100ft Robot Golf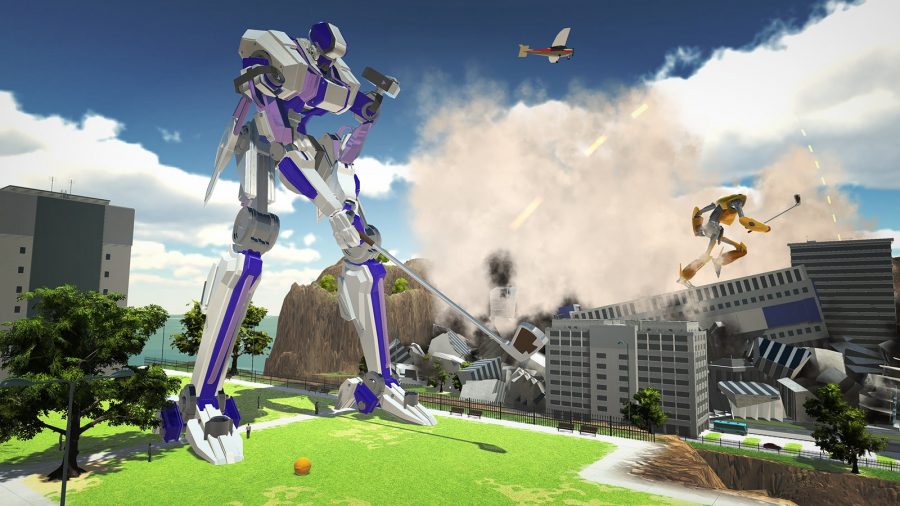 We'd have loved to have been privy to the conversation that happened when the idea for 100ft Robot Golf was conceived. "What could make golf more interesting? I know – robots. But not just any robots. Giant, 100ft tall robots". What more could you want from a golf game on PC, really? While it is a ludicrous idea, 100ft Robot Golf is just as fun as you probably imagine it to be. It's a fairly short game – it doesn't offer the range of modes and courses that other golf games do – but what is there is solidly entertaining. Its characters are quirky and fun, and hitting a golf ball while in control of a super-tall robot is endlessly satisfying. If you prefer more traditional golf games on PC, this is definitely not the game for you, but for a bit of fun, you can't get much better.