Check out our list of the best loot-based games on PC, and you'll soon be hunting for stat-boosting gear like never before.
We love loot. Usually colour-coded, it's something that often gets us hooked when included in a game, luring us to kill more enemies or embark on one last quest to secure more of it. Before we know it, hours have passed. But do we regret our choices? Not one bit – time has to be spent doing something, doesn't it? And so you might be wondering: what are the best loot-based games on PC?
Well, you've come to the right place. We've assembled a list of the best loot-based games on PC for your convenience. Each and every one of these games offers hours upon hours of action RPG fun, as you kill hordes of enemies and complete quests all with the aim of getting the best loot and making your character – in one case even a ship – as powerful as can be.
Related: The Best Games Like Diablo on PC
Want to support GameSpew? If you decide to buy any of the games on this list, please consider doing so via our affiliate links, included below each entry. It won't cost you anything extra, but we'll get a small slice of the purchase.
1. Diablo II: Resurrected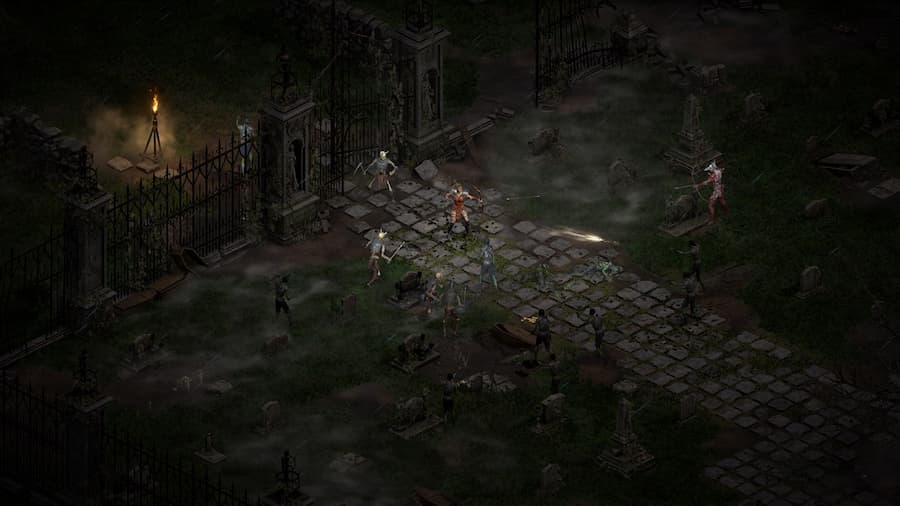 It may be over 20 years old, but Diablo II is still one of the best loot-based games available on PC. And now it's been remastered for a new generation of gamers.
Diablo II: Resurrected is a very different beast from Diablo III. It's darker, tougher, and overall a deeper game. It's impossible to say to which one is the better of the two because they each have their positives and negatives, so if you're looking for the best loot-based games on PC, we advise you to play both.
Unlike Diablo III that lets you easily experiment with new skills and has a wealth of quality of life features, Diablo II requires you to think long and hard about the development of your character. Some will like the fact that it's more "hardcore", while newcomers will appreciate that there are now ways to respec your character if you do mess up.
Vicarious Visions has done a great job faithfully remastering Diablo II, and now it's set to get even better thanks to the development of additional quality of life features and more. It may be a little bit clunky in ways, but Diablo II is still one hell of a game. And now it looks absolutely glorious.
Read our review of Diablo II: Resurrected
2. Borderlands 3
The series that the term looter-shooter was created for is on its third mainline entry. And while the story of Borderlands 3 might not captivate you like that of Borderlands 2, its improved gameplay more than makes up for it. With more varied environments, better build options, and way more loot, Borderlands 3 is undoubtedly the best Borderlands game yet.
Honestly, no game has more guns than Borderlands 3. There's just so many of them, with so many unique properties. It makes your fast-paced first-person antics all the more fun. So much so, in fact, that you'll find yourself killing bandits and troublesome creatures across multiple planets for hours in the hope that you'll find a new weapon that puts your current one to shame.
Perfectly playable solo, Borderlands 3 comes into its own when you play it in co-op, however; more firepower means more chaos. And once you're done with the game's lengthy campaign, there's yet more fun to be had if you pick up either of the season passes available. Needless to say, if you're after the best loot-based games on PC, this is a must-have.
Read our review of Borderlands 3
3. Everspace 2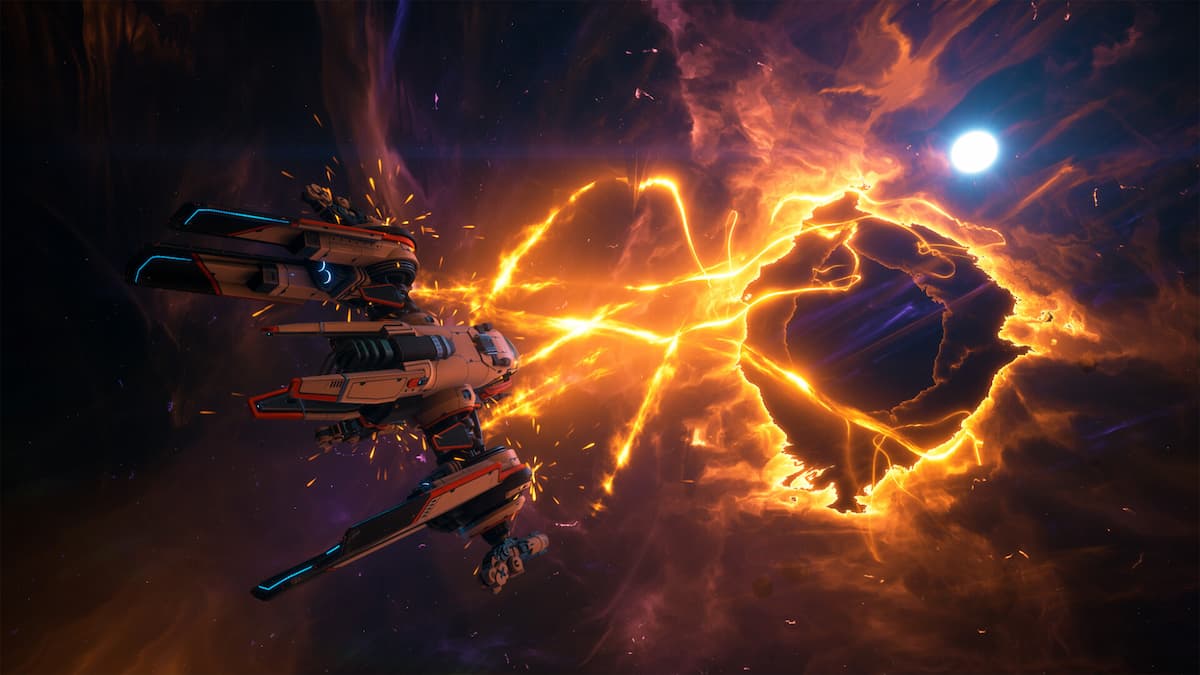 We quite liked the original Everspace. We like Everspace 2 more, though. And it's likely because of its focus on loot.
Thanks to a genre-shift, this sequel is simply bigger and better. The roguelike structure of the first game is out, instead replaced with friendlier, more immersive, action-RPG progression. Out in space, you need to complete missions and collect loot to not only survive but thrive. That way, you'll be able to take on more powerful adversaries and push the story forward.
There are skills to develop, as well as many weapons and other ship parts to acquire and upgrade. Needless to say, like all of the best loot-based games on PC, Everspace 2 quickly becomes something that consumes your life. Who doesn't like engaging in aerial space battles and then powering up their ship with the spoils of war?
4. The Division 2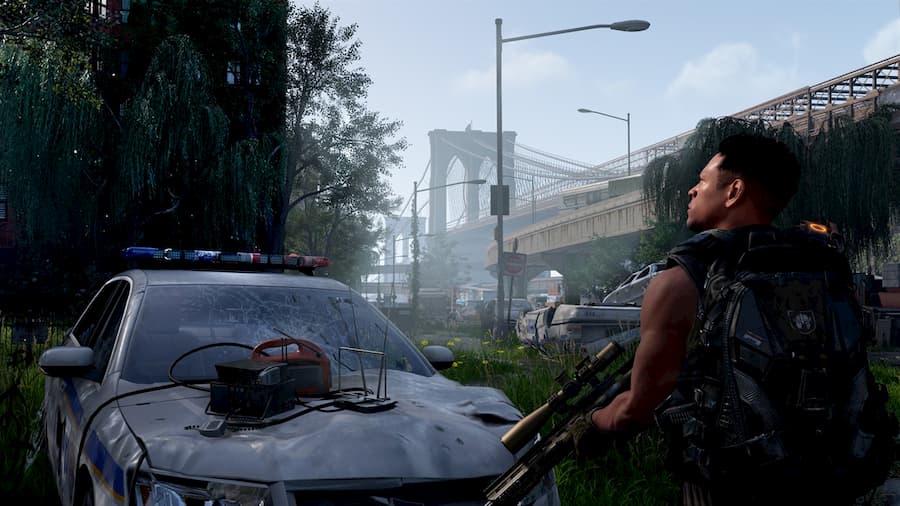 The military theme of The Division 2 makes it stick out like a sore thumb on this list. But its mix of third-person shooter action and loot work well together.
The Division 2 may have a story that seems rather serious, with numerous terrorist groups fighting for supremacy, but it doesn't get in the way of providing you with colour-coded loot that makes you feel like a kid at Christmas. Washington D.C. may be under attack, but nothing bad is going to happen if you take time to compare your bog-standard assault rifle with the fancy exotic one you've just found.
Armour, mods, weapons, materials; there's more loot in The Division 2 that you can shake a stick at. And you'll want to sift through it all to make sure your character is as powerful as they can be. It should be pretty obvious, then, why we think The Division 2 is one of the best loot-based games on PC. And with a meaty expansion available, as well as more free updates on the way, there's plenty of fun to be had with it.
Read our review of The Division 2
5. Stranger of Paradise: Final Fantasy Origin
Who would've thought there'd be a Final Fantasy game on a list of best loot-based games on PC! Stranger of Paradise: Final Fantasy Origins is unlike any other Final Fantasy game ever made, however.
Developed by Koei Tecmo's Team Ninja, Stranger of Paradise: Final Fantasy Origin takes the gameplay of Nioh (also a loot-based game worth playing) and tweaks it into something new. While on its default difficulty the action is brutal at times, there's a story difficulty setting for those who want a more laid-back experience, and some harder settings for those who like to be truly tested.
Ultimately though, this is an action RPG where having the best loot is the key to success. Though what you can wear is hugely dependent on your job, of which there are many to choose from in Stranger of Paradise: Final Fantasy Origin. Find a job that suits you (a couple of them, in fact), get the loot that boosts them, and you can engage in fast-paced combat that's immensely satisfying. The only thing you might not like is the story, which is an acquired taste thanks to its edgy protagonist.
Read our review of Stranger of Paradise: Final Fantasy Origin
6. Minecraft Dungeons
We like to think of Minecraft Dungeons as a 'My First Diablo' type of game. And we don't mean that disrespectfully.
We simply mean that this is an easy-to-get-to-grips-with take on the dungeon crawling RPG genre. And one which is excellent. The fact that it's something you can play with all the family is simply the cherry on top. Of course, what we're most interested in, though, is how much loot it has. We're pleased to say that Minecraft Dungeons doesn't skimp in this regard. While you can't deck out your character with quite as much gear as other games, you'll find plenty of weapons and armour to equip your character with. And just when you think you've found the perfect item, it won't be long until something better comes along.
Minecraft Dungeons obviously takes Minecraft's voxel art style and places it in a dungeon-crawling game. Even if you don't like Minecraft, though, don't let that put you off. It may have more playful visuals than most, but it's still filled with enemies to kill, dungeons to explore, secrets to find and, most importantly, loot to pick up. It's definitely worthy of its place on our list of best loot-based games on PC, that's for sure.
Read our review of Minecraft Dungeons
7. Diablo III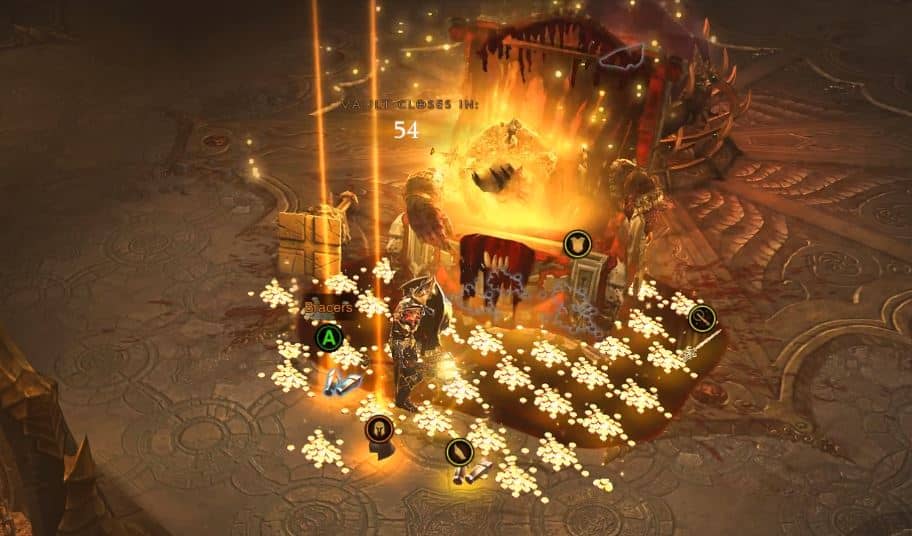 It's no secret that the launch of Diablo III didn't quite go as planned. But here we are, over 10 years later, with a game that can only be described as a massive success.
Improved over time by the addition of major gameplay features and many, many tweaks, Diablo III is one of the best loot-based games available. Its combat is fast-paced, frenetic and meaty, with your hits feeling like they have impact. And with a view of allowing you to experiment with your builds, you can easily switch skills, and even your entire loadout.
While there's a campaign for you to make your way through, Diablo III truly begins once you've finished it. There are rifts for you to tackle, many difficulties for you to conquer, and so much more as you vie to make your character capable of taking out hordes of monstrosities without breaking a sweat. Diablo III is the type of game you can play for hundreds, if not thousands of hours. We should know: we've done so ourselves.
8. Outriders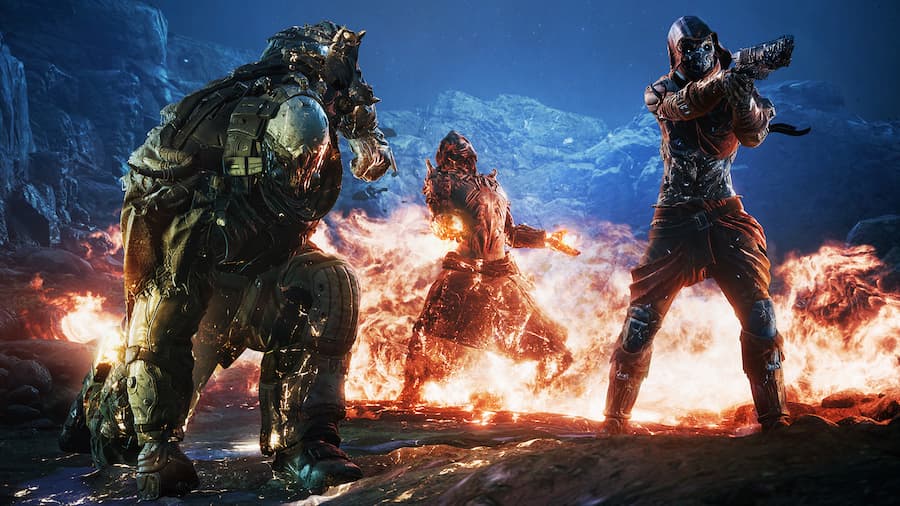 Developed by People Can Fly, Outriders is a looter-shooter that combines Gears of War with Diablo.
After coming into contact with an anomaly on an alien planet, Outriders casts you as an Altered; a being with supernatural abilities. The abilities available to you are dependent on the class that you choose at the start of the game; though thanks to online co-op for up to three players, you won't have to rely on just your own. But that's not to say that Outriders isn't enjoyable when played solo. The truth is, it's a blast however you play.
While it may look like a cover shooter, Outriders demands that you go on the offensive to stay alive. You need to stay on the move, and use abilities that leech the lifeforce from your enemies to stay in the game until the battle is over. Needless to say, how you build your character is very important. That means you'll want to hunt down the best loot and invest your skill points effectively. Outriders is undoubtedly one of the best loot-based games on PC right now, and with more support planned for the game, it's only going to get better.
9. Grim Dawn
With critics hailing it as the spiritual successor to Diablo 2 you've been waiting for, you know you're onto something good with Grim Dawn.
Developed by Crate Entertainment, Grim Dawn transports players to an apocalyptic fantasy world. If you're familiar with Diablo you know what to expect: quests, monsters, lots of skills, and more importantly, loot. What's perhaps a little unusual about the title, however, is that there are tough choices to be made, and you'll have to live with the consequences of them. Helping rebuild the world won't be easy, then, but there's always the option to share the burden by playing with others in co-op.
Being on PC, not only is Grim Dawn an excellent action RPG, but it looks fantastic too. So, if you're after the best loot-based games on PC, Grim Dawn should be high on your list. And if you want to spend even more time with it there are multiple expansions available.
10. Path of Exile
It may come as a surprise, but you don't need to spend any money to play one of the best loot-based games on PC. Simply install Path of Exile.
We'll go out on a limb and say that Path of Exile is one of the best free-to-play games. And as far as loot-based action-RPGs go, it's up there with the best of them. You don't need to pay for any of its fantastic expansions, either; they're simply delivered as free updates. The only caveat is that it's perhaps not quite as welcoming as some of the other games on this list. Put in the effort though, and you'll find yourself rewarded with a deep and engrossing gaming experience.
If you do find yourself thoroughly enjoying Path of Exile, you can make a purchase in the game's store to show your support for its developer, but you don't need to. Considering how much it gives you for free though, you might feel obliged.
11. Destiny 2
Thanks to the way that content is often vaulted, never to be seen again, it can be hard to get into Destiny 2 as a newcomer these days. Put in the effort, however, and you'll find that it offers a great loot-based experience.
Best enjoyed with a group of like-minded players, Destiny 2 offers intense first-person shooter action. It doesn't completely shower you with loot, but getting the best gear is still pivotal to moving forward. Because of that, you'll find yourself replaying missions, completing challenges and taking part in Raids on a regular basis to make yourself stronger.
A thing to consider about Destiny 2 is that you can give it a try for free. Simply download the base game and give it a play. If you like it, you can then buy the latest expansion and go all-in. Though perhaps get some friends to play it with you – that way, you'll get much more out of it.