If you're a fan of The Sims 4, chances are you're going to want to get your hands on some of its expansion packs. Released way back in 2014, The Sims 4 has changed a heck of a lot in those eight years since its launch. Not only has the base game been updated numerous times, but it's seen countless expansion packs and game packs. These optional add-ons allow players to add new features, new areas and new challenges to their games, but the question is: what are the best expansion packs for The Sims 4?
With so many to choose from, it can be difficult to know where to spend your money. From starting a new life in the countryside to sending your Sims off on a tropical holiday, expansion packs allow you to change up your game in many ways. Heck, you can even enter the world of Star Wars if you really want!
New expansion packs for The Sims 4 are introduced at an alarming rate, and so keeping up with them all can be tricky. It can also be very expensive! If you have a limited budget and want to know which one or two expansion packs or game packs you should pick up, look no further. We've rounded up the best expansion packs for The Sims 4 below.
Enjoy playing god, dag dag.
This list was originally published in 2020 and has been updated periodically since.
1. The Sims 4: Dream Home Decorator
Dream Home Decorator is a game pack rather than a full expansion back, but in our opinion it's one of the best Sims 4 add-ons currently available. Especially if you're a fan of messing around in Build mode. You see, Dream Home Decorator adds the Interior Designer career to The Sims 4. Should your sim decide to take that career route, you'll be able to accompany them to work and spend your time redesigning other peoples' houses.
You'll be given a budget and a vague brief and, once you know what your clients like and dislike, you can get to work remodelling an area of their house. Getting to play around in Build mode as an actual part of living in The Sims 4 is a genius touch if you ask us, and might be one of the best expansion packs for the game yet.
Read more about Dream Home Decorator
2. The Sims 4: Discover University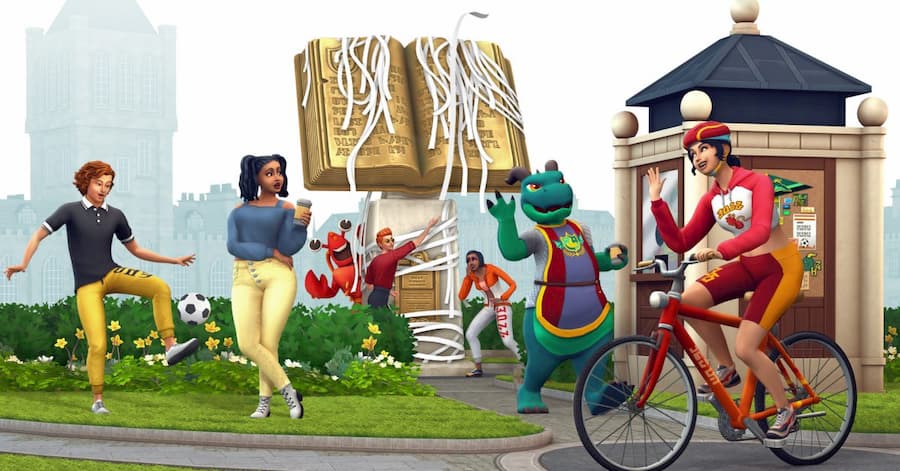 This expansion focuses on your young adult Sims. No longer do they have to go straight from school to work: they can now attend university. The Sims 4: Discover University expansion introduces Britechester University where young sims can live, study and play.
Your sims will leave their family home to go live in a dorm room. There, they'll buddy up with other students, spend time in the common areas, study in the library, or attend school events. They can attend a range of classes depending on their interests – and of course they'll learn new skills, so when they graduate they'll have new job prospects available, too.
We perhaps love the Discover University expansion for Sims 4 because it allows us to relive our own university days. There's a lot of fun to be had in the social aspects available in this expansion – and campus living is completely different from your usual Sims 4 homes. It mixes up the gameplay and living design in a big way, and we love it as a result.
3. The Sims 4: Journey to Batuu
We never imagined that Star Wars and The Sims 4 would cross over in a million years – but they have, and the result is fantastic. Journey to Batuu adds a new vacation spot for your Sims to enjoy: Batuu, a Star Wars-inspired world. It's based on the actual Galaxy's Edge Disney theme park, but lets your Sims get far more immersed in the Star Wars universe than we mere humans ever could.
In Batuu, your Sims can decide whether they want to join the Resistance or the First Order, or help out the Scoundrels. You'll complete missions, infiltrate the opposition's base, and live life to the max in the wonderful Cantina. And of course, you can engage in lightsaber battles. What more could you want? It's one of the most unique Sims 4 expansion packs we've had so far, and also one of the best.
Read our review of Journey to Batuu
4. The Sims 4: High School Years
Kids and teenagers have often been overlooked in The Sims 4. In many cases, they're just… there, for us to try to keep alive until they're old enough to get a job and begin to live a proper Sims life. Thanks to High School Years, teenagers can shine. With this expansion to The Sims 4, players can go to school with their teenagers, attend classes and deal with all the clique-y politics that come with being at high school. Dream/nightmare, depending on your own school experiences.
Getting to spend more time with our younger Sims means we can greater shape their personalities, too. And, like all Expansion Packs, it adds a new neighbourhood complete with new houses to move into. There's a lot to like, especially for players who are looking for a reason to spend more time with their teens.
Read more about The Sims 4: High School Years
5. The Sims 4: Island Living
The Sims 4: Island Living transports your sims to the island of Sulani. It's a tropical paradise where the sun's always shining and your sims are on constant vacation. What could be better?
Sulani has its own cultures and traditions, which your city-savvy sims can get involved with. If they want to, that is. If they'd rather chill on the beach and build some sandcastles, that's fine too. Or perhaps they'd rather grab a catamaran and sail out on the seas, or go swimming with a dolphin. The Island Living expansion packs in plenty of options. So however you like to spend your vacations, you can live vicariously through your sims. Just be careful not to get sunburn.
6. The Sims 4: City Living
The Sims 4: City Living expansion shakes up typical Sims gameplay by replacing traditional houses with city apartments. For the first time, living is a social activity. You can seamlessly visit your neighbours or go hang out in the social areas of your building. The bustling world of San Myshuno is your sim's oyster, and living has never felt better.
This Sims 4 expansion might be one of the earliest, but it's still one of the best. It introduced a lot of new social elements to the game, including hanging out in markets, singing at karaoke bars or simply popping in to see your neighbours. And living in a swanky city penthouse feels much more opulent than your house in the suburbs ever did.
7. The Sims 4: Get to Work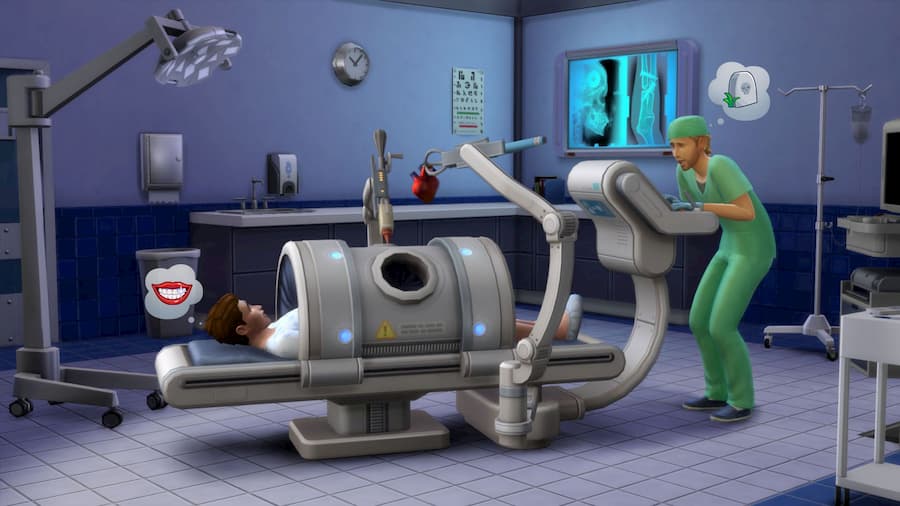 Your sims have gone out to work for as long as you can remember. But you've never been able to see what they actually get up to in their jobs. Until now, that is. The Sims 4: Get to Work expansion allows you to accompany your sims to work and control what mischief (or management) they get up to while they're there.
There are new career routes for your sims to take, too. You can be a doctor, a scientist, a detective; you can even start your own business. If you've ever fancied being your own boss, this Sims 4 expansion pack allows you to do just that. Open up your own fashion boutique or book store and handle everything from designing your storefront to managing customers. Going to work with your sims massively changes up The Sims 4's standard gameplay, and doing your job has never been so much fun.
8. The Sims 4: Cats and Dogs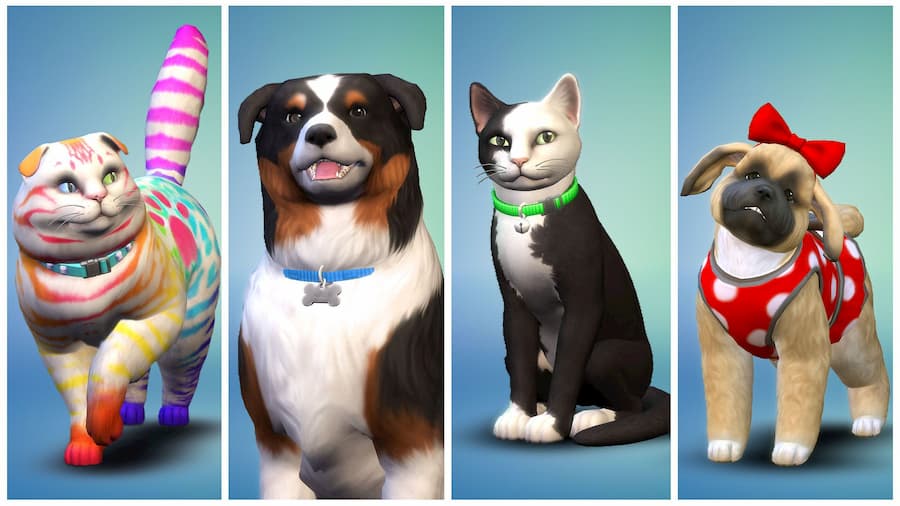 Who needs human sims when you can have feline and canine sims? The Sims 4: Cats and Dogs expansion introduces cute and fuzzy pets to your sims' world. You can create your own pet just as you would a sim, allowing you to choose from a variety of breeds and tailoring their personality.
Your sims will create bonds with their pets just as they would another human sim. Talk to them and play with them to grow that bond. And those pets have needs of their own, too, so make sure your sims are looking after them right.
This Sims 4 expansion pack also introduces the vet career path to the game, allowing your sims to go work in an animal clinic. If you're an animal lover, there's no doubt that Cats and Dogs is the best Sims 4 expansion there is.