Think you can survive in harsh conditions, do you? The best survival games on Xbox Series X/S will test your abilities to the extreme. Whether it be making your way through harsh weather, or surviving huge battles against dinosaurs or zombies, there's a survival game for just about everyone. As long as you're up to the task, that is.
The best survival games on Xbox Series X/S aren't designed to be easy. Quite the contrary, in fact: most of them are designed to be challenging, and to push you to your very limits. No matter which one you decide to jump into, there's a good chance you'll die at some point – but that's all part of the experience. You'll learn from your mistakes, adapting to survive better and become stronger as you play.
But the question is: just what are the best survival games you can play on Xbox Series X/S? We've rounded up 10 of them below, in no particular order. Not all of these have a native Series X/S version, but they're all available to play on the console, and they all come highly rated by us.
Please note: If you click on a link on this page and make a purchase, we may receive a small commission.
Shop the best survival games on Xbox
This War of Mine
Perhaps one of the starkest, most realistic survival games on this list, This War of Mine simulates surviving through a real war. Sure, it's set in a fictional country, but you could imagine this happening just about anywhere in the world. Each game of This War of Mine sees you take control of a random group of survivors. Maybe they're strangers, holed up in the same wrecked house together. Maybe there's a father and daughter, or a young couple. You'll need to balance protecting your shelter and heading out into the world to collect supplies – whatever you choose is fraught with danger, so you'll need to make sure you're always prepared.
Read more about This War of Mine
Valheim
It's currently only available in Game Preview, but that doesn't stop Valheim being one of the best survival games on Xbox Series X/S. It casts players as a mighty Viking, giving them a huge, beautiful world to explore and survive in. You can play by yourself, or team up with up to nine other players. You'll need to build structures to help you survive, and engage in combat as you make a stake to conquer the world around you. Basically, it lets us live out our wildest Viking dreams.
No Man's Sky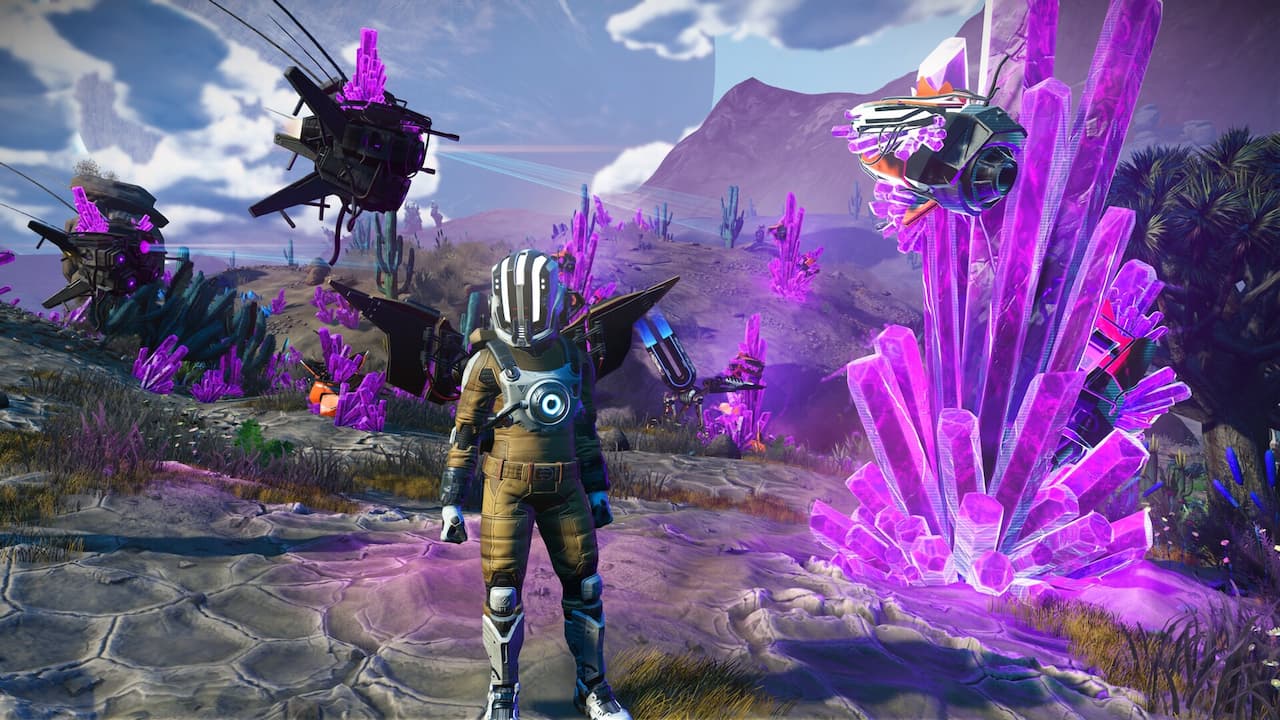 If you prefer your survival games heavily peppered with sci-fi flavour, then No Man's Sky really ought to be high up on your must-play list. Despite being around for several years, developer Hello Games still updates the game regularly, adding new content and features and ensuring it plays as good as it possibly could. As a space explorer, you'll venture to unknown planets, each populated with unique lifeforms and flora. Being procedurally generated, what you see in No Man's Sky will always be different from someone else – and with a whole galaxy to explore, that opens up incredible possibilities.
Read our review of No Man's Sky
ARK: Survival Evolved
If survival against dinosaurs sounds like your sort of thing, let us introduce ARK: Survival Evolved. Thrown onto a mysterious island, you'll begin the game alone, with very little to protect yourself. By exploring and crafting, you'll eventually learn to protect yourself and keep yourself healthy – a very important skill when you're never more than a few metres away from a huge prehistoric beast out to kill you. Engage them in battle, or tame them to earn their trust and help. Work alone or team up with others: there's so much possibility in ARK, and how you decide to play is entirely up to you.
Read our review of ARK: Survival Evolved
State of Decay 2
For fans of The Walking Dead and zombie media in general, survival games don't get much better than State of Decay 2. This Xbox console exclusive throws you into a post-apocalyptic world, ravaged by the undead. You'll need to survive by fortifying your camp, and heading out into the world to find supplies to help you and your group. That typically means confronting groups of zombies, taking them down however you see fit. Basically, State of Decay 2 lets you live out your wildest dreams of being Rick Grimes. What more could you want from one of the best survival games on Xbox Series X/S?
Read our review of State of Decay 2
Minecraft
We'd be rather foolish to leave Minecraft off of our list of best survival games on Xbox Series X/S. It might not be as dark and gritty as some of the other games here, but it's still one of the most well-known and highly regarded survival games out there. Set in a procedurally-generated voxel world, players will need to search for materials, protect themselves from threats and survive in their surroundings however they see fit. Team up with other players or go solo: it's entirely up to you.
Related: Now You Can Buy an Official Minecraft Cookbook
Terraria
It's often compared to Minecraft, but Terraria is worthy of a place on this list of best survival games on Xbox Series X/S in its own right. Just like Minecraft, you'll need to build and fight to survive. But this 2D pixel adventure has a feeling all of its own. It's a pleasure to explore, and as you do you'll need to gather materials which will allow you to build better safe areas and craft better weapons. After all, being able to protect yourself from the hostilities of the world around you is the whole point of the game.
Don't Starve
Few games are as effortlessly stylish as Don't Starve. It's been 10 years since it first released on PC, but Don't Starve's art style is still as wonderful as it ever was. But don't let its cartoonish aesthetic fool you: this is one tough survival game. Thrown out into the wilderness, you'll need to find food and make yourself a shelter. Things might be fine in the daytime, but you don't want to be out and about when the sun sets. Terrible things happen at night. And so you'll want to explore, create and experiment in order to survive the hostile world around you. And, of course, don't starve.
Subnautica: Below Zero
Both Subnautica: Below Zero and its predecessor, Subnautica, deserve a place on this list. Together, they're excellent survival games and amongst the best on Xbox Series X/S – and better yet, they both have native Series X/S versions, meaning they look and play beautifully. But Below Zero might just be the best of the two: this underwater adventure takes players to a mysterious and icy planet. To survive you'll need to learn how to craft weapons and tools, and how to build yourself somewhere safe to live. The world's simply beautiful to explore, and there's also an engaging story to become invested in.
Read our review of Subnautica: Below Zero
The Long Dark
Being stranded in arctic conditions after your plane crashes doesn't sound like the ideal situation to find yourself in, but it's a brilliant setup for The Long Dark, one of the best survival games on Xbox Series X/S. The Long Dark puts you in the shoes of a lone survivor who must keep himself warm, fed and fend off a variety of threats as he tries to find his way to safety. It's brutal and unforgiving and yet, somehow, completely captivating. Just remember to stay wrapped up warm.