Summer might be around the corner, but you can't be out and about doing stuff all the time. Sometimes, you'll just want to stay at home with the family.
And what could be better than gathering around in the living room, playing video games together? There are tonnes of family-friendly games on PS4; games that can be enjoyed by any age, and played co-operatively by more than one player at a time. Finding the best family games on PS4 can be tough, though, so hopefully we can help.
We've picked out seven of the best family games on PS4. These games are all suitable for children, but easily enjoyed by older players alike – we've played and loved them all ourselves! So, if you're looking for something to bring kids, parents and even grandparents together this year, we've got you covered. Here are the best PS4 games that can be enjoyed by all the family.
Want to support GameSpew? If you decide to buy any of the games on this list, please consider using our affiliate links, included below each entry. It won't cost you anything extra, but we'll get a small slice of the purchase. Thank you.
This list was first published in 2021 and has been updated periodically since.
1. Sackboy: A Big Adventure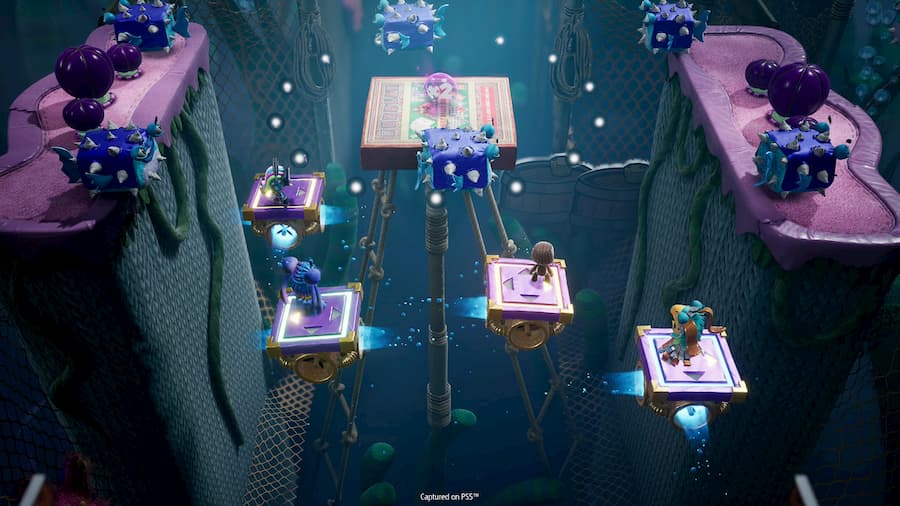 Sackboy might look familiar to you – he's been around for a while, since the PS3 days, actually, and has become something of a PlayStation mascot. On PS3, he was the star of the LittleBigPlanet series, three games that merged platforming and creativity. But With Sackboy: A Big Adventure, Sackboy has a game all of his own. It's a 3D platformer packed with exploration and adventure, and as far as PS4 family games go, they don't get much better than this.
The whole game can be played in local co-op, so providing you've got more than one controller, two players can join in the fun at any one time. There are some levels that can only be played in co-op, in fact, challenging you to work together. The bright colours and gorgeous visuals means it's eye-catching to the youngest members of the family – and older players will enjoy the fantastic voice acting from Dawn French and Richard E. Grant.
Read our review of Sackboy: A Big Adventure
Check latest prices of Sackboy: A Big Adventure
2. Bugsnax
Despite the fact that Bugsnax can only be played in single-player, we still wanted to include it in our list of best family games on PS4. Few games are as family-friendly and utterly joyous as this, and even if not everyone can play at once, you can pass around the controller and enjoy what's happening on screen. Bugsnax is set in the colourful world of Snaktooth Island, where its animal residents love nothing more than snacking on the half-bug, half-snack creatures known as Bugsnax. You'll spend your time exploring, getting to know the residents and, of course, catching more than your fair share of Bugsnax.
There's a great story to uncover, and finding out the mysteries of Snaktooth Island is something that the whole family will enjoy. Catching each type of Bugsnax is a puzzle in itself, as each one must be caught in a specific way, and figuring them out is a lot of fun. The family can take it in turns to catch one – and with over 100 to hunt down, there's plenty to keep you busy.
3. It Takes Two
Not to be confused with the 90s movie starring the Olsen twins, It Takes Two is a fantastical adventure designed for two players. Filled with whimsy, comedy and genuinely enjoyable adventure, it's one of the best games we've played in recent months, actually. And it's the perfect PS4 game to play with all the family.
In It Takes Two, players take control of May and Cody, a married couple who have inadvertently been turned into dolls by their daughter. The pair aren't getting on, and they're on the brink of divorce – but their current predicament has forced them to work together. Set in a giant world, you'll befriend bugs, climb trees, solve puzzles and work together – all on a backdrop of a game so gorgeous that it could be a Pixar movie. Only two players can play at once, but it's the sort of thing that you can take turns on – and even if you're not playing, it's a joy to watch.
Read our review of It Takes Two
Check latest prices of It Takes Two
4. Overcooked! 2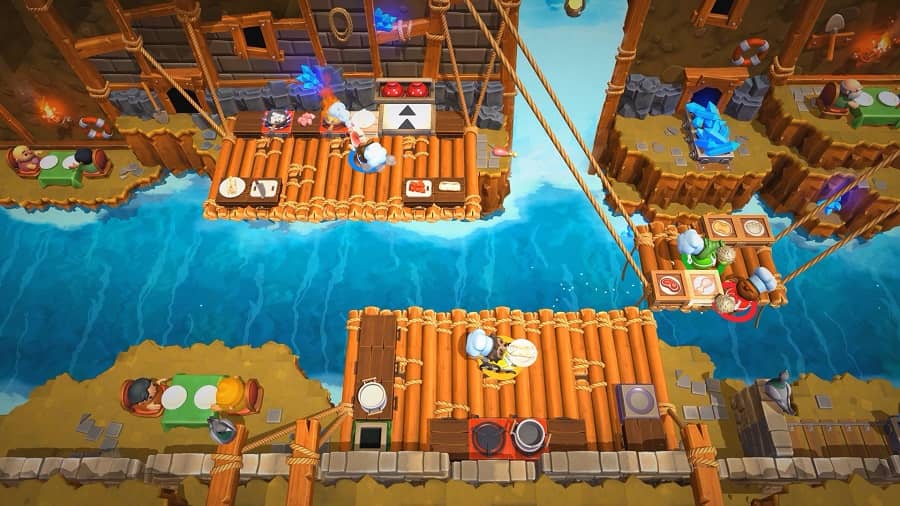 When it comes to suggesting party games that the whole family can enjoy, Overcooked! 2 is always one of the first titles that comes out of our mouths. Why? This chaotic but fun game is all about working together, and the situations you'll find yourself in are simply hilarious. The goal is to deliver meals to your customers – so you'll need to wash plates, prepare food, and serve it up. But you'll be doing so in some rather… interesting situations. How about a kitchen that splits in two after an earthquake? Or a kitchen that's suspended high above river rapids, as in the picture above?
Up to four players can join in Overcooked! 2, and it really is a case of the more players you have, the more fun it becomes. You'll need to co-ordinate between yourselves, all choosing a zone to take control of – but when things go wrong, you'll all be laughing hysterically as you try to pull it back. It's one of the best family games on PS4 simply for its fun factor – few games will make you laugh quite as much as this.
Read our review of Overcooked! 2
Check latest prices of Overcooked! 2
5. Moving Out
Moving Out is a little bit like Overcooked!, but instead of working in a kitchen, you're working as a removals team. That means taking furniture out of someone's home and loading it into a van. It might sound rather mundane, but it's far from it. You see, manoeuvring items in Moving Out requires a team effort, and with purposefully awkward controls, narrow spaces to navigate, and fragile items to take care of, there's a lot that can go wrong. And probably will go wrong. But that's the joy of the game.
Whether you're trying to get a sofa across a busy street or figuring out how to get a huge TV down a flight of stairs, playing Moving Out is a bit of a puzzle. But you'll all need to work together to overcome the challenges. The better you do (i.e. the less items you destroy), the higher your score, so there's plenty of replayability in aiming for those top marks. Any game where you work together makes a great game for the family to play together, and Moving Out is one of the best.
Check latest prices of Moving Out
6. Just Dance
When it comes to the best family games on PS4, Just Dance absolutely has to make the cut. This yearly series is aimed at younger players, but absolutely anyone can join in. It's the sort of game that becomes more enjoyable the more players take part. And best of all, it gets you up off the couch, moving around and making a fool of yourself. There's no better way to enjoy time with your family than making everyone laugh at your 'killer' dance moves, right?
No matter which version of Just Dance you pick up, you'll get a similar experience of following along to the dance moves on screen, using your phone to track your movements. Newer editions include newer songs, although a subscription to Just Dance Unlimited will increase your library by over 600. If your family enjoys pop music, getting their groove on, and having a laugh, you can't go wrong here.
Check latest prices of Just Dance
7. LEGO City Undercover
Now, practically any LEGO game makes an excellent game to play with the family. If your family is made up of Harry Potter fans or Star Wars obsessives, there are LEGO games to suit. But LEGO City Undercover doesn't rely on a license, and it doesn't need to. A huge open world adventure, it's all about taking down the bad guys of LEGO City – and having a lot of fun in the meantime.
Like all LEGO games, LEGO City Undercover can be played in co-op, so two players at once can get in on the action. There's a story to follow, with levels filled with platforming challenges and simple puzzle-solving. But outside of the main story you'll find so much to do: races, collectibles, minigames, side quests and more. It's a joy simply exploring and seeing what fun stuff you can find. Without a doubt it's one of the best family games on PS4.
Read our review of LEGO City Undercover