Here at GameSpew, there's one thing we love almost as much as video games: LEGO.
Luckily for us, the two things have crossed over quite a lot; there's already a huge range of LEGO video games available on Xbox, and more are set to come.
LEGO games have been around since 1995, with the first ever released being LEGO Fun to Build on the SEGA Pico. Two years later, LEGO Creator released on PC in 1997. Since then LEGO games have been releasing regularly, keeping us building and smashing blocks on our PCs and consoles.
As video game technology has advanced, so have LEGO games. Some of them are still about building and creating (LEGO Worlds, for example) but many of them take us on epic adventures through the many licensed properties that LEGO work with.
With so many LEGO games to choose from, how on earth are you meant to know which ones you should play? Never fear – read on to see our picks of the best LEGO games on Xbox.
Want to support GameSpew? If you decide to buy any of the games on this list, please consider doing so via our affiliate links, included below each entry. It won't cost you anything extra, but we'll get a small slice of the purchase.
1. LEGO 2K Drive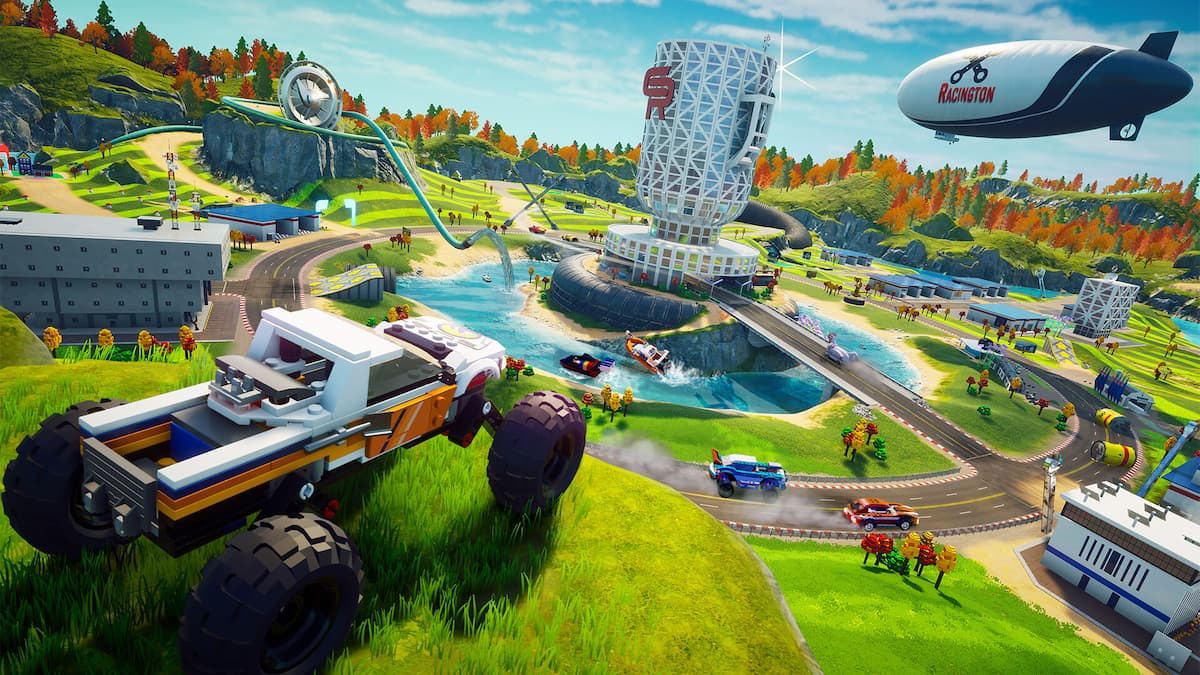 We've always wanted an open world racing game where everything was made out of LEGO. We also thought it would it be cool if it let you create your own vehicles. Thanks to its LEGO expansion, Forza Horizon 4 went some way to fulfil our wishes. LEGO 2K Drive, however, pretty much smashes them all.
While the world isn't entirely comprised of LEGO bricks in LEGO 2K Drive, there is an overwhelming abundance of them. And so as you drive around the game's numerous open world environments, you're free to smash things up. LEGO fans will enjoy keeping an eye out for recognisable sets, too. Ultimately though, it's the racing action that's the real draw here; after creating or selecting a trio of the game's many included vehicles, there's a whole heap of events to jump into.
If you enjoy racing games and LEGO, LEGO 2K Drive is undoubtedly the best LEGO game on Xbox right now. If not, there's still plenty for you further down this list.
Read our review of LEGO 2K Drive
Check latest prices of LEGO 2K Drive
2. LEGO Star Wars: The Skywalker Saga
The latest LEGO game to come from Traveller's Tales, LEGO Star Wars: The Skywalker Saga is certainly not the first time LEGO and Star Wars have collided into a video game. We've had several, in fact, but this is the biggest, and best, by far. Retelling the story of all nine Skywalker films in one video game, there's a huge amount of content, and hundreds of characters to meet and locations to visit.
This is classic LEGO gaming at its best, and so if you're an Xbox owner you should consider a must-have. Whether you take control of a minifigure of Darth Vader or try to save the universe as Luke Skywalker, we promise you're going to have a block-smashing good time with it.
Read our review of LEGO Star Wars: The Skywalker Saga
Check latest prices of LEGO Star Wars: The Skywalker Saga
3. LEGO Builder's Journey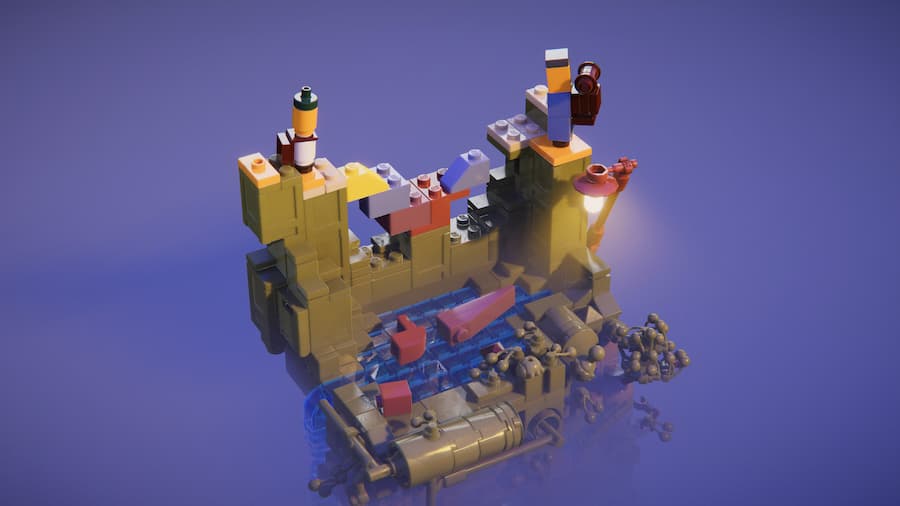 We're departing from traditional LEGO games a little here. In recent years, LEGO has been diversifying its video game output. There's plenty more to come in the coming months, but one of the first truly unique LEGO games is this, LEGO Builder's Journey from LEGO's very own Light Brick Studios. It's a puzzle adventure game, tasking players to build pathways and bridges in order to reunite two brick-built characters.
There's not much of a story here, but if you enjoy playing with physical bricks, you'll enjoy the realism here as you click together various shaped LEGO pieces to create something original. It's not the longest game, but its originality is enough to make it one of the best LEGO games on Xbox.
Read our review of LEGO Builder's Journey
4. Forza Horizon 4: LEGO Speed Champions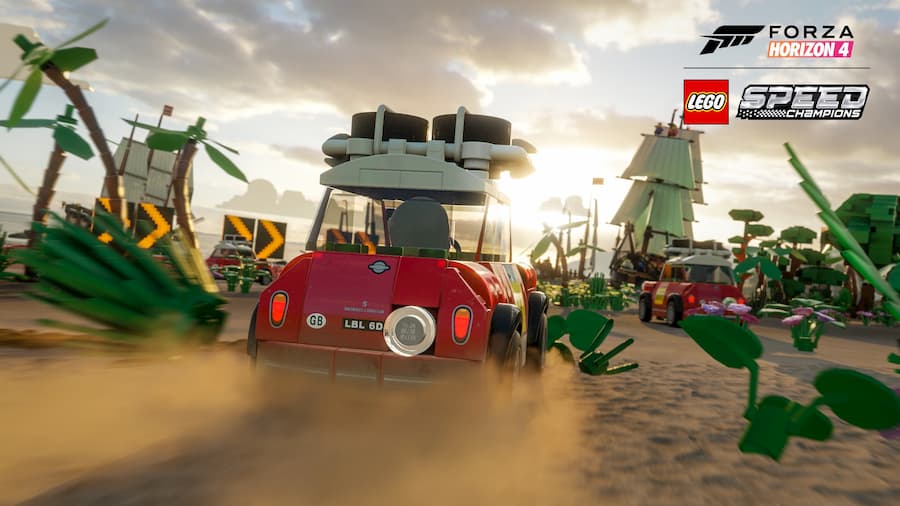 Okay, so this isn't technically a full LEGO game, but we'd be remiss if we didn't include this excellent DLC when talking about the best LEGO games on Xbox. A additional content pack available for Forza Horizon 4, LEGO Speed Champions transports you to an all-LEGO world, puts you behind the wheel of a LEGO car, and invites you to have a lot of fun.
The world itself is a joy to explore, and you'll get a kick out of seeing some real-life LEGO sets as you drive around. Of course, the aim of the game is to race, but there's plenty of fun to be had off-track too. There are plenty of challenges to complete, or you can even drive around, simply destroying the world if you want. It wouldn't be a LEGO game if you couldn't.
Read our review of Forza Horizon 4: LEGO Speed Champions
Check latest prices of Forza Horizon 4 Ultimate Edition
5. LEGO Harry Potter Collection
Originally released as two separate games, the LEGO Harry Potter Collection brings both Years 1-4 and 5-7 together in one cleaned-up collection. With two games to play through, spanning all seven years of Harry's time at Hogwarts, the Harry Potter Collection packs in a lot of game. There's well over 50 hours of gameplay here if you want to see everything that the games have to offer.
The LEGO Harry Potter Collection's main levels will see you learning important spells, taking part in lessons and doing what Harry Potter does best: fighting the evil forces of He-Who-Shall-Not-Be-Named. But there's plenty to do outside of the main campaign, too.
The LEGO version of Hogwarts is sprawling and beautiful, packed with so many secrets to uncover. And if you're a fan of the books or movies, there are tonnes of references that you'll be sure to get a kick out of.
Check latest prices of LEGO Harry Potter Collection
6. LEGO City Undercover
One of the few LEGO games without a franchise attached, LEGO City Undercover is, without a doubt, one of the best LEGO games on Xbox. It's essentially the family-friendly answer to the Grand Theft Auto series; a vast open-world game that sees you take on the role of LEGO City police officer, Chase McCain.
While there is a substantial story to follow, the true joy of LEGO City Undercover is in exploring the world, finding secrets, and completing side quests and missions. Whether it's helping a civilian find a lost item, taking part in a high-octane car race or chasing down some no-good criminal, there's tens of hours of fun to be had.
Sure, it might not have the language and violence of Grand Theft Auto, but it's a heck of a lot more fun!
Read our review of LEGO City Undercover
Check latest prices of LEGO City Undercover
7. LEGO Dimensions
LEGO's answer to the toys-to-life videogame trend may have been cancelled, but it doesn't mean that you still can't play and enjoy the game.
Taking pretty much every franchise LEGO has ever worked with and shoving them into one mammoth videogame, LEGO Dimensions is basically the ultimate game for any LEGO fan. By buying physical game packs – which come with minifigures, little LEGO structures and game discs to place on your LEGO Dimensions base – you can put a bunch of new characters in the game, explore various worlds, and play through an epic storyline.
There have been dozens of level packs, expansions and characters introduced to LEGO Dimensions. The series came to an end a couple of years ago though, so the game and its expansion sets aren't quite as easy to get hold of as they once were. But they're well worth seeking out, and can often be picked up fairly cheaply. While each expansion gives you access to a whole new world, just the base game packs in a heck of a lot of content. Get a few packs, however, and you've got the best bricky adventure you could ever ask for on your hands. It's a shame it was short-lived, but LEGO Dimensions remains one of the best LEGO games on Xbox.
Check latest prices of LEGO Dimensions
8. The LEGO Movie Videogame
Everything is awesome! Well, this game certainly is. This videogame version of The LEGO Movie follows Emmet on his journey through Bricksburg. With the help of Wyldstyle, Benny, Batman, Metalbeard and everyone else, you'll be taking down the evil Lord Business to bring Bricksburg back to normal.
It probably helps that The LEGO Movie was so much fun to begin with. And its brilliant storytelling and characterisation is just as enjoyable in the game. Bricksburg is a delightful place to explore, and just like any good LEGO game, there are plenty of side missions and secrets to uncover. We'd recommend you watch The LEGO Movie before playing, though, to really get the most out of the game!
Check latest prices of The LEGO Movie Videogame
9. LEGO Marvel Superheroes
What could be better than a Marvel and LEGO crossover? Well, not a whole lot. Aside from Star Wars, Marvel has become one of LEGO's most loved franchises, and it works so well in game form, too. With a massive range of minifigures to unlock and play as, covering all corners of the Marvel Universe, there are so many potential skills and abilities to unlock by playing as them all. Fly around as Iron Man, or smash up the streets as the Hulk; however you play, LEGO Marvel Superheroes is a lot of fun.
While LEGO Marvel Superheroes has a great campaign, particularly if you are a Marvel fan, it's the open world that is most enjoyable. The game's recreation of New York City is fantastic. It also packs in a lot of extracurricular activities outside of the main story mode. It's not quite to scale, but there are a lot of familiar landmarks to explore. You can lose hours simply wandering around and helping out NPCs in side quests. If you're after more once you've finished it, there's LEGO Marvel Superheroes 2 and LEGO Marvel's Avengers available, too.
Check latest prices of LEGO Marvel Superheroes
10. The LEGO Ninjago Movie Videogame
One of LEGO's longest-running own franchises is Ninjago. There has been a couple of handheld Ninjago games, but the young ninjas are rarely seen on home console. The LEGO Ninjago Movie Videogame changed all that, bringing the game of the film to Xbox.
It's one of the freshest LEGO games of recent years, adding in exciting combat mechanics and mixing up the formula somewhat. Rather than having a separate 'hub' world, LEGO Ninjago Movie Videogame's side content takes place in the same areas of the levels themselves. It also ditches the use of the red 'bonus bricks' that grant multipliers to stud pick-ups; here, you'll gain a multiplier by chaining combat combos. It makes for a much more rewarding experience.
The Japanese-inspired world of Ninjago is a wonderful backdrop, too, as you explore ancient temples and bustling cities. With so much to do and see, LEGO Ninjago Movie Videogame is easily one of the best LEGO games on Xbox.
Read our review of The LEGO Ninjago Movie Videogame