Superhumans exist, and every year they mount superbikes and race around the Isle of Man.
The Isle of Man Tourist Trophy event, or Isle of Man TT for short, is brutal. At speeds of up to 200mph, competitors race through 37 miles of tight country roads and quaint villages. Needless to say, just one mistake is all it takes for things to go awry, and they often do. As sports go, it's one of the most dangerous there is. Thanks to TT Isle of Man – Ride on the Edge 3, however, you can have all the thrill of the event without any danger.
This third entry in the TT Isle of Man series comes courtesy of Raceward Studio, which previously made RiMS Racing. Perhaps that's why it shakes the formula up a little. Now on PS5 and Xbox Series consoles for the first time, TT Isle of Man – Ride on the Edge 3 presents players with an open world to explore. And while it's nowhere near as enjoyable to race around compared to the huge environments of other open world racers such as Forza Horizon 5 or Need for Speed Unbound, there are events and other points of interest to be discovered.
What's neat here is that you can have two concurrent careers on the go at once – one for the Supersport class, and one for Superbike. If you're new to the series you're best off starting with the slower Supersport class, as it allows you to better get to grips with the game's mechanics and features. Even then, though, you'll quickly discover that TT Isle of Man – Ride of the Edge 3 takes no prisoners. Even with all the help you can get, such as the physics set to beginner and competitor AI set as low as it can go, you're going to find yourself challenged.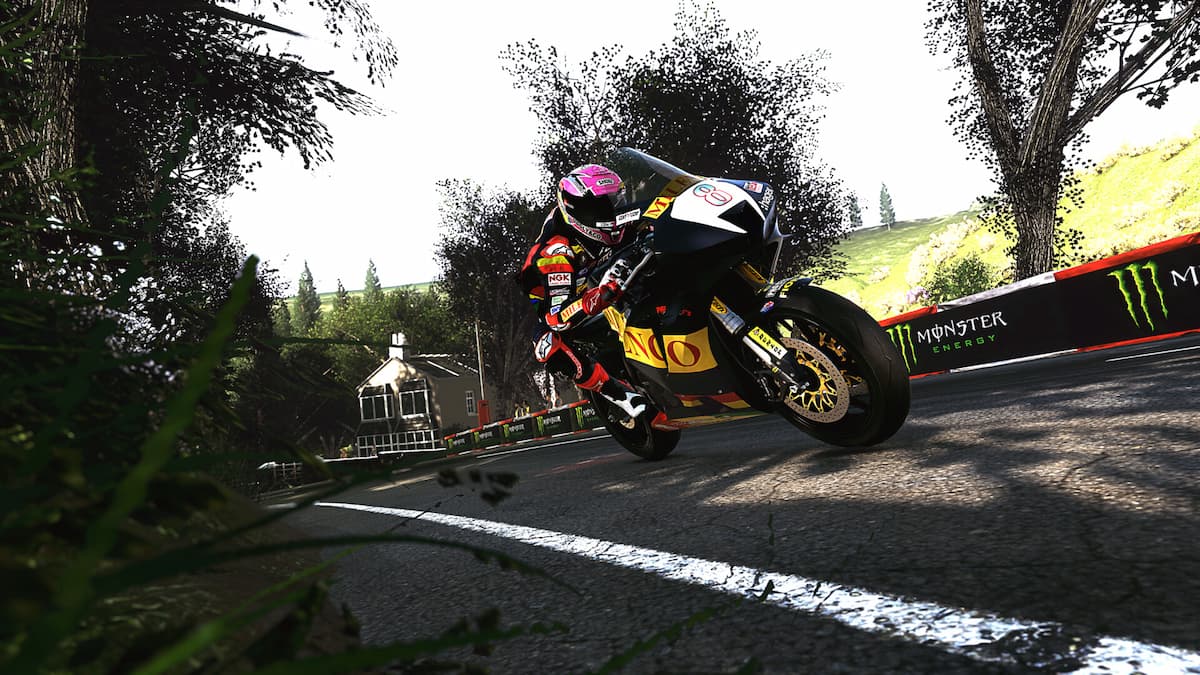 There are no rewinds here, so if you mess up, you pay. With beginner physics enabled, things aren't too bad as long as you take things cautious – but not too cautious or you might not make the podium. Step up the physics any higher and you'll really need to up your game; if you so much as tap the brake while going around a corner or place just one wheel off-track and you're likely to go flying. Needless to say, TT Isle of Man – Ride on the Edge 3 isn't the game for those who don't have patience or the desire to be better.
Related: The Best Racing Games on PS5
For those with the drive to succeed however, there's a lot to like about this hardcore racer. As ever, it's got a phenomenal sense of speed, for example. Whether you opt for the chase cam or the helmet cam that convincingly puts you in the thick of the action, the world flies by at such a pace it's hard not to be impressed. And the new career structure makes the game much more varied and interesting. On your path to the main TT event, you'll compete in practice sessions, races, and perhaps even time trials, head to heads and more if you take the time to explore.
The points that you earn by competing in events can be used to develop your bike, improving key components over numerous levels in order to make yourself much more competitive. And when you want a break from your career, other gameplay options are available. You can create custom online racing events that you can enjoy with others, or compete in a range of seasonal events. It's not the biggest game in the world, but there's certainly a decent amount of content here.
Playing on PS5 for review, TT Isle of Man – Ride on the Edge 3 sometimes looks incredible. The key word here is sometimes, though, as it's often not all that impressive at all. Some of the scenery can be bland, and the occasional bit of overly noticeable pop-in doesn't help. Thankfully performance is less erratic, but still not perfect. For the most part it's solid, letting you race without any hiccups, but there are certain areas where things just aren't quite as smooth. Hopefully they can be ironed out with a patch.
TT Isle of Man – Ride on the Edge 3 is another solid entry in the series, which thankfully mixes things up quite a lot. It's still not all that welcoming to beginners, and there are some minor issues that might aggravate players from time to time, but overall, fans of the sport are likely to lap this up. Fast, brutal and at times utterly beautiful, TT Isle of Man – Ride on the Edge 3 will reward you if you put in the time and effort to master it. But approach it with recklessness and it'll just give you road rash.
---
TT Isle of Man – Ride on the Edge 3 Review – GameSpew's Score
This review of TT Isle of Man – Ride on the Edge 3 is based on the PS5 version, with a code provided by the game's publisher. It's available on PS4, PS5, Xbox One, Xbox Series X/S and PC.